Abstract
Rationale
One of the most commonly cited reasons for chronic cannabis use is to cope with stress. Consistent with this, cannabis users have shown reduced emotional arousal and dampened stress reactivity in response to negative imagery.
Objectives
To our knowledge, the present study represents the first to examine the effects of an acute stress manipulation on subjective stress and salivary cortisol in chronic cannabis users compared to non-users.
Methods
Forty cannabis users and 42 non-users were randomly assigned to complete either the stress or no stress conditions of the Maastricht Acute Stress Test (MAST). The stress condition of the MAST manipulates both physiological (placing hand in ice bath) and psychosocial stress (performing math under conditions of social evaluation). Participants gave baseline subjective stress ratings before, during, and after the stress manipulation. Cortisol was measured from saliva samples obtained before and after the stress manipulation. Further, cannabis cravings and symptoms of withdrawal were measured.
Results
Subjective stress ratings and cortisol levels were significantly higher in non-users in the stress condition relative to non-users in the no stress condition. In contrast, cannabis users demonstrated blunted stress reactivity; specifically, they showed no increase in cortisol and a significantly smaller increase in subjective stress ratings. The stress manipulation had no impact on cannabis users' self-reported cravings or withdrawal symptoms.
Conclusion
Chronic cannabis use is associated with blunted stress reactivity. Future research is needed to determine whether this helps to confer resiliency or vulnerability to stress-related psychopathology as well as the mechanisms underlying this effect.
This is a preview of subscription content, log in to check access.
Access options
Buy single article
Instant access to the full article PDF.
US$ 39.95
Price includes VAT for USA
Subscribe to journal
Immediate online access to all issues from 2019. Subscription will auto renew annually.
US$ 199
This is the net price. Taxes to be calculated in checkout.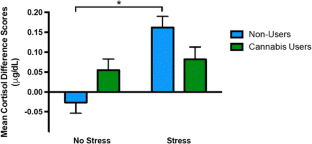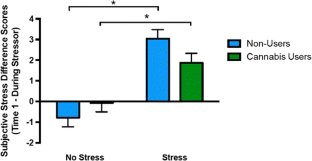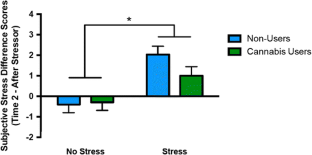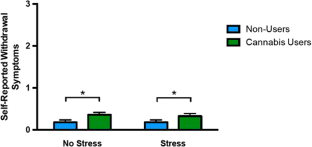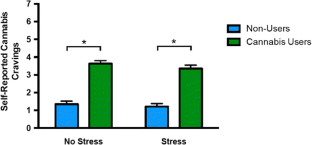 References
Block RI, Farinpour R, Schlechte JA (1991) Effects of chronic marijuana use on testosterone, luteinizing hormone, follicle stimulating hormone, prolactin and cortisol in men and women. Drug Alcohol Depend 28(2):121–128

Buckner JD, Silgado J, Schmidt NB (2011) Marijuana craving during a public speaking challenge: understanding marijuana use vulnerability among women and those with social anxiety disorder. J Behav Ther Exp Psychiatry 42(1):104–110. doi:10.1016/j.jbtep.2010.07.005

Buckner JD, Ecker AH, Vinci C (2013) Cannabis use vulnerability among socially anxious users: cannabis craving during a social interaction. Psychol Addict Behav 27(1):236–242. doi:10.1037/a0029763

Buckner JD, Zvolensky MJ, Ecker AH, Jeffries ER (2016) Cannabis craving in response to laboratory-induced social stress among racially diverse cannabis users: the impact of social anxiety disorder. J Psychopharmacol 30(4):363–369. doi:10.1177/0269881116629115

Budney AJ, Novy PL, Hughes JR (1999) Marijuana withdrawal among adults seeking treatment of marijuana dependence. Addiction 94:1311–1322. doi:10.1046/j.13600443.1999.94913114.x

Budney AJ, Moore BA, Vandrey RG, Hughes JR (2003) The time course and significance of cannabis withdrawal. J Abnorm Psychol 112:393–402. doi:10.1037/0021-843X.112.3.393

Childs E, Lutz JA, de Wit H (2017) Dose-related effects of delta-9-THC on emotional responses to acute psychosocial stress. Drug Alcohol Depend (in press)

Cleck JN, Blendy JA (2008) Making a bad thing worse: adverse effects of stress on drug addiction. J Clin Invest 118(2):454–461. doi:10.1172/JCI33946

Cohen S, Williamson G (1988) Perceived stress in a probability sample of the United States. In: Spacapan S, Oskamp S (eds) The social psychology of health: Claremont symposium on applied social psychology. Newbury Park, California

Copeland J, Swift W, Rees V (2001) Clinical profile of participants in a brief intervention program for cannabis use disorder. J Subst Abus Treat 20(1):45–52

Cornelius JR, Aizenstein HJ, Hariri AR (2010) Amygdala reactivity is inversely related to level of cannabis use in individuals with comorbid cannabis dependence and major depression. Addict Behav 35(6):644–646. doi:10.1016/j.addbeh.2010.02.004

Cuttler C, Spradlin A (2017) Measuring cannabis consumption. Psychometric properties of the Daily Sessions, Frequency, Age of Onset, and Quantity of Cannabis Use Inventory (DFAQ-CU). PLOS ONE (in press)

Di Marzo V, Berrendero F, Bisogno T, González S, Cavaliere P, Romero J, Cebeira M, Ramos JA, Fernández-Ruiz JJ (2000) Enhancement of anandamide formation in the limbic forebrain and reduction of endocannabinoid contents in the striatum of delta9-tetrahydrocannabinol-tolerant rats. J Neurochem 74(4):1627–1635

Di S, Malcher-Lopes R, Halmos KC, Tasker JG (2003) Nongenomic glucocorticoid inhibition via endocannabinoid release in the hypothalamus: a fast feedback mechanism. J Neurosci 23(12):4850–4857

Elo AL, Leppänen A, Jahkola A (2003) Validity of a single-item measure of stress symptoms. Scand J Work Environ Health 29:444–451

Ginty AT, Jones A, Carroll D, Roseboom TJ, Phillips AC, Painter R, de Rooij SR (2014) Neuroendocrine and cardiovascular reactions to acute psychological stress are attenuated in smokers. Psychoneuroendocrinology 48:87–97. doi:10.1016/j.psyneuen.2014.05.023

Gold PW, Chrousos GP (2002) Organization of the stress system and its dysregulation in melancholic and atypical depression: high vs low CRH/NE states. Mol Psychiatry 7(3):254–275. doi:10.1038/sj.mp.4001032

González S, Fernández-Ruiz J, Di Marzo V, Hernández M, Arévalo C, Nicanor C, Cascio MG, Ambrosio E, Ramos JA (2004) Behavioral and molecular changes elicited by acute administration of SR141716 to Delta9-tetrahydrocannabinol-tolerant rats: an experimental model of cannabinoid abstinence. Drug Alcohol Depend 74(2):159–170. doi:10.1016/j.drugalcdep.2003.12.011

Gorka SM, Fitzgerald DA, de Wit H, Phan KL (2015) Cannabinoid modulation of amygdala subregion functional connectivity to social signals of threat. Int J Neuropsychopharmacol 18(3):pyu104. doi:10.1093/ijnp/pyu104

Gruber SA, Rogowska J, Yurgelun-Todd DA (2009) Altered affective response in marijuana smokers: an FMRI study. Drug Alcohol Depend 105(1–2):139–153. doi:10.1016/j.drugalcdep.2009.06.019

Heishman SJ, Singleton EG, Liguori A (2001) Marijuana Craving Questionnaire: development and initial validation of a self-report instrument. Addiction 97(7):1023–1034. doi:10.1080/096552140120053084

Herman JP (2013) Neural control of chronic stress adaptation. Front Behav Neurosci 7:61. doi:10.3389/fnbeh.2013.00061

Herman JP, McKlveen JM, Ghosal S, Kopp B, Wulsin A, Makinson R, Scheimann J, Myers B (2016) Regulation of the hypothalamic-pituitary-adrenocortical stress response. Compr Physiol 6(2):603–621. doi:10.1002/cphy.c150015

Hesse M, Thylstrup B (2013) Time-course of the DSM-5 cannabis withdrawal symptoms in poly-substance abusers. BMC Psychiatry 13:258. doi:10.1186/1471-244X-13-258

Hill MN, Tasker JG (2012) Endocannabinoid signaling, glucocorticoid-mediated negative feedback, and regulation of the hypothalamic-pituitary-adrenal axis. Neuroscience 204:5–16. doi:10.1016/j.neuroscience.2011.12.030

Hill MN, McLaughlin RJ, Pan B, Fitzgerald ML, Roberts CJ, Lee TT, Karatsoreos IN, Mackie K, Viau V, Pickel VM, McEwen BS, Liu QS, Gorzalka BB, Hillard CJ (2011) Recruitment of prefrontal cortical endocannabinoid signaling by glucocorticoids contributes to termination of the stress response. J Neurosci 31(29):10506–10515. doi:10.1523/JNEUROSCI.0496-11.2011

Hyman SM, Sinha R (2009) Stress-related factors in cannabis use and misuse: implications for prevention and treatment. J Subst Abus Treat 36(4):400–413. doi:10.1016/j.jsat.2008.08.005

Kedzior KK, Laeber LT (2014) A positive association between anxiety disorders and cannabis use or cannabis use disorders in the general population—a meta-analysis of 31 studies. BMC Psychiatry 14:136. doi:10.1186/1471-244X-14-136

King GR, Ernst T, Deng W, Stenger A, Gonzales RM, Nakama H, Chang L (2011) Altered brain activation during visuomotor integration in chronic active cannabis users: relationship to cortisol levels. J Neurosci 31(49):17923–17931. doi:10.1523/JNEUROSCI.4148-11.2011

Lamers F, Vogelzangs N, Merikangas KR, de Jonge P, Beekman AT, Penninx BW (2013) Evidence for a differential role of HPA-axis function, inflammation and metabolic syndrome in melancholic versus atypical depression. Mol Psychiatry 18(6):692–699. doi:10.1038/mp.2012.144

Malcher-Lopes R, Di S, Marcheselli VS, Weng FJ, Stuart CT, Bazan NG, Tasker JG (2006) Opposing crosstalk between leptin and glucocorticoids rapidly modulates synaptic excitation via endocannabinoid release. J Neurosci 26(24):6643–6650. doi:10.1523/JNEUROSCI.5126-05.2006

McEwen BS (1998) Stress, adaptation, and disease. Allostasis and allostatic load. Ann N Y Acad Sci 840:33–44

McEwen BS, Sapolsky RM (1995) Stress and cognitive function. Curr Opin Neurobiol 5(2):205–216

McEwen BS, Nasca C, Gray JD (2016) Stress effects on neuronal structure: hippocampus, amygdala, and prefrontal cortex. Neuropsychopharmacology 41(1):3–23. doi:10.1038/npp.2015.171

McLaughlin RJ, Hill MN, Gorzalka BB (2014) A critical role for prefrontocortical endocannabinoid signaling in the regulation of stress and emotional behavior. Neurosci Biobehav Rev 42:116–131. doi:10.1016/j.neubiorev.2014.02.006

Mizrahi R, Suridjan I, Kenk M, George TP, Wilson A, Houle S, Rusjan P (2013) Dopamine response to psychosocial stress in chronic cannabis users: a PET study with [11C]-+-PHNO. Neuropsychopharmacology 38(4):673–682. doi:10.1038/npp.2012.232

Monteleone P, Di Filippo C, Fabrazzo M, Milano W, Martiadis V, Corrivetti G, Monteleone AM, Maj M (2014) Flattened cortisol awakening response in chronic patients with schizophrenia onset after cannabis exposure. Psychiatry Res 215(2):263–267. doi:10.1016/j.psychres.2013.12.016

Morgan CJ, Page E, Schaefer C, Chatten K, Manocha A, Gulati S, Curran HV, Brandner B, Leweke FM (2013) Cerebrospinal fluid anandamide levels, cannabis use and psychotic-like symptoms. Br J Psychiatry 202(5):381–382. doi:10.1192/bjp.bp.112.121178

Okaneku J, Vearrier D, McKeever RG, LaSala GS, Greenberg MI (2015) Change in perceived risk associated with marijuana use in the United States from 2002 to 2012. Clin Toxicol (Phila) 53(3):151–155. doi:10.3109/15563650.2015.1004581

Phan KL, Fitzgerald DA, Nathan PJ, Moore GJ, Uhde TW, Tancer ME (2005) Neural substrates for voluntary suppression of negative affect: a functional magnetic resonance imaging study. Biol Psychiatry 57(3):210–219. doi:10.1016/j.biopsych.2004.10.030

Phan KL, Angstadt M, Golden J, Onyewuenyi I, Popovska A, de Wit H (2008) Cannabinoid modulation of amygdala reactivity to social signals of threat in humans. J Neurosci 28(10):2313–2319

Ranganathan M, Braley G, Pittman B, Cooper T, Perry E, Krystal J, D'Souza DC (2009) The effects of cannabinoids on serum cortisol and prolactin in humans. Psychopharmacology 203(4):737–744. doi:10.1007/s00213-008-1422-2

Sami MB, Rabiner EA, Bhattacharyya S (2015) Does cannabis affect dopaminergic signaling in the human brain? A systematic review of evidence to date. Eur Neuropsychopharmacol 25(8):1201–1224. doi:10.1016/j.euroneuro.2015.03.011

Schuermeyer J, Salomonsen-Sautel S, Price RK, Balan S, Thurstone C, Min SJ, Sakai JT (2014) Temporal trends in marijuana attitudes, availability and use in Colorado compared to non-medical marijuana states: 2003-11. Drug Alcohol Depend 140:145–155. doi:10.1016/j.drugalcdep.2014.04.016

Sexton M, Cuttler C, Finnell J, Mischley L (2016) A cross-sectional survey of medical cannabis users: patterns of use and perceived efficacy. Cannabis Cannabinoid Res 1:131–138. doi:10.1089/can.2016.0007

Smeets T, Cornelisse S, Quaedflieg CW, Meyer T, Jelicic M, Merckelbach H (2012) Introducing the Masstricht Acute Stress Test (MAST): a quick and non-invasive approach to elicit robust autonomic and glucocorticoid stress responses. Psychneuroendocrinology 37:1998–2008. doi:10.1016/j.psyneuen.2012.04.012

Somaini L, Manfredini M, Amore M, Zaimovic A, Raggi MA, Leonardi C, Gerra ML, Donnini C, Gerra G (2012) Psychobiological responses to unpleasant emotions in cannabis users. Eur Arch Psychiatry Clin Neurosci 262(1):47–57. doi:10.1007/s00406-011-0223-5

Sotnikov S, Wittmann A, Bunck M, Bauer S, Deussing J, Schmidt M, Touma C, Landgraf R, Czibere L (2014) Blunted HPA axis reactivity reveals glucocorticoid system dysbalance in a mouse model of high anxiety-related behavior. Psychoneuroendocrinology 48:41–51. doi:10.1016/j.psyneuen.2014.06.006

Stolzenberg L, D'Alessio SJ, Dariano D (2016) The effect of medical cannabis laws on juvenile cannabis use. Int J Drug Policy 27:82–88. doi:10.1016/j.drugpo.2015.05.018

Substance Abuse and Mental Health Services Administration (SAMHSA) (2014). Behavioral health trends in the United States: results from the 2014 National Survey on Drug Use and Health. Retrieved March 15th, from http://www.samhsa.gov/data/sites/default/files/NSDUH-FRR1-2014/NSDUH-FRR1-2014.pdf

Tu MT, Lupien SJ, Walker CD (2006) Diurnal salivary cortisol levels in postpartum others as a function of infant feeding choice and parity. Psychneuroendocrinology 31(7):812–824. doi:10.1016/j.psyneuen.2006.03.006

United Nations Office on Drugs and Crime (2012) World drug report. United Nations, New York

Urry HL, van Reekum CM, Johnstone T, Kalin NH, Thurow ME, Schaefer HS, Jackson CA, Frye CJ, Greischar LL, Alexander AL, Davidson RJ (2006) Amygdala and ventromedial prefrontal cortex are inversely coupled during regulation of negative affect and predict the diurnal pattern of cortisol secretion among older adults. J Neurosci 26(16):4415–4425. doi:10.1523/JNEUROSCI.3215-05.2006

Volkow ND, Wang GJ, Telang F, Fowler JS, Alexoff D, Logan J, Jayne M, Wong C, Tomasi D (2014) Decreased dopamine brain reactivity in marijuana abusers is associated with negative emotionality and addiction severity. Proc Natl Acad Sci U S A 111(30):E3149–E3156. doi:10.1073/pnas.1411228111

Webb CW, Webb SM (2014) Therapeutic benefits of cannabis: a patient survey. Hawaii J Med Public Health 73(4):109–111

Yehuda R (2009) Status of glucocorticoid alterations in post-traumatic stress disorder. Ann N Y Acad Sci 1179:56–69. doi:10.1111/j.1749-6632.2009.04979.x
Acknowledgements
Washington State University's Dedicated Marijuana Account funded this study. We thank Anthony Berger for running the cortisol assays.
Ethics declarations
Conflict of interest
The authors declare that they have no conflict of interest.
About this article
Cite this article
Cuttler, C., Spradlin, A., Nusbaum, A.T. et al. Blunted stress reactivity in chronic cannabis users. Psychopharmacology 234, 2299–2309 (2017). https://doi.org/10.1007/s00213-017-4648-z
Received:

Accepted:

Published:

Issue Date:
Keywords
Cannabis

Marijuana

Stress

Cortisol

Craving

Withdrawal