Abstract
Rationale
Self-report studies indicate that cannabis could increase sexual desire in some users. We hypothesized that intoxication increases activation of brain areas responsive to visual erotica, which could be useful in the treatment of hypoactive sexual desire disorder, a condition marked by a lack of sexual desire.
Objectives
The aim of this study is to assess the aphrodisiacal properties of cannabis.
Methods
We conducted an open-randomized study with 21 heterosexual casual cannabis users. A 3T MRI was used to measure brain activation in response to erotic pictures. Blood samples were collected to determine the serum levels of cannabinoids, cortisol and prolactin. Participants were grouped according to whether they had ever experienced any aphrodisiacal effects during intoxication (Group A) or not (Group non-A).
Results
Intoxication was found to significantly increase activation in the right nucleus accumbens in the Group A while significantly decreasing activation in the Group non-A. There was also a significant interaction between the group and intoxication, with elevated prolactin in the Group non-A during intoxication. No intoxication-related differences in subjective picture evaluations were found.
Conclusion
Cannabis intoxication increases activation of the right nucleus accumbens to erotic stimuli. This effect is limited to users whose prolactin is not elevated in response to intoxication. This effect may be useful in the treatment of low sexual desire.
Access options
Buy single article
Instant access to the full article PDF.
US$ 39.95
Tax calculation will be finalised during checkout.
Subscribe to journal
Immediate online access to all issues from 2019. Subscription will auto renew annually.
US$ 119
Tax calculation will be finalised during checkout.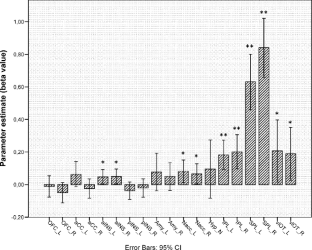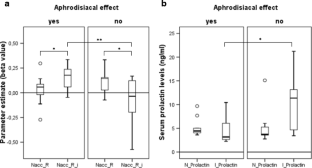 Abbreviations
Group A:

Group of participants who experience aphrodisiacal effects of cannabis

Group non-A:

Group of participants who do not experience aphrodisiacal effects of cannabis

aCC_L:

Anterior cingulated cortex left

aCC_R:

Anterior cingulated cortex right

aINS_L:

Anterior insula left

aINS_R:

Anterior insula right

Amy_L:

Amygdala left

Amy_R:

Amygdala right

Hyp:

Hypothalamus

IPL_L:

Inferior parietal lobe left

IPL_R:

Inferior parietal lobe right

Nacc_L:

Nucleus accumbens left

Nacc_R:

Nucleus accumbens right

OFC_L:

Orbitofrontal cortex left

OFC_R:

Orbitofrontal cortex right

pINS_L:

Posterior insula left

pINS_R:

Posterior insula right

SPL_L:

Superior parietal lobe left

SPL_R:

Superior parietal lobe right

vlOT_L:

Ventro-lateral occipito-temporal junction left

vlOT_R:

Ventro-lateral occipito-temporal junction right
References
Aharon I, Etcoff N, Ariely D, Chabris CF, O'Connor E, Breiter HC (2001) Beautiful faces have variable reward value: fMRI and behavioral evidence. Neuron 32:537–551

American Psychiatric Association (2000) Diagnostic and statistical manual of mental disorders, 4th edn text rev. American Psychiatric Association, Washington, DC

Androvicova R, Horacek J, Stark T, Drago F, Micale V (2017) Endocannabinoid system in sexual motivational processes: is it a novel therapeutic horizon? Pharmacol Res 115:200–208

Arnow BA, Millheiser L, Garrett A, Polan ML, Glover GH, Hill KR, Lightbody A, Watson C, Banner L, Smart T, Buchanan T (2009) Women with hypoactive sexual desire disorder compared to normal females: a functional magnetic resonance imaging study. Neuroscience 158:484–502

Baird AD, Wilson SJ, Bladin PF, Saling MM, Reutens DC (2004) The amygdala and sexual drive: insights from temporal lobe epilepsy surgery. Ann Neurol 55:87–96

Balikova M, Hlozek T, Palenicek T, Tyls F, Viktorinova M, Androvicova R, Tomicek P, Roman M, Horacek J (2013) Time profile of serum THC levels in occasional and chronic marihuana smokers after acute drug use-implication for driving motor vehicles. Soudni lekarstvi (Forensic medicine). The journal of Forensic medicine section of the Czech medical society of J E Purkyne 59:2–6

Beutel ME, Stöbel-Richter Y, Brähler E (2008) Sexual desire and sexual activity of men and women across their lifespans: results from a representative German community survey. BJU Int 101:76–82

Bhattacharyya S, Atakan Z, Martin-Santos R, Crippa JA, Kambeitz J, Prata D, Williams S, Brammer M, Collier DA, McGuire PK (2012a) Preliminary report of biological basis of sensitivity to the effects of cannabis on psychosis: AKT1 and DAT1 genotype modulates the effects of δ-9-tetrahydrocannabinol on midbrain and striatal function. Mol Psychiatry 17:1152–1155

Bhattacharyya S, Crippa JA, Allen P, Martin-Santos R, Borgwardt S, Fusar-Poli P, Rubia K, Kambeitz J, O'Carroll C, Seal ML, Giampietro V (2012b) Induction of psychosis byδ9-tetrahydrocannabinol reflects modulation of prefrontal and striatal function during attentional salience processing. Arch Gen Psychiatry 69:27–36

Bianchi-Demicheli F, Cojan Y, Waber L, Recordon N, Vuilleumier P, Ortigue S (2011) Neural bases of hypoactive sexual desire disorder in women: an event-related fMRI study. J Sex Med 8:2546–2559

Block RI, Farinpour R, Schlechte JA (1991) Effects of chronic marijuana use on testosterone, luteinizing-hormone, follicle-stimulating-hormone, prolactin and cortisol in men and women. Drug Alcohol Depend 28:121–128

Bolour SY, Braunstein GD (2005) Pharmacologic treatment options for hypoactive sexual desire disorder. Womens Health (Lond) 1:263–277

Bossong MG, van Berckel BNM, Boellaard R, Zuurman L, Schuit RC, Windhorst AD, van Gerven JMA, Ramsey NF, Lammertsma AA, Kahn RS (2009) Delta 9-tetrahydrocannabinol induces dopamine release in the human striatum. Neuropsychopharmacology 34:759–766

Brett M, Anton J, Valabregue R, Poline J (2002) Region of interest analysis using an SPM toolbox. Presented at the 8th International Conference on Functional Mapping of the Human Brain, June 2–6, 2002, Sendai, Japan. Available on CD-ROM in Neuroimage 16(2)

Canseco-Alba A, Rodriguez-Manzo G (2013) Anandamide transforms noncopulating rats into sexually active animals. J Sex Med 10:686–693

Cera N, Di Pierro ED, Sepede G, Gambi F, Perrucci MG, Merla A, Tartaro A, Del Gratta C, Galatioto Paradiso G, Vicentini C, Romani GL (2012) The role of left superior parietal lobe in male sexual behavior: dynamics of distinct components revealed by FMRI. J Sex Med 9:1602–1612

Chivers ML, Seto MC, Lalumiere ML, Laan E, Grimbos T (2010) Agreement of self-reported and genital measures of sexual arousal in men and women: a meta-analysis. Arch Sex Behav 39:5–56

Christensen RHB (2013) Ordinal - regression models for ordinal data. R package version 2015:6–28 http://www.cran.r-project.org/package=ordinal/

Dax EM, Pilotte NS, Adler WH, Nagel JE, Lange WR (1989) The effects of 9-ene-tetrahydrocannabinol on hormone-release and immune function. J Steroid Biochem Mol Biol 34:263–270

Demos KE, Heatherton TF, Kelley WM (2012) Individual differences in nucleus accumbens activity to food and sexual images predict weight gain and sexual behavior. J Neurosci 32:5549–5552

Fadda P, Scherma M, Spano MS, Salis P, Melis V, Fattore L, Fratta W (2006) Cannabinoid self-administration increases dopamine release in the nucleus accumbens. Neuroreport 17:1629–1632

Fattore L, Fadda P, Spano MS, Pistis M, Fratta W (2008) Neurobiological mechanisms of cannabinoid addiction. Mol Cell Endocrinol 286:S97–S107

Fattore L, Melis M, Fadda P, Pistis M, Fratta W (2010) The endocannabinoid system and nondrug rewarding behaviours. Exp Neurology 224:23–36

Ferretti A, Caulo M, Del Gratta C, Di Matteo R, Merla A, Montorsi F, Pizzella V, Pompa P, Rigatti P, Rossini PM, Salonia A (2005) Dynamics of male sexual arousal: distinct components of brain activation revealed by fMRI. NeuroImage 26:1086–1096

Fitzgerald P, Dinan TG (2008) Prolactin and dopamine: what is the connection? A review article. J Psychopharmacol (Oxf) 22:12–19

Georgiadis JR, Kringelbach ML (2012) The human sexual response cycle: brain imaging evidence linking sex to other pleasures. Prog Neurobiol 98:49–81

Gonzalezmora JL, Guadalupe T, Mas M (1990) Invivo voltammetry study of the modulatory action of prolactin on the mesolimbic dopaminergic system. Brain Res Bull 25:729–733

Goode E (1970) The marijuana smokers. Basic Books, New York

Green B, Kavanagh D, Young R (2003) Being stoned: a review of self-reported cannabis effects. Drug Alcohol Rev 22:453–460

Guadarrama-Bazante IL, Canseco-Alba A, Rodriguez-Manzo G (2014) Dopamine receptors play distinct roles in sexual behavior expression of rats with a different sexual motivational tone. Behav Pharmacol 25:684–694

Halikas J, Weller R, Morse C (1982) Effects of regular marihuana use on sexual performance. J Psychoactive Drugs 14:59–70

Hamilton LD, Rellini AH, Meston CM (2008) Cortisol, sexual arousal, and affect in response to sexual stimuli. J Sex Med 5:2111–2118

Hathaway SR, McKinley JC (1989) MMPI-2. MN: University of Minnesota Press, Minneapolis

van Hell HH, Vink M, Ossewaarde L, Jager G, Kahn RS, Ramsey NF (2010) Chronic effects of cannabis use on the human reward system: an fMRI study. Eur Neuropsychopharmacol 20:153–163

Howlett AC, Breivogel CS, Childers SR, Deadwyler SA, Hampson RE, Porrino LJ (2004) Cannabinoid physiology and pharmacology: 30 years of progress. Neuropharmacology 47:345–358

Hunter SA, Burstein SH (1997) Receptor mediation in cannabinoid stimulated arachidonic acid mobilization and anandamide synthesis. Life Sci 60:1563–1573

Hurlbert DF, Apt C, Rabehl SM (1993) Key variables to understanding female sexual satisfaction: an examination of women in nondistressed marriages. J Sex Marital Ther 19:154–165

IBM Corp. (2011) IBM SPSS Statistics for Windows, Version 20.0. Armonk, NY

Jezova D, Vigas M, Hlavacova N, Kukumberg P (2010) Attenuated neuroendocrine response to hypoglycemic stress in patients with panic disorder. Neuroendocrinology 92:112–119

Karama S, Lecours AR, Leroux JM, Bourgouin P, Beaudoin G, Joubert S, Beauregard M (2002) Areas of brain activation in males and females during viewing of erotic film excerpts. Hum Brain Mapp 16:1–13

Kobori Y, Koh E, Sugimoto K, Izumi K, Narimoto K, Maeda Y, Konaka H, Mizokami A, Matsushita T, Iwamoto T, Namiki M (2009) The relationship of serum and salivary cortisol levels to male sexual dysfunction as measured by the International index of erectile function. Int J Impot Res 21:207–212

Kruger THC, Haake P, Hartmann U, Schedlowski M, Exton MS (2002) Orgasm-induced prolactin secretion: feedback control of sexual drive? Neurosci Biobehav Rev 26:31–44

Kruger THC, Haake P, Haverkamp J, Kramer M, Exton MS, Saller B, Leygraf N, Hartmann U, Schedlowski M (2003) Effects of acute prolactin manipulation on sexual drive and function in males. J Endocrinol 179:357–365

Laan E, Everaerd W, Velde J, Geer JH (1995) Determinants of subjective experience of sexual arousal in women: feedback from genital arousal and erotic stimulus content. Psychophysiology 32:444–451

Lang PJ, Bradley MM, Cuthbert BN (2008) International affective picture system (IAPS): affective ratings of pictures and instruction manual. University of Florida, Gainesville, FL

Leiblum SR, Koochaki PE, Rodenberg CA, Barton IP, Rosen RC (2006) Hypoactive sexual desire disorder in postmenopausal women: US results from the Women's International study of health and sexuality (WISHeS). Menopause 13:46–56

Lyons MJ, Toomey R, Meyer JM, Green AI, Eisen SA, Goldberg J, True WR, Tsuang MT (1997) How do genes influence marijuana use? The role of subjective effects. Addiction 92:409–417

Maldjian JA, Laurienti PJ, Kraft RA, Burdette JH (2003) An automated method for neuroanatomic and cytoarchitectonic atlas-based interrogation of fMRI data sets. NeuroImage 19:1233–1239

Mitchell JB, Gratton A (1994) Involvement of mesolimbic dopamine neurons in sexual behaviors: implications for the neurobiology of motivation. Rev Neurosci 5:317–330

Mykletun A, Dahl AA, O'Leary MP, Fosså SD (2005) Assessment of male sexual function by the Brief sexual function Inventory. BJU Int 97:316–323

Nestor L, Hester R, Garavan H (2010) Increased ventral striatal BOLD activity during non-drug reward anticipation in cannabis users. NeuroImage 49:1133–1143

Pfaus JG (2009) Pathways of sexual desire. J Sex Med 6:1506–1533

R Core Team (2014) R: a language and environment for statistical computing. R Foundation for Statistical Computing, Vienna, Austria

Ranganathan M, Braley G, Pittman B, Cooper T, Perry E, Krystal J, D'Souza DC (2009) The effects of cannabinoids on serum cortisol and prolactin in humans. Psychopharmacology 203:737–744

Redoute J, Stoleru S, Gregoire MC, Costes N, Cinotti L, Lavenne F, Le Bars D, Forest MG, Pujol JF (2000) Brain processing of visual sexual stimuli in human males. Hum Brain Mapp 11:162–177

Sami MB, Rabiner EA, Bhattacharyya S (2015) Does cannabis affect dopaminergic signaling in the human brain? A systematic review of evidence to date. Eur Neuropsychopharmacol 25:1201–1224

Simons JS, Carey MP (2001) Prevalence of sexual dysfunctions: results from a decade of research. Arch Sex Behav 30:177–219

Stoléru S, Mouras H (2007) Brain functional imaging studies of sexual desire and arousal in human males. In: Janssen E (ed) The psychophysiology of sex. Indiana University Press

The MathWorks I (2006) MATLAB v.7.3 (R2006b)

Ückert S, Fuhlenriede MH, Becker AJ, Stief CG, Scheller F, Knapp WH, Jonas U (2003) Is there an inhibitory role of cortisol in the mechanism of male sexual arousal and penile erection? Urol Res 31:402–406

Versace F, Engelmann JM, Jackson EF, Slapin A, Cortese KM, Bevers TB, Schover LR (2013) Brain responses to erotic and other emotional stimuli in breast cancer survivors with and without distress about low sexual desire: a preliminary fMRI study. Brain Imaging Behav 7:533–542

Vescovi PP, Pedrazzoni M, Michelini M, Maninetti L, Bernardelli F, Passeri M (1992) Chronic effects of marijuana smoking on luteinizing-hormone, follicle-stimulating-hormone and prolactin levels in human males. Drug Alcohol Depend 30:59–63

Wellcome Trust Centre for Neuroimaging (2009) SPM8.

Weller RA, Halikas JA (1984) Marijuana use and sexual-behavior. J Sex Res 20:186–193

West SL, D'Aloisio AA, Agans RP, Kalsbeek WD, Borisov NN, Thorp JM (2008) Prevalence of low sexual desire and hypoactive sexual desire disorder in a nationally representative sample of US women. Arch Intern Med 168:1441–1449

Zoner Photo Studio 7 [Computer Software] (2004). Available from https://www.zoner.com/download/
Acknowledgements
This work was supported from the Ministry of interior of the Czech Republic (grant VG20122015080), from the Internal Grant Agency of the Ministry of Health of the Czech Republic (grant number IGA MZCR NT 13145–4/2012), by the project "Sustainability for the National Institute of Mental Health", (grant number LO1611), with a financial support of the Ministry of Education, Youth and Sports of the Czech Republic (program NPU I). Further, it was supported from the Ministry of Health of the Czech Republic, by the projects PRVOUK34 and GAUK232415 from the Charles University, Prague, and from the Slovak Research and Development Agency (grant number APVV-14-0840).
Authors would like to thank Marketa Lichnovska (National Institute of Mental Health, Klecany, Czech Republic), Ludmila Zilava (Slovak Academy of Sciences, Bratislava, Slovak Republic), Tim Wells (National Institute of Mental Health, Klecany, Czech Republic), Tomás Novak (National Institute of Mental Health, Klecany, Czech Republic), and Martin Kanovsky (Comenius University in Bratislava, Slovak Republic) for their support and assistance with this project.
Compliance with ethical standards
This study was approved by the Ethical committee of the National Institute of Mental Health, the Czech's Ministry of Internal Affairs of Czech Republic, and complies with Czech laws. Prior to the study, every participant had to sign an Informed consent.
Electronic supplementary material
About this article
Cite this article
Androvicova, R., Horacek, J., Tintera, J. et al. Individual prolactin reactivity modulates response of nucleus accumbens to erotic stimuli during acute cannabis intoxication: an fMRI pilot study. Psychopharmacology 234, 1933–1943 (2017). https://doi.org/10.1007/s00213-017-4601-1
Received:

Accepted:

Published:

Issue Date:
Keywords
Cannabis

Hypoactive sexual desire

Nucleus accumbens

Hypothalamus

Prolactin

Dopamine

Cortisol

fMRI