Abstract
Background
The theory of behavioral tolerance to alcohol posits that greater experience with drinking to intoxication leads to less impaired cognitive and psychomotor performance. However, the degree to which behavioral tolerance develops or changes over time in adults due to repeated heavy alcohol drinking has not been clearly demonstrated.
Method
We examined data from the first 6 years of the Chicago Social Drinking Project to test whether chronic heavy drinkers (HDs; n = 86) and light drinkers (LDs; n = 69) exhibit behavioral tolerance or changes in perceived impairment at two testing phases in early adulthood. Tasks were the Grooved Pegboard and Digit Symbol Substitution Test (DSST) given at initial testing and then repeated in a re-examination phase 5 years later. Alcohol (0.8 g/kg) and placebo were administered at separate sessions in each phase for a total of 620 individual laboratory sessions.
Results
HDs exhibited less impairment over time on the Pegboard task but not on the DSST, while LDs did not exhibit behavioral tolerance on either task. HDs reported persistently lower perceived impairment compared to LDs.
Conclusions
These findings demonstrate that behavioral tolerance in HDs is evident over time on rote fine motor skills (Pegboard) but not more complex skills integrating motor speed, encoding, and short-term memory (DSST). The results have implications for our understanding of alcohol-induced impairments across neurobehavioral processes in heavy drinkers and their ongoing risks for alcohol-related consequences over time.
This is a preview of subscription content, log in to check access.
Access options
Buy single article
Instant access to the full article PDF.
US$ 39.95
Price includes VAT for USA
Subscribe to journal
Immediate online access to all issues from 2019. Subscription will auto renew annually.
US$ 199
This is the net price. Taxes to be calculated in checkout.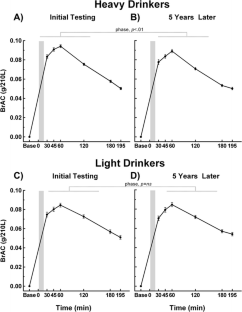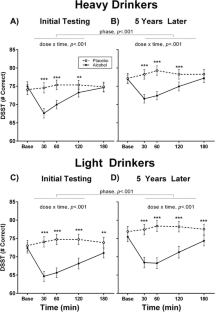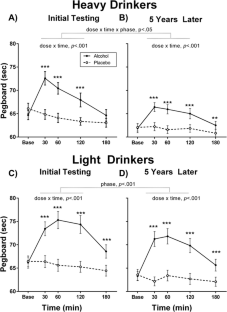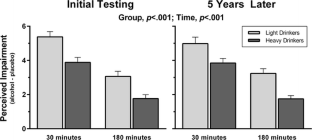 References
Bornstein RA (1985) Normative data on selected neuropsychological measures from a nonclinical sample. J Clin Psychol 41:651–659. doi:10.1002/1097-4679(198509)41:5<651::aid-jclp2270410511>3.0.co;2-c

Brumback T, Cao D, King A (2007) Effects of alcohol on psychomotor performance and perceived impairment in heavy binge social drinkers. Drug Alcohol Depend 91:10–17. doi:10.1016/j.drugalcdep.2007.04.013

Chanraud S, Pitel A-L, Rohlfing T, Pfefferbaum A, Sullivan EV (2010) Dual tasking and working memory in alcoholism: relation to frontocerebellar circuitry. Neuropsychopharmacology 35:1868–1878

Chen C-S (1972) A further note on studies of acquired behavioural tolerance to alcohol. Psychopharmacologia 27:265–274. doi:10.1007/BF00422807

Chen C-S (1979) Acquisition of behavioral tolerance to ethanol as a function of reinforced practice in rats. Psychopharmacology 63:285–288. doi:10.1007/BF00433563

Conrad M, McNamara P, King A (2012) Alternative substance paradigm: effectiveness of beverage blinding and effects on acute alcohol responses. Exp Clin Psychopharmacol 20:382. doi:10.1037/a0029261

Crews FT et al (2005) Alcoholic neurobiology: changes in dependence and recovery. Alcohol Clin Exp Res 29:1504–1513. doi:10.1097/01.alc.0000175013.50644.61

Duka T, Weissenborn R, Dienes Z (2001) State-dependent effects of alcohol on recollective experience, familiarity and awareness of memories. Psychopharmacology 153:295–306. doi:10.1007/s002130000564

Eckardt MJ et al (1998) Effects of moderate alcohol consumption on the central nervous system. Alcohol Clin Exp Res 22:998–1040. doi:10.1111/j.1530-0277.1998.tb03695.x

Ekman G, Frankenhaeuser M, Goldberg L, Hagdahl R, Myrsten A-L (1964) Subjective and objective effects of alcohol as functions of dosage and time. Psychopharmacologia 6:399–409. doi:10.1007/BF00429567

Fillmore MT, Vogel-Sprott M (1996) Social drinking history, behavioral tolerance and the expectation of alcohol. Psychopharmacology 127:359–364. doi:10.1007/BF02806015

First M, Spitzer R, Gibbon M, Williams JB (1995) Structured clinical interview for DSM-IV Axis I disorders (SCID). New York State Psychiatric Institute, New York

Forcehimes AA, Tonigan JS, Miller WR, Kenna GA, Baer JS (2007) Psychometrics of the drinker inventory of consequences (DrInC). Addict Behav 32:1699–1704. doi:10.1016/j.addbeh.2006.11.009

Glosser G, Butters N, Kaplan E (1977) Visuoperceptual processes in brain damaged patients on the digit symbol substitution test. Int J Neurosci 7:59–66. doi:10.3109/00207457709147202

Goldberg L (1943) Quantitative studies on alcohol tolerance in man. Acta Physiol Scand 5:1–128

Hindmarch I, Kerr JS, Sherwood N (1991) The effects of alcohol and other drugs on psychomotor performance and cognitive function. Alcohol Alcohol 26:71–79

Hollingworth HL (1924) The influence of alcohol (part II). The Journal of Abnormal Psychology and Social Psychology 18:311–333. doi:10.1037/h0071117

Jacobus J, Tapert SF (2013) Neurotoxic effects of alcohol in adolescence. Annu Rev Clin Psychol 9:703–721. doi:10.1146/annurev-clinpsy-050212-185610

Kalant H (1998) Research on tolerance: what can we learn from history? Alcohol Clin Exp Res 22:67–76. doi:10.1111/j.1530-0277.1998.tb03618.x

Kalant H, LeBlanc AE, Gibbins RJ (1971) Tolerance to, and dependence on, some non-opiate psychotropic drugs. Pharmacol Rev 22:135–191

King AC, Munisamy G, de Wit H, Lin S (2006) Attenuated cortisol response to alcohol in heavy social drinkers. Int J Psychophysiol 59:203–209. doi:10.1016/j.ijpsycho.2005.10.008

King AC, de Wit H, McNamara PJ, Cao D (2011) Rewarding, stimulant, and sedative alcohol responses and relationship to future binge drinking. Arch Gen Psychiatry 68:389–399. doi:10.1001/archgenpsychiatry.2011.26

King AC, McNamara PJ, Hasin DS, Cao D (2014) Alcohol challenge responses predict future alcohol use disorder symptoms: a 6-year prospective study. Biol Psychiatry 75:798–806. doi:10.1016/j.biopsych.2013.08.001

King AC, Hasin D, O'Connor SJ, McNamara PJ, Cao D (2016) A prospective 5-year re-examination of alcohol response in heavy drinkers progressing in alcohol use disorder. Biol Psychiatry 79:489–498. doi:10.1016/j.biopsych.2015.05.007

Lakens D (2013) Calculating and reporting effect sizes to facilitate cumulative science: a practical primer for t-tests and ANOVAs. Front Psychol 4:863. doi:10.3389/fpsyg.2013.00863

Leblanc AE, Kalant H, Gibbins RJ (1976) Acquisition and loss of behaviorally augmented tolerance to ethanol in the rat. Psychopharmacology 48:153–158. doi:10.1007/BF00423254

Lezak MD, Howieson DB, Loring DW (2004) Neuropsychological assessment, 4th edn. Oxford University Press, New York

Miller WR, Tonigan JS, Longabaugh R (1995) The Drinker Inventory of Consequences (DrInC): An instrument for assessing adverse consequences of alcohol abuse. Test manual (Vol. 4, Project MATCH Monograph Series). National Institute on Alcohol Abuse and Alcoholism, Rockville

Miller MA, Hays LR, Fillmore MT (2012) Lack of tolerance to the disinhibiting effects of alcohol in heavy drinkers Psychopharmacology 224:511–518. doi:10.1007/s00213-012-2786-x

Mitchell MC (1985) Alcohol-induced impairment of central nervous system function: behavioral skills involved in driving. J Stud Alcohol Suppl 10:109–116. doi:10.15288/jsas.1985.s10.109

Moskowitz H, Robinson C (1988) Effects of low doses of alcohol on driving-related skills: a review of the evidence. United States Department of Transportation, Washington DC

Moulton PL, Petros TV, Apostal KJ, Park Ii RV, Ronning EA, King BM, Penland JG (2005) Alcohol-induced impairment and enhancement of memory: a test of the interference theory. Physiol Behav 85:240–245. doi:10.1016/j.physbeh.2005.03.011

National Center for Statistics and Analysis (2014) Alcohol-impaired driving: 2013 data. (Traffic Safety Facts. DOT HS 812 102). National Highway Traffic Safety Administration, Washington, DC

Oscar-Berman M, Marinković K (2007) Alcohol: effects on neurobehavioral functions and the brain. Neuropsychol Rev 17:239–257. doi:10.1007/s11065-007-9038-6

Parsons OA, Nixon SJ (1993) Neurobehavioral sequelae of alcoholism. Neurol Clin 11:205–218

Petersen RC (1977) Retrieval failures in alcohol state-dependent learning. Psychopharmacology 55:141–146. doi:10.1007/bf01457849

Robbins TW, Ersche KD, Everitt BJ (2008) Drug addiction and the memory systems of the brain. Annals of the New York Academy of Sciences 1141:1–21. doi:10.1196/annals.1441.020

Roche DJO, King AC (2010) Alcohol impairment of saccadic and smooth pursuit eye movements: impact of risk factors for alcohol dependence. Psychopharmacology 212:33–44. doi:10.1007/s00213-010-1906-8

Saunders JB, Aasland OG, Babor TF, De La Fuente JR, Grant M (1993) Development of the alcohol use disorders identification test (AUDIT): WHO collaborative project on early detection of persons with harmful alcohol consumption-II. Addiction 88:791–804. doi:10.1111/j.1360-0443.1993.tb02093.x

Scott-Sheldon LAJ, Terry DL, Carey KB, Garey L, Carey MP (2012) Efficacy of expectancy challenge interventions to reduce college student drinking: a meta-analytic review. Psychol Addict Behav 26:393–405. doi:10.1037/a0027565

Smith LJ, McNamara PJ, King AC (2017) Optimizing follow-up and study retention in the 21st century: advances from the front line in alcohol and tobacco research. Drug & Alc Dep (in press)

Sobell LC, Sobell MB (1992) Timeline follow-back: a technique for assessing self-reported alcohol consumption. In: Litten RZ, Allen JP (eds) Measuring alcohol consumption: psychosocial and biochemical methods. Humana Press, Totowa, pp 41–72

Sullivan EV (2000) Human brain vulnerability to alcoholism: evidence from neuroimaging studies. In: Noronha A, Eckardt M, Warren K (eds) Review of NIAAA's neuroscience and behavioral research portfolio, vol NIAAA research monograph no. 34. National Institutes of Health, Bethesda, pp 473–508

Sullivan EV (2003) Compromised pontocerebellar and cerebellothalamocortical systems: speculations on their contributions to cognitive and motor impairment in nonamnesic alcoholism. Alcohol Clin Exp Res 27:1409–1419. doi:10.1097/01.ALC.0000085586.91726.46

Sullivan EV, Pfefferbaum A (2005) Neurocircuitry in alcoholism: a substrate of disruption and repair. Psychopharmacology 180:583–594

Sullivan EV, Rose J, Pfefferbaum A (2010) Physiological and focal cerebellar substrates of abnormal postural sway and tremor in alcoholic women. Biol Psychiatry 67:44–51. doi:10.1016/j.biopsych.2009.08.008

Tapert SF, Schweinsburg AD, Barlett VC, Brown SA, Frank LR, Brown GG, Meloy MJ (2004) Blood oxygen level dependent response and spatial working memory in adolescents with alcohol use disorders. Alcohol Clin Exp Res 28:1577–1586. doi:10.1097/01.alc.0000141812.81234.a6

Vogel-Sprott M (1992) Alcohol tolerance and social drinking: learning the consequences. The Guilford substance abuse series. Guilford Press, New York

Wechsler D (1997) WAIS-III, Wechsler adult intelligence scale: administration and scoring manual. Psychological Corporation, San Antonio

Weissenborn R, Duka T (2003) Acute alcohol effects on cognitive function in social drinkers: their relationship to drinking habits. Psychopharmacology 165:306–312. doi:10.1007/s00213-002-1281-1

Whitfield JB, Martin NG (1994) Alcohol consumption and alcohol pharmacokinetics: interactions within the normal population. Alcohol Clin Exp Res 18:238–243. doi:10.1111/j.1530-0277.1994.tb00007.x
Ethics declarations
Funding support
R01 AA013746 (PI: King) and National Center for Research Resources and National Institutes of Health Roadmap for Medical Research (no. UL1 RR02499). Also, this study was supported by the Veteran's Affairs Office of Academic Affiliation (TB).
About this article
Cite this article
Brumback, T., Cao, D., McNamara, P. et al. Alcohol-induced performance impairment: a 5-year re-examination study in heavy and light drinkers. Psychopharmacology 234, 1749–1759 (2017). https://doi.org/10.1007/s00213-017-4577-x
Received:

Accepted:

Published:

Issue Date:
Keywords
Alcohol

Tolerance

Human

Motor learning

Working memory