Abstract
Rationale
Self-titration is well documented in the tobacco literature. The extent to which e-cigarette users (vapers) self-titrate is unknown.
Objective
This study explored the effects of high and low nicotine strength liquid on puffing topography, nicotine delivery and subjective effects in experienced vapers.
Methods
Eleven experienced male vapers completed 60 min of ad libitum vaping under low (6 mg/mL) and high (24 mg/mL) nicotine liquid conditions in two separate sessions. Measurements included puffing topography (puff number, puff duration, volume of liquid consumed) and changes in plasma nicotine levels, craving, withdrawal symptoms, self-reported hit, satisfaction and adverse effects.
Results
Liquid consumption and puff number were higher and puff duration longer, in the low nicotine strength condition (all ps < 0.01). The mean difference in nicotine boost from baseline in the low condition was 8.59 (7.52) ng/mL, 16.99 (11.72) ng/mL and 22.03 (16.19) ng/mL at 10, 30 and 60 min, respectively. Corresponding values for the high condition were 33.77 (34.88) ng/mL, 35.48 (28.31) ng/mL and 43.57 (34.78) ng/mL (ps < 0.05). There were no statistically significant differences between conditions in self-reported craving, withdrawal symptoms, satisfaction, hit or adverse effects.
Conclusions
Vapers engaged in compensatory puffing with lower nicotine strength liquid, doubling their consumption. Whilst compensatory puffing was sufficient to reduce craving and withdrawal discomfort, self-titration was incomplete with significantly higher plasma nicotine levels in the high condition.
Access options
Buy single article
Instant access to the full article PDF.
USD 39.95
Price excludes VAT (USA)
Tax calculation will be finalised during checkout.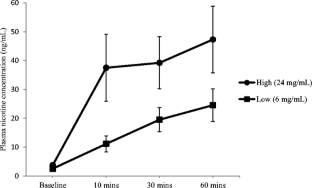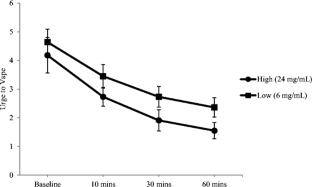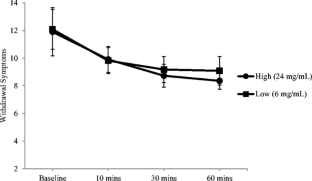 References
ASH [Action on Smoking and Health] (2015) ASH Fact sheet on the use of electronic cigarettes (vapourisers) among adults in Great Britain. 2015-12-10. URL:http://www.ash.org.uk/files/documents/ASH_891.pdf. Accessed: 2015-12-10. (Archived by WebCite® at http://www.webcitation.org/6dgFwr9ne).

Ashton H, Stepney R, Thompson JW (1979) Self-titration by cigarette smokers. BMJ 2(6186):357

Ashton H, Watson DW (1970) Puffing frequency and nicotine intake in cigarette smokers. Br Med J 3(5724):679–681

Behar RZ, Hua M, Talbot P (2015) Puffing topography and nicotine intake of electronic cigarette users. PLoS ONE 10(2):1–18

Brown J, Beard E, Kotz D, Michie S, West R (2014) Real-world effectiveness of e-cigarettes when used to aid smoking cessation: a cross-sectional population study. Addiction 109(9):1531–40

Bullen C, McRobbie H, Thornley S, Glover M, Lin R, Laugesen M (2010) Effect of an electronic nicotine delivery device (e cigarette) on desire to smoke and withdrawal, user preferences and nicotine delivery: randomised cross-over trial. Tob Control 19(2):98–103

Dawkins L, Corcoran O (2014) Acute electronic cigarette use: nicotine delivery and subjective effects in regular users. Psychopharmacology 231(2):401–7

Eissenberg T (2010) Electronic nicotine delivery devices: ineffective nicotine delivery and craving suppression after acute administration. Tob Control 19(1):87–8

Etter J-F (2015) Explaining the effects of electronic cigarettes on craving for tobacco in recent quitters. Drug Alcohol Depend 148:102–108, ISSN 0376–8716, http://dx.doi.org/10.1016/j.drugalcdep.2014.12.030 (0)

Etter J-F, Le Houezec J, Perneger TV (2003) A self-administered questionnaire to measure dependence on cigarettes: the Cigarette Dependence Scale. Neuropsychopharm 28:359–370

Fagerström K (2012) Determinants of tobacco use and renaming the FTND to the Fagerström Test For Cigarette Dependence. Nicotine Tob Res 14(1):75–8, PubMed PMID: 2011-30003-008

Farsalinos KE, Romagna G, Tsiapras D, Kyrzopoulos S, Voudris V (2013) Evaluating nicotine levels selection and patterns of electronic cigarette use in a group of "vapers" who had achieved complete substitution of smoking. Subst Abuse 7:139

Farsalinos KE, Spyrou A, Stefopoulos C, Tsimopoulou K, Kourkoveli P, Tsiapras D et al (2015) Nicotine absorption from electronic cigarette use: comparison between experienced consumers (vapers) and naïve users (smokers). Sci Rep 5:11269. doi:10.1038/srep11269

Farsalinos KE, Spyrou A, Tsimopoulou K, Stefopoulos C, Romagna G, Voudris V (2014) Nicotine absorption from electronic cigarette use: comparison between first and new-generation devices. Sci Rep 4:4133. doi:10.1038/srep04133

Farsalinos, KE., Yannovits, N., Sarri, R., Voudris, V. & Poulas, K. (2016). Protocol proposal for, and evaluation of, consistency in nicotine delivery from the liquid to the aerosol of electronic cigarettes atomizers: regulatory implications. Addiction, online ahead of print. Doi: 10.1111/add.13299

Hua M, Yip H, Talbot P (2013) Mining data on usage of electronic nicotine delivery systems (ENDS) from YouTube videos. Tob Control 22(2):103–6

Kośmider L, Sobczak A, Fik M, Knysak J, Zaciera M, Kurek J, Goniewicz ML (2014) Carbonyl compounds in electronic cigarette vapors—effects of nicotine solvent and battery output voltage. Nicotine Tob Res 16(10):1319–1326

Lee YH, Gawron M, Goniewicz ML (2015) Changes in puffing behavior among smokers who switched from tobacco to electronic cigarettes. Addict Behav 48(0):1–4

Polosa R, Caponnetto P, Cibella F, Le-Houezec J (2015) Quit and smoking reduction rates in vape shop consumers: a prospective 12-month survey. Int J Environ Res Public Health 12(4):3428–3438

Polosa R, Morjaria JB, Caponnetto P, Campagna D, Russo C, Alamo A et al (2014) Effectiveness and tolerability of electronic cigarette in real-life: a 24-month prospective observational study. Intern Emerg Med 9(5):537–46

Ramôa CP, Hiler MM, Spindle TR, Lopez AA, Karaoghlanian N, Lipato T, et al. (2015). Electronic cigarette nicotine delivery can exceed that of combustible cigarettes: a preliminary report. Tob Control

Robinson RJ, Hensel EC, Morabito PN, Roundtree KA (2015) Electronic cigarette topography in the natural environment. PLoS ONE 10(6):1–14

Russell MAH (1980) Nicotine intake and its regulation. J Psychosom Res 24(5):253–64

Russell MAH, Jarvis MJ, Devitt G, Feyerabend C (1981) Nicotine intake by snuff users. BMJ 283(6295):814–7

Russell MA, Jarvis M, Iyer R, Feyerabend C (1980) Relation of nicotine yield of cigarettes to blood nicotine concentrations in smokers. Br Med J 280(6219):972–976

Russell MAH, Sutton SR, Iyer R, Feyerabend C, Vesey CJ (1982) Long-term switching to low-tar low-nicotine cigarettes. Br J Addict 77(2):145–58

Russell MA, Wilson C, Patel UA, Feyerabend C, Cole PV (1975) Plasma nicotine levels after smoking cigarettes with high, medium, and low nicotine yields. BMJ 2(5968):414–6

Sutton SR, Russell MAH, Iyer R, Feyerabend C, Saloojee Y (1982) Relationship between cigarette yields, puffing patterns, and smoke intake: evidence for tar compensation? BMJ 285(6342):600–3

Talih S, Balhas Z, Eissenberg T, Salman R, Karaoghlanian N, El Hellani A, et al. (2014) Effects of user puff topography, device voltage, and liquid nicotine concentration on electronic cigarette nicotine yield: measurements and model predictions. Nicotine Tob Res 17(2):150–157

Trtchounian A, Williams M, Talbot P (2010) Conventional and electronic cigarettes (e-cigarettes) have different smoking characteristics. Nicotine Tob Res 12(9):905–12

West R, Hajek P (2004) Evaluation of the mood and physical symptoms scale (MPSS) to assess cigarette withdrawal. Psychopharmacology 177(1/2):195–9

Woodward M, Tunstall‐Pedoe HU (1993) Self‐titration of nicotine: evidence from the Scottish Heart Health Study. Addiction 88(6):821–830
Acknowledgments
This study forms part of a PhD research project and is funded by an 'Excellence Studentship' awarded to the second author from the University of East London (UEL). We also thank the participants for their time and participation in this research and the technical support staff at the School of Health, Sport and Bioscience: Mr Paul Boakes and Mr Rory Butterworth.
Details of contributors
LED and OC conceived the original idea for this study and designed the study with input from CK and MD. CK, LED and OC managed the running of the participant facing experiment; OC and CK were responsible for the plasma extraction and MD and CF conducted the biochemical analysis of blood and saliva samples. CK and LED analysed the data and wrote the first draft with edits from OC, MD and CF. All authors had full access to all of the data and collectively take responsibility for the integrity of the data and accuracy of the data analysis. All authors read and approved the final version of the manuscript. Study guarantor: UEL.
Ethics declarations
The study received full ethical approval from the University of East London's ethics committee (UREC_1415_40) and was conducted in accordance with the ethical standards outlined in the 1964 Declaration of Helsinki. All participants provided written informed consent to take part in the study and for the study to be written up for publication.
Funding
This study was fully funded by the University of East London PhD Excellence Studentship to CK.
Conflict of interest
We declare that we have received no support from any companies for this work and no non-financial conflicts of interest that would be considered relevant to this work. All authors have completed the conflict of interest disclosure form at http://static.springer.com/sgw/documents/1378102/application/pdf/213_Conflict+of+Interest+form-Mar2012.pdf (available on request from the corresponding author).
LED has previously conducted research for several independent electronic cigarette companies. These companies had no input into the design, conduct or write up of the projects. She has also acted as a consultant for the pharmaceutical industry and as an expert witness in a patent infringement case.
CK and OC declare no competing interests.
MD and CF have previously supported other research groups by the quantification of cotinine, 3-hydroxy cotinine and nicotine. These groups had no input into the design, conduct or write up of this project.
Role of the funding source
The funders (UEL) had no involvement in the study design, data collection, analysis or interpretation of data or in the writing of the manuscript or the decision to submit the article for publication.
The authors had sole responsibility for the study design, collection, analysis and interpretation of data and for the writing of the manuscript and decision to submit for publication.
All authors had full access to all of the data (including statistical reports and tables) in the study and take responsibility for the integrity of the data and the accuracy of the data analysis.
Transparency declaration
I, LED the lead author, affirm that the manuscript is an honest, accurate, and transparent account of the study being reported; no important aspects of the study have been omitted.
Data sharing statement
All participants gave informed consent for data sharing and full dataset will be available after publication of the manuscript on the UEL data repository.
About this article
Cite this article
Dawkins, L.E., Kimber, C.F., Doig, M. et al. Self-titration by experienced e-cigarette users: blood nicotine delivery and subjective effects. Psychopharmacology 233, 2933–2941 (2016). https://doi.org/10.1007/s00213-016-4338-2
Received:

Accepted:

Published:

Issue Date:

DOI: https://doi.org/10.1007/s00213-016-4338-2
Keywords