Abstract
Rationale
There has been an explosion of research on the potential benefits of the social neuropeptide oxytocin for a number of mental disorders including substance use disorders. Recent evidence suggests that intranasal oxytocin has both direct anti-addiction effects and pro-social effects that may facilitate engagement in psychosocial treatment for substance use disorders.
Objectives
We aimed to assess the tolerability of intranasal oxytocin and its effects on heroin craving, implicit association with heroin and social perceptual ability in opioid-dependent patients receiving opioid replacement therapy (ORT) and healthy control participants.
Methods
We performed a randomized, double-blind, placebo-controlled, within- and between-subjects, crossover, proof-of-concept trial to examine the effects of oxytocin (40 international units) on a cue-induced craving task (ORT patients only), an Implicit Association Task (IAT), and two social perception tasks: the Reading the Mind in the Eyes Task (RMET) and The Awareness of Social Inference Test (TASIT).
Results
Oxytocin was well tolerated by patients receiving ORT but had no significant effects on craving or IAT scores. There was a significant reduction in RMET performance after oxytocin administration versus placebo in the patient group only, and a significant reduction in TASIT performance after oxytocin in both the patient and healthy control groups.
Conclusions
A single dose of intranasal oxytocin is well tolerated by patients receiving ORT, paving the way for future investigations. Despite no significant improvement in craving or IAT scores after a single dose of oxytocin and some evidence that social perception was worsened, further investigation is required to determine the role oxytocin may play in the treatment of opioid use disorder.
Clinical Trial Registration
Methadone Oxytocin Option. ClinicalTrials.gov identifier: NCT01728909
Access options
Buy single article
Instant access to the full article PDF.
USD 39.95
Price includes VAT (USA)
Tax calculation will be finalised during checkout.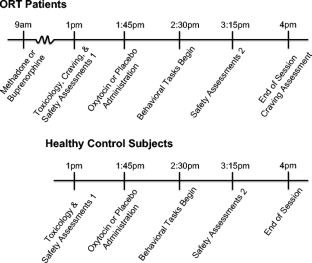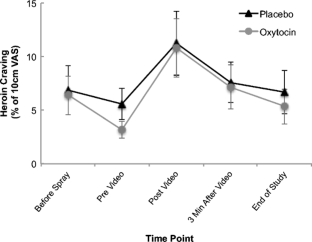 References
Babor TF, Meyer RE, Mirin SM, Mcnamee HB, Davies M (1976) Behavioral and social effects of heroin self-administration and withdrawal. Arch Gen Psychiatry 33:363–367

Baron‐Cohen S, Wheelwright S, Hill J, Raste Y, Plumb I (2001) The "Reading the Mind in the Eyes" test revised version: a study with normal adults, and adults with Asperger syndrome or high-functioning autism. J Child Psychol Psychiatry 42:241–251

Bartz JA, Zaki J, Bolger N, Ochsner KN (2011) Social effects of oxytocin in humans: context and person matter. Trends Cogn Sci 15(7):301–319

Black Tar Heroin: The Dark End of the Street (1999) Directed by OKAZAKI, S. United States: Farallon Films

Bond A, Lader M (1974) The use of analogue scales in rating subjective feelings. Br J Med Psychol 47:211–218

Bonson KR, Grant SJ, Contoreggi CS, Links JM, Metcalfe J, Weyl HL, Kurian V, Ernst M, London ED (2002) Neural systems and cue-induced cocaine craving. Neuropsychopharmacology 26(3):376–86

Bora E, Yücel M, Pantelis C (2009) Theory of mind impairment: a distinct trait-marker for schizophrenia spectrum disorders and bipolar disorder? Acta Psychiatr Scand 120:253–264

Carson DS, Guastella AJ, Taylor ER, Mcgregor IS (2013) A brief history of oxytocin and its role in modulating psychostimulant effects. J Psychopharmacol 27(3):231–247

De Vries TJ, Shippenberg TS (2002) Neural systems underlying opiate addiction. J Neurosci 22:3321–3325

Domes G, Heinrichs M, Michel A, Berger C, Herpertz SC (2007) Oxytocin improves "mind-reading" in humans. Biol Psychiatry 61:731–733

Fals-Stewart W, O'Farrell TJ, Freitas TT, Mcfarlin SK, Rutigliano P (2000) The timeline followback reports of psychoactive substance use by drug-abusing patients: psychometric properties. J Consult Clin Psychol 68:134

Feifel D, Macdonald K, Nguyen A, Cobb P, Warlan H, Galangue B, Minassian A, Becker O, Cooper J, Perry W (2010) Adjunctive intranasal oxytocin reduces symptoms in schizophrenia patients. Biol Psychiatry 68:678–680

Gordon I, Martin C, Feldman R, Leckman JF (2011) Oxytocin and social motivation. Dev Cogn Neurosci 1:471–493

Gossop M, Green L, Phillips G, Bradley B (1989) Lapse, relapse and survival among opiate addicts after treatment. A prospective follow-up study. Br J Psychiatry 154:348–353

Gossop M, Stewart D, Browne N, Marsden J (2002) Factors associated with abstinence, lapse or relapse to heroin use after residential treatment: protective effect of coping responses. Addiction 97:1259–1267

Greenwald AG, Poehlman TA, Uhlmann EL, Banaji MR (2009) Understanding and using the implicit association test: III. Meta-analysis of predictive validity. J Pers Soc Psychol 97:17

Guastella AJ, Howard AL, Dadds MR, Mitchell P, Carson DS (2009) A randomized controlled trial of intranasal oxytocin as an adjunct to exposure therapy for social anxiety disorder. Psychoneuroendocrinology 34:917–923

Guastella AJ, Einfeld SL, Gray KM, Rinehart NJ, Tonge BJ, Lambert TJ, Hickie IB (2010) Intranasal oxytocin improves emotion recognition for youth with autism spectrum disorders. Biol Psychiatry 67:692–694

Haertzen CA, Hooks NT Jr (1969) Changes in personality and subjective experience associated with the chronic adminstration and withdrawal of opiates. J Nerv Ment Dis 148:606–614

Heatherton TF, Kozlowski LT, Frecker RC, Fagerstrom KO (1991) The fagerstrom test for nicotine. Br J Addict 86:1119–27

Hollander E, Bartz J, Chaplin W, Phillips A, Sumner J, Soorya L, Anagnostou E, Wasserman S (2007) Oxytocin increases retention of social cognition in autism. Biol Psychiatry 61:498–503

Inturrisi CE, Verebely K (1971) Disposition of methadone in man after a single oral dose. Clin Pharmacol Ther 13:923–930

Jennings JR, Kamarck T, Stewart C, Eddy M, Johnson P (1992) Alternate cardiovascular baseline assessment techniques: vanilla or resting baseline. Psychophysiology 29:742–50

Kelly JF, Magill M, Stout RL (2009) How do people recover from alcohol dependence? A systematic review of the research on mechanisms of behavior change in Alcoholics Anonymous. Addict Res Theory 17:236–259

Knight DK, Simpson DD (1996) Influences of family and friends on client progress during drug abuse treatment. J Subst Abus 8:417–429

Koob GF, Le Moal M (1997) Drug abuse: hedonic homeostatic dysregulation. Science 278:52–58

Kornreich C, Foisy M-L, Philippot P, Dan B, Tecco J, Noël X, Hess U, Pelc I, Verbanck P (2003) Impaired emotional facial expression recognition in alcoholics, opiate dependence subjects, methadone maintained subjects and mixed alcohol-opiate antecedents subjects compared with normal controls. Psychiatry Res 119:251–260

Kovács G, Horváth Z, Sarnyai Z, Faludi M, Telegdy G (1985a) Oxytocin and a C-terminal derivative (Z-prolyl-D-leucine) attenuate tolerance to and dependence on morphine and interact with dopaminergic neurotransmission in the mouse brain. Neuropharmacology 24:413–419

Kovács GL, Borthaiser Z, Telegdy G (1985b) Oxytocin reduces intravenous heroin self-administration in heroin-tolerant rats. Life Sci 37:17–26

Kovacs GL, Vecsernyes M, Laczi F, Faludi M, Telegdy G, Laszlo FA (1985) Acute morphine treatment and morphine tolerance/dependence alter immunoreactive oxytocin levels in the mouse hippocampus. Brain Res 328:158–60

Kovács GL, Sarnyai Z, Szabó G (1998) Oxytocin and addiction: a review. Psychoneuroendocrinology 23:945–962

Kriván M, Szabó G, Sarnyai Z, Kovács GL, Telegdy G (1992) Oxytocin blocks the development of heroin-enkephalin cross-tolerance in mice. Pharmacol Biochem Behav 43:187–192

Lane KA, Banaji MR, Nosek BA, Greenwald AG (2007) Understanding and using the implicit association test: IV. In: Wittenbrink B, Schwarz N (eds) Implicit measures of attitudes. New York, The Guilford Press, pp 59–102

Lee MR, Glassman M, King-Casas B, Kelly DL, Stein EA, Schroeder J, Salmeron BJ (2014) Complexity of oxytocin׳ s effects in a chronic cocaine dependent population. Eur Neuropsychopharmacol 24:1483–1491

Lindgren KP, Neighbors C, Westgate E, Salemink E (2014) Self-control and implicit drinking identity as predictors of alcohol consumption, problems, and cravings. J Stud Alcohol Drugs 75:290

Liu Y, Aragona BJ, Young KA, Dietz DM, Kabbaj M, Mazei-Robison M, Nestler EJ, Wang Z (2010) Nucleus accumbens dopamine mediates amphetamine-induced impairment of social bonding in a monogamous rodent species. Proc Natl Acad Sci 107:1217–1222

Macdonald E, Dadds MR, Brennan JL, Williams K, Levy F, Cauchi AJ (2011) A review of safety, side-effects and subjective reactions to intranasal oxytocin in human research. Psychoneuroendocrinology 36:1114–1126

Marhe R, Waters AJ, Van De Wetering BJM, Franken IHA (2013) Implicit and explicit drug-related cognitions during detoxification treatment are associated with drug relapse: an ecological momentary assessment study. J Consult Clin Psychol 81:1

Mcgregor IS, Callaghan PD, Hunt GE (2008) From ultrasocial to antisocial: a role for oxytocin in the acute reinforcing effects and long‐term adverse consequences of drug use? Br J Pharmacol 154:358–368

Mcrae-Clark AL, Baker NL, Moran-Santa Maria M, Brady KT (2013) Effect of oxytocin on craving and stress response in marijuana-dependent individuals: a pilot study. Psychopharmacology 228:623–631

Meyer-Lindenberg A, Domes G, Kirsch P, Heinrichs M (2011) Oxytocin and vasopressin in the human brain: social neuropeptides for translational medicine. Nat Rev Neurosci 12:524–538

Modabbernia A, Rezaei F, Salehi B, Jafarinia M, Ashrafi M, Tabrizi M, Hosseini SMR, Tajdini M, Ghaleiha A, Akhondzadeh S (2013) Intranasal oxytocin as an adjunct to risperidone in patients with schizophrenia. CNS Drugs 27:57–65

Monti PM, Binkoff JA, Abrams DB, Zwick WR, Nirenberg TD, Liepman MR (1987) Reactivity of alcoholics and nonalcoholics to drinking cues. J Abnorm Psychol 96:122

Mueller SE, Degen B, Petitjean S, Wiesbeck GA, Walter M (2009) Gender differences in interpersonal problems of alcohol-dependent patients and healthy controls. Int J Environ Res Public Health 6:3010–3022

Neumann ID, Maloumby R, Beiderbeck DI, Lukas M, Landgraf R (2013) Increased brain and plasma oxytocin after nasal and peripheral administration in rats and mice. Psychoneuroendocrinology 38:1985–1993

NIDA 2012. Mental Health Services Administration (2012) Results from the 2011 national survey on drug use and health: summary of national findings. NSDUH Series H-44, HHS Publication No (SMA), 12–4713

Norman GJ, Cacioppo JT, Morris JS, Karelina K, Malarkey WB, Devries AC, Berntson GG (2011) Selective influences of oxytocin on the evaluative processing of social stimuli. J Psychopharmacol 25(10):1313–1319

Pedersen CA, Boccia ML, Kampov-Polevoi A (2011) Methods and formulations for oxytocin treatment of substance use, psychiatric and other disorders. Google Patents

Pedersen CA, Smedley KL, Leserman J, Jarskog LF, Rau SW, Kampov‐Polevoi A, Casey RL, Fender T, Garbutt JC (2013) Intranasal oxytocin blocks alcohol withdrawal in human subjects. Alcohol Clin Exp Res 37:484–489

Radke S, De Bruijn ERA (2015) Does oxytocin affect mind-reading? A replication study. Psychoneuroendocrinology 60:75–81

Raisch DW, Fye CL, Boardman KD, Sather MR (2002) Opioid dependence treatment, including buprenorphine/naloxone. Ann Pharmacother 36:312–321

Robinson TE, Berridge KC (2001) Incentive-sensitization and addiction. Addiction 96:103–114

Sarnyai Z, Kovács GL (1994) Role of oxytocin in the neuroadaptation to drugs of abuse. Psychoneuroendocrinology 19:85–117

Sarnyai Z, Kovács GL (2014) Oxytocin in learning and addiction: from early discoveries to the present. Pharmacol Biochem Behav 119:3–9

Schulteis G, Ahmed SH, Morse AC, Koob GF, Everitt BJ (2000) Conditioning and opiate withdrawal. Nature 405:1013–4

Shany-Ur T, Poorzand P, Grossman SN, Growdon ME, Jang JY, Ketelle RS, Miller BL, Rankin KP (2012) Comprehension of insincere communication in neurodegenerative disease: lies, sarcasm, and theory of mind. Cortex 48:1329–1341

Shi J, Zhao L-Y, Copersino ML, Fang Y-X, Chen Y, Tian J, Deng Y, Shuai Y, Jin J, Lu L (2008) PET imaging of dopamine transporter and drug craving during methadone maintenance treatment and after prolonged abstinence in heroin users. Eur J Pharmacol 579:160–166

Stein DJ, Van Honk J, Ipser J, Solms M, Panksepp J (2007) Opioids: from physical pain to the pain of social isolation. CNS Spectr 12:669–674

Stoller KB, Bigelow GE, Walsh SL, Strain EC (2001) Effects of buprenorphine/naloxone in opioid-dependent humans. Psychopharmacology 154:230–242

Striepens N, Kendrick KM, Hanking V, Landgraf R, Wullner U, Maier W, Hurlemann R (2013) Elevated cerebrospinal fluid and blood concentrations of oxytocin following its intranasal administration in humans. Sci Rep 3:3440

Veilleux JC, Colvin PJ, Anderson J, York C, Heinz AJ (2010) A review of opioid dependence treatment: pharmacological and psychosocial interventions to treat opioid addiction. Clin Psychol Rev 30:155–166

Woolley JD, Chuang B, Lam O, Lai W, O'Donovan A, Rankin KP, Mathalon DH, Vinogradov S (2014) Oxytocin administration enhances controlled social cognition in patients with schizophrenia. Psychoneuroendocrinology 47:116–25
Acknowledgments
This project was supported by the San Francisco Treatment Research Center at the University of California, San Francisco, via grant number P50 DA009253 from the National Institute on Drug Abuse.
Ethics declarations
Conflict of interest
JDW, PAA, CSS, DF, SB, and SV have no conflicts of interest to report. DSC is a full-time employee of Trigemina, Inc. The opinions expressed here do not necessarily reflect the views or positions of Trigemina, Inc.
About this article
Cite this article
Woolley, J.D., Arcuni, P.A., Stauffer, C.S. et al. The effects of intranasal oxytocin in opioid-dependent individuals and healthy control subjects: a pilot study. Psychopharmacology 233, 2571–2580 (2016). https://doi.org/10.1007/s00213-016-4308-8
Received:

Accepted:

Published:

Issue Date:
Keywords
Oxytocin

Heroin

Opioid

Addiction

Tolerability

Craving

Implicit

Social

RMET

Clinical