Abstract
Rationale
Several case-reports suggest that the use of quinolones may increase the risk of psychiatric adverse reactions such as suicidal behaviors.
Objectives
The aim of this study is to investigate whether there is a safety signal for quinolone-related suicidal behaviors in a global adverse drug reactions database.
Methods
All antibiotic-related adverse reactions were extracted from VigiBase, the World Health Organization (WHO) global Individual Case Safety Report (ICSR) database. Disproportionality analyses were performed to investigate the association between reports of suicidal behavior and exposure to quinolones, in comparison with other antibiotics.
Results
From December 1970 through January 2015, we identified 992,097 antibiotic-related adverse reactions. Among them, 608 were quinolone-related suicidal behaviors including 97 cases of completed suicides. There was increased reporting of suicidal behavior (adjusted reporting odds ratios [ROR] 2.78, 95 % CI 2.51–3.08) with quinolones as compared to other antibiotics. Candidate mechanisms for quinolone-induced suicidal behaviors include GABAA antagonism, activation of NMDA receptors, decreased serotonin levels, oxidative stress, and altered microRNA expressions.
Conclusions
We found a strong safety signal suggesting an increased risk of suicidal behaviors associated with quinolone use. Plausible psychopharmacological mechanisms could underlie this association. Further investigations are urgent to confirm and better understand these findings.
Access options
Buy single article
Instant access to the full article PDF.
USD 39.95
Price excludes VAT (USA)
Tax calculation will be finalised during checkout.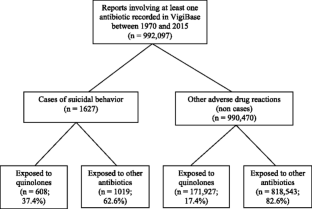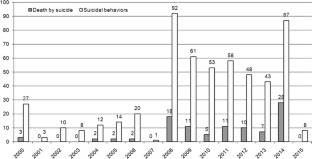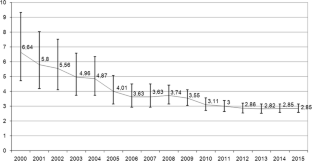 References
Ahmed AI, van der Heijden FMMA, van den Berkmortel H, Kramers K (2011) A man who wanted to commit suicide by hanging himself: an adverse effect of ciprofloxacin. Gen Hosp Psychiatry 33(82):e5–7

Akahane K, Sekiguchi M, Une T, Osada Y (1989) Structure-epileptogenicity relationship of quinolones with special reference to their interaction with gamma-aminobutyric acid receptor sites. Antimicrob Agents Chemother 33:1704–8

Barthélémi L, Lebrun J (2015) Completed suicide and fluoroquinolones: a possible association. 19th Annual Meeting of French Society of Pharmacology and Therapeutics., 21–23 April 2015 Caen., France. Fundam Clin Pharmacol 29(suppl 1):65

Bégaud B, Martin K, Haramburu F, Moore N (2002) Rates of spontaneous reporting of adverse drug reactions in France. JAMA 288:1588

Behera C, Krishna K, Singh HR (2014) Antitubercular drug-induced violent suicide of a hospitalised patient. BMJ Case Rep. 2014 published online Jan 6. doi: 10.1136/bcr-2013-201469

Blondeau JM (2004) Fluoroquinolones: mechanism of action., classification., and development of resistance. Surv Ophthalmol 49(suppl 2):s73–8

Brown EG, Wood L, Wood S (1999) The medical dictionary for regulatory activities (MedDRA). Drug Saf 20:109–17

Dodd PR, Davies LP, Watson WE, Nielsen B, Dyer JA, Wong LS, Johnston GA (1989) Neurochemical studies on quinolone antibiotics: effects on glutamate, GABA and adenosine systems in mammalian CNS. Pharmacol Toxicol 64:404–11

Dukes MNG (2006) Fluoroquinolones. In: Meyler's side effects of drugs: the international encyclopedia of adverse drug reactions and interactions, 15th edn. Elsevier Science, Amsterdam, pp 1396–407

European Medicines Agency (EMEA) (2008) EMEA restricts use of oral norfloxacin drugs in UTIs. EMEA. www.who.int/medicines/publications/newsletter/2008news3.pdf

European Medicines Agency (EMEA) (2008) EMEA recommends restricting the use of oral moxifloxacin-containing medicines. EMEA. www.who.int/medicines/publications/newsletter/2008news3.pdf

Feinberg SS (1995) Fluoroquonolones-induced depression. Am J Psychiatry 152:954–5

Fish DN (2001) Fluoroquinolone adverse effects and drug interactions. Pharmacotherapy 21:253S–272S

Ilgin S, Can OD, Atli O, Ucel UI, Sener E, Guven I (2015) Ciprofloxacin-induced neurotoxicity: evaluation of possible underlying mechanisms. Toxicol Mech Methods 25:374–81

Labay-Kamara U, Manning S, McMahon T (2012) Fluoroquinolone-induced suicidal ideation and suicidality. Psychosomatics 53:97–8

LaSalvia EA, Domek GJ, Gitlin DF (2010) Fluoroquinolone-induced suicidal ideation. Gen Hosp Psychiatry 32:108–10

Lewis RJ, Mohr JF 3rd (2008) Dysglycaemias and fluoroquinolones. Drug Saf 31:283–92

Li YJ, Xu M, Gao ZH, Wang YQ, Yue Z, Zhang YX et al (2013) Alterations of serum levels of BDNF-related miRNAs in patients with depression. PLoS One 8, e63648

Lindquist M (2008) VigiBase, the WHO global ICSR database system: basic facts. Drug Inf J 42:409–19

Lindquist M, Edwards IR (2001) The WHO programme for international drug monitoring, its database., and the technical support of the Uppsala monitoring center. J Rheumatol 28:1180–7

Maes M, Galecki P, Chang YS, Berk M (2011) A review on the oxidative and nitrosative stress., O&NS pathways in major depression and their possible contribution to the., neurodegenerative processes in that illness. Prog Neuropsychopharmacol Biol Psychiatry 35:676–92

Martin RM, Kapoor KV, Wilton LV, Mann RD (1998) Underreporting of suspected adverse drug reactions to newly marketed, "black triangle" drugs in general practice: observational study. BMJ 317:119–20

Mehlhorn AJ, Brown DA (2007) Safety concerns with fluoroquinolones. Ann Pharmacother 41:1859–66

Montané E, Barriocanal A, Isern I, Parajon T, Costa J (2009) Multiple drug interactions - induced serotonin syndrome: a case report. J Clin Pharm Ther 34:485–7

Moore N, Thiessard F, Begaud B (2005) The history of disproportionality measures, reporting odds ratio, proportional reporting rates in spontaneous reporting of adverse drug reactions. Pharmacoepidemiol Drug Saf 14:285–6

Mulhall JP, Bergman LS (1995) Ciprofloxacin induced acute psychosis. Urology 46:102–3

Oquendo MA, Mann JJ (2000) The biology of impulsivity and suicidality. Psychiatr Clin N Am 23:11–25

Oquendo MA, Sullivan GM, Sudol K, Baca-Garcia E, Stanley BH, Sublette ME, Mann JJ (2014) Toward a biosignature for suicide. Am J Psychiatry 171:1259–77

Owens RC, Ambrose PG (2005) Antimicrobial safety: focus on fluoroquinolones. Clin Infect Dis 41(suppl 2):s144–57

Pariente A, Grégoire F, Fourrier-Reglat A, Haramburu F, Moore N (2007) Impact of safety alerts on measures of disproportionality in spontaneous reporting databases: the notoriety bias. Drug Saf 30:891–8

Pariente A, Didailler M, Avillach P, Miremont-Salamé G, Fourrier-Reglat A, Haramburu F, Moore N (2010) A potential competition bias in the detection of safety signals from spontaneous reporting databases. Pharmacoepidemiol Drug Saf 19:1166–71

Reinstatler L, Youssef NA (2015) Ketamine as a potential treatment for suicidal ideation: a systematic review of the literature. Drugs R D 15:37–43

Rubinstein E (2001) History of quinolones and their side effects. Chemotherapy 47(suppl 3):3–8

Salvo F, Leborgne F, Thiessard F, Moore N, Bégaud B, Pariente A (2013) A potential event-competition bias in safety signal detection: results from a spontaneous reporting research database in France. Drug Saf 36:565–72

Schmuck G, Schürmann A, Schlüter G (1998) Determination of the excitatory potencies of fluoroquinolones in the central nervous system by an in vitro model. Antimicrob Agents Chemother 42:1831–6

Smalheiser NR, Lugli G, Rizavi HS, Torvik VI, Turecki G, Dwivedi Y (2012) Micro RNA expression is down-regulated and reorganized in prefrontal cortex of depressed suicide subjects. PLoS One 7, e33201

Smalheiser NR, Zhang H, Dwivedi Y (2014) Enoxacin elevates microRNA levels in rat frontal cortex and prevents learned helplessness. Front Psychiatry 5:6

Smith DA, Schmid EF (2006) Drugs withdrawals and the lessons within. Curr Opin Drug Discov Devel 9:38–46

Sprandel KA, Rodvold KA (2003) Safety and tolerability of fluoroquinolones. Clin Cornerstone 5(suppl 3):s29–36

Stone M, Laughren T, Jones ML, Levenson M, Holland PC, Hughes A, Hammad TA, Temple R, Rochester G (2009) Risk of suicidality in clinical trials of antidepressants in adults: analysis of proprietary data submitted to US Food and Drug Administration. BMJ 339:b2880

Tomé AM, Filipe A (2011) Quinolones: review of psychiatric and neurological adverse reactions. Drug Saf 34:465–88

Tsuji A, Sato H, Kume Y, Tamai I, Okezaki E, Nagata O, Kato H (1988) Inhibitory effects of quinolone antibacterial agents on gamma-aminobutyric acid binding to receptor sites in rat brain membranes. Antimicrob Agents Chemother 32:190–4

Unseld E, Ziegler G, Gemeinhardt A, Janssen U, Klotz U (1990) Possible interaction of fluoroquinolones with the benzodiazepine-GABAA-receptor complex. Br J Clin Pharmacol 30:63–70

Uppsala Monitoring Centre (2008). Uppsala Report 40: New import processs for ICSR. Uppsala Monitoring Centre. http://www.who-umc.org/graphics/24360.pdf

van der Heijden PG, van Puijenbroek EP, van Buuren S, van der Hofstede JW (2002) On the assessment of adverse drug reactions from spontaneous reporting systems: the influence of underreporting on odds ratios. Stat Med 21:2027–44

van Puijenbroek EP, Bate A, Leufkens HGM, Lindquist M, Orre R, Egberts ACG (2005) A comparison of measures of disproportionality for signal detection in spontaneous reporting systems for adverse drug reactions. Pharmacoepidemiol Drug Saf 11:3–10

Vargas HO, Nunes SO, Pizzo de Castro M, Bortolasci CC, Sabbatini Barbosa D, Kaminami Morimoto H et al (2013) Oxidative stress and lowered total antioxidant status are associated with a history of suicide attempts. J Affect Disord 150:923–30

Werner NL, Hecker MT, Sethi AK, Donskey CJ (2011) Unnecessary use of fluoroquinolone antibiotics in hospitalized patients. BMC Infect Dis 11:187

WHO Collaborating Centre for Drug Statistics Methodology (2013) Guidelines for ATC classification and DDD assignment 2013. http://www.whocc.no/filearchive/publications/1_2013guidelines.pdf

Zhanel GG, Noreddin AM (2001) Pharmacokinetics and pharmacodynamics of the new fluoroquinolones: focus on respiratory infections. Curr Opin Pharmacol 1:459–63
Acknowledgments
The Uppsala Monitoring Centre has provided the data, but the study results and conclusions are those of the authors and not necessarily those of the Uppsala Monitoring Centre, National Centres, or WHO.
Contributors
All authors participated in the study design. JLF acquired the data. JS did the statistical analyses and wrote the initial draft. All authors critically revised the manuscript.
Ethics declarations
Conflict of interest
This study was not funded. The authors declare that they have no conflicts of interest.
Research ethics
Since this study did not include individual patients and only studied the data of an existing and anonymously recorded database, ethical approval was not needed.
Electronic supplementary material
Below is the link to the electronic supplementary material.
About this article
Cite this article
Samyde, J., Petit, P., Hillaire-Buys, D. et al. Quinolone antibiotics and suicidal behavior: analysis of the World Health Organization's adverse drug reactions database and discussion of potential mechanisms. Psychopharmacology 233, 2503–2511 (2016). https://doi.org/10.1007/s00213-016-4300-3
Received:

Accepted:

Published:

Issue Date:

DOI: https://doi.org/10.1007/s00213-016-4300-3
Keywords