Abstract
Background
We investigated anticipatory and consummatory reward processing in cocaine addiction. In addition, we set out to assess whether task-monitoring systems were appropriately recalibrated in light of variable reward schedules. We also examined neural measures of task-monitoring and reward processing as a function of hedonic tone, since anhedonia is a vulnerability marker for addiction that is obviously germane in the context of reward processing.
Method
High-density event-related potentials were recorded while participants performed a speeded response task that systematically varied anticipated probabilities of reward receipt. The paradigm dissociated feedback regarding task success (or failure) from feedback regarding the value of reward (or loss), so that task-monitoring and reward processing could be examined in partial isolation. Twenty-three active cocaine abusers and 23 age-matched healthy controls participated.
Results
Cocaine abusers showed amplified anticipatory responses to reward predictive cues, but crucially, these responses were not as strongly modulated by reward probability as in controls. Cocaine users also showed blunted responses to feedback about task success or failure and did not use this information to update predictions about reward. In turn, they showed clearly blunted responses to reward feedback. In controls and users, measures of anhedonia were associated with reward motivation. In cocaine users, anhedonia was also associated with diminished monitoring and reward feedback responses.
Conclusion
Findings imply that reward anticipation and monitoring deficiencies in addiction are associated with increased responsiveness to reward cues but impaired ability to predict reward in light of task contingencies, compounded by deficits in responding to actual reward outcomes.
This is a preview of subscription content, log in to check access.
Access options
Buy single article
Instant access to the full article PDF.
US$ 39.95
Price includes VAT for USA
Subscribe to journal
Immediate online access to all issues from 2019. Subscription will auto renew annually.
US$ 199
This is the net price. Taxes to be calculated in checkout.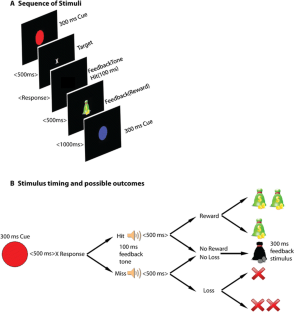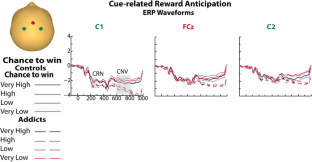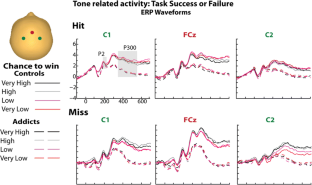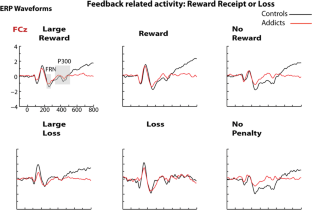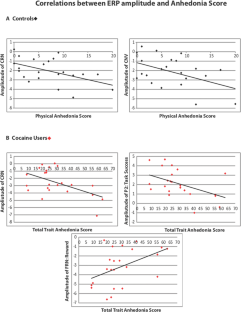 References
Baker TE, Holroyd CB (2011) Dissociated roles of the anterior cingulate cortex in reward and conflict processing as revealed by the feedback error-related negativity and N200. Biol Psychol 87:25–34

Bechara A, Dolan S, Denburg N, Hindes A, Anderson SW, Nathan PE (2001) Decision-making deficits, linked to a dysfunctional ventromedial prefrontal cortex, revealed in alcohol and stimulant abusers. Neuropsychologia 39:376–389

Bechara A, Dolan S, Hindes A (2002) Decision-making and addiction (part II): myopia for the future or hypersensitivity to reward? Neuropsychologia 40:1690–1705

Bell RP, Foxe JJ, Ross LA, Garavan H (2014) Intact inhibitory control processes in abstinent drug abusers (I): a functional neuroimaging study in former cocaine addicts. Neuropharmacology 82:143–150

Benikos N, Johnstone SJ, Roodenrys SJ (2013) Varying task difficulty in the Go/Nogo task: the effects of inhibitory control, arousal, and perceived effort on ERP components. Int J Psychophysiol 87:262–272

Carter BL, Tiffany ST (1999) Meta-analysis of cue-reactivity in addiction research. Addiction 94:327–340

Chapman LJ, Chapman JP, Raulin ML (1976) Scales for physical and social anhedonia. J Abnorm Psychol 85:374–382

Chase HW, Eickhoff SB, Laird AR, Hogarth L (2011) The neural basis of drug stimulus processing and craving: an activation likelihood estimation meta-analysis. Biol Psychiatry 70:785–793

Dorard G, Berthoz S, Phan O, Corcos M, Bungener C (2008) Affect dysregulation in cannabis abusers: a study in adolescents and young adults. Eur Child Adolesc Psychiatry 17:274–282

Erlenmeyer-Kimling L, Cornblatt BA, Rock D, Roberts S, Bell M, West A (1993) The New York High-Risk Project: Anhedonia, Attentional Deviance, and Psychopathology. Schizophr Bull 19

Everitt BJ (2014) Neural and psychological mechanisms underlying compulsive drug seeking habits and drug memories—indications for novel treatments of addiction. Eur J Neurosci 40:2163–2182

Fillmore MT, Rush CR (2006) Polydrug abusers display impaired discrimination-reversal learning in a model of behavioural control. J Psychopharmacol 20:24–32

Franken IH, Zijlstra C, Muris P (2006) Are nonpharmacological induced rewards related to anhedonia? A study among skydivers. Prog Neuropsychopharmacol Biol Psychiatry 30:297–300

Franken IH, Rassin E, Muris P (2007a) The assessment of anhedonia in clinical and non-clinical populations: further validation of the Snaith-Hamilton Pleasure Scale (SHAPS). J Affect Disord 99:83–89

Franken IH, van Strien JW, Franzek EJ, van de Wetering BJ (2007b) Error-processing deficits in patients with cocaine dependence. Biol Psychol 75:45–51

Garavan H, Hester R (2007) The role of cognitive control in cocaine dependence. Neuropsychol Rev 17:337–345

Garavan H, Kaufman JN, Hester R (2008) Acute effects of cocaine on the neurobiology of cognitive control. Philos Trans R Soc Lond Ser B Biol Sci 363:3267–3276

Gawin F (1989) Cocaine dependence. Annu Rev Med 40:149–161

Goldstein RZ, Cottone LA, Jia Z, Maloney T, Volkow ND, Squires NK (2006) The effect of graded monetary reward on cognitive event-related potentials and behavior in young healthy adults. Int J Psychophysiol Off J Int Organ Psychophysiol 62:272–279

Goldstein RZ, Parvaz MA, Maloney T, Alia-Klein N, Woicik PA, Telang F, Wang GJ, Volkow ND (2008) Compromised sensitivity to monetary reward in current cocaine users: an ERP study. Psychophysiology 45:705–713

Goldstein RZ, Alia-Klein N, Tomasi D, Carrillo JH, Maloney T, Woicik PA, Wang R, Telang F, Volkow ND (2009) Anterior cingulate cortex hypoactivations to an emotionally salient task in cocaine addiction. Proc Natl Acad Sci U S A 106:9453–9458

Harvey PO, Pruessner J, Czechowska Y, Lepage M (2007) Individual differences in trait anhedonia: a structural and functional magnetic resonance imaging study in non-clinical subjects. Mol Psychiatry 12(703):767–775

Hewig J, Kretschmer N, Trippe RH, Hecht H, Coles MG, Holroyd CB, Miltner WH (2010) Hypersensitivity to reward in problem gamblers. Biol Psychiatry 67:781–783

Janiri L, Martinotti G, Dario T, Reina D, Paparello F, Pozzi G, Addolorato G, Di Giannantonio M, De Risio S (2005) Anhedonia and substance-related symptoms in detoxified substance-dependent subjects: a correlation study. Neuropsychobiology 52:37–44

Jentsch JD, Olausson P, De La Garza R 2nd, Taylor JR (2002) Impairments of reversal learning and response perseveration after repeated, intermittent cocaine administrations to monkeys. Neuropsychopharmacology Off Publ Am Coll Neuropsychopharmacology 26:183–190

Jia Z, Worhunsky PD, Carroll KM, Rounsaville BJ, Stevens MC, Pearlson GD, Potenza MN (2011) An initial study of neural responses to monetary incentives as related to treatment outcome in cocaine dependence. Biol Psychiatry 70:553–560

Kampman KM, Volpicelli JR, McGinnis DE, Alterman AI, Weinrieb RM, D'Angelo L, Epperson LE (1998) Reliability and validity of the Cocaine Selective Severity Assessment. Addict Behav 23:449–461

Kuhn S, Gallinat J (2011) Common biology of craving across legal and illegal drugs—a quantitative meta-analysis of cue-reactivity brain response. Eur J Neurosci 33:1318–1326

Leynes PA, Allen JD, Marsh RL (1998) Topographic differences in CNV amplitude reflect different preparatory processes. Int J Psychophysiol Off J Int Organ Psychophysiol 31:33–44

Li CS, Milivojevic V, Kemp K, Hong K, Sinha R (2006) Performance monitoring and stop signal inhibition in abstinent patients with cocaine dependence. Drug Alcohol Depend 85:205–212

McLellan AT, Luborsky L, Cacciola J, Griffith J, Evans F, Barr HL, O'Brien CP (1985) New data from the Addiction Severity Index: reliability and validity in three centers. J Nerv Ment Dis 3:412–423

Morie KP, De Sanctis P, Garavan H, Foxe JJ (2014a) Executive Dysfunction and Reward Dysregulation: A High-Density Electrical Mapping Study in Cocaine Abusers. Neuropharmacology 85

Morie KP, Garavan H, Bell RP, De Sanctis P, Krakowski MI, Foxe JJ (2014b) Intact inhibitory control processes in abstinent drug abusers (II): a high-density electrical mapping study in former cocaine and heroin addicts. Neuropharmacology 82:151–160

Morie KP, Sanctis PD, Foxe JJ (2014c) Reward Contingencies and the Recalibration of Task Monitoring and Reward Systems: A high-density electrical mapping study. Neuroscience

Nelson A, Killcross S (2006) Amphetamine exposure enhances habit formation. J Neurosci Off J Soc Neurosci 26:3805–3812

Padrao G, Mallorqui A, Cucurell D, Marco-Pallares J, Rodriguez-Fornells A (2012) Neurophysiological differences in reward processing in anhedonics. Cogn Affect Behav Neurosci

Parvaz MA, Maloney T, Moeller SJ, Woicik PA, Alia-Klein N, Telang F, Wang GJ, Squires NK, Volkow ND, Goldstein RZ (2012) Sensitivity to monetary reward is most severely compromised in recently abstaining cocaine addicted individuals: a cross-sectional ERP study. Psychiatry Res 203:75–82

Polich J, Kok A (1995) Cognitive and biological determinants of P300: an integrative review. Biol Psychol 41:103–146

Robinson TE, Berridge KC (2001) Incentive-sensitization and addiction. Addiction 96:103–114

Sato A, Yasuda A, Ohira H, Miyawaki K, Nishikawa M, Kumano H, Kuboki T (2005) Effects of value and reward magnitude on feedback negativity and P300. Neuroreport 16:407–411

Schoenbaum G, Saddoris MP, Ramus SJ, Shaham Y, Setlow B (2004) Cocaine-experienced rats exhibit learning deficits in a task sensitive to orbitofrontal cortex lesions. Eur J Neurosci 19:1997–2002

Simon SL, Richardson K, Dacey J, Glynn S, Domier CP, Rawson RA, Ling W (2002) A comparison of patterns of methamphetamine and cocaine use. J Addict Dis 21:35–44

Sokhadze E, Stewart C, Hollifield M, Tasman A (2008) Event-related potential study of executive dysfunctions in a speeded reaction task in cocaine addiction. J Neurother 12:185–204

Sturmer B, Nigbur R, Schacht A, Sommer W (2011) Reward and punishment effects on error processing and conflict control. Front Psychol 2:335

Wang J, Chen J, Lei Y, Li P (2014) P300, not feedback error-related negativity, manifests the waiting cost of receiving reward information. Neuroreport 25:1044–1048

Wu Y, Zhou XL (2009) The P300 and reward valence, magnitude, and expectancy in outcome evaluation. Brain Res 1286:114–122

Yeung N, Sanfey AG (2004) Independent coding of reward magnitude and valence in the human brain. J Neurosci Off J Soc Neurosci 24:6258–6264

Yu R, Zhou W, Zhou X (2011) Rapid processing of both reward probability and reward uncertainty in the human anterior cingulate cortex. PLoS One 6:e29633. doi:10.1371/journal.pone.0029633
Acknowledgments
We thank the Albert Einstein Division of Substance Abuse, Dr. Julia Arnsten, Dr. Sarah Church, Juan Martinez, Amy Greengrass, Marsha Dommel, and all of the staff at the Next Steps Addiction Treatment Centers in the Bronx for all of their help in recruitment efforts. The work would simply not have been possible without the dedication of these individuals. We would also like to express our sincere gratitude to the participants for giving their time to this effort. Additionally, we thank Dr. Ryan Bell, Ms. Sarah Ruberman, and Mr. Frantzy Acluche for their help during data collection. Participants in this study were recruited and evaluated at The Human Clinical Phenotyping Core, a facility of the Rose F. Kennedy Intellectual and Developmental Disabilities Research Center (IDDRC) which is funded through a center grant from the Eunice Kennedy Shriver National Institute of Child Health & Human Development (NICHD P30 HD071593). Dr. Morie is now at the Department of Psychiatry, Yale University School of Medicine, New Haven, CT, USA.
Ethics declarations
All participants signed an informed consent document administered by HIPAA-certified staff. All procedures were approved by the Institutional Review Board of the Albert Einstein College of Medicine. The study conformed to the principles outlined in the Declaration of Helsinki.
Conflict of interest
The authors declare that they have no competing interests.
Electronic supplementary material
Below is the link to the electronic supplementary material.
About this article
Cite this article
Morie, K.P., De Sanctis, P., Garavan, H. et al. Regulating task-monitoring systems in response to variable reward contingencies and outcomes in cocaine addicts. Psychopharmacology 233, 1105–1118 (2016). https://doi.org/10.1007/s00213-015-4191-8
Received:

Accepted:

Published:

Issue Date:
Keywords
Reward

Task monitoring

EEG

ERP

Motivation

Substance abuse

Addiction

Anhedonia