Abstract
Rationale
Fatty acid amide hydrolase (FAAH) inhibition elevates anandamide (AEA), which acts on cannabinoid (CB1 and CB2) receptors, as well as N-palmitoylethanolamide (PEA) and N-oleoylethanolamine (OEA), which act on peroxisome proliferator-activated receptor alpha (PPARα). Here, we determine the mechanism of action of FAAH inhibition on acute and anticipatory nausea (AN).
Objective
We compared the effectiveness and mechanism of action of two FAAH inhibitors, URB597 and PF-3845, to reduce acute nausea and AN in rodent models of conditioned gaping.
Materials and methods
For assessment of acute nausea, rats were pretreated with vehicle (VEH), URB597 (0.3 and 10 mg/kg, experiment 1a) or PF-3845 (10 mg/kg, experiment 1b) 120 min prior to a saccharin-lithium chloride (LiCl) pairing. To assess the CB1 receptor or PPARα mediation of the effect of PF-3845 on acute nausea, rats were also pretreated with rimonabant or MK886, respectively. For assessment of AN, following four pairings of a novel context with LiCl, rats received a pretreatment of VEH, URB597 (0.3 mg/kg, experiment 2a), or PF-3845 (10, 20 mg/kg, experiment 2b) 120 min prior to placement in the AN context. To assess the CB1 receptor or PPARα mediation of the effect, rats were also pretreated with rimonabant or MK886, respectively.
Results
PF-3845 (10 mg/kg, but not URB597 0.3 or 10 mg/kg) suppressed acute nausea via PPARα, but not CB1 receptors. URB597 (0.3 and 10 mg/kg) or PF-3845 (10 and 20 mg/kg) reduced AN via CB1 receptors, but not PPARα.
Conclusions
FAAH inhibition reduces acute nausea and AN through PPARα and CB1 receptor mediated effects, respectively.
Access options
Buy single article
Instant access to the full article PDF.
USD 39.95
Price excludes VAT (USA)
Tax calculation will be finalised during checkout.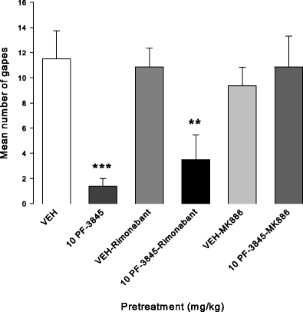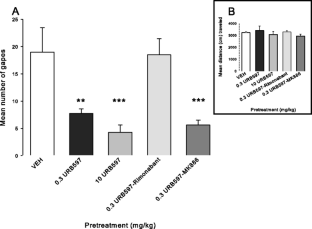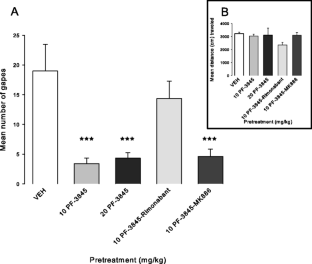 References
Aapro MS, Molassiotis A, Olver I (2005) Anticipatory nausea and vomiting. Support Care Cancer 13:117–121. doi:10.1007/s00520-004-0745-8

Ahn K, Johnson DS, Mileni M, Beidler D, Long JZ, McKinney MK, Weerapana E, Sadagopan N, Liimatta M, Smith SE, Lazerwith S, Stiff C, Kamtekar S, Bhattacharya K, Zhang Y, Swaney S, Van Becelaere K, Stevens RC, Cravatt BF (2009) Discovery and characterization of a highly selective FAAH inhibitor that reduces inflammatory pain. Chem Biol 16:411–420. doi:10.1016/j.chembiol.2009.02.013

Breslin PA, Spector AC, Grill HJ (1992) A quantitative comparison of taste reactivity behaviors to sucrose before and after lithium chloride pairings: a unidimensional account of palatability. Behav Neurosci 106:820–836

Campolongo P, Roozendaal B, Trezza V, Cuomo V, Astarita G, Fu J, McGaugh JL, Piomelli D (2009) Fat-induced satiety factor oleoylethanolamide enhances memory consolidation. Proc Natl Acad Sci U S A 106:8027–8031. doi:10.1073/pnas.0903038106

Chauvet C, Nicolas C, Thiriet N, Lardeux MV, Duranti A, Solinas M (2014) Chronic stimulation of the tone of endogenous anandamide reduces cue- and stress-induced relapse in rats. Int J Neuropsychopharmacol 18: doi:10.1093/ijnp/pyu025

Cravatt BF, Giang DK, Mayfield SP, Boger DL, Lerner RA, Gilula NB (1996) Molecular characterization of an enzyme that degrades neuromodulatory fatty-acid amides. Nature 384:83–87. doi:10.1038/384083a0

Cross-Mellor SK, Ossenkopp KP, Piomelli D, Parker LA (2007) Effects of the FAAH inhibitor, URB597, and anandamide on lithium-induced taste reactivity responses: a measure of nausea in the rat. Psychopharmacology (Berl) 190:135–143. doi:10.1007/s00213-006-0589-7

Datta K, Biswal SS, Kehrer JP (1999) The 5-lipoxygenase-activating protein (FLAP) inhibitor, MK886, induces apoptosis independently of FLAP. Biochem J 340(Pt 2):371–375

de Boer-Dennert M, de Wit R, Schmitz PI, Djontono J, v Beurden V, Stoter G, Verweij J (1997) Patient perceptions of the side-effects of chemotherapy: the influence of 5HT3 antagonists. Br J Cancer 76:1055–1061

Deutsch DG, Chin SA (1993) Enzymatic synthesis and degradation of anandamide, a cannabinoid receptor agonist. Biochem Pharmacol 46:791–796

Devane WA, Hanus L, Breuer A, Pertwee RG, Stevenson LA, Griffin G, Gibson D, Mandelbaum A, Etinger A, Mechoulam R (1992) Isolation and structure of a brain constituent that binds to the cannabinoid receptor. Science 258:1946–1949

Dinh TP, Freund TF, Piomelli D (2002) A role for monoglyceride lipase in 2-arachidonoylglycerol inactivation. Chem Phys Lipids 121:149–158

Fegley D, Gaetani S, Duranti A, Tontini A, Mor M, Tarzia G, Piomelli D (2005) Characterization of the fatty acid amide hydrolase inhibitor cyclohexyl carbamic acid 3′-carbamoyl-biphenyl-3-yl ester (URB597): effects on anandamide and oleoylethanolamide deactivation. J Pharmacol Exp Ther 313:352–358. doi:10.1124/jpet.104.078980

Foubert J, Vaessen G (2005) Nausea: the neglected symptom? Eur J Oncol Nurs 9:21–32. doi:10.1016/j.ejon.2004.03.006

Fu J, Gaetani S, Oveisi F, Lo Verme J, Serrano A, Rodriguez De Fonseca F, Rosengarth A, Luecke H, Di Giacomo B, Tarzia G, Piomelli D (2003) Oleylethanolamide regulates feeding and body weight through activation of the nuclear receptor PPAR-alpha. Nature 425:90–93. doi:10.1038/nature01921

Fu J, Kim J, Oveisi F, Astarita G, Piomelli D (2008) Targeted enhancement of oleoylethanolamide production in proximal small intestine induces across-meal satiety in rats. Am J Physiol Regul Integr Comp Physiol 295:R45–R50. doi:10.1152/ajpregu.00126.2008

Griffin AM, Butow PN, Coates AS, Childs AM, Ellis PM, Dunn SM, Tattersall MH (1996) On the receiving end. V: patient perceptions of the side effects of cancer chemotherapy in 1993. Ann Oncol 7:189–195

Grunberg SM (2004) Chemotherapy-induced nausea and vomiting: prevention, detection, and treatment--how are we doing? J Support Oncol 2:1–10, inside back cover; quiz 11

Guindon J, Lai Y, Takacs SM, Bradshaw HB, Hohmann AG (2013) Alterations in endocannabinoid tone following chemotherapy-induced peripheral neuropathy: effects of endocannabinoid deactivation inhibitors targeting fatty-acid amide hydrolase and monoacylglycerol lipase in comparison to reference analgesics following cisplatin treatment. Pharmacol Res 67:94–109. doi:10.1016/j.phrs.2012.10.013

Hesketh PJ (2008) Chemotherapy-induced nausea and vomiting. N Engl J Med 358:2482–2494. doi:10.1056/NEJMra0706547

Hsu ES (2010) A review of granisetron, 5-hydroxytryptamine3 receptor antagonists, and other antiemetics. Am J Ther 17:476–486. doi:10.1097/MJT.0b013e3181ea7821

Janelsins MC, Tejani MA, Kamen C, Peoples AR, Mustian KM, Morrow GR (2013) Current pharmacotherapy for chemotherapy-induced nausea and vomiting in cancer patients. Expert Opin Pharmacother 14:757–766. doi:10.1517/14656566.2013.776541

Kan KK, Jones RL, Ngan MP, Rudd JA, Wai MK (2003) Emetic action of the prostanoid TP receptor agonist, U46619, in Suncus murinus (house musk shrew). Eur J Pharmacol 482:297–304

Kathuria S, Gaetani S, Fegley D, Valino F, Duranti A, Tontini A, Mor M, Tarzia G, La Rana G, Calignano A, Giustino A, Tattoli M, Palmery M, Cuomo V, Piomelli D (2003) Modulation of anxiety through blockade of anandamide hydrolysis. Nat Med 9:76–81. doi:10.1038/nm803

Kehrer JP, Biswal SS, La E, Thuillier P, Datta K, Fischer SM, Vanden Heuvel JP (2001) Inhibition of peroxisome-proliferator-activated receptor (PPAR)alpha by MK886. Biochem J 356:899–906

Limebeer CL, Parker LA (2000) The antiemetic drug ondansetron interferes with lithium-induced conditioned rejection reactions, but not lithium-induced taste avoidance in rats. J Exp Psychol Anim Behav Process 26:371–384

Limebeer CL, Vemuri VK, Bedard H, Lang ST, Ossenkopp KP, Makriyannis A, Parker LA (2010) Inverse agonism of cannabinoid CB1 receptors potentiates LiCl-induced nausea in the conditioned gaping model in rats. Br J Pharmacol 161:336–349. doi:10.1111/j.1476-5381.2010.00885.x

Lo Verme J, Fu J, Astarita G, La Rana G, Russo R, Calignano A, Piomelli D (2005) The nuclear receptor peroxisome proliferator-activated receptor-alpha mediates the anti-inflammatory actions of palmitoylethanolamide. Mol Pharmacol 67:15–19. doi:10.1124/mol.104.006353

Mazzola C, Medalie J, Scherma M, Panlilio LV, Solinas M, Tanda G, Drago F, Cadet JL, Goldberg SR, Yasar S (2009) Fatty acid amide hydrolase (FAAH) inhibition enhances memory acquisition through activation of PPAR-alpha nuclear receptors. Learn Mem 16:332–337. doi:10.1101/lm.1145209

Mechoulam R, Ben-Shabat S, Hanus L, Ligumsky M, Kaminski NE, Schatz AR, Gopher A, Almog S, Martin BR, Compton DR (1995) Identification of an endogenous 2-monoglyceride, present in canine gut, that binds to cannabinoid receptors. Biochem Pharmacol 50:83–90

Melis M, Pillolla G, Luchicchi A, Muntoni AL, Yasar S, Goldberg SR, Pistis M (2008) Endogenous fatty acid ethanolamides suppress nicotine-induced activation of mesolimbic dopamine neurons through nuclear receptors. J Neurosci 28:13985–13994. doi:10.1523/JNEUROSCI.3221-08.2008

Morrow GR, Hickok JT, Rosenthal SN (1995) Progress in reducing nausea and emesis. Comparisons of ondansetron (Zofran), granisetron (Kytril), and tropisetron (Navoban). Cancer 76:343–357

Morrow GR, Roscoe JA, Hynes HE, Flynn PJ, Pierce HI, Burish T (1998a) Progress in reducing anticipatory nausea and vomiting: a study of community practice. Support Care Cancer 6:46–50

Morrow GR, Roscoe JA, Kirshner JJ, Hynes HE, Rosenbluth RJ (1998b) Anticipatory nausea and vomiting in the era of 5-HT3 antiemetics. Support Care Cancer 6:244–247

O'Brien LD, Wills KL, Segsworth B, Dashney B, Rock EM, Limebeer CL, Parker LA (2013) Effect of chronic exposure to rimonabant and phytocannabinoids on anxiety-like behavior and saccharin palatability. Pharmacol Biochem Behav 103:597–602. doi:10.1016/j.pbb.2012.10.008

Panlilio LV, Justinova Z, Goldberg SR (2013) Inhibition of FAAH and activation of PPAR: new approaches to the treatment of cognitive dysfunction and drug addiction. Pharmacol Ther 138:84–102. doi:10.1016/j.pharmthera.2013.01.003

Parker LA (1995) Rewarding drugs produce taste avoidance, but not taste aversion. Neurosci Biobehav Rev 19:143–157

Parker LA (2014) Conditioned flavor avoidance and conditioned gaping: rat models of conditioned nausea. Eur J Pharmacol 722:122–133. doi:10.1016/j.ejphar.2013.09.070

Parker LA, Niphakis MJ, Downey R, Limebeer CL, Rock EM, Sticht MA, Morris H, Abdullah RA, Lichtman AH, Cravatt BF (2015) Effect of selective inhibition of monoacylglycerol lipase (MAGL) on acute nausea, anticipatory nausea, and vomiting in rats and Suncus murinus. Psychopharmacology (Berl) 232:583–593. doi:10.1007/s00213-014-3696-x

Rinaldi-Carmona M, Barth F, Heaulme M, Shire D, Calandra B, Congy C, Martinez S, Maruani J, Neliat G, Caput D (1994) SR141716A, a potent and selective antagonist of the brain cannabinoid receptor. FEBS Lett 350:240–244

Rock EM, Limebeer CL, Mechoulam R, Piomelli D, Parker LA (2008) The effect of cannabidiol and URB597 on conditioned gaping (a model of nausea) elicited by a lithium-paired context in the rat. Psychopharmacology (Berl) 196:389–395. doi:10.1007/s00213-007-0970-1

Rock EM, Sticht MA, Duncan M, Stott C, Parker LA (2013) Evaluation of the potential of the phytocannabinoids, cannabidivarin (CBDV) and Delta(9) -tetrahydrocannabivarin (THCV), to produce CB1 receptor inverse agonism symptoms of nausea in rats. Br J Pharmacol 170:671–678. doi:10.1111/bph.12322

Rock EM, Limebeer CL, Parker LA (2014) Anticipatory nausea in animal models: a review of potential novel therapeutic treatments. Exp Brain Res 232:2511–2534. doi:10.1007/s00221-014-3942-9

Sharkey KA, Darmani NA, Parker LA (2014) Regulation of nausea and vomiting by cannabinoids and the endocannabinoid system. Eur J Pharmacol 722:134–146. doi:10.1016/j.ejphar.2013.09.068

Sticht MA, Limebeer CL, Rafla BR, Parker LA (2015a) Intra-visceral insular cortex 2-arachidonoylglycerol, but not N-arachidonoylethanolamide, suppresses acute nausea-induced conditioned gaping in rats. Neuroscience 286:338–344. doi:10.1016/j. neuroscience .2014.11.058

Sticht MA, Limebeer CL, Rafla BR, Abdullah RA, Poklis JL, Ho W, Niphakis MJ, Cravatt BF, Sharkey KA, Lichtman AH, Parker LA (submitted) Endocannabinoid regulation of nausea is mediated by 2-arachidonylglycerol (2-AG) in the rat visceral insular cortex. Cerebral Cortex, May 5, 2015

Varvel SA, Wise LE, Niyuhire F, Cravatt BF, Lichtman AH (2007) Inhibition of fatty-acid amide hydrolase accelerates acquisition and extinction rates in a spatial memory task. Neuropsychopharmacology 32:1032–1041. doi:10.1038/sj.npp.1301224

Vitale R, Ottonello G, Petracca R, Bertozzi SM, Ponzano S, Armirotti A, Berteotti A, Dionisi M, Cavalli A, Piomelli D, Bandiera T, Bertozzi F (2014) Synthesis, structure-activity, and structure-stability relationships of 2-substituted-N-(4-oxo-3-oxetanyl) N-acylethanolamine acid amidase (NAAA) inhibitors. ChemMedChem 9:323–336. doi:10.1002/cmdc.201300416

Wise LE, Harloe JP, Lichtman AH (2009) Fatty acid amide hydrolase (FAAH) knockout mice exhibit enhanced acquisition of an aversive, but not of an appetitive, Barnes maze task. Neurobiol Learn Mem 92:597–601. doi:10.1016/j.nlm.2009.06.001

Wiskerke J, Irimia C, Cravatt BF, De Vries TJ, Schoffelmeer AN, Pattij T, Parsons LH (2012) Characterization of the effects of reuptake and hydrolysis inhibition on interstitial endocannabinoid levels in the brain: an in vivo microdialysis study. ACS Chem Neurosci 3:407–417. doi:10.1021/cn300036b
Acknowledgments
This work was supported by grants from the Natural Sciences and Engineering Research Council of Canada (92056) and Canadian Institute of Health Research (137122) to LAP, and National Institutes of Health (DA033760, DA032933) to BFC.
About this article
Cite this article
Rock, E.M., Limebeer, C.L., Ward, J.M. et al. Interference with acute nausea and anticipatory nausea in rats by fatty acid amide hydrolase (FAAH) inhibition through a PPARα and CB1 receptor mechanism, respectively: a double dissociation. Psychopharmacology 232, 3841–3848 (2015). https://doi.org/10.1007/s00213-015-4050-7
Received:

Accepted:

Published:

Issue Date:

DOI: https://doi.org/10.1007/s00213-015-4050-7
Keywords
FAAH inhibition

Acute nausea

Anticipatory nausea

PF-3845

URB597

MK886

Rimonabant

PPARα

CB1