Abstract
Rationale
There is renewed interest in the therapeutic potential of psychedelic drugs such as lysergic acid diethylamide (LSD). LSD was used extensively in the 1950s and 1960s as an adjunct in psychotherapy, reportedly enhancing emotionality. Music is an effective tool to evoke and study emotion and is considered an important element in psychedelic-assisted psychotherapy; however, the hypothesis that psychedelics enhance the emotional response to music has yet to be investigated in a modern placebo-controlled study.
Objectives
The present study sought to test the hypothesis that music-evoked emotions are enhanced under LSD.
Methods
Ten healthy volunteers listened to five different tracks of instrumental music during each of two study days, a placebo day followed by an LSD day, separated by 5–7 days. Subjective ratings were completed after each music track and included a visual analogue scale (VAS) and the nine-item Geneva Emotional Music Scale (GEMS-9).
Results
Results demonstrated that the emotional response to music is enhanced by LSD, especially the emotions "wonder", "transcendence", "power" and "tenderness".
Conclusions
These findings reinforce the long-held assumption that psychedelics enhance music-evoked emotion, and provide tentative and indirect support for the notion that this effect can be harnessed in the context of psychedelic-assisted psychotherapy. Further research is required to test this link directly.
This is a preview of subscription content, log in to check access.
Access options
Buy single article
Instant access to the full article PDF.
US$ 39.95
Price includes VAT for USA
Subscribe to journal
Immediate online access to all issues from 2019. Subscription will auto renew annually.
US$ 199
This is the net price. Taxes to be calculated in checkout.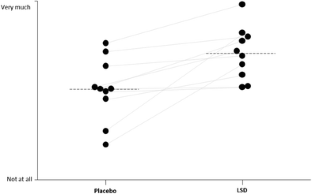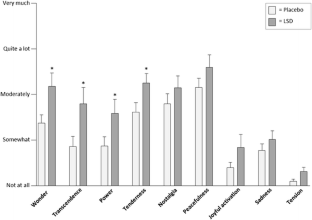 Notes
1.

The word psychedelic is derived from combining the Greek words psychḗ meaning "mind" or "soul" and dêlos, meaning "to manifest" or "make visible". In addition to LSD, other drugs considered classic psychedelics include psilocybin (the major psychoactive constituent of magic mushrooms), mescaline (a psychoactive constituent of peyote and San Pedro cacti) and DMT (a major psychoactive ingredient in the Amazonian brew ayahuasca). All these drugs share the property of being agonists at the serotonin 2A receptor. The use of the term "psychedelics" in this paper refers specifically to classic psychedelics such as those listed above.
References
Barrett FS, Grimm KJ, Robins RW, Wildschut T, Sedikides C, Janata P (2010) Music-evoked nostalgia: affect, memory, and personality. Emotion 10:390–403

Beck AT, Ward CH, Mendelson M, Mock J, Erbaugh J (1961) An inventory for measuring depression. Arch Gen Psychiatry 4:561–71

Benjamini Y, Hochberg Y (1995) Controlling the false discovery rate—a practical and powerful approach to multiple testing. J R Stat Soc Ser B Methodol 57:289–300

Bogenschutz MP, Forcehimes AA, Pommy JA, Wilcox CE, Barbosa PCR, Strassman RJ (2015) Psilocybin-assisted treatment for alcohol dependence: a proof-of-concept study. J Psychopharmacol. doi:10.1177/0269881114565144. http://www.ncbi.nlm.nih.gov/pubmed/25586396

Bonny HL, Pahnke WN (1972) The use of music in psychedelic (LSD) psychotherapy. J Music Ther 9:64–87

Busch AK, Johnson WC (1950) L.S.D. 25 as an aid in psychotherapy; preliminary report of a new drug. Dis Nerv Syst 11:241–3

Carhart-Harris RL, Erritzoe D, Williams T, Stone JM, Reed LJ, Colasanti A, Tyacke RJ, Leech R, Malizia AL, Murphey K, Hobden P, Evans J, Feilding A, Wise RG, Nutt DJ (2012) Neural correlates of the psychedelic state as determined by fMRI studies with psilocybin. Proc Natl Acad Sci U S A 109:2138–43

Carhart-Harris RL, Kaelen M, Whalley MG, Bolstridge M, Feilding A, Nutt DJ (2014) LSD enhances suggestibility in healthy volunteers. Psychopharmacology 232(4):785–794

Cohen S (1970) Drugs of hallucination: the LSD story. Harper Collins, New York

Eagle CT (1972) Music and LSD: an empirical study. J Music Ther IX:23–38

Garcia-Romeu A, Griffith RR, Johnson MW (2014) Psilocybin-occasioned mystical experiences in the treatment of tobacco addiction. Curr Drug Abuse Rev 7:157–164

Gasser P, Holstein D, Michel Y, Doblin R, Yazar-Klosinski B, Passie T, Brenneisen R (2014a) Safety and efficacy of lysergic acid diethylamide-assisted psychotherapy for anxiety associated with life-threatening diseases. J Nerv Ment Dis 202(7):513–20

Gasser P, Kirchner K, Passie T (2014b) LSD-assisted psychotherapy for anxiety associated with a life-threatening disease: a qualitative study of acute and sustained subjective effects. J Psychopharmacol 1:57–68

Gaston ET, Eagle CT (1970) The function of music in LSD therapy for alcoholic patients. J Music Ther VII:3–19

Griffiths RR, Richards WA, McCann U, Jesse R (2006) Psilocybin can occasion mystical-type experiences having substantial and sustained personal meaning and spiritual significance. Psychopharmacology 187:268–83, discussion 84-92

Griffiths RR, Richards W, Johnson MW, McCann U, Jesse R (2008) Mystical-type experiences occasioned by psilocybin mediate the attribution of personal meaning and spiritual significance 14 months later. J Psychopharmacol 22:621–32

Griffiths RR, Johnson MW, Richards WA, Richards BD, McCann U, Jesse R (2011) Psilocybin occasioned mystical-type experiences: immediate and persisting dose-related effects. Psychopharmacology 218:649–65

Grob CS, Danforth AL, Chopra GS, Hagerty M, McKay CR, Halberstadt AL et al (2011) Pilot study of psilocybin treatment for anxiety in patients with advanced-stage cancer. Arch Gen Psychiatry 68:71–8

Grof S (1980) LSD psychotherapy. Hunter House Publishers, Alameda

Hasler F, Grimberg U, Benz MA, Huber T, Vollenweider FX (2004) Acute psychological and physiological effects of psilocybin in healthy humans: a double-blind, placebo-controlled dose-effect study. Psychopharmacology 172(2):145–56

Johnson MW, Richards W, Griffiths R (2008) Human hallucinogen research: guidelines for safety. J Psychopharmacol 22:603–20

Johnson MW, Garcia-Romeu A, Cosimano MP, Griffiths RR (2014) Pilot study of the 5-HT2AR agonist psilocybin in the treatment of tobacco addiction. J Psychopharmacol 28:983–92

Juslin PN, Vastfjall D (2008) Emotional responses to music: the need to consider underlying mechanisms. Behav Brain Sci 31:559–75, discussion 75-621

Koelsch S (2014) Brain correlates of music-evoked emotions. Nature reviews. Neuroscience 15:170–80

Leuner HC (1983) Psycholytic therapy: hallucinogenics as an aid in psychodynamically oriented psychotherapy. In: Grinspoon J, Bakalar JB (eds) Psychedelic reflections. Human Science Press, Oxford, pp 177–92

MacLean KA, Johnson MW, Griffiths RR (2011) Mystical experiences occasioned by the hallucinogen psilocybin lead to increases in the personality domain of openness. J Psychopharmacol 25:1453–61

Maslow AH (1993) The farther reaches of human nature. Arkana, New York

McCrae RR, Costa PT (1987) Validation of the five-factor model of personality across instruments and observers. J Pers Soc Psychol 52:81–90

Middlefell R (1967) The effects of LSD on body sway suggestibility in a group of hospital patients. Br J Psychiatry J Ment Sci 113:277–80

Moore KS (2013) A systematic review on the neural effects of music on emotion regulation: implications for music therapy practice. J Music Ther 50:198–242

Nettl B (1956) Music in primitive culture. Harvard University Press, Cambridge

Nichols DE (2004) Hallucinogens. Pharmacol Ther 101(2):131–81

Pahnke W (1963) Drugs and mysticism: an analysis of the relationship between psychedelic drugs and the mystical consciousness. A thesis completed for the degree of Doctor of Philosophy, Harvard University, Cambridge, Mass

Passie T, Halpern JH, Stichtenoth DO, Emrich HM, Hintzen A (2008) The pharmacology of lysergic acid diethylamide: a review. CNS Neurosci Ther 14(4):295–314

Peirce JW (2008) Generating stimuli for neuroscience using PsychoPy. Front Neuroinform 2:10

Richards WA (2009) The rebirth of resarch with entheogens: lessons from the past and hypotheses for the future. J Transpers Psychol 41:139–50

Schmid Y, Enzler F, Gasser P, Grouzmann E, Preller KH, Vollenweider, FX, Liechti, M. E. (2015) Acute effects of lysergic acid diethylamide in healthy subjects. Biol Psychiatry. doi:10.1016/j.biopsych.2014.11.015. http://www.ncbi.nlm.nih.gov/pubmed/25575620

Solursh LP, Rae JM (1966) LSD, suggestion and hypnosis. Int J Neuropsychiatry 2:60–4

Studerus E, Gamma A, Kometer M, Vollenweider FX (2012) Prediction of psilocybin response in healthy volunteers. PLoS One 7(2), e30800

Turek IS, Soskin RA, Kurland AA (1974) Methylenedioxyamphetamine (MDA)—subjective effects. J Psychoactive Drugs 6(1):7–14

Zentner M, Grandjean D, Scherer KR (2008) Emotions evoked by the sound of music: characterization, classification, and measurement. Emotion 8:494–521
Acknowledgments
This research received financial and intellectual support from the Beckley Foundation and was conducted as part of a wider Beckley-Imperial research programme. The report presents independent research carried out at the NIHR/Wellcome Trust Imperial Clinical Research Facility. Support for Dr. Barrett was provided by the National Institute on Drug Abuse, Grant T32DA07209. The authors would like to thank Matthew Wall and Nicola Kalk for their help in designing this study.
Electronic supplementary material
Below is the link to the electronic supplementary material.
About this article
Cite this article
Kaelen, M., Barrett, F.S., Roseman, L. et al. LSD enhances the emotional response to music. Psychopharmacology 232, 3607–3614 (2015). https://doi.org/10.1007/s00213-015-4014-y
Received:

Accepted:

Published:

Issue Date:
Keywords
LSD

Serotonin 2A receptor

Psychotherapy

Psychedelic

Music

Emotion