Abstract
Rationale
Reports of cognitive decline, particularly in the domains of executive functions (EFs), are common among menopausal women.
Objective
This study aims to determine the impact of the psychostimulant lisdexamfetamine (LDX) on subjective and objective cognitive function among menopausal women who report new-onset EF complaints.
Methods
Thirty-two healthy perimenopausal and early postmenopausal women experiencing mid-life-onset executive function difficulties as measured using the Brown Attention Deficit Disorder Scale (BADDS) were administered LDX 40–60 mg/day for 4 weeks in this double-blind, placebo-controlled, cross-over study. Diagnosis of lifetime ADHD was exclusionary. BADDS total and subscale scores and performance on verbal memory and working memory tasks were outcomes of interest.
Results
Analyses revealed a significant effect of LDX treatment over placebo for total BADDS scores (p = 0.0001) and for four out of the five BADDS subscales (all p < 0.004). LDX treatment also resulted in significant improvement in delayed paragraph recall (p = 0.018), but there was no significant effect of treatment on other cognitive measures. Systolic blood pressure (p = 0.017) and heart rate increased significantly (p = 0.006) when women were on LDX but remained, on average, within the normal range.
Conclusions
LDX 40–60 mg/day was well tolerated and improved the subjective measures of executive function as well as objective measures of delayed verbal recall in this sample of healthy menopausal women.
Access options
Buy single article
Instant access to the full article PDF.
US$ 39.95
Tax calculation will be finalised during checkout.
Subscribe to journal
Immediate online access to all issues from 2019. Subscription will auto renew annually.
US$ 119
Tax calculation will be finalised during checkout.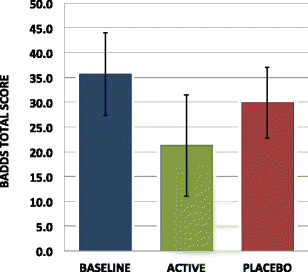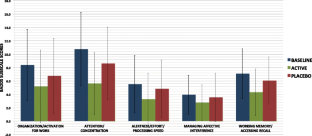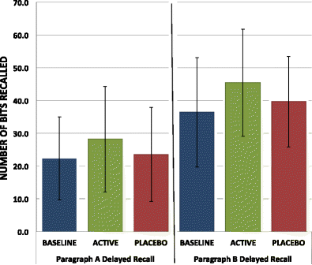 References
Arnsten AF (2009) The emerging neurobiology of attention deficit hyperactivity disorder: the key role of the prefrontal association cortex. J Pediatr 154:I-S43

Asherson P, Bushe C, Saylor K, Tanaka Y, Deberdt W, Upadhyaya H (2014) Efficacy of atomoxetine in adults with attention deficit hyperactivity disorder: an integrated analysis of the complete database of multicenter placebo-controlled trials. J Psychopharmacol 28:837–846

Barkley RA, Murphy KR (2010) Impairment in occupational functioning and adult ADHD: the predictive utility of executive function (EF) ratings versus EF tests. Arch Clin Neuropsychol 25:157–173

Barrouillet P, Bernardin S, Portrat S, Vergauwe E, Camos V (2007) Time and cognitive load in working memory. J Exp Psychol Learn Mem Cogn 33:570–585

Beck A, Ward C, Mendelson M, Mock J, Erbaugh J (1961) An inventory for measuring depression. Arch Gen Psychiatry 4:561–571

Beck AT, Epstein N, Brown G, Steer RA (1988) An inventory for measuring clinical anxiety: psychometric properties. J Consult Clin Psychol 56:893–897

Beglinger LJ, Adams WH, Paulson H, Fiedorowicz JG, Langbehn DR, Duff K, Leserman A, Paulsen JS (2009) Randomized controlled trial of atomoxetine for cognitive dysfunction in early Huntington disease. J Clin Psychopharmacol 29:484–487

Brown TE (2014) Smart but stuck: emotions in teens and adults with ADHD. Jossey-Bass, San Francisco

Brown TE, Landgraf JM (2010) Improvements in executive function correlate with enhanced performance and functioning and health-related quality of life: evidence from 2 large, double-blind, randomized, placebo-controlled trials in ADHD. Postgrad Med 122:42–51

Brown RT, Perrin JM (2007) Measuring outcomes in attention-deficit/hyperactivity disorder. J Pediatr Psychol 32:627–630

Brown TE, Reichel PC, Quinlan DM (2009) Executive function impairments in high IQ adults with ADHD. J Atten Disord 13:161–167

Brown TE, Brams M, Gao J, Gasior M, Childress A (2010) Open-label administration of lisdexamfetamine dimesylate improves executive function impairments and symptoms of attention-deficit/hyperactivity disorder in adults. Postgrad Med 122:7–17

Brown TE, Brams M, Gasior M, Adeyi B, Babcock T, Dirks B, Scheckner B, Wigal T (2011) Clinical utility of ADHD symptom thresholds to assess normalization of executive function with lisdexamfetamine dimesylate treatment in adults. Curr Med Res Opin 27(Suppl 2):23–33

Brunner E, Domhof S, Langer F (2002) Nonparametric analysis of longitudinal data in factorial experiments. Wiley, New York

Buysse DJ, Reynolds CF 3rd, Monk TH, Berman SR, Kupfer DJ (1989) The Pittsburgh sleep quality index: a new instrument for psychiatric practice and research. Psychiatry Res 28:193–213

Dolder CR, Davis LN, McKinsey J (2010) Differential regulation of psychostimulant-induced gene expression of brain derived neurotrophic factor and the immediate-early gene Arc in the juvenile and adult brain. Ann Pharmacother 44(10):1624–32

Epperson CN, Pittman B, Czarkowski KA, Bradley J, Quinlan DM, Brown TE (2011) Impact of atomoxetine on subjective attention and memory difficulties in perimenopausal and postmenopausal women. Menopause 18:542–548

Epperson CN, Sammel MD, Freeman EW (2013) Menopause effects on verbal memory: findings from a longitudinal community cohort. J Clin Endocrinol Metab 98:3829–3838

First MB, Spitzer RL, Gibbon M, Williams JB (1995) Structured clinical interview for DSM-IV Axis I disorders—patient edition SCID-I/P

Gehring K, Patwardhan SY, Collins R, Groves MD, Etzel CJ, Meyers CA, Wefel JS (2012) A randomized trial on the efficacy of methylphenidate and modafinil for improving cognitive functioning and symptoms in patients with a primary brain tumor. J Neurooncol 107:165–174

Greendale GA, Derby CA, Maki PM (2011) Differential regulation of psychostimulant-induced gene expression of brain derived neurotrophic factor and the immediate-early gene Arc in the juvenile and adult brain. Obstet Gynecol Clin North Am 38(3):519–35

Hamilton M (1959) The assessment of anxiety states by rating. Br J Med Psychol 32:50–55

Hamilton M (1967) Development of a rating scale for primary depressive illness. Br J Soc Clin Psychol 6:278–296

Harris PA, Taylor R, Thielke R, Payne J, Gonzalez N, Conde JG (2009) Research electronic data capture (REDCap)—a metadata-driven methodology and workflow process for providing translational research informatics support. J Biomed Inform 42:377–381

Jacobs E, D'Esposito M (2011) Estrogen shapes dopamine-dependent cognitive processes: implications for women's health. J Neurosci 31:5286–5293

Johnson RL, Block I, Gold MA, Markwell S, Zupancic M (2010) Effect of methylphenidate on fatigue in women with recurrent gynecologic cancer. Psychooncology 19:955–958

Kluger A, Ferris SH, Golomb J, Mittelman MS, Reisberg B (1999) Neuropsychological prediction of decline to dementia in nondemented elderly. J Geriatr Psychiatry Neurol 12:168–179

Kurtz MM, Ragland JD, Bilker W, Gur RC, Gur RE (2001) Comparison of the continuous performance test with and without working memory demands in healthy controls and patients with schizophrenia. Schizophr Res 48:307–316

Luetters C, Huang MH, Seeman T, Buckwalter G, Meyer PM, Avis NE, Sternfeld B, Johnston JM, Greendale GA (2007) Menopause transition stage and endogenous estradiol and follicle-stimulating hormone levels are not related to cognitive performance: cross-sectional results from the Study of Women's Health Across the Nation (SWAN). J Womens Health (Larchmt) 16(3):331–44

Maki PM, Freeman EW, Greendale GA, Henderson VW, Newhouse PA, Schmidt PJ, Scott NF, Shively CA, Soares CN (2010) Summary of the national institute on aging-sponsored conference on depressive symptoms and cognitive complaints in the menopausal transition. Menopause 17:815–822

Maneeton N, Maneeton B, Suttajit S, Reungyos J, Srisurapanont M, Martin SD (2014) Exploratory meta-analysis on lisdexamfetamine versus placebo in adult ADHD. Drug Des Devel Ther 8:1685–93

Marsh L, Biglan K, Gerstenhaber M, Williams JR (2009) Atomoxetine for the treatment of executive dysfunction in Parkinson's disease: a pilot open-label study. Mov Disord 24:277–282

Mathews M, Abner E, Caban-Holt A, Dennis BC, Kryscio R, Schmitt F (2013) Characteristic neurocognitive profile associated with adult attention-deficit/hyperactivity disorder. Curr Alzheimer Res 10(7):776–83

Ragland JD, Turetsky BI, Gur RC, Gunning-Dixon F, Turner T, Schroeder L, Chan R, Gur RE (2002) Working memory for complex figures: an fMRI comparison of letter and fractal n-back tasks. Neuropsychology 16:370–379

Rapp SR, Espeland MA, Manson JE, Resnick SM, Bryan NR, Smoller S, Coker LH, Phillips LS, Stefanick ML, Sarto GE, Women's Health Initiative Memory Study (2013) Educational attainment, MRI changes, and cognitive function in older postmenopausal women from the Women's Health Initiative Memory Study. Int J Psychiatry Med 46:121–143

Ryan J, Scali J, Carriere I, Amieva H, Rouaud O, Berr C, Ritchie K, Ancelin ML (2014). Impact of a premature menopause on cognitive function in later life. BJOG

Rypma B, Berger JS, D'Esposito M (2002) The influence of working-memory demand and subject performance on prefrontal cortical activity. J Cogn Neurosci 14:721–731

Sandra Kooij JJ, Marije Boonstra A, Swinkels SH, Bekker EM, de Noord I, Buitelaar JK (2008) Reliability, validity, and utility of instruments for self-report and informant report concerning symptoms of ADHD in adult patients. J Atten Disord 11:445–458

Shanmugan S, Epperson CN (2014) Estrogen and the prefrontal cortex: towards a new understanding of estrogen's effects on executive functions in the menopause transition. Hum Brain Mapp 35:847–865

Sherwin BB (2005) Surgical menopause, estrogen, and cognitive function in women: what do the findings tell us? Ann N Y Acad Sci 1052:3–10

Stahl SM (2003) Neurotransmission of cognition, part 2. Selective NRIs are smart drugs: exploiting regionally selective actions on both dopamine and norepinephrine to enhance cognition. J Clin Psychiatry 64:110–111

Weber MT, Maki PM, McDermott MP (2014) Cognition and mood in perimenopause: a systematic review and meta-analysis. J Steroid Biochem Mol Biol 142:90–98

Wegesin DJ, Stern Y (2007) Effects of hormone replacement therapy and aging on cognition: evidence for executive dysfunction. Neuropsychol Dev Cogn B Aging Neuropsychol Cogn 14:301–328
Funding and disclosures
This project was funded in part by Shire Pharmaceuticals through an Investigator-Initiated Grant, the National Institute of Mental Health (P50 MH099910; CNE and DRK), the National Institute on Aging (R01 AG048839; CNE), and the National Institute on Drug Abuse (R01 DA030301; CNE). Dr. Epperson discloses research grant support from Shire and Novartis and stock holdings in Pfizer, Johnson and Johnson, Abbott, Abbvie and Merck. Dr. Brown discloses research grant support from Lilly and Shire and publication royalties from PsychCorp/Pearson, Yale University Press, Routledge, and Wiley. Dr. Sammel and Dr. Kim and Ms. Iannelli, Appleby, Bradley, Czarkowski and Shanmugan report no competing interests. As the lead author, Dr. Epperson can attest that the authors have had full control of all primary data and the journal Psychopharmacology may have access to the data if necessary.
Author's contributions
As the corresponding author, CNE confirms that all authors have contributed to conceptualizing the study design, conducting some or part of the study, analyzing and interpreting findings, and preparing the manuscript.
Electronic supplementary material
Below is the link to the electronic supplementary material.
About this article
Cite this article
Epperson, C.N., Shanmugan, S., Kim, D.R. et al. New onset executive function difficulties at menopause: a possible role for lisdexamfetamine. Psychopharmacology 232, 3091–3100 (2015). https://doi.org/10.1007/s00213-015-3953-7
Received:

Accepted:

Published:

Issue Date:
Keywords
Menopause

Cognition

Executive function

ADHD

Psychostimulant

Lisdexamfetamine

Brown Attention Deficit Disorder Scale

Verbal memory

Paragraph recall