Abstract
Rationale
The abused inhalant toluene has potent behavioral effects, but only recently has progress been made in understanding the neurochemical actions that mediate the action of toluene in the brain. Available evidence suggests that toluene inhalation alters dopamine (DA) neurotransmission, but toluene's mechanism of action is unknown.
Objective
The present study evaluated the effect of acute and repeated toluene inhalation (0, 2,000, or 4,000 ppm) on locomotor activity as well as striatal DA release and uptake using slice fast-scan cyclic voltammetry.
Results
Acutely, 2,000 and 4,000 ppm toluene increased locomotor activity, while neurochemically only 4,000 ppm toluene potentiated electrically evoked DA release across the caudate-putamen and the nucleus accumbens. Repeated administration of toluene resulted in sensitization to toluene's locomotor activity effects. Brain slices obtained from mice repeatedly exposed to toluene demonstrated no difference in stimulated DA release in the caudate-putamen as compared to control animals. Repeated exposure to 2,000 and 4,000 ppm toluene caused a concentration-dependent decrease of 25–50 % in evoked DA release in the nucleus accumbens core and shell relative to air-exposed mice.
Conclusions
These voltammetric neurochemical findings following repeated toluene exposure suggest that there may be a compensatory downregulation of the DA system. Acute or repeated toluene exposure had no effect on the DA uptake kinetics. Taken together, these results demonstrate that acute toluene inhalation potentiates DA release, while repeated toluene exposure attenuates DA release in the nucleus accumbens only.
Access options
Buy single article
Instant access to the full article PDF.
USD 39.95
Price includes VAT (USA)
Tax calculation will be finalised during checkout.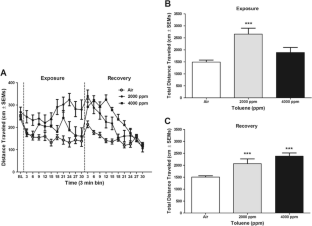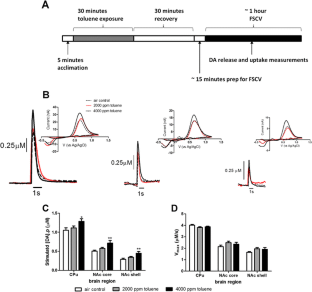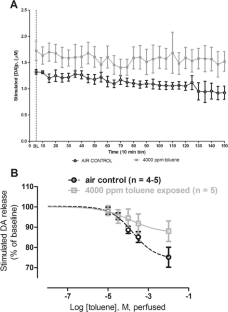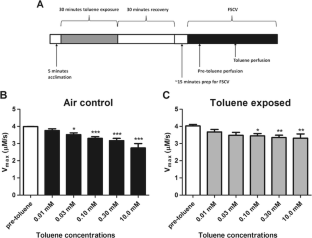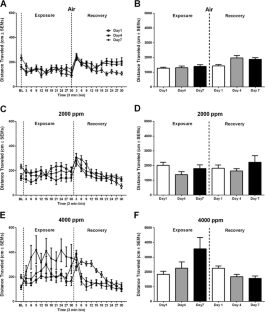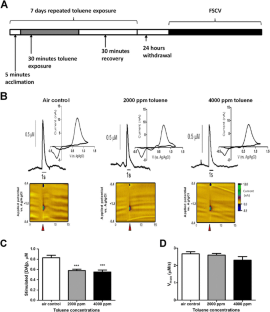 References
Batis JC, Hannigan JH, Bowen SE (2010) Differential effects of inhaled toluene on locomotor activity in adolescent and adult rats. Pharmacol Biochem Behav 96:438–448

Beyer CE, Stafford D, LeSage MG, Glowa JR, Steketee JD (2001) Repeated exposure to inhaled toluene induces behavioral and neurochemical cross-sensitization to cocaine in rats. Psychopharmacology (Berlin) 154:198–204

Bowen SE (2011) Two serious and challenging medical complications associated with volatile substance misuse: sudden sniffing death and fetal solvent syndrome. Subst Use Misuse 46(Suppl 1):68–72

Bowen SE, Balster RL (1998) A direct comparison of inhalant effects on locomotor activity and schedule-controlled behavior in mice. Exp Clin Psychopharmacol 6:235–247

Bowen SE, Balster RL (2006) Tolerance and sensitization to inhaled 1,1,1-trichloroethane in mice: results from open-field behavior and a functional observational battery. Psychopharmacology (Berlin) 185:405–415

Bowen SE, Cruz SL (2014) Inhalants: addiction and toxic effects in the human. In: Madras B, Kuhar M (eds) The effects of drug abuse on the human nervous system. Academic Press, Oxford, pp 553–569

Bowen SE, Batis JC, Paez-Martinez N, Cruz SL (2006) The last decade of solvent research in animal models of abuse: mechanistic and behavioral studies. Neurotoxicol Teratol 28:636–647

Bowen SE, Charlesworth JD, Tokarz ME, Wright MJ Jr, Wiley JL (2007) Decreased sensitivity in adolescent vs. adult rats to the locomotor activating effects of toluene. Neurotoxicol Teratol 29:599–606

Bowen SE, Kimar S, Irtenkauf S (2010) Comparison of toluene-induced locomotor activity in four mouse strains. Pharmacol Biochem Behav 95:249–257

Conti AC, Lowing JL, Susick LL, Bowen SE (2012) Investigation of calcium-stimulated adenylyl cyclases 1 and 8 on toluene and ethanol neurobehavioral actions. Neurotoxicol Teratol 34:481–488

Cragg SJ (2003) Variable dopamine release probability and short-term plasticity between functional domains of the primate striatum. J Neurosci 23:4378–4385

Cragg SJ, Hille CJ, Greenfield SA (2000) Dopamine release and uptake dynamics within nonhuman primate striatum in vitro. J Neurosci 20:8209–8217

Cragg SJ, Hille CJ, Greenfield SA (2002) Functional domains in dorsal striatum of the nonhuman primate are defined by the dynamic behavior of dopamine. J Neurosci 22:5705–5712

Evans EB, Balster RL (1991) CNS depressant effects of volatile organic solvents. Neurosci Biobehav Rev 15:233–241

Gerasimov MR, Schiffer WK, Marstellar D, Ferrieri R, Alexoff D, Dewey SL (2002) Toluene inhalation produces regionally specific changes in extracellular dopamine. Drug Alcohol Depend 65:243–251

Hillefors-Berglund M, Liu Y, von Euler G (1995) Persistent, specific and dose-dependent effects of toluene exposure on dopamine D2 agonist binding in the rat caudate-putamen. Toxicology 100:185–194

Hinman DJ (1984) Tolerance and reverse tolerance to toluene inhalation: effects on open-field behavior. Pharmacol Biochem Behav 21:625–631

Hinman DJ (1987) Biphasic dose-response relationship for effects of toluene inhalation on locomotor activity. Pharmacol Biochem Behav 26:65–69

Howard MO, Bowen SE, Garland EL, Perron BE, Vaughn MG (2011) Inhalant use and inhalant use disorders in the United States. Addict Sci Clin Pract 6:18–31

Jones SR, Garris PA, Kilts CD, Wightman RM (1995) Comparison of dopamine uptake in the basolateral amygdaloid nucleus, caudate-putamen, and nucleus accumbens of the rat. J Neurochem 64:2581–2589

Jones SR, Lee TH, Wightman RM, Ellinwood EH (1996a) Effects of intermittent and continuous cocaine administration on dopamine release and uptake regulation in the striatum: in vitro voltammetric assessment. Psychopharmacology (Berlin) 126:331–338

Jones SR, O'Dell SJ, Marshall JF, Wightman RM (1996b) Functional and anatomical evidence for different dopamine dynamics in the core and shell of the nucleus accumbens in slices of rat brain. Synapse 23:224–231

Jones SR, Gainetdinov RR, Jaber M, Giros B, Wightman RM, Caron MG (1998) Profound neuronal plasticity in response to inactivation of the dopamine transporter. Proc Natl Acad Sci U S A 95:4029–4034

Lubman DI, Yucel M, Lawrence AJ (2008) Inhalant abuse among adolescents: neurobiological considerations. Br J Pharmacol 154:316–326

Maina FK, Mathews TA (2010) A functional fast scan cyclic voltammetry assay to characterize dopamine D2 and D3 autoreceptors in the mouse striatum. ACS Chem Neurosci 1:450–462

Maina FK, Khalid M, Apawu AK, Mathews TA (2012) Presynaptic dopamine dynamics in striatal brain slices with fast-scan cyclic voltammetry. J Vis Exp 59:3464

Mateo Y, Lack CM, Morgan D, Roberts DC, Jones SR (2005) Reduced dopamine terminal function and insensitivity to cocaine following cocaine binge self-administration and deprivation. Neuropsychopharmacology 30:1455–1463

Nelson GO (1971) Controlled test atmospheres. Principles and techniques. Ann Arbor Science Publishers, Ann Arbor

Rees DC, Wood RW, Laties VG (1989) Evidence of tolerance following repeated exposure to toluene in the rat. Pharmacol Biochem Behav 32:283–291

Riegel AC, French ED (1999) Acute toluene induces biphasic changes in rat spontaneous locomotor activity which are blocked by remoxipride. Pharmacol Biochem Behav 62:399–402

Riegel AC, French ED (2002) Abused inhalants and central reward pathways: electrophysiological and behavioral studies in the rat. Ann N Y Acad Sci 965:281–291

Riegel AC, Ali SF, French ED (2003) Toluene-induced locomotor activity is blocked by 6-hydroxydopamine lesions of the nucleus accumbens and the mGluR2/3 agonist LY379268. Neuropsychopharmacology 28:1440–1447

Riegel AC, Ali SF, Torinese S, French ED (2004) Repeated exposure to the abused inhalant toluene alters levels of neurotransmitters and generates peroxynitrite in nigrostriatal and mesolimbic nuclei in rat. Ann N Y Acad Sci 1025:543–551

Riegel AC, Zapata A, Shippenberg TS, French ED (2007) The abused inhalant toluene increases dopamine release in the nucleus accumbens by directly stimulating ventral tegmental area neurons. Neuropsychopharmacology 32:1558–1569

Stengard K, Hoglund G, Ungerstedt U (1994) Extracellular dopamine levels within the striatum increase during inhalation exposure to toluene: a microdialysis study in awake, freely moving rats. Toxicol Lett 71:245–255

Tomaszycki ML, Aulerich KE, Bowen SE (2013) Repeated toluene exposure increases c-Fos in catecholaminergic cells of the nucleus accumbens shell. Neurotoxicol Teratol 40C:28–34

Wiaderna D, Tomas T (2000) Effects of repeated exposure to toluene or amphetamine on locomotor activity in rats. Int J Occup Med Environ Health 13:317–324

Wightman RM, Zimmerman JB (1990) Control of dopamine extracellular concentration in rat striatum by impulse flow and uptake. Brain Res Brain Res Rev 15:135–144

Wightman RM, Amatore C, Engstrom RC, Hale PD, Kristensen EW, Kuhr WG, May LJ (1988) Real-time characterization of dopamine overflow and uptake in the rat striatum. Neuroscience 25:513–523

Zapata A, Gonzales RA, Shippenberg TS (2006) Repeated ethanol intoxication induces behavioral sensitization in the absence of a sensitized accumbens dopamine response in C57BL/6J and DBA/2J mice. Neuropsychopharmacology 31:396–405
Acknowledgments
This work was supported by WSU Start Up Funds (TAM) and WSU Bridge Funding (SEB). Preliminary reports of a portion of this study were presented at the 2011 Annual meeting of the Society for Neuroscience, Washington, DC, the 2012 Annual meeting of the Pittcon Conference and Expo, Orlando, FL, the Annual Meetings of the Michigan Chapter of Society for Neuroscience, Ann Arbor and in Detroit, MI, respectively, the 2012 Annual meeting of the American Chemical Society Central Regional Meeting, Dearborn, MI, and the Detroit Section of Electrochemical Society, Ypsilanti, MI. The authors would like to thank Dr. Alana Conti for the insightful comments on the manuscript.
Conflict of interest
The authors declare no conflict of interest.
About this article
Cite this article
Apawu, A.K., Mathews, T.A. & Bowen, S.E. Striatal dopamine dynamics in mice following acute and repeated toluene exposure. Psychopharmacology 232, 173–184 (2015). https://doi.org/10.1007/s00213-014-3651-x
Received:

Accepted:

Published:

Issue Date:
Keywords
Mice

Toluene

Caudate-putamen

Nucleus accumbens

Locomotor activity

Fast-scan cyclic voltammetry