Abstract
Rationale
Salvinorin A is a recreational drug derived from Salvia divinorum, a sage species long used as an entheogen. While salvinorin A has potent hallucinogenic properties, its abuse potential has not been assessed consistently in controlled behavioural and neurochemical studies in rodents.
Objective
This study aimed to assess salvinorin A abuse potential by measuring its capacity to establish and maintain self-administration behaviour and to modify dopamine (DA) levels in the nucleus accumbens (NAcc) of rats.
Results
Male Lister Hooded (LH) and Sprague-Dawley (SD) rats were allowed to self-administer salvinorin A (0.5 or 1.0 μg/kg/infusion) intravenously 2 h/day for 20 days under a continuous schedule of reinforcement and lever pressing as operandum. LH rats discriminated between the active and inactive levers but did not reach the acquisition criterion for stable self-administration (≥12 active responses vs ≤5 inactive responses for at least 5 consecutive days). SD rats discriminated between the two levers at the lower dose only but, like LH rats, never acquired stable self-administration behaviour. Systemic salvinorin A increased extracellular DA in the NAcc shell of both LH (at ≥40 μg/kg) and SD rats (at ≥5 μg/kg), but injection into the ventral tegmental area (VTA) induced no significant change in NAcc DA concentration in LH rats and only brief elevations in SD rats.
Conclusions
Salvinorin A differs from other commonly abused compounds since although it affects accumbal dopamine transmission, yet it is unable, at least at the tested doses, to sustain stable intravenous self-administration behaviour.
Access options
Buy single article
Instant access to the full article PDF.
US$ 39.95
Tax calculation will be finalised during checkout.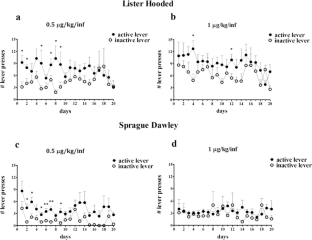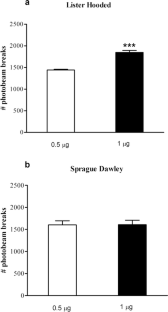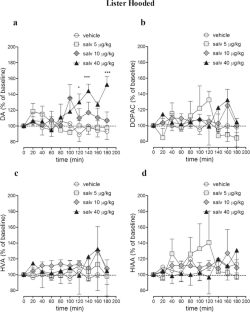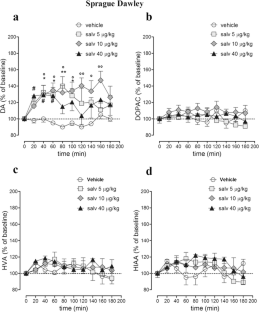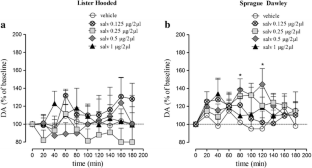 References
Addy PH (2012) Acute and post-acute behavioural and psychological effects of salvinorin A in humans. Psychopharmacology 220:195–204

Baker LE, Panos JJ, Killinger BA, Peet MM, Bell LM, Haliw LA, Walker SL (2009) Comparison of the discriminative stimulus effects of salvinorin A and its derivatives to U69,593 and U50,488 in rats. Psychopharmacology 203:203–211

Braida D, Limonta V, Pegorini S, Zani A, Guerini-Rocco C, Gori E, Sala M (2007) Hallucinatory and rewarding effect of salvinorin A in zebrafish: kappa-opioid and CB1-cannabinoid receptor involvement. Psychopharmacology 190:441–448

Braida D, Limonta V, Capurro V, Fadda P, Rubino T, Mascia P, Zani A, Gori E, Fratta W, Parolaro D, Sala M (2008) Involvement of kappa-opioid and endocannabinoid system on Salvinorin A-induced reward. Biol Psychiatry 63:286–292

Braida D, Capurro V, Zani A, Rubino T, Vigano D, Parolaro D, Sala M (2009) Potential anxiolytic- and antidepressant-like effects of salvinorin A, the main active ingredient of Salvia divinorum, in rodents. Br J Pharmacol 157:844–853

Braida D, Donzelli A, Martucci R, Capurro V, Sala M (2011) Learning and memory impairment induced by salvinorin A, the principal ingredient of Salvia divinorum, in wistar rats. Int J Toxicol 30:650–661

Butelman ER, Rus S, Prisinzano TE, Kreek MJ (2010) The discriminative effects of the kappa-opioid hallucinogen salvinorin A in nonhuman primates: dissociation from classic hallucinogen effects. Psychopharmacology 210:253–262

Carlezon WA Jr, Beguin C, DiNieri JA, Baumann MH, Richards MR, Todtenkopf MS, Rothman RB, Ma Z, Lee DY, Cohen BM (2006) Depressive-like effects of the kappa-opioid receptor agonist salvinorin A on behaviour and neurochemistry in rats. J Pharmacol Exp Ther 316:440–447

Deiana S, Fattore L, Spano MS, Cossu G, Porcu E, Fadda P, Fratta W (2007) Strain and schedule-dependent differences in the acquisition, maintenance and extinction of intravenous cannabinoid self-administration in rats. Neuropharmacology 52:646–654

Di Chiara G, Imperato A (1988a) Drugs abused by humans preferentially increase synaptic dopamine concentrations in the mesolimbic system of freely moving rats. Proc Natl Acad Sci U S A 85:5274–5278

Di Chiara G, Imperato A (1988b) Opposite effects of mu and kappa opiate agonists on dopamine release in the nucleus accumbens and in the dorsal caudate of freely moving rats. J Pharmacol Exp Ther 244:1067–1080

Ebner SR, Roitman MF, Potter DN, Rachlin AB, Chartoff EH (2010) Depressive-like effects of the kappa opioid receptor agonist salvinorin A are associated with decreased phasic dopamine release in the nucleus accumbens. Psychopharmacology 210:241–252

Fadda P, Scherma M, Fresu A, Collu M, Fratta W (2003) Baclofen antagonizes nicotine-, cocaine-, and morphine-induced dopamine release in the nucleus accumbens of rat. Synapse 50:1–6

Fadda P, Scherma M, Spano MS, Salis P, Melis V, Fattore L, Fratta W (2006) Cannabinoid self-administration increases dopamine release in the nucleus accumbens. Neuroreport 17:1629–1632

Fattore L, Cossu G, Martellotta CM, Fratta W (2001) Intravenous self-administration of the cannabinoid CB1 receptor agonist WIN 55,212-2 in rats. Psychopharmacology 156:410–416

Fibiger HC (1978) Drugs and reinforcement mechanisms: a critical review of the catecholamine theory. Annu Rev Pharmacol Toxicol 18:37–56

Gehrke BJ, Chefer VI, Shippenberg TS (2008) Effects of acute and repeated administration of salvinorin A on dopamine function in the rat dorsal striatum. Psychopharmacology 197:509–517

Grilli M, Neri E, Zappettini S, Massa F, Bisio A, Romussi G, Marchi M, Pittaluga A (2009) Salvinorin A exerts opposite presynaptic controls on neurotransmitter exocytosis from mouse brain nerve terminals. Neuropharmacology 57:523–530

Gritton HJ, Kantorowski A, Sarter M, Lee TM (2012) Bidirectional interactions between circadian entrainment and cognitive performance. Learn Mem 19:126–141

Harden MT, Smith SE, Niehoff JA, McCurdy CR, Taylor GT (2012) Antidepressive effects of the κ-opioid receptor agonist salvinorin A in a rat model of anhedonia. Behav Pharmacol 23:710–715

John TF, French LG, Erlichman JS (2006) The antinociceptive effect of salvinorin A in mice. Eur J Pharmacol 545:129–133

Johnson MW, MacLean KA, Reissig CJ, Prisinzano TE, Griffiths RR (2011) Human psychopharmacology and dose-effects of salvinorin A, a kappa opioid agonist hallucinogen present in the plant Salvia divinorum. Drug Alcohol Depend 115:150–155

Khey DN, Miller BL, Griffin OH (2008) Salvia divinorum use among a college student sample. J Drug Educ 38:297–306

Killinger BA, Peet MM, Baker LE (2010) Salvinorin A fails to substitute for the discriminative stimulus effects of LSD or ketamine in Sprague-Dawley rats. Pharmacol Biochem Behav 96:260–265

Lange JE, Reed MB, Croff JM, Clapp JD (2008) College student use of Salvia divinorum. Drug Alcohol Depend 94:263–266

MacLean KA, Johnson MW, Reissig CJ, Prisinzano TE, Griffiths RR (2013) Dose-related effects of salvinorin A in humans: dissociative, hallucinogenic, and memory effects. Psychopharmacology 226:381–392

Martellotta MC, Cossu G, Fattore L, Gessa GL, Fratta W (1998) Self-administration of the cannabinoid receptor agonist WI 55,212-2 in drug-naive mice. Neuroscience 85:327–330

McCurdy CR, Sufka KJ, Smith GH, Warnick JE, Nieto MJ (2006) Antinociceptive profile of salvinorin A, a structurally unique kappa opioid receptor agonist. Pharmacol Biochem Behav 83:109–113

Meyer EG, Writer BW (2012) Salvia divinorum. Psychosomatics 53:277–279

Ott J (1995) Ethnopharmacognosy and human pharmacology of Salvia divinorum and salvinorin A. Curare 18:103–129

Przekop P, Lee T (2009) Persistent psychosis associated with salvia divinorum use. Am J Psychiatry 166:832

Ranganathan M, Schnakenberg A, Skosnik PD, Cohen BM, Pittman B, Sewell RA, D'Souza DC (2012) Dose-related behavioral subjective, endocrine, and psychophysiological effects of the k opioid agonist Salvinorin A in humans. Biol Psychiatry 72:871–879

Roth BL, Baner K, Westkaemper R, Siebert D, Rice KC, Steinberg S, Ernsberger P, Rothman RB (2002) Salvinorin A: a potent naturally occurring non nitrogenous kappa opioid selective agonist. Proc Natl Acad Sci U S A 99:11934–11939

Rothman RB, Murphy DL, Xu H, Godin JA, Dersch CM, Partilla JS, Tidgewell K, Schmidt M, Prisinzano TE (2007) Salvinorin A: allosteric interactions at the mu-opioid receptor. J Pharmacol Exp Ther 320:801–810

Seeman P, Schwarz J, Chen JF, Szechtman H, Perreault M, McKnight GS, Roder JC, Quirion R, Boksa P, Srivastava LK, Yanai K, Weinshenker D, Sumiyoshi T (2006) Psychosis pathways converge via D2high dopamine receptors. Synapse 60:319–346

Seeman P, Guan HC, Hirbec H (2009) Dopamine D2High receptors stimulated by phencyclidines, lysergic acid diethylamide, salvinorin A, and modafinil. Synapse 63:698–704

Shoaib M, Schindler CW, Goldberg SR (1997) Nicotine self-administration in rats: strain and nicotine pre-exposure effects on acquisition. Psychopharmacology 129:35–43

Siebert DJ (1994) Salvia divinorum and salvinorin A: new pharmacologic findings. J Ethnopharmacol 43:53–56

Spanagel R, Herz A, Shippenberg TS (1990) The effects of opioid peptides on dopamine release in the nucleus accumbens: an in vivo microdialysis study. J Neurochem 55:1734–1740

United Nations Office on Drugs and Crime (UNODOC) World drug Report 2013

Wise RA (1978) Catecholamine theories of reward: a critical review. Brain Res 152:215–247

Wise RA (2004a) Dopamine and food reward: back to the elements. Am J Physiol Regul Integr Comp Physiol 286:R13

Wise RA (2004b) Rewards wanted: molecular mechanisms of motivation. Discov Med 4:180–186

Wise RA, Bozarth MA (1987) A psychomotor stimulant theory of addiction. Psychol Rev 94:469–492

Wu LT, Woody GE, Yang C, Li JH, Blazer DG (2011) Recent national trends in Salvia divinorum use and substance-use disorders among recent and former Salvia divinorum users compared with nonusers. Subst Abuse Rehabil 2:53–68

Zawilska JB, Wojcieszak J (2013) Salvia divinorum: from Mazatec medicinal and hallucinogenic plant to emerging recreational drug. Hum Psychopharmacol 28:403–412

Zhang Y, Butelman ER, Schlussman SD, Ho A, Kreek MJ (2005) Effects of the plant-derived hallucinogen salvinorin A on basal dopamine levels in the caudate putamen and in a conditioned place aversion assay in mice: agonist actions at kappa opioid receptors. Psychopharmacology 179:551–558
Acknowledgments
Funding for this study was provided by the Italian Ministry of University and Scientific Research (Progetti di Ricerca a rilevante Interesse Nazionale, PRIN 2006); the authors are grateful to Dr. Barbara Tuveri and Marta Tuveri for animal care and technical assistance. This manuscript is dedicated to the memory of Dr. Maria Sabrina Spano.
About this article
Cite this article
Serra, V., Fattore, L., Scherma, M. et al. Behavioural and neurochemical assessment of salvinorin A abuse potential in the rat. Psychopharmacology 232, 91–100 (2015). https://doi.org/10.1007/s00213-014-3641-z
Received:

Accepted:

Published:

Issue Date:
Keywords
Salvinorin A

Drug abuse

Addiction

Self-administration

Dopamine

Microdialysis