Abstract
Rationale
Mechanisms contributing to sex differences in the regulation of acute stress responsivity and their effect on the increased incidence of posttraumatic stress disorder (PTSD) in women are poorly understood. The reproductive hormone, progesterone, through conversion to allopregnanolone (ALLO), suppresses the hypothalamic pituitary adrenal (HPA) axis and has potent anxiolytic effects. The potential that progesterone and allopregnanolone reactivity modulate HPA axis responses and account for sex differences in PTSD has not been previously examined.
Objective
The present study examined the effects of sex and PTSD on adrenocorticotropic hormone (ACTH), progesterone, and allopregnanolone responses to metyrapone and whether progesterone and allopregnanolone reactivity could affect the ACTH response in PTSD.
Methods
Healthy medication-free male and premenopausal follicular phase female participants with chronic PTSD (n = 43; 49 % female) and controls (n = 42; 50 % female) completed an overnight metyrapone challenge and ACTH, progesterone, and allopregnanolone were obtained by repeated blood sampling.
Results
The increase in ACTH response to metyrapone was higher in PTSD subjects compared to controls and in women compared to men. Contrary to our initial prediction of an inverse relationship, progesterone and allopregnanolone were positively associated with ACTH. Progesterone and allopregnanolone partially mediated the relationship between PTSD and ACTH.
Conclusions
Our findings of increased ACTH to metyrapone in PTSD and in women may reflect heightened hypothalamic CRF hypersecretion. Progesterone and allopregnanolone partially mediated the ACTH response in PTSD. Further characterizing sex differences in these processes will advance our understanding of the pathophysiology of PTSD, and may ultimately lead to better-targeted, more effective treatment.
Access options
Buy single article
Instant access to the full article PDF.
USD 39.95
Price includes VAT (USA)
Tax calculation will be finalised during checkout.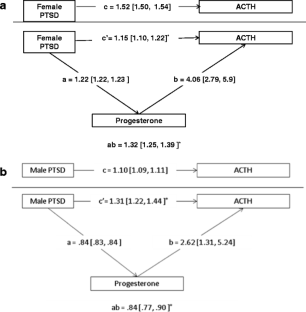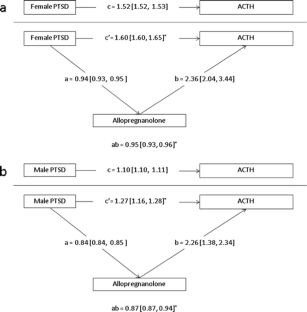 References
Adamec R, Fougere D, Risbrough V (2010) CRF receptor blockade prevents initiation and consolidation of stress effects on affect in the predator stress model of PTSD. Int J Neuropsychopharmacol 13:747–757

Adamson DM, Burnam MA, Burns RM, Caldarone LB, Cox RA, D'Amico E, Diaz C, Eibner C, Fisher G, Helmus TC, Karney BR, Kilmer B, Marshall GN, Martin LT, Meredith LS, Metscher KN, Osilla KC, Pacula RL, Ramchand R, Ringle JS, Schell TL, Sollinger JM, Vaiana ME, Williams KM (2008) Invisible wounds of war: psychological and cognitive injuries, their consequences, and services to assist recovery. RAND Center for Military Health Policy Research. Rand Corporation, Santa Monica, CA

Amstadter AB, Nugent NR, Yang BZ, Miller A, Siburian R, Moorjani P, Haddad S, Basu A, Fagerness J, Saxe G, Smoller JW, Koenen KC (2011) Corticotrophin-releasing hormone type 1 receptor gene (CRHR1) variants predict posttraumatic stress disorder onset and course in pediatric injury patients. Dis Markers 30:89–99

Baker DG, West SA, Nicholson WE, Ekhator NN, Kasckow JW, Hill KK, Bruce AB, Orth DN, Geracioti TD Jr (1999) Serial CSF corticotropin-releasing hormone levels and adrenocortical activity in combat veterans with posttraumatic stress disorder. Am J Psychiatry 156:585–588

Baker DG, Ekhator NN, Kasckow JW, Dashevsky B, Horn PS, Bednarik L, Geracioti TD Jr (2005) Higher levels of basal serial CSF cortisol in combat veterans with posttraumatic stress disorder. Am J Psychiatry 162:992–994

Bangasser DA, Valentino RJ (2012) Sex differences in molecular and cellular substrates of stress. Cell Mol Neurobiol 32:709–723

Barbaccia ML, Roscetti G, Trabucchi M, Mostallino MC, Concas A, Purdy RH, Biggio G (1996) Time-dependent changes in rat brain neuroactive steroid concentrations and GABAA receptor function after acute stress. Neuroendocrinology 63:166–172

Barbaccia ML, Roscetti G, Trabucchi M, Purdy RH, Mostallino MC, Concas A, Biggio G (1997) The effects of inhibitors of GABAergic transmission and stress on brain and plasma allopregnanolone concentrations. Br J Pharmacol 120:1582–1588

Bitran D, Purdy RH, Kellogg CK (1993) Anxiolytic effect of progesterone is associated with increases in cortical allopregnanolone and GABAA receptor function. Pharmacol Biochem Behav 45:423–428

Bitran D, Shiekh M, McLeod M (1995) Anxiolytic effect of progesterone is mediated by the neurosteroid allopregnanolone at brain GABAA receptors. J Neuroendocrinol 7:171–177

Blake DD, Weathers FW, Nagy LM, Kaloupek DG, Gusman FD, Charney DS, Keane TM (1995) The development of a clinician-administered PTSD scale. J Trauma Stress 8:75–90

Boscarino JA (2006) Posttraumatic stress disorder and mortality among U.S. Army veterans 30 years after military service. Ann Epidemiol 16:248–256

Bourke CH, Raees MQ, Malviya S, Bradburn CA, Binder EB, Neigh GN (2013) Glucocorticoid sensitizers Bag1 and Ppid are regulated by adolescent stress in a sex-dependent manner. Psychoneuroendocrinology 38:84–93

Brambilla F, Mellado C, Alciati A, Pisu MG, Purdy RH, Zanone S, Perini G, Serra M, Biggio G (2005) Plasma concentrations of anxiolytic neuroactive steroids in men with panic disorder. Psychiatry Res 135:185–190

Bremner JD, Licinio J, Darnell A, Krystal JH, Owens MJ, Southwick SM, Nemeroff CB, Charney DS (1997) Elevated CSF corticotropin-releasing factor concentrations in posttraumatic stress disorder. Am J Psychiatry 154:624–629

Bremner JD, Vythilingam M, Anderson G, Vermetten E, McGlashan T, Heninger G, Rasmusson A, Southwick SM, Charney DS (2003a) Assessment of the hypothalamic–pituitary–adrenal axis over a 24-hour diurnal period and in response to neuroendocrine challenges in women with and without childhood sexual abuse and posttraumatic stress disorder. Biol Psychiatry 54:710–718

Bremner JD, Vythilingam M, Vermetten E, Adil J, Khan S, Nazeer A, Afzal N, McGlashan T, Elzinga B, Anderson GM, Heninger G, Southwick SM, Charney DS (2003b) Cortisol response to a cognitive stress challenge in posttraumatic stress disorder (PTSD) related to childhood abuse. Psychoneuroendocrinology 28:733–750

Breslau N, Kessler RC, Chilcoat HD, Schultz LR, Davis GC, Andreski P (1998) Trauma and posttraumatic stress disorder in the community: the 1996 Detroit Area Survey of Trauma. Arch Gen Psychiatry 55:626–632

Britton KT, McLeod S, Koob GF, Hauger R (1992) Pregnane steroid alphaxalone attenuates anxiogenic behavioral effects of corticotropin releasing factor and stress. Pharmacol Biochem Behav 41:399–403

Coyne MD, Kitay JI (1969) Effect of ovariectomy on pituitary secretion of ACTH. Endocrinology 85:1097–1102

Coyne MD, Kitay JI (1971) Effect of orchiectomy on pituitary secretion of ACTH. Endocrinology 89:1024–1028

de Wit H, Schmitt L, Purdy R, Hauger R (2001) Effects of acute progesterone administration in healthy postmenopausal women and normally-cycling women. Psychoneuroendocrinology 26:697–710

Desbonnet L, Garrett L, Daly E, McDermott KW, Dinan TG (2008) Sexually dimorphic effects of maternal separation stress on corticotrophin-releasing factor and vasopressin systems in the adult rat brain. Int J Dev Neurosci 26(3-4):259–268

Deutsch ER, Espinoza TR, Atif F, Woodall E, Kaylor J, Wright DW (2013) Progesterone's role in neuroprotection, a review of the evidence. Brain Res 1530:82–105

Dohrenwend BP, Turner JB, Turse NA, Adams BG, Koenen KC, Marshall R (2006) The psychological risks of Vietnam for U.S. veterans: a revisit with new data and methods. Science 313:979–982

Duncko R, Kiss A, Skultétyová I, Rusnák M, Jezová D (2001) Corticotropin-releasing hormone mRNA levels in response to chronic mild stress rise in male but not in female rats while tyrosine hydroxylase mRNA levels decrease in both sexes. Psychoneuroendocrinology 26(1):77–89

Elzinga BM, Schmahl CG, Vermetten E, van Dyck R, Bremner JD (2003) Higher cortisol levels following exposure to traumatic reminders in abuse-related PTSD. Neuropsychopharmacology 28:1656–1665

Friedman MJ (2004) Acknowledging the psychiatric cost of war. N Engl J Med 351:75–77

Gallucci WT, Baum A, Laue L, Rabin DS, Chrousos GP, Gold PW, Kling MA (1993) Sex differences in sensitivity of the hypothalamicpituitary-adrenal axis. Health Psychol 12:420–425

Genazzani AR, Petraglia F, Bernardi F, Casarosa E, Salvestroni C, Tonetti A, Nappi RE, Luisi S, Palumbo M, Purdy RH, Luisi M (1998) Circulating levels of allopregnanolone in humans: gender, age, and endocrine influences. J Clin Endocrinol Metab 83:2099–2103

Golier JA, Schmeidler J, Yehuda R (2009) Pituitary response to metyrapone in Gulf War veterans: relationship to deployment, PTSD and unexplained health symptoms. Psychoneuroendocrinology 34:1338–1345

Greenspan SL, Rowe JW, Maitland LA, McAloon-Dyke M, Elahi D (1993) The pituitary–adrenal glucocorticoid response is altered by gender and disease. J Gerontol 48:M72–M77

Grossman R, Yehuda R, New A, Schmeidler J, Silverman J, Mitropoulou V, Sta Maria N, Golier J, Siever L (2003) Dexamethasone suppression test findings in subjects with personality disorders: associations with posttraumatic stress disorder and major depression. Am J Psychiatry 160:1291–1298

Handa RJ, Burgess LH, Kerr JE, O'Keefe JA (1994) Gonadal steroid hormone receptors and sex differences in the hypothalamo-pituitary-adrenal axis. Horm Behav 28:464–476

Hauger RL, Olivares-Reyes JA, Dautzenberg FM, Lohr JB, Braun S, Oakley RH (2012) Molecular and cell signaling targets for PTSD pathophysiology and pharmacotherapy. Neuropharmacology 62:705–714

Heim C, Newport DJ, Heit S, Graham YP, Wilcox M, Bonsall R, Miller AH, Nemeroff CB (2000) Pituitary–adrenal and autonomic responses to stress in women after sexual and physical abuse in childhood. JAMA 284:592–597

Heim C, Newport DJ, Bonsall R, Miller AH, Nemeroff CB (2001) Altered pituitary–adrenal axis responses to provocative challenge tests in adult survivors of childhood abuse. Am J Psychiatry 158:575–581

Heuser IJ, Gotthardt U, Schweiger U, Schmider J, Lammers CH, Dettling M, Holsboer F (1994) Age-associated changes of pituitary–adrenocortical hormone regulation in humans: importance of gender. Neurobiol Aging 15:227–231

Hoge CW, Castro CA, Messer SC, McGurk D, Cotting DI, Koffman RL (2004) Combat duty in Iraq and Afghanistan, mental health problems, and barriers to care. N Engl J Med 351:13–22

Hou YT, Lin HK, Penning TM (1998) Dexamethasone regulation of the rat 3alpha-hydroxysteroid/dihydrodiol dehydrogenase gene. Mol Pharmacol 53:459–466

Iwasaki-Sekino A, Mano-Otagiri A, Ohata H, Yamauchi N, Shibasaki T (2009) Gender differences in corticotropin and corticosterone secretion and corticotropin-releasing factor mRNA expression in the paraventricular nucleus of the hypothalamus and the central nucleus of the amygdala in response to footshock stress or psychological stress in rats. Psychoneuroendocrinology 34:226–237

Jahn H, Kiefer F, Schick M, Yassouridis A, Steiger A, Kellner M, Wiedemann K (2003) Sleep endocrine effects of the 11-beta-hydroxysteroiddehydrogenase inhibitor metyrapone. Sleep 26:823–829

Jones MT, Gillham B, Altaher AR, Nicholson SA, Campbell EA, Watts SM, Thody A (1984) Clinical and experimental studies on the role of GABA in the regulation of ACTH secretion: a review. Psychoneuroendocrinology 9:107–123

Kellner M, Baker DG, Yassouridis A, Bettinger S, Otte C, Naber D, Wiedemann K (2002) Mineralocorticoid receptor function in patients with posttraumatic stress disorder. Am J Psychiatry 159:1938–1940

Kessler RC (2000) Posttraumatic stress disorder: the burden to the individual and to society. J Clin Psychiatry 61(Suppl 5):4–12, discussion 13-4

Kessler RC, Sonnega A, Bromet E, Hughes M, Nelson CB (1995) Posttraumatic stress disorder in the National Comorbidity Survey. Arch Gen Psychiatry 52:1048–1060

Kirschbaum C, Wust S, Hellhammer D (1992) Consistent sex differences in cortisol responses to psychological stress. Psychosom Med 54:648–657

Kirschbaum C, Kudielka BM, Gaab J, Schommer NC, Hellhammer DH (1999) Impact of gender, menstrual cycle phase, and oral contraceptives on the activity of the hypothalamic-pituitary-adrenal axis. Psychosom Med 61

Kitay JI (1965) Effects of oophorectomy and various doses of estradiol-17beta on corticosterone production by rat adrenal slices. Proc Soc Exp Biol Med 120:193–196

Kudielka BM, Kirschbaum C (2005) Sex differences in HPA axis responses to stress: a review. Biol Psychol 69:113–132

Kudielka BM, Hellhammer J, Hellhammer DH, Wolf OT, Pirke KM, Varadi E, Pilz J, Kirschbaum C (1998) Sex differences in endocrine and psychological responses to psychosocial stress in healthy elderly subjects and the impact of a 2- week dehydroepiandrosterone treatment. J Clin Endocrinol Metab 83:1756–1761

Lisansky J, Peake GT, Strassman RJ, Qualls C, Meikle AW, Risch SC, Fava GA, Zownir-Brazis M, Hochla P, Britton D (1989) Augmented pituitary corticotropin response to a threshold dosage of human corticotropin-releasing hormone in depressives pretreated with metyrapone. Arch Gen Psychiatry 46:641–649

Loughlin T, Cunningham S, Moore A, Culliton M, Smyth PP, McKenna TJ (1986) Adrenal abnormalities in polycystic ovary syndrome. J Clin Endocrinol Metab 62:142–147

Luisi S, Tonetti A, Bernardi F, Casarosa E, Florio P, Monteleone P, Gemignani R, Petraglia F, Luisi M, Genazzani AR (1998) Effect of acute corticotropin releasing factor on pituitary–adrenocortical responsiveness in elderly women and men. 21: 449-53

Majewska MD, Harrison NL, Schwartz RD, Barker JL, Paul SM (1986) Steroid hormone metabolites are barbiturate-like modulators of the GABA receptor. Science 232:1004–1007

Melcangi RC, Giatti S, Calabrese D, Pesaresi M, Cermenati G, Mitro N, Viviani B, Garcia-Segura LM, Caruso D (2014) Levels and actions of progesterone and its metabolites in the nervous system during physiological and pathological conditions, Progress in Neurobiology 113:56–69

Muthén LK, Muthén BO (2011) Mplus User's Guide, 7th edn. Muthén & Muthén, Los Angeles, CA

Newport DJ, Heim C, Bonsall R, Miller AH, Nemeroff CB (2004) Pituitary–adrenal responses to standard and low-dose dexamethasone suppression tests in adult survivors of child abuse. Biol Psychiatry 55:10–20

Neylan TC, Lenoci M, Maglione ML, Rosenlicht NZ, Metzler TJ, Otte C, Schoenfeld FB, Yehuda R, Marmar CR (2003) Delta sleep response to metyrapone in posttraumatic stress disorder. Neuropsychopharmacology 28:1666–1676

Ni X, Hou Y, Yang R, Tang X, Smith R, Nicholson RC (2004) Progesterone receptors A and B differentially modulate corticotropin-releasing hormone gene expression through a cAMP regulatory element. Cell Mol Life Sci 61:1114–1122

Ottander U, Poromaa IS, Bjurulf E, Skytt A, Backstrom T, Olofsson JI (2005) Allopregnanolone and pregnanolone are produced by the human corpus luteum. Mol Cell Endocrinol 239:37–44

Otte C, Lenoci M, Metzler T, Yehuda R, Marmar CR, Neylan TC (2007) Effects of metyrapone on hypothalamic–pituitary–adrenal axis and sleep in women with post-traumatic stress disorder. Biol Psychiatry 61:952–956

Patchev VK, Shoaib M, Holsboer F, Almeida OF (1994) The neurosteroid tetrahydroprogesterone counteracts corticotropin-releasing hormone-induced anxiety and alters the release and gene expression of corticotropin-releasing hormone in the rat hypothalamus. Neuroscience 62:265–271

Patchev VK, Hassan AH, Holsboer DF, Almeida OF (1996) The neurosteroid tetrahydroprogesterone attenuates the endocrine response to stress and exerts glucocorticoid-like effects on vasopressin gene transcription in the rat hypothalamus. Neuropsychopharmacology 15:533–540

Paul SM, Purdy RH (1992) Neuroactive steroids. FASEB J 6:2311–2322

Penning TM, Jin Y, Steckelbroeck S, Lanisnik Rizner T, Lewis M (2004) Structure–function of human 3 alpha-hydroxysteroid dehydrogenases: genes and proteins. Mol Cell Endocrinol 215:63–72

Pinna G, Agis-Balboa RC, Doueiri MS, Guidotti A, Costa E (2004) Brain neurosteroids in gender-related aggression induced by social isolation. Crit Rev Neurobiol 16:75–82

Prinz PN, Bailey SL, Woods DL (2000) Sleep impairments in healthy seniors: roles of stress, cortisol, and interleukin-1 beta. Chronobiol Int 17:391–404

Purdy RH, Morrow AL, Moore PH Jr, Paul SM (1991) Stress-induced elevations of gamma-aminobutyric acid type A receptor-active steroids in the rat brain. Proc Natl Acad Sci U S A 88:4553–4557

Rasmusson AM, Lipschitz DS, Wang S, Hu S, Vojvoda D, Bremner JD, Southwick SM, Charney DS (2001) Increased pituitary and adrenal reactivity in premenopausal women with posttraumatic stress disorder. Biol Psychiatry 50:965–977

Rasmusson AM, Pinna G, Paliwal P, Weisman D, Gottschalk C, Charney D, Krystal J, Guidotti A (2006) Decreased cerebrospinal fluid allopregnanolone levels in women with posttraumatic stress disorder. Biol Psychiatry 60:704–713

Reddy DS (2010) Neurosteroids: endogenous role in the human brain and therapeutic potentials. Prog Brain Res 186:113–137

Reddy DS, O'Malley BW, Rogawski MA (2005) Anxiolytic activity of progesterone in progesterone receptor knockout mice. Neuropharmacology 48:14–24

Roy BN, Reid RL, Van Vugt DA (1999) The effects of estrogen and progesterone on corticotropin-releasing hormone and arginine vasopressin messenger ribonucleic acid levels in the paraventricular nucleus and supraoptic nucleus of the rhesus monkey. Endocrinology 140(5):2191–2198

Saketos M, Sharma N, Santoro NF (1993) Suppression of the hypothalamic–pituitary–ovarian axis in normal women by glucocorticoids. Biol Reprod 49:1270–1276

Sautter FJ, Bissette G, Wiley J, Manguno-Mire G, Schoenbachler B, Myers L, Johnson JE, Cerbone A, Malaspina D (2003) Corticotropin-releasing factor in posttraumatic stress disorder (PTSD) with secondary psychotic symptoms, nonpsychotic PTSD, and healthy control subjects. Biol Psychiatry 54:1382–1388

Seeman TE, Singer B, Charpentier P (1995) Gender differences in patterns of HPA axis response to challenge: Macarthur studies of successful aging. Psychoneuroendocrinology 20:711–725

Seeman TE, Singer B, Wilkinson CW, McEwen B (2001) Gender differences in age-related changes in HPA axis reactivity. Psychoneuroendocrinology 26:225–240

Smith MA, Davidson J, Ritchie JC, Kudler H, Lipper S, Chappell P, Nemeroff CB (1989) The corticotropin-releasing hormone test in patients with posttraumatic stress disorder. Biol Psychiatry 26:349–355

Soderpalm AH, Lindsey S, Purdy RH, Hauger R, Wit de H (2004) Administration of progesterone produces mild sedative-like effects in men and women. Psychoneuroendocrinology 29(3):339–354

Spitzer RL, Williams JB, Gibbon M, First MB (1992) The Structured Clinical Interview for DSM-III-R (SCID): I. History, rationale, and description. Arch Gen Psychiatry 49:624–629

Stein MB, Yehuda R, Koverola C, Hanna C (1997) Enhanced dexamethasone suppression of plasma cortisol in adult women traumatized by childhood sexual abuse. Biol Psychiatry 42:680–686

Sterrenburg L, Gaszner B, Boerrigter J, Santbergen L, Bramini M, Elliott E, Chen A, Peeters BW, Roubos EW, Kozicz T (2011) Chronic stress induces sex-specific alterations in methylation and expression of corticotropin-releasing factor gene in the rat. PLoS One 6(11):e28128

Sterrenburg L, Gaszner B, Boerrigter J, Santbergen L, Bramini M, Roubos EW, Peeters BW, Kozicz T (2012) Sex-dependent and differential responses to acute restraint stress of corticotropin-releasing factor-producing neurons in the rat paraventricular nucleus, central amygdala, and bed nucleus of the stria terminalis. J Neurosci Res 90:179–192

Torres JM, Ruiz E, Ortega E (2001) Effects of CRH and ACTH administration on plasma and brain neurosteroid levels. Neurochem Res 26:555–558

Toufexis DJ, Davis C, Hammond A, Davis M (2004) Progesterone attenuates corticotropin-releasing factor-enhanced but not fear-potentiated startle via the activity of its neuroactive metabolite, allopregnanolone. J Neurosci 24:10280–10287

Trbovich AM, Martinelle N, O'Neill FH, Pearson EJ, Donahoe PK, Sluss PM, Teixeira J (2004) Steroidogenic activities in MA-10 Leydig cells are differentially altered by cAMP and Mullerian inhibiting substance. J Steroid Biochem Mol Biol 92:199–208

Tsagarakis S, Rees LH, Besser GM, Grossman A (1990) Gamma-aminobutyric acid modulation of corticotrophin-releasing factor-41 secretion from the rat hypothalamus in vitro. J Neuroendocrinol 2:221–224

Turner BB (1990) Sex difference in glucocorticoid binding in rat pituitary is estrogen dependent. Life Sci 46:1399–1406

Turner BB (1997) Influence of gonadal steroids on brain corticosteroid receptors: a minireview. Neurochem Res 22:1375–1385

Van Cauter E, Leproult R, Kupfer DJ (1996) Effects of gender and age on the levels and circadian rhythmicity of plasma cortisol. J Clin Endocrinol Metab 81:2468–2473

Viau V, Meaney MJ (1991) Variations in the hypothalamic-pituitary-adrenal response to stress during the estrous cycle in the rat. Endocrinology 129:2503–2511

Viau V, Meaney MJ (1996) The inhibitory effect of testosterone on hypothalamic–pituitary–adrenal responses to stress is mediated by the medial preoptic area. J Neurosci 16:1866–1876

Viau V, Meaney MJ (2004) Alpha1 adrenoreceptors mediate the stimulatory effects of oestrogen on stress-related hypothalamic–pituitary–adrenal activity in the female rat. J Neuroendocrinol 16:72–78

Viau V, Soriano L, Dallman MF (2001) Androgens alter corticotropin releasing hormone and arginine vasopressin mRNA within forebrain sites known to regulate activity in the hypothalamic–pituitary–adrenal axis. J Neuroendocrinol 13:442–452

Viau V, Bingham B, Davis J, Lee P, Wong M (2005) Gender and puberty interact on the stress-induced activation of parvocellular neurosecretory neurons and corticotropin-releasing hormone messenger ribonucleic acid expression in the rat. Endocrinology 146:137–146

Weathington JM, Cooke BM (2012) Corticotropin-releasing factor receptor binding in the amygdala changes across puberty in a sex-specific manner. Endocrinology 153:5701–5705

Wilkinson CW, Peskind ER, Raskind MA (1997) Decreased hypothalamic–pituitary–adrenal axis sensitivity to cortisol feedback inhibition in human aging. Neuroendocrinology 65:79–90

Wirth MM, Meier EA, Fredrickson BL, Schultheiss OC (2007) Relationship between salivary cortisol and progesterone levels in humans. Biol Psychol 74:104–107

Wochnik GM, Ruegg J, Abel GA, Schmidt U, Holsboer F, Rein T (2005) FK506-binding proteins 51 and 52 differentially regulate dynein interaction and nuclear translocation of the glucocorticoid receptor in mammalian cells. J Biol Chem 280:4609–4616

Wolfe J, Kimerling R, Brown PJ, Chresman KR, Levin K (1996) Psychometric review of the life stressor checklist-revised. Sidran, Lutherville, MD

Xu XF, Hoebeke J, Bjorntorp P (1990) Progestin binds to the glucocorticoid receptor and mediates antiglucocorticoid effect in rat adipose precursor cells. J Steroid Biochem 36:465–471

Yehuda R, Levengood RA, Schmeidler J, Wilson S, Guo LS, Gerber D (1996) Increased pituitary activation following metyrapone administration in post-traumatic stress disorder. Psychoneuroendocrinology 21:1–16

Yehuda R, Halligan SL, Grossman R, Golier JA, Wong C (2002) The cortisol and glucocorticoid receptor response to low dose dexamethasone administration in aging combat veterans and holocaust survivors with and without posttraumatic stress disorder. Biol Psychiatry 52:393–403

Yehuda R, Halligan SL, Golier JA, Grossman R, Bierer LM (2004) Effects of trauma exposure on the cortisol response to dexamethasone administration in PTSD and major depressive disorder. Psychoneuroendocrinology 29:389–404

Young EA, Ribeiro SC (2006) Sex differences in the ACTH response to 24H metyrapone in depression. Brain Res 1126:148–155

Young EA, Haskett RF, Grunhaus L, Pande A, Weinberg VM, Watson SJ, Akil H (1994) Increased evening activation of the hypothalamic–pituitary–adrenal axis in depressed patients. Arch Gen Psychiatry 51
Acknowledgments
This research and development project was conducted by the Stress and Health Research Program at the San Francisco VA Medical Center and is made possible by a research grant that was awarded and administered by the US Army Medical Research and Materiel Command (USAMRMC) and the Telemedicine & Advanced Technology Research Center (TATRC), at Fort Detrick, MD (SI: W81XWH-05-2-0094). This study was also supported by the National Institute for Mental Health (TCN: 5R01MH073978-04, 5R34MH077667-03), the Veterans Health Research Institute, the Mental Illness Research and Education Clinical Center of the US Veterans Health Administration, and the Clinical Research Center of the National Center for Advancing Translational Sciences, National Institutes of Health, through UCSF-CTSI Grant Number UL1 RR024131. RLH was supported by a BLR&D Merit Review grant from the Department of Veterans Affairs, Veterans Health Administration, Office of Research and Development, the VA Center of Excellence for Stress and Mental Health (CESAMH), and a NIH/NIMH (MH074697) RO1 grant.
The views, opinions, and/or findings contained in this research are those of the authors and do not necessarily reflect the views of the Department of Defense, Department of Veteran Affairs, or NIH and should not be construed as an official DoD/Army/VA/NIH position, policy, or decision unless so designated by official documentation. No official endorsement should be made. This material is the result of work supported with resources and the use of facilities at the Veterans Administration Medical Center, San Francisco, California. We acknowledge Alan Turken for his expert completion of the allopregnanolone immunoassays. We are grateful to Synthia Mellon, Ph.D. for her scientific input, Maryann Lenoci for her logistical and technical support, and Hollen Reischer for her editorial support on this manuscript.
Conflict of interest
Dr. Neylan reports receiving study medication from Actelion for a study funded by the Department of Defense and receiving study medication from Glaxo Smith Kline for a study funded by the Department of Veterans Affairs.
About this article
Cite this article
Inslicht, S.S., Richards, A., Madden, E. et al. Sex differences in neurosteroid and hormonal responses to metyrapone in posttraumatic stress disorder. Psychopharmacology 231, 3581–3595 (2014). https://doi.org/10.1007/s00213-014-3621-3
Received:

Accepted:

Published:

Issue Date:
Keywords
Sex differences

Posttraumatic stress disorder

Progesterone

Allopregnanolone

ACTH

Metyrapone