Abstract
Molecular imaging studies with positron emission tomography have revealed that the availability of serotonin transporter (5-HTT) in the human brain fluctuates over the course of the year. This effect is most pronounced in carriers of the short allele of the 5-HTT promoter region (5-HTTLPR), which has in several previous studies been linked to an increased risk to develop mood disorders. We argue that long-lasting fluctuations in the cerebral serotonin transmission, which is regulated via the 5-HTT, are responsible for mediating responses to environmental changes based on an assessment of the expected "safety" of the environment; this response is obtained in part through serotonergic modulation of the hypothalamic–pituitary–adrenal (HPA) axis. We posit that the intermediate phenotype of the s-allele may properly be understood as mediating a trade-off, wherein increased responsiveness of cerebral serotonin transmission to seasonal and other forms of environmental change imparts greater behavioral flexibility, at the expense of increased vulnerability to stress. This model may explain the somewhat higher prevalence of the s-allele in some human populations dwelling at geographic latitudes with pronounced seasonal climatic changes, while this hypothesis does not rule out that genetic drift plays an additional or even exclusive role. We argue that s-allele manifests as an intermediate phenotype in terms of an increased responsiveness of the 5-HTT expression to number of daylight hours, which may serve as a stable surrogate marker of other environmental factors, such as availability of food and safety of the environment in populations that live closer to the geographic poles.
Access options
Buy single article
Instant access to the full article PDF.
US$ 39.95
Tax calculation will be finalised during checkout.
Subscribe to journal
Immediate online access to all issues from 2019. Subscription will auto renew annually.
US$ 119
Tax calculation will be finalised during checkout.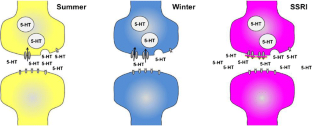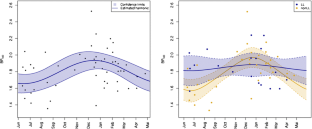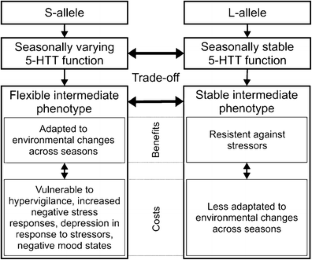 References
Artigas F (1995) Pindolol, 5-hydroxytryptamine, and antidepressant augmentation. Arch Gen Psychiatry 52:969–971

Bagdy G, Calogero AE, Murphy DL, Szemeredi K (1989) Serotonin agonists cause parallel activation of the sympathoadrenomedullary system and the hypothalamo-pituitary-adrenocortical axis in conscious rats. Endocrinology 125:2664–2669

Barnes NM, Sharp T (1999) A review of central 5-HT receptors and their function. Neuropharmacology 38:1083–1152

Belsky J, Jonassaint C, Pluess M, Stanton M, Brummett B, Williams R (2009) Vulnerability genes or plasticity genes? Mol Psychiatry 14:746–754

Bizot J, Le Bihan C, Puech AJ, Hamon M, Thiebot M (1999) Serotonin and tolerance to delay of reward in rats. Psychopharmacology (Berl) 146:400–412

Bjorksten KS, Kripke DF, Bjerregaard P (2009) Accentuation of suicides but not homicides with rising latitudes of Greenland in the sunny months. BMC Psychiatry 9:20

Brodie BB, Shore PA (1957) A concept for a role of serotonin and norepinephrine as chemical mediators in the brain. Ann N Y Acad Sci 66:631–642

Bylesjo EI, Boman K, Wetterberg L (1996) Obesity treated with phototherapy: four case studies. Int J Eat Disord 20:443–446

Carlsson A, Svennerholm L, Winblad B (1980) Seasonal and circadian monoamine variations in human brains examined post mortem. Acta Psychiatr Scand Suppl 280:75–85

Caspi A, Sugden K, Moffitt T, Taylor A, Craig I, Harrington H, McClay J, Mill J, Martin J, Braithwaite A, Poulton R (2003) Influence of life stress on depression: moderation by a polymorphism in the 5-HTT gene. Science 301:386–389

Chakraborty S, Chakraborty D, Mukherjee O, Jain S, Ramakrishnan U, Sinha A (2010) Genetic polymorphism in the serotonin transporter promoter region and ecological success in macaques. Behav Genet 40:672–679

Chrousos GP, Gold PW (1992) The concepts of stress and stress system disorders. Overview of physical and behavioral homeostasis. JAMA 267:1244–1252

Cleare AJ, Bond AJ (1995) The effect of tryptophan depletion and enhancement on subjective and behavioural aggression in normal male subjects. Psychopharmacology (Berl) 118:72–81

Crockett MJ, Clark L, Hauser MD, Robbins TW (2010a) Serotonin selectively influences moral judgment and behavior through effects on harm aversion. Proc Natl Acad Sci U S A 107:17433–17438

Crockett MJ, Clark L, Lieberman MD, Tabibnia G, Robbins TW (2010b) Impulsive choice and altruistic punishment are correlated and increase in tandem with serotonin depletion. Emotion 10:855–862

Crockett MJ, Clark L, Tabibnia G, Lieberman MD, Robbins TW (2008) Serotonin modulates behavioral reactions to unfairness. Science 320:1739

Davis M, Strachan DI, Kass E (1980) Excitatory and inhibitory effects of serotonin on sensorimotor reactivity measured with acoustic startle. Science 209:521–523

de Kloet ER, Joels M, Holsboer F (2005) Stress and the brain: from adaptation to disease. Nat Rev Neurosci 6:463–475

Esau L, Kaur M, Adonis L, Arieff Z (2008) The 5-HTTLPR polymorphism in South African healthy populations: a global comparison. J Neural Transm 115:755–760

Fairbanks LA, Melega WP, Jorgensen MJ, Kaplan JR, McGuire MT (2001) Social impulsivity inversely associated with CSF 5-HIAA and fluoxetine exposure in vervet monkeys. Neuropsychopharmacology 24:370–378

Frokjaer VG, Erritzoe D, Holst KK, Jensen PS, Rasmussen PM, Fisher PM, Baaré W, Madsen KS, Madsen J, Svarer C, Knudsen GM (2013) Prefrontal serotonin transporter availability is positively associated with the cortisol awakening response. Eur Neuropsychopharmacology 23(4):285–294

Frokjaer VG, Erritzoe D, Holst KK, Jensen PS, Rasmussen PM, Fisher PM, Baare W, Madsen KS, Madsen J, Svarer C, Knudsen GM (2013) Prefrontal serotonin transporter availability is positively associated with the cortisol awakening response. Eur Neuropsychopharmacol: J Eur Coll Neuropsychopharmacol 23:285–294

Goodman AH (2000) Why genes don't count (for racial differences in health). Am J Public Health 90:1699–1702

Hamilton M (2009) Population genetics, 1st edn. John Wiley & Sons, Chichester

Harmer CJ, Bhagwagar Z, Shelley N, Cowen PJ (2003) Contrasting effects of citalopram and reboxetine on waking salivary cortisol. Psychopharmacology (Berl) 167:112–114

Harris J, Chan S (2010) Moral behavior is not what it seems. Proceedings of the National Academy of Sciences of the United States of America 107: E183 (author reply E184).

Heiming RS, Bodden C, Jansen F, Lewejohann L, Kaiser S, Lesch KP, Palme R, Sachser N (2011) Living in a dangerous world decreases maternal care: a study in serotonin transporter knockout mice. Horm Behav 60:397–407

Heiming RS, Jansen F, Lewejohann L, Kaiser S, Schmitt A, Lesch KP, Sachser N (2009) Living in a dangerous world: the shaping of behavioral profile by early environment and 5-HTT genotype. Front Behav Neurosci 3:26

Heinz A, Braus DF, Smolka MN, Wrase J, Puls I, Hermann D, Klein S, Grusser SM, Flor H, Schumann G, Mann K, Buchel C (2005) Amygdala-prefrontal coupling depends on a genetic variation of the serotonin transporter. Nat Neurosci 8:20–21

Heinz A, Higley JD, Gorey JG, Saunders RC, Jones DW, Hommer D, Zajicek K, Suomi SJ, Lesch KP, Weinberger DR, Linnoila M (1998) In vivo association between alcohol intoxication, aggression, and serotonin transporter availability in nonhuman primates. Am J Psychiatry 155:1023–1028

Heinz A, Jones DW, Bissette G, Hommer D, Ragan P, Knable M, Wellek S, Linnoila M, Weinberger DR (2002) Relationship between cortisol and serotonin metabolites and transporters in alcoholism [correction of alcolholism]. Pharmacopsychiatry 35:127–134

Heinz A, Jones DW, Mazzanti C, Goldman D, Ragan P, Hommer D, Linnoila M, Weinberger DR (2000) A relationship between serotonin transporter genotype and in vivo protein expression and alcohol neurotoxicity. Biol Psychiatry 47:643–649

Heinz AJ, Beck A, Meyer-Lindenberg A, Sterzer P, Heinz A (2011) Cognitive and neurobiological mechanisms of alcohol-related aggression. Nat Rev Neurosci 12:400–413

Homberg JR, Lesch KP (2011) Looking on the bright side of serotonin transporter gene variation. Biol Psychiatry 69:513–519

Hood SD, Hince DA, Robinson H, Cirillo M, Christmas D, Kaye JM (2006) Serotonin regulation of the human stress response. Psychoneuroendocrinology 31:1087–1097

Hornung JP (2003) The human raphe nuclei and the serotonergic system. J Chem Neuroanat 26:331–343

Jacobs BL, Azmitia EC (1992) Structure and function of the brain serotonin system. Physiol Rev 72:165–229

Jacobs BL, Fornal CA (1995) Serotonin and behavior: a general hypothesis. In: Bloom FE, Kupfer DJ (eds) Psychopharmacology the fourth generation of progress (associate editors, Benjamin S Bunney et al. in association with the American College of Neuropsychopharmacology). Raven Press, New York, pp 461–469

Jacobs BL, Fornal CA (1999) Activity of serotonergic neurons in behaving animals. Neuropsychopharmacology 21:9S–15S

Kalbitzer J, Erritzoe D, Holst KK, Nielsen FA, Marner L, Lehel S, Arentzen T, Jernigan TL, Knudsen GM (2010) Seasonal changes in brain serotonin transporter binding in short serotonin transporter linked polymorphic region-allele carriers but not in long-allele homozygotes. Biol Psychiatry 67:1033–1039

Kalbitzer J, Frokjaer VG, Erritzoe D, Svarer C, Cumming P, Nielsen FA, Hashemi SH, Baare WF, Madsen J, Hasselbalch SG, Kringelbach ML, Mortensen EL, Knudsen GM (2009) The personality trait openness is related to cerebral 5-HTT levels. NeuroImage 45:280–285

Kalin NH, Shelton SE, Fox AS, Rogers J, Oakes TR, Davidson RJ (2008) The serotonin transporter genotype is associated with intermediate brain phenotypes that depend on the context of eliciting stressor. Mol Psychiatry 13:1021–1027

Karg K, Burmeister M, Shedden K, Sen S (2011) The serotonin transporter promoter variant (5-HTTLPR), stress, and depression meta-analysis revisited: evidence of genetic moderation. Arch Gen Psychiatry 68:444–454

Kasper S, Wehr TA, Bartko JJ, Gaist PA, Rosenthal NE (1989) Epidemiological findings of seasonal changes in mood and behavior: a telephone survey of Montgomery County, Maryland. Arch Gen Psychiatry 46:823–833

Kish SJ, Furukawa Y, Chang LJ, Tong J, Ginovart N, Wilson A, Houle S, Meyer JH (2005) Regional distribution of serotonin transporter protein in postmortem human brain: is the cerebellum a SERT-free brain region? Nucl Med Biol 32:123–128

Kumsta R, Stevens S, Brookes K, Schlotz W, Castle J, Beckett C, Kreppner J, Rutter M, Sonuga-Barke E (2010) 5HTT genotype moderates the influence of early institutional deprivation on emotional problems in adolescence: evidence from the English and Romanian Adoptee (ERA) study. J Child Psychol Psychiatr Allied Discip 51:755–762

Lambert G, Reid C, Kaye D, Jennings G, Esler M (2002) Effect of sunlight and season on serotonin turnover in the brain. Lancet 360:1840–1842

Leprohon CE, Anderson GH (1982) Relationships among maternal diet, serotonin metabolism at weaning, and protein selection of progeny. J Nutr 112:29–38

Lesch K, Bengel D, Heils A, Sabol S, Greenberg B, Petri S, Benjamin J, Müller C, Hamer D, Murphy D (1996) Association of anxiety-related traits with a polymorphism in the serotonin transporter gene regulatory region. Science 274:1527–1531

Lesch KP, Meyer J, Glatz K, Flugge G, Hinney A, Hebebrand J, Klauck SM, Poustka A, Poustka F, Bengel D, Mossner R, Riederer P, Heils A (1997) The 5-HT transporter gene-linked polymorphic region (5-HTTLPR) in evolutionary perspective: alternative biallelic variation in rhesus monkeys. Rapid communication. J Neural Transm 104:1259–1266

Levitan RD (2007) The chronobiology and neurobiology of winter seasonal affective disorder. Dialogues Clin Neurosci 9:315–324

Li S, Zou Q, Li J, Li J, Wang D, Yan C, Dong Q, Zang YF (2012) 5-HTTLPR polymorphism impacts task-evoked and resting-state activities of the amygdala in Han Chinese. PloS One 7:e36513

Licht CL, Knudsen GM, Sharp T (2010) Effects of the 5-HT(4) receptor agonist RS67333 and paroxetine on hippocampal extracellular 5-HT levels. Neurosci Lett 476:58–61

Livingstone FB (1971) Malaria and human polymorphisms. Annu Rev Genet 5:33–64

Lucki I (1998) The spectrum of behaviors influenced by serotonin. Biol Psychiatry 44:151–162

Mann JJ (2003) Neurobiology of suicidal behaviour. Nat Rev Neurosci 4:819–828

Marks GA, Speciale SG, Cobbey K, Roffwarg HP (1987) Serotonergic inhibition of the dorsal lateral geniculate nucleus. Brain Res 418:76–84

McGuirk J, Muscat R, Willner P (1992) Effects of chronically administered fluoxetine and fenfluramine on food intake, body weight and the behavioural satiety sequence. Psychopharmacology (Berl) 106:401–407

Meyer-Lindenberg A, Weinberger DR (2006) Intermediate phenotypes and genetic mechanisms of psychiatric disorders. Nat Rev Neurosci 7:818–827

Mobini S, Chiang TJ, Ho MY, Bradshaw CM, Szabadi E (2000) Effects of central 5-hydroxytryptamine depletion on sensitivity to delayed and probabilistic reinforcement. Psychopharmacology (Berl) 152:390–397

Morey RA, Hariri AR, Gold AL, Hauser MA, Munger HJ, Dolcos F, McCarthy G (2011) Serotonin transporter gene polymorphisms and brain function during emotional distraction from cognitive processing in posttraumatic stress disorder. BMC Psychiatry 11:76

Munafo MR, Brown SM, Hariri AR (2008) Serotonin transporter (5-HTTLPR) genotype and amygdala activation: a meta-analysis. Biol Psychiatry 63:852–857

Munafo MR, Durrant C, Lewis G, Flint J (2009) Gene X environment interactions at the serotonin transporter locus. Biol Psychiatry 65:211–219

Murthy NV, Selvaraj S, Cowen PJ, Bhagwagar Z, Riedel WJ, Peers P, Kennedy JL, Sahakian BJ, Laruelle MA, Rabiner EA, Grasby PM (2010) Serotonin transporter polymorphisms (SLC6A4 insertion/deletion and rs25531) do not affect the availability of 5-HTT to [11C] DASB binding in the living human brain. NeuroImage 52:50–54

Nakamura M, Ueno S, Sano A, Tanabe H (2000) The human serotonin transporter gene linked polymorphism (5-HTTLPR) shows ten novel allelic variants. Mol Psychiatry 5:32–38

Pluess M, Velders FP, Belsky J, van Ijzendoorn MH, Bakermans-Kranenburg MJ, Jaddoe VW, Hofman A, Arp PP, Verhulst FC, Tiemeier H (2011) Serotonin transporter polymorphism moderates effects of prenatal maternal anxiety on infant negative emotionality. Biol Psychiatry 15;69:520–525

Poulos CX, Parker JL, Le AD (1996) Dexfenfluramine and 8-OH-DPAT modulate impulsivity in a delay-of-reward paradigm: implications for a correspondence with alcohol consumption. Behav Pharmacol 7:395–399

Praschak-Rieder N, Kennedy J, Wilson AA, Hussey D, Boovariwala A, Willeit M, Ginovart N, Tharmalingam S, Masellis M, Houle S, Meyer JH (2007) Novel 5-HTTLPR allele associates with higher serotonin transporter binding in putamen: a [(11)C] DASB positron emission tomography study. Biol Psychiatry 62:327–331

Praschak-Rieder N, Willeit M (2012) Imaging of seasonal affective disorder and seasonality effects on serotonin and dopamine function in the human brain. In: Carter CS, Dalley JW (eds) Current topics in behavioral neurosciences, vol 11. Springer, Heidelberg, pp 149–167

Praschak-Rieder N, Willeit M, Wilson A, Houle S, Meyer J (2008) Seasonal variation in human brain serotonin transporter binding. Arch Gen Psychiatry 65:1072–1078

Praschak-Rieder N, Wilson AA, Hussey D, Carella A, Wei C, Ginovart N, Schwarz MJ, Zach J, Houle S, Meyer JH (2005) Effects of tryptophan depletion on the serotonin transporter in healthy humans. Biol Psychiatry 58:825–830

Price LH, Malison RT, McDougle CJ, Pelton GH, Heninger GR (1998) The neurobiology of tryptophan depletion in depression: effects of intravenous tryptophan infusion. Biol Psychiatry 43:339–347

Quelch DR, Parker CA, Nutt DJ, Tyacke RJ, Erritzoe D (2012) Influence of different cellular environments on [(3)H]DASB radioligand binding. Synapse 66:1035–1039

Raleigh MJ, Brammer GL, McGuire MT, Yuwiler A (1985) Dominant social status facilitates the behavioral effects of serotonergic agonists. Brain Res 348:274–282

Reimold M, Smolka MN, Schumann G, Zimmer A, Wrase J, Mann K, Hu XZ, Goldman D, Reischl G, Solbach C, Machulla HJ, Bares R, Heinz A (2007) Midbrain serotonin transporter binding potential measured with [11C]DASB is affected by serotonin transporter genotype. J Neural Transm 114:635–639

Ren C, Luan L, Wui-Man Lau B, Huang X, Yang J, Zhou Y, Wu X, Gao J, Pickard GE, So KF, Pu M (2013) Direct retino-raphe projection alters serotonergic tone and affective behavior. Neuropsychopharmacology 38(7):1163–1175

Risch N, Herrell R, Lehner T, Liang KY, Eaves L, Hoh J, Griem A, Kovacs M, Ott J, Merikangas KR (2009) Interaction between the serotonin transporter gene (5-HTTLPR), stressful life events, and risk of depression: a meta-analysis. JAMA 301:2462–2471

Robbins TW (2005) Chemistry of the mind: neurochemical modulation of prefrontal cortical function. J Comp Neurol 493:140–146

Rosenthal NE, Mazzanti CM, Barnett RL, Hardin TA, Turner EH, Lam GK, Ozaki N, Goldman D (1998) Role of serotonin transporter promoter repeat length polymorphism (5-HTTLPR) in seasonality and seasonal affective disorder. Mol Psychiatry 3:175–177

Rosenthal NE, Sack DA, Carpenter CJ, Parry BL, Mendelson WB, Wehr TA (1985) Antidepressant effects of light in seasonal affective disorder. Am J Psychiatry 142:163–170

Sarrias MJ, Artigas F, Martinez E, Gelpi E (1989) Seasonal changes of plasma serotonin and related parameters: correlation with environmental measures. Biol Psychiatry 26:695–706

Schwandt ML, Lindell SG, Sjoberg RL, Chisholm KL, Higley JD, Suomi SJ, Heilig M, Barr CS (2010) Gene-environment interactions and response to social intrusion in male and female rhesus macaques. Biol Psychiatry 67:323–330

Schweighofer N, Bertin M, Shishida K, Okamoto Y, Tanaka SC, Yamawaki S, Doya K (2008) Low-serotonin levels increase delayed reward discounting in humans. J Neurosci 28:4528–4532

Shioe K, Ichimiya T, Suhara T, Takano A, Sudo Y, Yasuno F, Hirano M, Shinohara M, Kagami M, Okubo Y, Nankai M, Kanba S (2003) No association between genotype of the promoter region of serotonin transporter gene and serotonin transporter binding in human brain measured by PET. Synapse 48:184–188

Simansky KJ (1996) Serotonergic control of the organization of feeding and satiety. Behav Brain Res 73:37–42

Torres GE, Gainetdinov RR, Caron MG (2003) Plasma membrane monoamine transporters: structure, regulation and function. Nat Rev Neurosci 4:13–25

van Dyck CH, Malison RT, Staley JK, Jacobsen LK, Seibyl JP, Laruelle M, Baldwin RM, Innis RB, Gelernter J (2004) Central serotonin transporter availability measured with [123I]beta-CIT SPECT in relation to serotonin transporter genotype. Am J Psychiatry 161:525–531

Vermetten E, Vythilingam M, Schmahl C, DEK C, Southwick SM, Charney DS, Bremner JD (2006) Alterations in stress reactivity after long-term treatment with paroxetine in women with posttraumatic stress disorder. Ann N Y Acad Sci 1071:184–202

Vythilingam M, Vermetten E, Anderson GM, Luckenbaugh D, Anderson ER, Snow J, Staib LH, Charney DS, Bremner JD (2004) Hippocampal volume, memory, and cortisol status in major depressive disorder: effects of treatment. Biol Psychiatry 56:101–112

Watson KK, Ghodasra JH, Platt ML (2009) Serotonin transporter genotype modulates social reward and punishment in rhesus macaques. PloS One 4:e4156

Way BM, Taylor SE (2010) The serotonin transporter promoter polymorphism is associated with cortisol response to psychosocial stress. Biol Psychiatry 67:487–492

Wehr TA, Rosenthal NE (1989) Seasonality and affective illness. Am J Psychiatry 146:829–839

Wendland JR, Lesch KP, Newman TK, Timme A, Gachot-Neveu H, Thierry B, Suomi SJ (2006) Differential functional variability of serotonin transporter and monoamine oxidase a genes in macaque species displaying contrasting levels of aggression-related behavior. Behav Genet 36:163–172

Willeit M, Praschak-Rieder N, Neumeister A, Zill P, Leisch F, Stastny J, Hilger E, Thierry N, Konstantinidis A, Winkler D, Fuchs K, Sieghart W, Aschauer H, Ackenheil M, Bondy B, Kasper S (2003) A polymorphism (5-HTTLPR) in the serotonin transporter promoter gene is associated with DSM-IV depression subtypes in seasonal affective disorder. Mol Psychiatry 8:942–946

Willeit M, Sitte HH, Thierry N, Michalek K, Praschak-Rieder N, Zill P, Winkler D, Brannath W, Fischer MB, Bondy B, Kasper S, Singer EA (2008) Enhanced serotonin transporter function during depression in seasonal affective disorder. Neuropsychopharmacology 33:1503–1513

Willeit M, Stastny J, Pirker W, Praschak-Rieder N, Neumeister A, Asenbaum S, Tauscher J, Fuchs K, Sieghart W, Hornik K, Aschauer H, Brücke T, Kasper S (2001) No evidence for in vivo regulation of midbrain serotonin transporter availability by serotonin transporter promoter gene polymorphism. Biol Psychiatry 50:8–12

Winkler D, Pjrek E, Iwaki R, Kasper S (2006a) Treatment of seasonal affective disorder. Expert Rev Neurother 6:1039–1048

Winkler D, Pjrek E, Konstantinidis A, Praschak-Rieder N, Willeit M, Stastny J, Kasper S (2006b) Anger attacks in seasonal affective disorder. Int J Neuropsychopharmacol 9:215–219

Wogar MA, Bradshaw CM, Szabadi E (1993) Effect of lesions of the ascending 5-hydroxytryptaminergic pathways on choice between delayed reinforcers. Psychopharmacology (Berl) 111:239–243

Zinner D, Fickenscher GH, Roos C (2013) Family Cercopithecidae (Old World Monkeys). In: Mittermeier RA, Rylands AB, Wilson EW (eds) Handbook of the mammals of the world, vol 3, Primates. Lynx Edicions, Barcelona, pp 550–627
Acknowledgments
This study was supported in part by DFG FOR 1617. JK is deeply thankful to CL Licht for the inspiring discussions and to F Bermpohl for the scientific and financial (through BMBF-01GWSO61) support. UK is supported by the Leibniz Graduate School "Foundations of Primate Behaviour".
Conflict of interest
Jan Kalbitzer, Urs Kalbitzer, Gitte Moos Knudsen, Paul Cumming, and Andreas Heinz reported no biomedical financial interests or potential conflicts of interest.
About this article
Cite this article
Kalbitzer, J., Kalbitzer, U., Knudsen, G.M. et al. How the cerebral serotonin homeostasis predicts environmental changes: a model to explain seasonal changes of brain 5-HTT as intermediate phenotype of the 5-HTTLPR. Psychopharmacology 230, 333–343 (2013). https://doi.org/10.1007/s00213-013-3308-1
Received:

Accepted:

Published:

Issue Date:
Keywords
Serotonin

5-HTT

5-HTTLPR

Behavior

Seasonality

Intermediate phenotypes