Abstract
The establishment of robust and replicable behavioural testing paradigms with translational value for psychiatric diseases is a major step forward in developing and testing etiology-directed treatment for these complex disorders. Based on the existing literature, we have generated an inventory of applied rodent behavioural testing paradigms relevant to autism spectrum disorders (ASD). This inventory focused on previously used paradigms that assess behavioural domains that are affected in ASD, such as social interaction, social communication, repetitive behaviours and behavioural inflexibility, cognition as well as anxiety behaviour. A wide range of behavioural testing paradigms for rodents were identified. However, the level of face and construct validity is highly variable. The predictive validity of these paradigms is unknown, as etiology-directed treatments for ASD are currently not on the market. To optimise these studies, future efforts should address aspects of reproducibility and take into account data about the neurodevelopmental underpinnings and trajectory of ASD. In addition, with the increasing knowledge of processes underlying ASD, such as sensory information processes and synaptic plasticity, phenotyping efforts should include multi-level automated analysis of, for example, representative task-related behavioural and electrophysiological read-outs.
This is a preview of subscription content, log in to check access.
Access options
Buy single article
Instant access to the full article PDF.
US$ 39.95
Price includes VAT for USA
Subscribe to journal
Immediate online access to all issues from 2019. Subscription will auto renew annually.
US$ 199
This is the net price. Taxes to be calculated in checkout.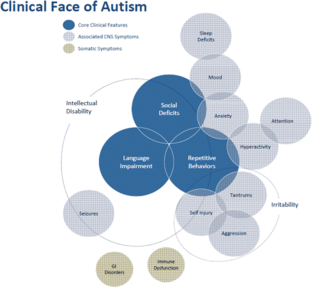 References
Ahern TH, Modi ME, Burkett JP, Young LJ (2009) Evaluation of two automated metrics for analyzing partner preference tests. J Neurosci Methods 182:180–188

Andari E, Duhamel JR, Zalla T, Herbrecht E, Leboyer M, Sirigu A (2010) Promoting social behavior with oxytocin in high-functioning autism spectrum disorders. Proc Natl Acad Sci U S A 107(9):4389–4394

Arnold HM, Bruno JP, Sarter M (2003) Assessment of sustained and divided attention in rats. Curr Protoc Neurosci Chapter 8:Unit

Arriaga G, Zhou EP, Jarvis ED (2012) Of mice, birds, and men: the mouse ultrasonic song system has some features similar to humans and song-learning birds. PLoS One 7:e46610

Bader PL, Faizi M, Kim LH, Owen SF, Tadross MR, Alfa RW, Bett GC, Tsien RW, Rasmusson RL, Shamloo M (2011) Mouse model of Timothy syndrome recapitulates triad of autistic traits. Proc Natl Acad Sci U S A 108:15432–15437

Baird G, Simonoff E, Pickles A, Chandler S, Loucas T, Meldrum D, Charman T (2006) Prevalence of disorders of the autism spectrum in a population cohort of children in South Thames: the Special Needs and Autism Project (SNAP). Lancet 368:210–215

Bambini-Junior V, Rodrigues L, Behr GA, Moreira JC, Riesgo R, Gottfried C (2011) Animal model of autism induced by prenatal exposure to valproate: behavioral changes and liver parameters. Brain Res 1408:8–16. doi: 10.1016/j.brainres.2011.06.015

Bangash MA, Park JM, Melnikova T, Wang D, Jeon SK, Lee D, Syeda S, Kim J, Kouser M, Schwartz J, Cui Y, Zhao X, Speed HE, Kee SE, Tu JC, Hu JH, Petralia RS, Linden DJ, Powell CM, Savonenko A, Xiao B, Worley PF (2011) Enhanced polyubiquitination of Shank3 and NMDA receptor in a mouse model of autism. Cell 145:758–772

Barch DM, Carter CS, Arnsten A, Buchanan RW, Cohen JD, Geyer M, Green MF, Krystal JH, Nuechterlein K, Robbins T, Silverstein S, Smith EE, Strauss M, Wykes T, Heinssen R (2009) Selecting paradigms from cognitive neuroscience for translation into use in clinical trials: proceedings of the third CNTRICS meeting. Schizophr Bull 35:109–114

Barch DM, Smith E (2008) The cognitive neuroscience of working memory: relevance to CNTRICS and schizophrenia. Biol Psychiatry 64:11–17

Baudouin SJ, Gaudias J, Gerharz S, Hatstatt L, Zhou K, Punnakkal P, Tanaka KF, Spooren W, Hen R, De Zeeuw CI, Vogt K, Scheiffele P (2012) Shared synaptic pathophysiology in syndromic and nonsyndromic rodent models of autism. Science 338:128–132

Belmonte MK, Yurgelun-Todd DA (2003) Functional anatomy of impaired selective attention and compensatory processing in autism. Brain Res Cogn Brain Res 17:651–664

Bender AC, Natola H, Ndong C, Holmes GL, Scott RC, Lenck-Santini PP (2013) Focal Scn1a knockdown induces cognitive impairment without seizures. Neurobiol Dis 54:297–307

Benetti F, Mello PB, Bonini JS, Monteiro S, Cammarota M, Izquierdo I (2009) Early postnatal maternal deprivation in rats induces memory deficits in adult life that can be reversed by donepezil and galantamine. Int J Dev Neurosci 27:59–64

Benjamini Y, Fonio E, Galili T, Havkin GZ, Golani I (2011) Quantifying the buildup in extent and complexity of free exploration in mice. Proc Natl Acad Sci U S A 108 Suppl 3:15580–7. doi: 10.1073/pnas.1014837108

Bennetto L, Pennington BF, Rogers SJ (1996) Intact and impaired memory functions in autism. Child Dev 67:1816–1835

Berry RJ (1981) Town mouse, country mouse—adaptation and adaptability in Mus domesticus (M. musculus domesticus). Mamma Rev 11:91–136

Betancur C, Buxbaum JD (2013) Shank3 haploinsufficiency: a "common" but underdiagnosed highly penetrant monogenic cause of autism spectrum disorders. Mol Autism 4:17

Bielsky IF, Young LJ (2004) Oxytocin, vasopressin, and social recognition in mammals. Peptides 25:1565–1574

Bigham S, Boucher J, Mayes A, Anns S (2010) Assessing recollection and familiarity in autistic spectrum disorders: methods and findings. J Autism Dev Disord 40:878–889

Birrell JM, Brown VJ (2000) Medial frontal cortex mediates perceptual attentional set shifting in the rat. J Neurosci 20:4320–4324

Bissonette GB, Martins GJ, Franz TM, Harper ES, Schoenbaum G, Powell EM (2008) Double dissociation of the effects of medial and orbital prefrontal cortical lesions on attentional and affective shifts in mice. J Neurosci 28:11124–11130

Bourgeron T, Jamain S, Granon S (2006) Animal models of autism - proposed behaviorial paradigms and biolgoical studies. In: Fisch GS, Flint J (eds) Contemporary clinical neuroscience: transgenic and knockout models of neuropsychiatric disorders. Humana Press, Totowa, p 151–174

Bouwknecht JA, Paylor R (2008) Pitfalls in the interpretation of genetic and pharmacological effects on anxiety-like behaviour in rodents. Behav Pharmacol 19:385–402

Bowler DM, Briskman JA (2000) Photographic cues do not always facilitate performance on false belief tasks in children with autism. J Autism Dev Disord 30:305–316

Bressers WM, Kruk MR, Van Erp AM, Willekens-Bramer DC, Haccou P, Meelis E (1995) A time-structured analysis of hypothalamically induced increases in self-grooming and activity in the rat. Behav Neurosci 109:1158–1171

Brielmaier J, Matteson PG, Silverman JL, Senerth JM, Kelly S, Genestine M, Millonig JH, DiCicco-Bloom E, Crawley JN, Brodkin ES (2007) BALB/c mice: low sociability and other phenotypes that may be relevant to autism. Behav Brain Res 176:53–65

Brudzynski SM (2013) Ethotransmission: communication of emotional states through ultrasonic vocalization in rats. Curr Opin Neurobiol 23:310–317

Burgdorf J, Kroes RA, Moskal JR, Pfaus JG, Brudzynski SM, Panksepp J (2008) Ultrasonic vocalizations of rats (Rattus norvegicus) during mating, play, and aggression: behavioral concomitants, relationship to reward, and self-administration of playback. J Comp Psychol 122:357–367

Burgdorf J, Panksepp J, Moskal JR (2011) Frequency-modulated 50 kHz ultrasonic vocalizations: a tool for uncovering the molecular substrates of positive affect. Neurosci Biobehav Rev 35:1831–1836

Button KS, Ioannidis JP, Mokrysz C, Nosek BA, Flint J, Robinson ES, Munafo MR (2013) Power failure: why small sample size undermines the reliability of neuroscience. Nat Rev Neurosci 14:365–376

Calcagnetti DJ, Schechter MD (1992) Place conditioning reveals the rewarding aspect of social interaction in juvenile rats. Physiol Behav 51:667–672

Carter CS, Williams JR, Witt DM, Insel TR (1992) Oxytocin and social bonding. Ann N Y Acad Sci 652:204–211

Chabout J, Serreau P, Ey E, Bellier L, Aubin T, Bourgeron T, Granon S (2012) Adult male mice emit context-specific ultrasonic vocalizations that are modulated by prior isolation or group rearing environment. PLoS One 7:e29401

Chadman KK, Gong S, Scattoni ML, Boltuck SE, Gandhy SU, Heintz N, Crawley JN (2008) Minimal aberrant behavioral phenotypes of neuroligin-3 R451C knockin mice. Autism Res 1:147–158

Charman T, Pickles A, Simonoff E, Chandler S, Loucas T, Baird G (2011) IQ in children with autism spectrum disorders: data from the Special Needs and Autism Project (SNAP). Psychol Med 41:619–627

Cheh MA, Millonig JH, Roselli LM, Ming X, Jacobsen E, Kamdar S, Wagner GC (2006) En2 knockout mice display neurobehavioral and neurochemical alterations relevant to autism spectrum disorder. Brain Res 1116:166–176

Chevallier C, Kohls G, Troiani V, Brodkin ES, Schultz RT (2012) The social motivation theory of autism. Trends Cogn Sci 16:231–239

Chez MG, Aimonovitch M, Buchanan T, Mrazek S, Tremb RJ (2004) Treating autistic spectrum disorders in children: utility of the cholinesterase inhibitor rivastigmine tartrate. J Child Neurol 19:165–169

Chudasama Y, Robbins TW (2004) Psychopharmacological approaches to modulating attention in the five-choice serial reaction time task: implications for schizophrenia. Psychopharmacology (Berl) 174:86–98

Ciesielski KT, Courchesne E, Elmasian R (1990) Effects of focused selective attention tasks on event-related potentials in autistic and normal individuals. Electroencephalogr Clin Neurophysiol 75:207–220

Ciesielski KT, Knight JE, Prince RJ, Harris RJ, Handmaker SD (1995) Event-related potentials in cross-modal divided attention in autism. Neuropsychologia 33:225–246

Crabbe JC, Wahlsten D, Dudek BC (1999) Genetics of mouse behavior: interactions with laboratory environment. Science 284:1670–1672

Crawley JN (2007) Mouse behavioral assays relevant to the symptoms of autism. Brain Pathol 17:448–459

Crowder WF, Hutto CW Jr (1992) Operant place conditioning measures examined using two nondrug reinforcers. Pharmacol Biochem Behav 41:817–824

Daenen EW, Wolterink G, Gerrits MA, van Ree JM (2002) Amygdala or ventral hippocampal lesions at two early stages of life differentially affect open field behaviour later in life; an animal model of neurodevelopmental psychopathological disorders. Behav Brain Res 131:67–78

Dahhaoui M, Caston J, Lannou J, Avenel S (1992) Role of the cerebellum in habituation exploration behavior in the rat. Physiol Behav 52:339–344

de Bruin JP, Sanchez-Santed F, Heinsbroek RP, Donker A, Postmes P (1994) A behavioural analysis of rats with damage to the medial prefrontal cortex using the Morris water maze: evidence for behavioural flexibility, but not for impaired spatial navigation. Brain Res 652:323–333

de Mooij-van Malsen AJ, van Lith HA, Oppelaar H, Hendriks J, de Wit M, Kostrzewa E, Breen G, Collier DA, Olivier B, Kas MJ (2009) Interspecies trait genetics reveals association of Adcy8 with mouse avoidance behavior and a human mood disorder. Biol Psychiatry 66:1123–1130

de Visser L, van den Bos R, Kuurman WW, Kas MJ, Spruijt BM (2006) Novel approach to the behavioural characterization of inbred mice: automated home cage observations. Genes Brain Behav 5:458–466

DeLorey TM, Sahbaie P, Hashemi E, Homanics GE, Clark JD (2008) Gabrb3 gene deficient mice exhibit impaired social and exploratory behaviors, deficits in non-selective attention and hypoplasia of cerebellar vermal lobules: a potential model of autism spectrum disorder. Behav Brain Res 187:207–220

Devlin B, Scherer SW (2012) Genetic architecture in autism spectrum disorder. Curr Opin Genet Dev 22:229–237

Di CB, Panayi F, Gobert A, Dekeyne A, Sicard D, De GL, Millan MJ (2007) Activation of dopamine D1 receptors enhances cholinergic transmission and social cognition: a parallel dialysis and behavioural study in rats. Int J Neuropsychopharmacol 10:383–399

Dichter G, Adolphs R (2012) Reward processing in autism: a thematic series. J Neurodev Disord 4:20

Dichter GS, Radonovich KJ, Turner-Brown LM, Lam KS, Holtzclaw TN, Bodfish JW (2010) Performance of children with autism spectrum disorders on the dimension-change card sort task. J Autism Dev Disord 40:448–456

Diergaarde L, Gerrits MA, Brouwers JP, van Ree JM (2005) Early amygdala damage disrupts performance on medial prefrontal cortex-related tasks but spares spatial learning and memory in the rat. Neuroscience 130:581–590

Dluzen DE, Muraoka S, Engelmann M, Ebner K, Landgraf R (2000) Oxytocin induces preservation of social recognition in male rats by activating alpha-adrenoceptors of the olfactory bulb. Eur J Neurosci 12:760–766

Donohue SE, Darling EF, Mitroff SR (2012) Links between multisensory processing and autism. Exp Brain Res 222:377–387

Douglas LA, Varlinskaya EI, Spear LP (2004) Rewarding properties of social interactions in adolescent and adult male and female rats: impact of social versus isolate housing of subjects and partners. Dev Psychobiol 45:153–162

Douglas RM, Neve A, Quittenbaum JP, Alam NM, Prusky GT (2006) Perception of visual motion coherence by rats and mice. Vision Res 46:2842–2847

Drai D, Kafkafi N, Benjamini Y, Elmer G, Golani I (2001) Rats and mice share common ethologically relevant parameters of exploratory behavior. Behav Brain Res 125:133–140

Dudova I, Vodicka J, Havlovicova M, Sedlacek Z, Urbanek T, Hrdlicka M (2011) Odor detection threshold, but not odor identification, is impaired in children with autism. Eur Child Adolesc Psychiatry 20:333–340

Ebert DH, Greenberg ME (2013) Activity-dependent neuronal signalling and autism spectrum disorder. Nature 493:327–337

Ehninger D, Han S, Shilyansky C, Zhou Y, Li W, Kwiatkowski DJ, Ramesh V, Silva AJ (2008a) Reversal of learning deficits in a Tsc2+/− mouse model of tuberous sclerosis. Nat Med 14:843–848

Ehninger D, Li W, Fox K, Stryker MP, Silva AJ (2008b) Reversing neurodevelopmental disorders in adults. Neuron 60:950–960

Enard W, Gehre S, Hammerschmidt K, Holter SM, Blass T, Somel M, Bruckner MK, Schreiweis C, Winter C, Sohr R, Becker L, Wiebe V, Nickel B, Giger T, Muller U, Groszer M, Adler T, Aguilar A, Bolle I, Calzada-Wack J, Dalke C, Ehrhardt N, Favor J, Fuchs H, Gailus-Durner V, Hans W, Holzlwimmer G, Javaheri A, Kalaydjiev S, Kallnik M, Kling E, Kunder S, Mossbrugger I, Naton B, Racz I, Rathkolb B, Rozman J, Schrewe A, Busch DH, Graw J, Ivandic B, Klingenspor M, Klopstock T, Ollert M, Quintanilla-Martinez L, Schulz H, Wolf E, Wurst W, Zimmer A, Fisher SE, Morgenstern R, Arendt T, de Angelis MH, Fischer J, Schwarz J, Paabo S (2009) A humanized version of Foxp2 affects cortico-basal ganglia circuits in mice. Cell 137:961–971

Engelmann M, Hadicke J, Noack J (2011) Testing declarative memory in laboratory rats and mice using the nonconditioned social discrimination procedure. Nat Protoc 6:1152–1162

Engelmann M, Wotjak CT, Landgraf R (1995) Social discrimination procedure: an alternative method to investigate juvenile recognition abilities in rats. Physiol Behav 58:315–321

Esclassan F, Coutureau E, Di SG, Marchand AR (2009) A cholinergic-dependent role for the entorhinal cortex in trace fear conditioning. J Neurosci 29:8087–8093

Etherton MR, Blaiss CA, Powell CM, Sudhof TC (2009) Mouse neurexin-1alpha deletion causes correlated electrophysiological and behavioral changes consistent with cognitive impairments. Proc Natl Acad Sci U S A 106:17998–18003

Ey E, Leblond CS, Bourgeron T (2011) Behavioral profiles of mouse models for autism spectrum disorders. Autism Res 4:5–16

Ey E, Yang M, Katz AM, Woldeyohannes L, Silverman JL, Leblond CS, Faure P, Torquet N, Le Sourd AM, Bourgeron T, Crawley JN (2013) Absence of deficits in social behaviors and ultrasonic vocalizations in later generations of mice lacking neuroligin4. Genes Brain Behav (in press)

Falter CM, Noreika V, Wearden JH, Bailey AJ (2012) More consistent, yet less sensitive: interval timing in autism spectrum disorders. Q J Exp Psychol (Hove ) 65:2093–2107

Fernell E, Eriksson MA, Gillberg C (2013) Early diagnosis of autism and impact on prognosis: a narrative review. Clin Epidemiol 5:33–43

File SE (1994) Chronic exposure to noise modifies the anxiogenic response, but not the hypoactivity, detected on withdrawal from chronic ethanol treatment. Psychopharmacology (Berl) 116:369–372

File SE, Hyde JR (1978) Can social interaction be used to measure anxiety? Br J Pharmacol 62:19–24

File SE, Pellow S, Braestrup C (1985) Effects of the beta-carboline, FG 7142, in the social interaction test of anxiety and the holeboard: correlations between behaviour and plasma concentrations. Pharmacol Biochem Behav 22:941–944

File SE, Seth P (2003) A review of 25 years of the social interaction test. Eur J Pharmacol 463:35–53

Foley AG, Gannon S, Rombach-Mullan N, Prendergast A, Barry C, Cassidy AW, Regan CM (2012) Class I histone deacetylase inhibition ameliorates social cognition and cell adhesion molecule plasticity deficits in a rodent model of autism spectrum disorder. Neuropharmacology 63:750–760

Fombonne E (2003) Epidemiological surveys of autism and other pervasive developmental disorders: an update. J Autism Dev Disord 33(4):365–382

Fonio E, Benjamini Y, Golani I (2009) Freedom of movement and the stability of its unfolding in free exploration of mice. Proc Natl Acad Sci U S A 106:21335–21340

Frith U (1996) Cognitive explanations of autism. Acta Paediatr Suppl 416:63–68

Gaigg SB, Bowler DM (2007) Differential fear conditioning in Asperger's syndrome: implications for an amygdala theory of autism. Neuropsychologia 45:2125–2134

Galef BG, Jr. (2003) Social learning of food preferences in rodents: rapid appetitive learning. Curr Protoc Neurosci Chapter 8:Unit 8.5D. doi: 10.1002/0471142301.ns0805ds21.:Unit

Garcia-Villamisar D, Della SS (2002) Dual-task performance in adults with autism. Cogn Neuropsychiatry 7:63–74

Garretson HB, Fein D, Waterhouse L (1990) Sustained attention in children with autism. J Autism Dev Disord 20:101–114

Geurts HM, Vissers ME (2012) Elderly with autism: executive functions and memory. J Autism Dev Disord 42:665–675

Ghanizadeh A (2011) Can tactile sensory processing differentiate between children with autistic disorder and asperger's disorder? Innov Clin Neurosci 8:25–30

Gilbert SJ, Bird G, Brindley R, Frith CD, Burgess PW (2008) Atypical recruitment of medial prefrontal cortex in autism spectrum disorders: an fMRI study of two executive function tasks. Neuropsychologia 46:2281–2291

Gold MS, Gold JR (1975) Autism and attention: theoretical considerations and a pilot study using set reaction time. Child Psychiatry Hum Dev 6:68–80

Grant E, MacIntosh J (1963) A comparison of the social postures of some common laboratory rodents. Behaviour 21:246–259

Green SA, Ben-Sasson A (2010) Anxiety disorders and sensory over-responsivity in children with autism spectrum disorders: is there a causal relationship? J Autism Dev Disord 40:1495–1504

Greer JM, Capecchi MR (2002) Hoxb8 is required for normal grooming behavior in mice. Neuron 33:23–34

Griffith EM, Pennington BF, Wehner EA, Rogers SJ (1999) Executive functions in young children with autism. Child Dev 70:817–832

Groszer M, Keays DA, Deacon RM, de Bono JP, Prasad-Mulcare S, Gaub S, Baum MG, French CA, Nicod J, Coventry JA, Enard W, Fray M, Brown SD, Nolan PM, Paabo S, Channon KM, Costa RM, Eilers J, Ehret G, Rawlins JN, Fisher SE (2008) Impaired synaptic plasticity and motor learning in mice with a point mutation implicated in human speech deficits. Curr Biol 18:354–362

Guastella AJ, Einfeld SL, Gray KM, Rinehart NJ, Tonge BJ, Lambert TJ, Hickie IB (2010) Intranasal oxytocin improves emotion recognition for youth with autism spectrum disorders. Biol Psychiatry 67:692–694

Guy J, Hendrich B, Holmes M, Martin JE, Bird A (2001) A mouse Mecp2-null mutation causes neurological symptoms that mimic Rett syndrome. Nat Genet 27:322–326

Haesler S, Wada K, Nshdejan A, Morrisey EE, Lints T, Jarvis ED, Scharff C (2004) FoxP2 expression in avian vocal learners and non-learners. J Neurosci 24:3164–3175

Haller J, Bakos N (2002) Stress-induced social avoidance: a new model of stress-induced anxiety? Physiol Behav 77:327–332

Hammerschmidt K, Radyushkin K, Ehrenreich H, Fischer J (2009) Female mice respond to male ultrasonic 'songs' with approach behaviour. Biol Lett 5:589–592

Hammerschmidt K, Radyushkin K, Ehrenreich H, Fischer J (2012a) The structure and usage of female and male mouse ultrasonic vocalizations reveal only minor differences. PLoS One 7:e41133

Hammerschmidt K, Reisinger E, Westekemper K, Ehrenreich L, Strenzke N, Fischer J (2012b) Mice do not require auditory input for the normal development of their ultrasonic vocalizations. BMC Neurosci 13:40. doi:10.1186/1471-2202-13-40.:40–13

Hardan AY, Handen BL (2002) A retrospective open trial of adjunctive donepezil in children and adolescents with autistic disorder. J Child Adolesc Psychopharmacol 12:237–241

Hashimoto H, Moritani N, Aoki-Komori S, Tanaka M, Saito TR (2004) Comparison of ultrasonic vocalizations emitted by rodent pups. Exp Anim 53:409–416

Hasselmo ME, Stern CE (2006) Mechanisms underlying working memory for novel information. Trends Cogn Sci 10:487–493

Hayashi ML, Rao BS, Seo JS, Choi HS, Dolan BM, Choi SY, Chattarji S, Tonegawa S (2007) Inhibition of p21-activated kinase rescues symptoms of fragile X syndrome in mice. Proc Natl Acad Sci U S A 104:11489–11494

Hofer MA, Shair HN, Brunelli SA (2002) Ultrasonic vocalizations in rat and mouse pups. Curr Protoc Neurosci Chapter 8:Unit 8.14. doi: 10.1002/0471142301.ns0814s17.:Unit

Hoffmann F, Musolf K, Penn DJ (2012) Spectrographic analyses reveal signals of individuality and kinship in the ultrasonic courtship vocalizations of wild house mice. Physiol Behav 105:766–771

Hughes C, Plumet MH, Leboyer M (1999) Towards a cognitive phenotype for autism: increased prevalence of executive dysfunction and superior spatial span amongst siblings of children with autism. J Child Psychol Psychiatry 40:705–718

Hughes C, Russell J, Robbins TW (1994) Evidence for executive dysfunction in autism. Neuropsychologia 32:477–492

Humphreys AP, Einon D (2013) Play as a reinforcer for maze-learning in juvenile rats. Anim Behav 29:259–270

Hupfeld D, Distler C, Hoffmann KP (2006) Motion perception deficits in albino ferrets (Mustela putorius furo). Vision Res 46:2941–2948

Jacome LF, Burket JA, Herndon AL, Deutsch SI (2011) Genetically inbred Balb/c mice differ from outbred Swiss Webster mice on discrete measures of sociability: relevance to a genetic mouse model of autism spectrum disorders. Autism Res 4:393–400

Jamain S, Radyushkin K, Hammerschmidt K, Granon S, Boretius S, Varoqueaux F, Ramanantsoa N, Gallego J, Ronnenberg A, Winter D, Frahm J, Fischer J, Bourgeron T, Ehrenreich H, Brose N (2008) Reduced social interaction and ultrasonic communication in a mouse model of monogenic heritable autism. Proc Natl Acad Sci U S A 105:1710–1715

Johnson KA, Robertson IH, Kelly SP, Silk TJ, Barry E, Daibhis A, Watchorn A, Keavey M, Fitzgerald M, Gallagher L, Gill M, Bellgrove MA (2007) Dissociation in performance of children with ADHD and high-functioning autism on a task of sustained attention. Neuropsychologia 45:2234–2245

Jordan R (2003) Social play and autistic spectrum disorders: a perspective on theory, implications and educational approaches. Autism 7:347–360

Joseph RM, McGrath LM, Tager-Flusberg H (2005) Executive dysfunction and its relation to language ability in verbal school-age children with autism. Dev Neuropsychol 27:361–378

Just MA, Keller TA, Malave VL, Kana RK, Varma S (2012) Autism as a neural systems disorder: a theory of frontal-posterior underconnectivity. Neurosci Biobehav Rev 36:1292–1313

Kalueff AV, Aldridge JW, Laporte JL, Murphy DL, Tuohimaa P (2007) Analyzing grooming microstructure in neurobehavioral experiments. Nat Protoc 2:2538–2544

Kantor S, Anheuer ZE, Bagdy G (2000) High social anxiety and low aggression in Fawn–Hooded rats. Physiol Behav 71:551–557

Kas MJ, de Mooij-van Malsen AJ, Olivier B, Spruijt BM, van Ree JM (2008) Differential genetic regulation of motor activity and anxiety-related behaviors in mice using an automated home cage task. Behav Neurosci 122:769–776

Kas MJ, Fernandes C, Schalkwyk LC, Collier DA (2007) Genetics of behavioural domains across the neuropsychiatric spectrum; of mice and men. Mol Psychiatry 12:324–330

Kas MJ, van Ree JM (2004) Dissecting complex behaviours in the post-genomic era. Trends Neurosci 27:366–369

Kikusui T, Nakanishi K, Nakagawa R, Nagasawa M, Mogi K, Okanoya K (2011) Cross fostering experiments suggest that mice songs are innate. PLoS One 6:e17721

Kim KC, Kim P, Go HS, Choi CS, Park JH, Kim HJ, Jeon SJ, Dela Pena IC, Han SH, Cheong JH, Ryu JH, Shin CY (2013) Male-specific alteration in excitatory post-synaptic development and social interaction in pre-natal valproic acid exposure model of autism spectrum disorder. J Neurochem 124:832–843

Kim YS, Leventhal BL, Koh YJ, Fombonne E, Laska E, Lim EC, Cheon KA, Kim SJ, Kim YK, Lee H, Song DH, Grinker RR (2011) Prevalence of autism spectrum disorders in a total population sample. Am J Psychiatry 168:904–912

Kosaka H, Munesue T, Ishitobi M, Asano M, Omori M, Sato M, et al (2012) Long-term oxytocin administration improves social behaviors in a girl with autistic disorder. BMC Psychiatry 12:110. doi: 10.1186/1471-244X-12-110.:110–2

Koshino H, Kana RK, Keller TA, Cherkassky VL, Minshew NJ, Just MA (2008) fMRI investigation of working memory for faces in autism: visual coding and underconnectivity with frontal areas. Cereb Cortex 18:289–300

Kravitz AV, Tye LD, Kreitzer AC (2012) Distinct roles for direct and indirect pathway striatal neurons in reinforcement. Nat Neurosci 15:816–818

Laarakker MC, Reinders NR, Bruining H, Ophoff RA, Kas MJ (2012) Sex-dependent novelty response in neurexin-1alpha mutant mice. PLoS One 7:e31503

Landa RJ, Goldberg MC (2005) Language, social, and executive functions in high functioning autism: a continuum of performance. J Autism Dev Disord 35:557–573

Langen M, Durston S, Kas MJ, van Engeland H, Staal WG (2011a) The neurobiology of repetitive behavior: and men. Neurosci Biobehav Rev 35:356–365

Langen M, Kas MJ, Staal WG, van Engeland H, Durston S (2011b) The neurobiology of repetitive behavior: of mice. Neurosci Biobehav Rev 35:345–355

Lightowler S, Kennett GA, Williamson IJ, Blackburn TP, Tulloch IF (1994) Anxiolytic-like effect of paroxetine in a rat social interaction test. Pharmacol Biochem Behav 49:281–285

Losh M, Adolphs R, Poe MD, Couture S, Penn D, Baranek GT, Piven J (2009) Neuropsychological profile of autism and the broad autism phenotype. Arch Gen Psychiatry 66:518–526

Lubow RE (2005) Construct validity of the animal latent inhibition model of selective attention deficits in schizophrenia. Schizophr Bull 31:139–153

Luna B, Minshew NJ, Garver KE, Lazar NA, Thulborn KR, Eddy WF, Sweeney JA (2002) Neocortical system abnormalities in autism: an fMRI study of spatial working memory. Neurology 59:834–840

Mao R, Page DT, Merzlyak I, Kim C, Tecott LH, Janak PH, Rubenstein JL, Sur M (2009) Reduced conditioned fear response in mice that lack Dlx1 and show subtype-specific loss of interneurons. J Neurodev Disord 1:224–236

Markou A (2009) Accruing preclinical evidence about metabotropic glutamate 5 receptor antagonists as treatments for drug dependence highlights the irreplaceable contributions of animal studies to the discovery of new medications for human disorders. Neuropsychopharmacology 34:817–819

Markram H, Rinaldi T, Markram K (2007) The intense world syndrome—an alternative hypothesis for autism. Front Neurosci 1:77–96

Markram K, Rinaldi T, La MD, Sandi C, Markram H (2008) Abnormal fear conditioning and amygdala processing in an animal model of autism. Neuropsychopharmacology 33:901–912

Maroteaux G, Loos M, van der Sluis S, Koopmans B, Aarts E, van Gassen K, Geurts A, Largaespada DA, Spruijt BM, Stiedl O, Smit AB, Verhage M (2012) High-throughput phenotyping of avoidance learning in mice discriminates different genotypes and identifies a novel gene. Genes Brain Behav 11:772–784

Martin LA, Lane L, Maupin Z, Berk B (2011) The development of operant tasks of social motivation for mouse models of social pathology. International Meeting for Autism Research, San Diego, CA

McFarlane HG, Kusek GK, Yang M, Phoenix JL, Bolivar VJ, Crawley JN (2008) Autism-like behavioral phenotypes in BTBR T+tf/J mice. Genes Brain Behav 7:152–163

Meidenbauer JJ, Mantis JG, Seyfried TN (2011) The EL mouse: a natural model of autism and epilepsy. Epilepsia 52:347–357

Meyer U, Nyffeler M, Engler A, Urwyler A, Schedlowski M, Knuesel I, Yee BK, Feldon J (2006) The time of prenatal immune challenge determines the specificity of inflammation-mediated brain and behavioral pathology. J Neurosci 26:4752–4762

Michalon A, Sidorov M, Ballard TM, Ozmen L, Spooren W, Wettstein JG, Jaeschke G, Bear MF, Lindemann L (2012) Chronic pharmacological mGlu5 inhibition corrects fragile X in adult mice. Neuron 74:49–56

Miczek KA, Maxson SC, Fish EW, Faccidomo S (2001) Aggressive behavioral phenotypes in mice. Behav Brain Res 125:167–181

Moon J, Beaudin AE, Verosky S, Driscoll LL, Weiskopf M, Levitsky DA, Crnic LS, Strupp BJ (2006) Attentional dysfunction, impulsivity, and resistance to change in a mouse model of fragile X syndrome. Behav Neurosci 120:1367–1379

Motomura N, Shimizu K, Shimizu M, Aoki-Komori S, Taniguchi K, Serizawa I, Saito TR (2002) A comparative study of isolation-induced ultrasonic vocalization in rodent pups. Exp Anim 51:187–190

Moy SS, Nadler JJ (2008) Advances in behavioral genetics: mouse models of autism. Mol Psychiatry 13:4–26

Murphy D, Spooren W (2012) EU-AIMS: a boost to autism research. Nat Rev Drug Discov 11:815–816

Nadler JJ, Moy SS, Dold G, Trang D, Simmons N, Perez A, Young NB, Barbaro RP, Piven J, Magnuson TR, Crawley JN (2004) Automated apparatus for quantitation of social approach behaviors in mice. Genes Brain Behav 3:303–314

Nakatani J, Tamada K, Hatanaka F, Ise S, Ohta H, Inoue K, Tomonaga S, Watanabe Y, Chung YJ, Banerjee R, Iwamoto K, Kato T, Okazawa M, Yamauchi K, Tanda K, Takao K, Miyakawa T, Bradley A, Takumi T (2009) Abnormal behavior in a chromosome-engineered mouse model for human 15q11-13 duplication seen in autism. Cell 137:1235–1246

Nicolas LB, Prinssen EP (2006) Social approach-avoidance behavior of a high-anxiety strain of rats: effects of benzodiazepine receptor ligands. Psychopharmacology (Berl) 184:65–74

Nicolson R, Craven-Thuss B, Smith J (2006) A prospective, open-label trial of galantamine in autistic disorder. J Child Adolesc Psychopharmacol 16:621–629

Niesink RJ, van Ree JM (1989) Involvement of opioid and dopaminergic systems in isolation-induced pinning and social grooming of young rats. Neuropharmacology 28:411–418

Normansell L, Panksepp J (1990) Effects of morphine and naloxone on play-rewarded spatial discrimination in juvenile rats. Dev Psychobiol 23:75–83

O'Connor K (2012) Auditory processing in autism spectrum disorder: a review. Neurosci Biobehav Rev 36:836–854

Olton DS, Wenk GL, Church RM, Meck WH (1988) Attention and the frontal cortex as examined by simultaneous temporal processing. Neuropsychologia 26:307–318

Osterweil EK, Chuang SC, Chubykin AA, Sidorov M, Bianchi R, Wong RK, Bear MF (2013) Lovastatin corrects excess protein synthesis and prevents epileptogenesis in a mouse model of fragile X syndrome. Neuron 77:243–250

Ozonoff S, Jensen J (1999) Brief report: specific executive function profiles in three neurodevelopmental disorders. J Autism Dev Disord 29:171–177

Palanza P, Della Seta D, Ferrari PF, Parmigiani S (2013) Female competition in wild house mice depends upon timing of female/male settlement and kinship between females. Animal Behav 69:1259–1271

Pang KC, Yoder RM, Olton DS (2001) Neurons in the lateral agranular frontal cortex have divided attention correlates in a simultaneous temporal processing task. Neuroscience 103:615–628

Panksepp JB, Jochman KA, Kim JU, Koy JJ, Wilson ED, Chen Q, Wilson CR, Lahvis GP (2007) Affiliative behavior, ultrasonic communication and social reward are influenced by genetic variation in adolescent mice. PLoS One 2:e351

Pearson BL, Bettis JK, Meyza KZ, Yamamoto LY, Blanchard DC, Blanchard RJ (2012) Absence of social conditioned place preference in BTBR T+tf/J mice: relevance for social motivation testing in rodent models of autism. Behav Brain Res 233:99–104

Pearson BL, Pobbe RL, Defensor EB, Oasay L, Bolivar VJ, Blanchard DC, Blanchard RJ (2011) Motor and cognitive stereotypies in the BTBR T+tf/J mouse model of autism. Genes Brain Behav 10:228–235

Peca J, Feliciano C, Ting JT, Wang W, Wells MF, Venkatraman TN, Lascola CD, Fu Z, Feng G (2011) Shank3 mutant mice display autistic-like behaviours and striatal dysfunction. Nature 472:437–442

Pellis SM, Pellis VC (1997) The prejuvenile onset of play fighting in laboratory rats (Rattus norvegicus). Dev Psychobiol 31:193–205

Pellow S, Chopin P, File SE (1985) Are the anxiogenic effects of yohimbine mediated by its action at benzodiazepine receptors? Neurosci Lett 55:5–9

Phillips RG, LeDoux JE (1992) Differential contribution of amygdala and hippocampus to cued and contextual fear conditioning. Behav Neurosci 106:274–285

Pinto D, Pagnamenta AT, Klei L, Anney R, Merico D, Regan R, Conroy J, Magalhaes TR, Correia C, Abrahams BS, Almeida J, Bacchelli E, Bader GD, Bailey AJ, Baird G, Battaglia A, Berney T, Bolshakova N, Bolte S, Bolton PF, Bourgeron T, Brennan S, Brian J, Bryson SE, Carson AR, Casallo G, Casey J, Chung BH, Cochrane L, Corsello C, Crawford EL, Crossett A, Cytrynbaum C, Dawson G, de Jonge M, Delorme R, Drmic I, Duketis E, Duque F, Estes A, Farrar P, Fernandez BA, Folstein SE, Fombonne E, Freitag CM, Gilbert J, Gillberg C, Glessner JT, Goldberg J, Green A, Green J, Guter SJ, Hakonarson H, Heron EA, Hill M, Holt R, Howe JL, Hughes G, Hus V, Igliozzi R, Kim C, Klauck SM, Kolevzon A, Korvatska O, Kustanovich V, Lajonchere CM, Lamb JA, Laskawiec M, Leboyer M, Le CA, Leventhal BL, Lionel AC, Liu XQ, Lord C, Lotspeich L, Lund SC, Maestrini E, Mahoney W, Mantoulan C, Marshall CR, McConachie H, McDougle CJ, McGrath J, McMahon WM, Merikangas A, Migita O, Minshew NJ, Mirza GK, Munson J, Nelson SF, Noakes C, Noor A, Nygren G, Oliveira G, Papanikolaou K, Parr JR, Parrini B, Paton T, Pickles A, Pilorge M, Piven J, Ponting CP, Posey DJ, Poustka A, Poustka F, Prasad A, Ragoussis J, Renshaw K, Rickaby J, Roberts W, Roeder K, Roge B, Rutter ML, Bierut LJ, Rice JP, Salt J, Sansom K, Sato D, Segurado R, Sequeira AF, Senman L, Shah N, Sheffield VC, Soorya L, Sousa I, Stein O, Sykes N, Stoppioni V, Strawbridge C, Tancredi R, Tansey K, Thiruvahindrapduram B, Thompson AP, Thomson S, Tryfon A, Tsiantis J, van Engeland H, Vincent JB, Volkmar F, Wallace S, Wang K, Wang Z, Wassink TH, Webber C, Weksberg R, Wing K, Wittemeyer K, Wood S, Wu J, Yaspan BL, Zurawiecki D, Zwaigenbaum L, Buxbaum JD, Cantor RM, Cook EH, Coon H, Cuccaro ML, Devlin B, Ennis S, Gallagher L, Geschwind DH, Gill M, Haines JL, Hallmayer J, Miller J, Monaco AP, Nurnberger JI Jr, Paterson AD, Pericak-Vance MA, Schellenberg GD, Szatmari P, Vicente AM, Vieland VJ, Wijsman EM, Scherer SW, Sutcliffe JS, Betancur C (2010) Functional impact of global rare copy number variation in autism spectrum disorders. Nature 466:368–372

Piven J, Palmer P (1997) Cognitive deficits in parents from multiple-incidence autism families. J Child Psychol Psychiatry 38:1011–1021

Pletnikov MV, Moran TH, Carbone KM (2002) Borna disease virus infection of the neonatal rat: developmental brain injury model of autism spectrum disorders. Front Biosci 7:d593–d607

Pobbe RL, Pearson BL, Defensor EB, Bolivar VJ, Blanchard DC, Blanchard RJ (2010) Expression of social behaviors of C57BL/6J versus BTBR inbred mouse strains in the visible burrow system. Behav Brain Res 214:443–449

Popik P, Vetulani J, van Ree JM (1992) Low doses of oxytocin facilitate social recognition in rats. Psychopharmacology (Berl) 106:71–74

Portfors CV (2007) Types and functions of ultrasonic vocalizations in laboratory rats and mice. J Am Assoc Lab Anim Sci 46:28–34

Prior MR, Chen CS (1976) Short-term and serial memory in autistic, retarded, and normal children. J Autism Child Schizophr 6:121–131

Radyushkin K, Hammerschmidt K, Boretius S, Varoqueaux F, El-Kordi A, Ronnenberg A, Winter D, Frahm J, Fischer J, Brose N, Ehrenreich H (2009) Neuroligin-3-deficient mice: model of a monogenic heritable form of autism with an olfactory deficit. Genes Brain Behav 8:416–425

Rajendran G, Mitchell P (2013) Cognitive theories of autism. Dev Rev 27:224–260

Relkovic D, Doe CM, Humby T, Johnstone KA, Resnick JL, Holland AJ, Hagan JJ, Wilkinson LS, Isles AR (2010) Behavioural and cognitive abnormalities in an imprinting centre deletion mouse model for Prader-Willi syndrome. Eur J Neurosci 31:156–164

Restivo L, Ferrari F, Passino E, Sgobio C, Bock J, Oostra BA, Bagni C, Ammassari-Teule M (2005) Enriched environment promotes behavioral and morphological recovery in a mouse model for the fragile X syndrome. Proc Natl Acad Sci U S A 102:11557–11562

Rimmele U, Hediger K, Heinrichs M, Klaver P (2009) Oxytocin makes a face in memory familiar. J Neurosci 29:38–42

Robbins TW (2002) The 5-choice serial reaction time task: behavioural pharmacology and functional neurochemistry. Psychopharmacology (Berl) 163:362–380

Robinson EB, Koenen KC, McCormick MC, Munir K, Hallett V, Happe F, Plomin R, Ronald A (2012) A multivariate twin study of autistic traits in 12-year-olds: testing the fractionable autism triad hypothesis. Behav Genet 42:245–255

Robinson S, Goddard L, Dritschel B, Wisley M, Howlin P (2009) Executive functions in children with autism spectrum disorders. Brain Cogn 71:362–368

Ronald A, Happe F, Price TS, Baron-Cohen S, Plomin R (2006) Phenotypic and genetic overlap between autistic traits at the extremes of the general population. J Am Acad Child Adolesc Psychiatry 45:1206–1214

Rossignol DA (2009) Novel and emerging treatments for autism spectrum disorders: a systematic review. Ann Clin Psychiatry 21:213–236

Russell J, Jarrold C, Henry L (1996) Working memory in children with autism and with moderate learning difficulties. J Child Psychol Psychiatry 37:673–686

Ryan BC, Young NB, Crawley JN, Bodfish JW, Moy SS (2010) Social deficits, stereotypy and early emergence of repetitive behavior in the C58/J inbred mouse strain. Behav Brain Res 208:178–188

Ryan BC, Young NB, Moy SS, Crawley JN (2008) Olfactory cues are sufficient to elicit social approach behaviors but not social transmission of food preference in C57BL/6J mice. Behav Brain Res 193:235–242

Sala M, Braida D, Lentini D, Busnelli M, Bulgheroni E, Capurro V, Finardi A, Donzelli A, Pattini L, Rubino T, Parolaro D, Nishimori K, Parenti M, Chini B (2011) Pharmacologic rescue of impaired cognitive flexibility, social deficits, increased aggression, and seizure susceptibility in oxytocin receptor null mice: a neurobehavioral model of autism. Biol Psychiatry 69:875–882

Sales GD, Pye D (1974) Ultrasonic communication by animals. Chapman & Hall, London

Salinger WL, Ladrow P, Wheeler C (2003) Behavioral phenotype of the reeler mutant mouse: effects of RELN gene dosage and social isolation. Behav Neurosci 117:1257–1275

Salmond CH, Ashburner J, Connelly A, Friston KJ, Gadian DG, Vargha-Khadem F (2005) The role of the medial temporal lobe in autistic spectrum disorders. Eur J Neurosci 22:764–772

Sams-Dodd F (1995) Automation of the social interaction test by a video-tracking system: behavioural effects of repeated phencyclidine treatment. J Neurosci Methods 59:157–167

Scattoni ML, Ricceri L, Crawley JN (2011) Unusual repertoire of vocalizations in adult BTBR T+tf/J mice during three types of social encounters. Genes Brain Behav 10:44–56

Scharff C, Haesler S (2005) An evolutionary perspective on FoxP2: strictly for the birds? Curr Opin Neurobiol 15:694–703

Schneider T, Przewlocki R (2005) Behavioral alterations in rats prenatally exposed to valproic acid: animal model of autism. Neuropsychopharmacology 30:80–89

Schneider T, Roman A, Basta-Kaim A, Kubera M, Budziszewska B, Schneider K, Przewlocki R (2008) Gender-specific behavioral and immunological alterations in an animal model of autism induced by prenatal exposure to valproic acid. Psychoneuroendocrinology 33:728–740

Schneider T, Turczak J, Przewlocki R (2006) Environmental enrichment reverses behavioral alterations in rats prenatally exposed to valproic acid: issues for a therapeutic approach in autism. Neuropsychopharmacology 31:36–46

Sewell GD (1970) Ultrasonic communication in rodents. Nature 227:410

Shemer A, Whitaker-Azmitia PM, Azmitia EC (1988) Effects of prenatal 5-methoxytryptamine and parachlorophenylalanine on serotonergic uptake and behavior in the neonatal rat. Pharmacol Biochem Behav 30:847–851

Shmelkov SV, Hormigo A, Jing D, Proenca CC, Bath KG, Milde T, Shmelkov E, Kushner JS, Baljevic M, Dincheva I, Murphy AJ, Valenzuela DM, Gale NW, Yancopoulos GD, Ninan I, Lee FS, Rafii S (2010) Slitrk5 deficiency impairs corticostriatal circuitry and leads to obsessive-compulsive-like behaviors in mice. Nat Med 16(598–602):1p

Silverman JL, Smith DG, Rizzo SJ, Karras MN, Turner SM, Tolu SS, Bryce DK, Smith DL, Fonseca K, Ring RH, Crawley JN (2012) Negative allosteric modulation of the mGluR5 receptor reduces repetitive behaviors and rescues social deficits in mouse models of autism. Sci Transl Med 4(131):131ra51

Silverman JL, Tolu SS, Barkan CL, Crawley JN (2010a) Repetitive self-grooming behavior in the BTBR mouse model of autism is blocked by the mGluR5 antagonist MPEP. Neuropsychopharmacology 35:976–989

Silverman JL, Turner SM, Barkan CL, Tolu SS, Saxena R, Hung AY, Sheng M, Crawley JN (2011) Sociability and motor functions in Shank1 mutant mice. Brain Res 1380:120–137. doi: 10.1016/j.brainres.2010.09.026

Silverman JL, Yang M, Lord C, Crawley JN (2010b) Behavioural phenotyping assays for mouse models of autism. Nat Rev Neurosci 11:490–502

Sinzig J, Bruning N, Morsch D, Lehmkuhl G (2008) Attention profiles in autistic children with and without comorbid hyperactiivity and attention problems. Acta Neuropsychiatrica 20:207–215

Skokauskas N, Gallagher L (2010) Psychosis, affective disorders and anxiety in autistic spectrum disorder: prevalence and nosological considerations. Psychopathology 43:8–16

Smalley SL (1998) Autism and tuberous sclerosis. J Autism Dev Disord 28(5):407–414

Spencer CM, Graham DF, Yuva-Paylor LA, Nelson DL, Paylor R (2008) Social behavior in Fmr1 knockout mice carrying a human FMR1 transgene. Behav Neurosci 122:710–715

Spruijt BM, De Heer RC (2012) A SWOT analysis on automating measuring behaviour. In: Proceedings of Measuring Behavior, Utrecht, The Netherlands, 28–31 August

Spruijt BM, De Visser L (2006) Advanced behavioural screening: automated home cage ethology. Drug Discovery Today Technologies 3:231–237

Spruijt BM, Gispen WH (1984) Behavioral sequences as an easily quantifiable parameter in experimental studies. Physiol Behav 32:707–710

Spruijt BM, Welbergen P, Brakkee J, Gispen WH (1988) An ethological analysis of excessive grooming in young and aged rats. Ann N Y Acad Sci 525:89–100

State MW, Levitt P (2011) The conundrums of understanding genetic risks for autism spectrum disorders. Nat Neurosci 14:1499–1506

Sugimoto H, Okabe S, Kato M, Koshida N, Shiroishi T, Mogi K, Kikusui T, Koide T (2011) A role for strain differences in waveforms of ultrasonic vocalizations during male–female interaction. PLoS One 6:e22093

Sun L, Grutzner C, Bolte S, Wibral M, Tozman T, Schlitt S, Poustka F, Singer W, Freitag CM, Uhlhaas PJ (2012) Impaired gamma-band activity during perceptual organization in adults with autism spectrum disorders: evidence for dysfunctional network activity in frontal-posterior cortices. J Neurosci 32:9563–9573

Suzuki G, Harper KM, Hiramoto T, Funke B, Lee M, Kang G, Buell M, Geyer MA, Kucherlapati R, Morrow B, Mannisto PT, Agatsuma S, Hiroi N (2009) Over-expression of a human chromosome 22q11.2 segment including TXNRD2, COMT and ARVCF developmentally affects incentive learning and working memory in mice. Hum Mol Genet 18:3914–3925

Takumi T (2011) The neurobiology of mouse models syntenic to human chromosome 15q. J Neurodev Disord 3:270–281

Tanimura Y, King MA, Williams DK, Lewis MH (2011) Development of repetitive behavior in a mouse model: roles of indirect and striosomal basal ganglia pathways. Int J Dev Neurosci 29:461–467

Tavassoli T, Baron-Cohen S (2012) Taste identification in adults with autism spectrum conditions. J Autism Dev Disord 42:1419–1424

Taylor GT, Frechmann T, Royalty J (1986) Social behaviour and testicular activity of juvenile rats. J Endocrinol 110:533–537

Teramitsu I, Poopatanapong A, Torrisi S, White SA (2010) Striatal FoxP2 is actively regulated during songbird sensorimotor learning. PLoS One 5:e8548

Terranova ML, Laviola G (2005) Scoring of social interactions and play in mice during adolescence. Curr Protoc Toxicol Chapter 13:Unit13.10. doi: 10.1002/0471140856.tx1310s26.:Unit13

Thiel KJ, Okun AC, Neisewander JL (2008) Social reward-conditioned place preference: a model revealing an interaction between cocaine and social context rewards in rats. Drug Alcohol Depend 96:202–212

Treit D, Engin E, McEown K (2010) Animal models of anxiety and anxiolytic drug action. Curr Top Behav Neurosci 2:121–160

Trezza V, Campolongo P, Vanderschuren LJ (2011) Evaluating the rewarding nature of social interactions in laboratory animals. Dev Cogn Neurosci 1:444–458

Trezza V, Damsteegt R, Vanderschuren LJ (2009) Conditioned place preference induced by social play behavior: parametrics, extinction, reinstatement and disruption by methylphenidate. Eur Neuropsychopharmacol 19:659–669

Tsai PT, Hull C, Chu Y, Greene-Colozzi E, Sadowski AR, Leech JM, Steinberg J, Crawley JN, Regehr WG, Sahin M (2012) Autistic-like behaviour and cerebellar dysfunction in Purkinje cell Tsc1 mutant mice. Nature 488:647–651

van den Berg CL, Hol T, van Ree JM, Spruijt BM, Everts H, Koolhaas JM (1999) Play is indispensable for an adequate development of coping with social challenges in the rat. Dev Psychobiol 34:129–138

Van Kerkhof LW, Achterberg EJ, Lesscher HM, Trezza V, Vanderschuren LJ (2012) Dissociating the rewarding and motivational properties of social play behavior in adolescent rats: the role of dopamine, opioids and endocannabinoids. Poster presentation on DOPAMINE 2013 Program, 24 May, p 295.06

Van KM, Selbach K, Schneider R, Schiegel E, Boess F, Schreiber R (2004) AR-R 17779 improves social recognition in rats by activation of nicotinic alpha7 receptors. Psychopharmacology (Berl) 172:375–383

Wahlsten D, Metten P, Phillips TJ, Boehm SL, Burkhart-Kasch S, Dorow J, Doerksen S, Downing C, Fogarty J, Rodd-Henricks K, Hen R, McKinnon CS, Merrill CM, Nolte C, Schalomon M, Schlumbohm JP, Sibert JR, Wenger CD, Dudek BC, Crabbe JC (2003) Different data from different labs: lessons from studies of gene-environment interaction. J Neurobiol 54:283–311

Wang H, Liang S, Burgdorf J, Wess J, Yeomans J (2008) Ultrasonic vocalizations induced by sex and amphetamine in M2, M4, M5 muscarinic and D2 dopamine receptor knockout mice. PLoS One 3:e1893

Warburton VL, Sales GD, Milligan SR (1989) The emission and elicitation of mouse ultrasonic vocalizations: the effects of age, sex and gonadal status. Physiol Behav 45:41–47

Webb DM, Zhang J (2005) FoxP2 in song-learning birds and vocal-learning mammals. J Hered 96:212–216

Weber M, Swerdlow NR (2008) Rat strain differences in startle gating-disruptive effects of apomorphine occur with both acoustic and visual prepulses. Pharmacol Biochem Behav 88:306–311

White SA, Fisher SE, Geschwind DH, Scharff C, Holy TE (2006) Singing mice, songbirds, and more: models for FOXP2 function and dysfunction in human speech and language. J Neurosci 26:10376–10379

White SW, Oswald D, Ollendick T, Scahill L (2009) Anxiety in children and adolescents with autism spectrum disorders. Clin Psychol Rev 29:216–229

White SW, Roberson-Nay R (2009) Anxiety, social deficits, and loneliness in youth with autism spectrum disorders. J Autism Dev Disord 39:1006–1013

Williams DL, Goldstein G, Minshew NJ (2005) Impaired memory for faces and social scenes in autism: clinical implications of memory dysfunction. Arch Clin Neuropsychol 20:1–15

Winslow JT, Hearn EF, Ferguson J, Young LJ, Matzuk MM, Insel TR (2000) Infant vocalization, adult aggression, and fear behavior of an oxytocin null mutant mouse. Horm Behav 37:145–155

Wohr M, Moles A, Schwarting RK, D'Amato FR (2011) Lack of social exploratory activation in male mu-opioid receptor KO mice in response to playback of female ultrasonic vocalizations. Soc Neurosci 6:76–87

Won H, Lee HR, Gee HY, Mah W, Kim JI, Lee J, Ha S, Chung C, Jung ES, Cho YS, Park SG, Lee JS, Lee K, Kim D, Bae YC, Kaang BK, Lee MG, Kim E (2012) Autistic-like social behaviour in Shank2-mutant mice improved by restoring NMDA receptor function. Nature 486:261–265

Wrenn CC, Harris AP, Saavedra MC, Crawley JN (2003) Social transmission of food preference in mice: methodology and application to galanin-overexpressing transgenic mice. Behav Neurosci 117:21–31

Wurbel H (2002) Behavioral phenotyping enhanced—beyond (environmental) standardization. Genes Brain Behav 1:3–8

Yang M, Bozdagi O, Scattoni ML, Wohr M, Roullet FI, Katz AM, Abrams DN, Kalikhman D, Simon H, Woldeyohannes L, Zhang JY, Harris MJ, Saxena R, Silverman JL, Buxbaum JD, Crawley JN (2012) Reduced excitatory neurotransmission and mild autism-relevant phenotypes in adolescent Shank3 null mutant mice. J Neurosci 32:6525–6541

Yang M, Silverman JL, Crawley JN (2011) Automated three-chambered social approach task for mice. Curr Protoc Neurosci Chapter 8:Unit 8.26. doi: 10.1002/0471142301.ns0826s56.:Unit

Yerys BE, Wallace GL, Jankowski KF, Bollich A, Kenworthy L (2011) Impaired Consonant Trigrams Test (CTT) performance relates to everyday working memory difficulties in children with autism spectrum disorders. Child Neuropsychol 17:391–399

Zeskind PS, McMurray MS, Garber KA, Neuspiel JM, Cox ET, Grewen KM, et al (2011) Development of translational methods in spectral analysis of human infant crying and rat pup ultrasonic vocalizations for early neurobehavioral assessment. Front Psychiatry 2:56. doi: 10.3389/fpsyt.2011.00056

Zhang Y, Cazakoff BN, Thai CA, Howland JG (2012) Prenatal exposure to a viral mimetic alters behavioural flexibility in male, but not female, rats. Neuropharmacology 62:1299–1307

Zhao Y, Fung C, Shin D, Shin BC, Thamotharan S, Sankar R, Ehninger D, Silva A, Devaskar SU (2010) Neuronal glucose transporter isoform 3 deficient mice demonstrate features of autism spectrum disorders. Mol Psychiatry 15:286–299

Zippelius H-M, Schleidt WM (1956) Ultraschall-Laute bei jungen Mausen. Naturwissenschaften 43:502

Zoghbi HY, Bear MF (2012) Synaptic dysfunction in neurodevelopmental disorders associated with autism and intellectual disabilities. Cold Spring Harb Perspect Biol 4(3)
Acknowledgements
The authors participate in the EU-AIMS project that receives support from the Innovative Medicines Initiative Joint Undertaking under grant agreement no. 115300, resources of which are composed of financial contribution from the European Union's Seventh Framework Programme (FP7/2007-2013), from the EFPIA companies in kind contribution and from Autism Speaks.
About this article
Cite this article
Kas, M.J., Glennon, J.C., Buitelaar, J. et al. Assessing behavioural and cognitive domains of autism spectrum disorders in rodents: current status and future perspectives. Psychopharmacology 231, 1125–1146 (2014). https://doi.org/10.1007/s00213-013-3268-5
Received:

Accepted:

Published:

Issue Date:
Keywords
Behaviour

Cognition

Animal model

Genetics

Phenotype