Abstract
Rationale
Electronic cigarettes are becoming increasingly popular among smokers worldwide. Commonly reported reasons for use include the following: to quit smoking, to avoid relapse, to reduce urge to smoke, or as a perceived lower-risk alternative to smoking. Few studies, however, have explored whether electronic cigarettes (e-cigarettes) deliver measurable levels of nicotine to the blood.
Objective
This study aims to explore in experienced users the effect of using an 18-mg/ml nicotine first-generation e-cigarette on blood nicotine, tobacco withdrawal symptoms, and urge to smoke.
Methods
Fourteen regular e-cigarette users (three females), who are abstinent from smoking and e-cigarette use for 12 h, each completed a 2.5 h testing session. Blood was sampled, and questionnaires were completed (tobacco-related withdrawal symptoms, urge to smoke, positive and negative subjective effects) at four stages: baseline, 10 puffs, 60 min of ad lib use and a 60-min rest period.
Results
Complete sets of blood were obtained from seven participants. Plasma nicotine concentration rose significantly from a mean of 0.74 ng/ml at baseline to 6.77 ng/ml 10 min after 10 puffs, reaching a mean maximum of 13.91 ng/ml by the end of the ad lib puffing period. Tobacco-related withdrawal symptoms and urge to smoke were significantly reduced; direct positive effects were strongly endorsed, and there was very low reporting of adverse effects.
Conclusions
These findings demonstrate reliable blood nicotine delivery after the acute use of this brand/model of e-cigarette in a sample of regular users. Future studies might usefully quantify nicotine delivery in relation to inhalation technique and the relationship with successful smoking cessation/harm reduction.
Access options
Buy single article
Instant access to the full article PDF.
USD 39.95
Price excludes VAT (USA)
Tax calculation will be finalised during checkout.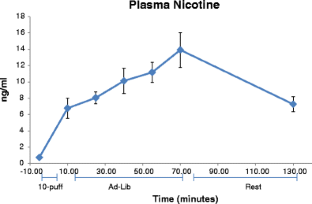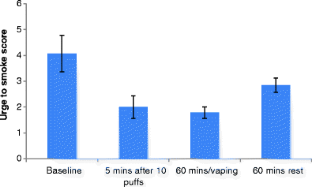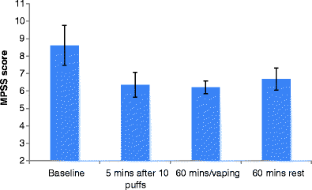 References
Blank MD, Sams C, Weaver MF, Eissenberg T (2008) Nicotine delivery, cardiovascular profile, and subjective effects of an oral tobacco product for smokers. Nicotine Tob Res 10:417–421

Bullen C, McRobbie H, Thornley S, Glover M, Lin R, Langesen M (2010) Effect of an electronic nicotine delivery device (e cigarette) on desire to smoke and withdrawal, user preferences and nicotine delivery: randomised cross-over trial. Tob Control 19:98–103

Caponnetto P, Campagna D, Cibella F, Morjaria JB, Caruso M, Russo C, Polosa R (2013) Efficiency and safety of an electronic cigarette (ECLAT) as tobacco cigarette substitute: a prospective 12-month randomized control design study. PLoS One 8(6):1–12

Choi JH, Dresler CM, Norton MR, Strahs KR (2003) Pharmacokinetics of a nicotine polacrilex lozenge. Nicotine Tob Res 5:635–644

Dawkins L, Turner J, Hasna S, Soar K (2012) The electronic-cigarette: effects on desire to smoke, mood and cognition. Addict Behav 37:970–973

Dawkins L, Turner J, Roberts A, Soar K (2013) 'Vaping' profiles and preferences: an online survey of electronic cigarette users. Addiction 108:1115–1125

Digard H, Proctor C, Kulsekaran A, Malmqvist U, Richter A (2013) Determination of nicotine absorption from multiple tobacco products and nicotine gum. Nicotine Tob Res 15:255–261

Etter J-F, Bullen C (2011) Electronic cigarette: users profile, utilization, satisfaction and perceived efficacy. Addiction 106:2017–2028

Etter J-F, Stapleton JA (2006) Nicotine replacement therapy for long-term smoking cessation: a meta-analysis. Tob Control 15:280–285

Evans SA, Blank M, Sams C, Weaver MF, Eissenberg T (2006) Transdermal nicotine-induced tobacco abstinence symptom suppression: nicotine dose and smokers' gender. Exp Clin Psychopharmacol 14(2):121–135

Fagerström KO (2012) Determinants of tobacco use and renaming the FTND to the Fagerström Test for Cigarette Dependence. Nicotine Tob Res 14:75–78

Foulds J, Veldheer S, Berg A (2011) Electronic cigarettes (e-cigs): views of aficionados and clinical/public health perspectives. Int J Clin Pract 65:1037–1042

Gao J, Sanchez-Medina A, Pendry BA, Hughes MJ, Webb GP, Corcoran O (2008) Validation of a HPLC method for flavonoid biomarkers in skullcap (Scutellaria) and its use to illustrate wide variability in the quality of commercial tinctures. J Pharm Pharmacol Sci 11:77–87

Hukkanen J, Jacob P 3rd, Benowitz NL (2005) Metabolism and disposition kinetics of nicotine. Pharmacol Rev 75:79–115

McEwen A, West R, Gaiger M (2008) Nicotine absorption from seven current nicotine replacement products and a new wide-bore nicotine delivery device. J Smok Cessat 3:117–123

McQueen A, Tower S, Summer W (2011) Interviews with 'vapers': implications for future research with electronic cigarettes. Nicotine Tob Res 13:560–567

MHRA (2013). The regulation of nicotine containing products (NCPs) 12 June 2013. http://www.mhra.gov.uk/Safetyinformation/Generalsafetyinformationandadvice/Product-specificinformationandadvice/Product-specificinformationandadvice%E2%80%93M%E2%80%93T/NicotineContainingProducts/index.htm. Accessed 19 Aug 2013

Molander L, Lunell E (2001) Pharmacokinetic investigation of a nicotine sublingual tablet. Eur J Clin Pharmacol 56:813–819

Perkins KA, Donny E, Caggiula AR (1999) Sex differences in nicotine effects and self-administration: review of human and animal evidence. Nicotine Tob Res 1:301–315

Polosa R, Caponnetto P, Morjaria JB, Papale G, Campagna D, Russo C (2011) Effect of an electronic nicotine delivery device (e-cigarette) on smoking reduction and cessation: a prospective 6-month pilot study. BMC Publ Health 11:786–798

Royal College of Physicians (2000) Nicotine addiction in Britain. Royal College of Physicians, London

Sanchez-Medina A, Etheridge CE, Hawkes GE, Hylands PJ, Pendry BA, Hughes MJ, Corcoran O (2007) Comparison of rosmarinic acid content in commercial tinctures produced from fresh and dried lemon balm (Melissa officinalis). J Pharm Pharmacol Sci 10:455–463

Schneider NG, Olmstead RE, Franzon MA, Lunell E (2001) The nicotine inhaler: clinical pharmacokinetics and comparison with other nicotine treatments. Clin Pharmacokinet 40:661–684

Siegel MB, Tanwar KL, Wood KS (2011) Electronic cigarettes as a smoking cessation tool: results from an online survey. Am J Prev Med 40:472–475

The NHS Information Centre (2011) Lifestyles statistics. Statistics on Smoking, England. http://www.hscic.gov.uk/pubs/smoking11. Accessed 19 Aug 2013

Trtchounian A, Williams M, Talbot P (2011) Conventional and electronic cigarettes (e-cigarettes) have different smoking characteristics. Nicotine Tob Res 12:905–912

Vansickel AR, Eissenberg T (2013) Electronic cigarettes: effective nicotine delivery after acute administration. Nicotine Tob Res 15(1):267–270

Vansickel AR, Cobb CO, Weaver MF, Eissenberg TE (2010) A clinical laboratory model for evaluating the acute effects of electronic 'cigarettes': nicotine delivery profile and cardiovascular and subjective effects. Cancer Epidemiol Biomarkers Prev 19:1945–1953

West R, Hajek P (2004) Evaluation of the mood and physical symptoms scale (MPSS) to assess cigarette withdrawal. Psychopharmacology 177:195–199
Acknowledgments
This study was funded and supported by SKYCIG Ltd. Thanks are due to Paula Booth (Psychology), Alexander Lyons, Angela Ng, Susan Harrison, Mark Newsum (Health, Sport and Bioscience) and Samila Payaniandy for their assistance with the study; to Dr. Mira Doig (ABS Labs) for the bioanalysis of nicotine from plasma; and to the participants for their time.
Conflict of interest
Dr. Lynne Dawkins has received funding to speak at research conferences and benefits in kind from e-cigarette companies. Professor Olivia Corcoran has no conflict of interests to declare. The sponsor had no role in the design and conduct of the study or in the preparation, review or approval of the manuscript.
About this article
Cite this article
Dawkins, L., Corcoran, O. Acute electronic cigarette use: nicotine delivery and subjective effects in regular users. Psychopharmacology 231, 401–407 (2014). https://doi.org/10.1007/s00213-013-3249-8
Received:

Accepted:

Published:

Issue Date:

DOI: https://doi.org/10.1007/s00213-013-3249-8
Keywords
Nicotine delivery

Electronic cigarette

Acute use

Urge to smoke

Tobacco withdrawal symptoms

Abstinent smokers

Smoking cessation

Nicotine addiction