Abstract
Rationale
Eighteen- to twenty-five-year-olds show the highest rates of alcohol use disorders (AUD) and heavy drinking, which may have critical neurocognitive implications. Regions subserving memory may be particularly susceptible to alcohol-related impairments.
Objective
We used blood oxygen level-dependent (BOLD) functional magnetic resonance imaging (fMRI) to examine the neural correlates of visual encoding and recognition among heavy-drinking college students. We predicted that heavy drinkers would show worse memory performance, increased frontal/parietal activation, and decreased hippocampal response during encoding.
Methods
Participants were 23 heavy drinkers and 33 demographically matched light drinkers, aged 18–20, characterized using quantity/frequency of drinking and AUD diagnosis. Participants performed a figural encoding and recognition task during fMRI. BOLD response during encoding was modeled based on whether each stimulus was subsequently recognized or forgotten (i.e., correct vs. incorrect encoding).
Results
There were no group differences in behavioral performance. Compared to light drinkers, heavy drinkers showed (1) greater BOLD response during correct encoding in the right hippocampus/medial temporal, right dorsolateral prefrontal, left inferior frontal, and bilateral posterior parietal cortices; (2) less left inferior frontal activation and greater bilateral precuneus deactivation during incorrect encoding; and (3) less bilateral insula response during correct recognition (clusters >10,233 μl, p < 0.05 whole brain).
Conclusions
This is the first investigation of the neural substrates of figural memory among heavy-drinking older adolescents. Heavy drinkers demonstrated compensatory hyperactivation of memory-related areas during correct encoding, greater deactivation of default mode regions during incorrect encoding, and reduced recognition-related response. Results could suggest use of different encoding and recognition strategies among heavy drinkers.
Access options
Buy single article
Instant access to the full article PDF.
US$ 39.95
Tax calculation will be finalised during checkout.
Subscribe to journal
Immediate online access to all issues from 2019. Subscription will auto renew annually.
US$ 119
Tax calculation will be finalised during checkout.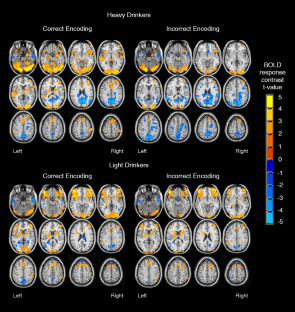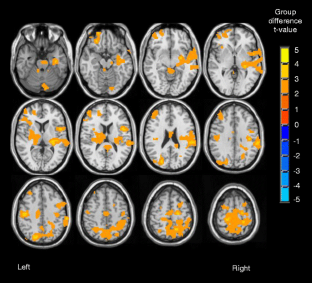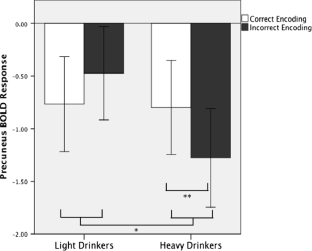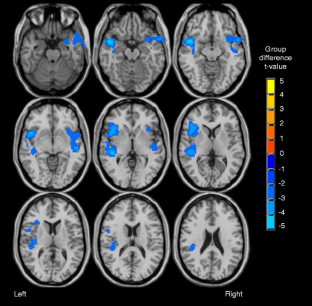 References
Banks SJ, Jones-Gotman M, Ladowski D, Sziklas V (2012) Sex differences in the medial temporal lobe during encoding and recognition of pseudowords and abstract designs. Neuroimage 59:1888–1895

Beason-Held LL, Golski S, Kraut MA, Esposito G, Resnick SM (2005) Brain activation during encoding and recognition of verbal and figural information in older adults. Neurobiol Aging 26:237–250

Beck AT (1978) Beck Depression Inventory (BDI). Psychological Corp, San Antonio

Blumenfeld RS, Ranganath C (2007) Prefrontal cortex and long-term memory encoding: an integrative review of findings from neuropsychology and neuroimaging. Neuroscientist 13:280–291

Brown SA, Tapert SF, Granholm E, Delis DC (2000) Neurocognitive functioning of adolescents: effects of protracted alcohol use. Alcohol Clin Exp Res 24:164–171

Buckner RL, Andrews-Hanna JR, Schacter DL (2008) The brain's default network: anatomy, function, and relevance to disease. Ann N Y Acad Sci 1124:1–38

Buckner RL, Kelley WM, Petersen SE (1999) Frontal cortex contributes to human memory formation. Nat Neurosci 2:311–314

Budson AE (2009) Understanding memory dysfunction. Neurologist 15:71–79

Chanraud S, Pitel AL, Pfefferbaum A, Sullivan EV (2011) Disruption of functional connectivity of the default-mode network in alcoholism. Cereb Cortex 21:2272–2281

Courtney KE, Ghahremani DG, Ray LA (2013) Fronto-striatal functional connectivity during response inhibition in alcohol dependence. Addict Biol 18:593–604

Courtney KE, Polich J (2009) Binge drinking in young adults: data, definitions, and determinants. Psychol Bull 135:142–156

Cox RW (1996) AFNI: software for analysis and visualization of functional magnetic resonance neuroimages. Comput Biomed Res 29:162–173

Crews FT, Boettiger CA (2009) Impulsivity, frontal lobes and risk for addiction. Pharmacol Biochem Behav 93:237–247

Dager AD, Anderson BM, Stevens MC, Pulido C, Rosen R, Jiantonio-Kelly RE, Sisante J, Raskin SA, Tennen H, Austad CS, Wood RM, Fallahi CR, Pearlson GD (2013) Influence of alcohol use and family history of alcoholism on neural response to alcohol cues in college drinkers. Alcohol Clin Exp Res 37:E161–E171

Daselaar SM, Prince SE, Dennis NA, Hayes SM, Kim H, Cabeza R (2009) Posterior midline and ventral parietal activity is associated with retrieval success and encoding failure. Front Hum Neurosci 3:13

De Bellis MD, Clark DB, Beers SR, Soloff PH, Boring AM, Hall J, Kersh A, Keshavan MS (2000) Hippocampal volume in adolescent-onset alcohol use disorders. Am J Psychiatry 157:737–744

Fernandez G, Tendolkar I (2001) Integrated brain activity in medial temporal and prefrontal areas predicts subsequent memory performance: human declarative memory formation at the system level. Brain Res Bull 55:1–9

First MB, Spitzer RL, Gibbon M, Williams JBW (2002) Structured clinical interview for DSM-IV-TR Axis I disorders—research version, non-patient edition (SCID-I/NP, 11/2002 revision). Biometrics Research Department, New York State Psychiatric Institute, New York

Forman SD, Cohen JD, Fitzgerald M, Eddy WF, Mintun MA, Noll DC (1995) Improved assessment of significant activation in functional magnetic resonance imaging (fMRI): use of a cluster-size threshold. Magn Reson Med 33:636–647

Glenn SW, Parsons OA (1991) Effects of alcoholism and instructional conditions on speed/accuracy tradeoffs. Alcohol Clin Exp Res 15:612–619

Glenn SW, Parsons OA (1992) Neuropsychological efficiency measures in male and female alcoholics. J Stud Alcohol 53:546–552

Gogtay N, Giedd JN, Lusk L, Hayashi KM, Greenstein D, Vaituzis AC, Nugent TF 3rd, Herman DH, Clasen LS, Toga AW, Rapoport JL, Thompson PM (2004) Dynamic mapping of human cortical development during childhood through early adulthood. Proc Nat Acad Sci USA 101:8174–8179, Epub

Golby AJ, Poldrack RA, Brewer JB, Spencer D, Desmond JE, Aron AP, Gabrieli JD (2001) Material-specific lateralization in the medial temporal lobe and prefrontal cortex during memory encoding. Brain 124:1841–1854

Gould RL, Brown RG, Owen AM, ffytche DH, Howard RJ (2003) fMRI BOLD response to increasing task difficulty during successful paired associates learning. Neuroimage 20:1006–1019

Grant I (1987) Alcohol and the brain: neuropsychological correlates. J Consult Clin Psychol 55:310–324

Hanson KL, Cummins K, Tapert SF, Brown SA (2011) Changes in neuropsychological functioning over 10 years following adolescent substance abuse treatment. Psychol Addict Behav 25:127–142

Hanson KL, Medina KL, Nagel BJ, Spadoni AD, Gorlick A, Tapert SF (2010) Hippocampal volumes in adolescents with and without a family history of alcoholism. Am J Drug Alcohol Abuse 36:161–167

Heatherton TF, Kozlowski LT, Frecker RC, Fagerstrom KO (1991) The Fagerstrom Test for Nicotine Dependence: a revision of the Fagerstrom Tolerance Questionnaire. Br J Addict 86:1119–1127

Jacobus J, Tapert SF (2013) Neurotoxic effects of alcohol in adolescence. Annu Rev Clin Psychol 9:703–721

Jamadar S, Assaf M, Jagannathan K, Anderson K, Pearlson GD (2013) Figural memory performance and fMRI activity across the adult lifespan. Neurobiol Aging 34:110–127

Kelly AM, Uddin LQ, Biswal BB, Castellanos FX, Milham MP (2008) Competition between functional brain networks mediates behavioral variability. Neuroimage 39:527–537

Kim H (2013) Differential neural activity in the recognition of old versus new events: an activation likelihood estimation meta-analysis. Hum Brain Mapp 34:814–836

Kim H (2011) Neural activity that predicts subsequent memory and forgetting: a meta-analysis of 74 fMRI studies. Neuroimage 54:2446–2461

Kim H, Daselaar SM, Cabeza R (2010) Overlapping brain activity between episodic memory encoding and retrieval: roles of the task-positive and task-negative networks. Neuroimage 49:1045–1054

Leshikar ED, Gutchess AH, Hebrank AC, Sutton BP, Park DC (2010) The impact of increased relational encoding demands on frontal and hippocampal function in older adults. Cortex 46:507–521

Macmillan NA, Creelman CD (2005) Detection theory: a user's guide, 2nd edn. Erlbaum, Mahwah

Medina KL, McQueeny T, Nagel BJ, Hanson KL, Schweinsburg AD, Tapert SF (2008) Prefrontal cortex volumes in adolescents with alcohol use disorders: unique gender effects. Alcohol Clin Exp Res 32:386–394

Medina KL, Schweinsburg AD, Cohen-Zion M, Nagel BJ, Tapert SF (2007) Effects of alcohol and combined marijuana and alcohol use during adolescence on hippocampal volume and asymmetry. Neurotoxicol Teratol 29:141–152

Nagel BJ, Schweinsburg AD, Phan V, Tapert SF (2005) Reduced hippocampal volume among adolescents with alcohol use disorders without psychiatric comorbidity. Psychiatry Res Neuroimaging 139:181–190

Nelson SM, Dosenbach NU, Cohen AL, Wheeler ME, Schlaggar BL, Petersen SE (2010) Role of the anterior insula in task-level control and focal attention. Brain Struct Funct 214:669–680

Parada M, Corral M, Caamano-Isorna F, Mota N, Crego A, Holguin SR, Cadaveira F (2011) Binge drinking and declarative memory in university students. Alcohol Clin Exp Res 35:1475–1484

Prado J, Weissman DH (2011) Heightened interactions between a key default-mode region and a key task-positive region are linked to suboptimal current performance but to enhanced future performance. Neuroimage 56:2276–2282

Raichle ME, MacLeod AM, Snyder AZ, Powers WJ, Gusnard DA, Shulman GL (2001) A default mode of brain function. Proc Natl Acad Sci U S A 98:676–682

Rice JP, Reich T, Bucholz KK, Neuman RJ, Fishman R, Rochberg N, Hesselbrock VM, Nurnberger JI Jr, Schuckit MA, Begleiter H (1995) Comparison of direct interview and family history diagnoses of alcohol dependence. Alcohol Clin Exp Res 19:1018–1023

Samanez-Larkin GR, Hollon NG, Carstensen LL, Knutson B (2008) Individual differences in insular sensitivity during loss anticipation predict avoidance learning. Psychol Sci 19:320–323

SAMHSA (2011) Results from the 2010 National Survey on Drug Use and Health: Summary of National Findings NHSDA Series H-41. Substance Abuse and Mental Health Services Administration, Rockville, MD

Schulte T, Muller-Oehring EM, Sullivan EV, Pfefferbaum A (2012) Synchrony of corticostriatal-midbrain activation enables normal inhibitory control and conflict processing in recovering alcoholic men. Biol Psychiatry 71:269–278

Schweinsburg AD, McQueeny T, Nagel BJ, Eyler LT, Tapert SF (2010) A preliminary study of functional magnetic resonance imaging response during verbal encoding among adolescent binge drinkers. Alcohol 44:111–117

Schweinsburg AD, Nagel BJ, Schweinsburg BC, Park A, Theilmann RJ, Tapert SF (2008) Abstinent adolescent marijuana users show altered fMRI response during spatial working memory. Psychiatry Res Neuroimaging 163:40–51

Schweinsburg AD, Schweinsburg BC, Nagel BJ, Eyler LT, Tapert SF (2011) Neural correlates of verbal learning in adolescent alcohol and marijuana users. Addiction 106:564–573

Sheehan DV, Lecrubier Y, Sheehan KH, Amorim P, Janavs J, Weiller E, Hergueta T, Baker R, Dunbar GC (1998) The Mini-International Neuropsychiatric Interview (M.I.N.I.): the development and validation of a structured diagnostic psychiatric interview for DSM-IV and ICD-10. J Clin Psychiatry 59(Suppl 20):22–33, quiz 34–57

Silveri MM (2012) Adolescent brain development and underage drinking in the United States: identifying risks of alcohol use in college populations. Harvard rev psychiatry 20:189–200

Simmons A, Matthews SC, Paulus MP, Stein MB (2008) Intolerance of uncertainty correlates with insula activation during affective ambiguity. Neurosci Lett 430:92–97

Spadoni AD, Norman AL, Schweinsburg AD, Tapert SF (2008) Effects of family history of alcohol use disorders on spatial working memory BOLD response in adolescents. Alcohol Clin Exp Res 32:1135–1145

Spaniol J, Davidson PS, Kim AS, Han H, Moscovitch M, Grady CL (2009) Event-related fMRI studies of episodic encoding and retrieval: meta-analyses using activation likelihood estimation. Neuropsychologia 47:1765–1779

Spielberger CD, Gorsuch RL, Lushene RE, Vagg PR, Jacobs GA (1983) Manual for the State-Trait Anxiety Inventory (Form Y). Consulting Psychologists Press, Palo Alto

Squeglia LM, Jacobus J, Tapert SF (2009a) The influence of substance use on adolescent brain development. Clin EEG Neurosci 40:31–38

Squeglia LM, Pulido C, Wetherill RR, Jacobus J, Brown GG, Tapert SF (2012) Brain response to working memory over three years of adolescence: influence of initiating heavy drinking. J stud alcohol drugs 73:749–760

Squeglia LM, Spadoni AD, Infante MA, Myers MG, Tapert SF (2009b) Initiating moderate to heavy alcohol use predicts changes in neuropsychological functioning for adolescent girls and boys. Psychol Addict Behav 23:715–722

Squire LR, Schacter DL (2002) The neuropsychology of memory, 3rd edn. Guilford, New York

Sutherland MT, McHugh MJ, Pariyadath V, Stein EA (2012) Resting state functional connectivity in addiction: lessons learned and a road ahead. Neuroimage 62:2281–2295

Talairach J, Tournoux P (1988) Coplanar stereotaxic atlas of the human brain Three-dimensional proportional system: an approach to cerebral imaging. Thieme, New York

Tapert SF, Brown GG, Kindermann SS, Cheung EH, Frank LR, Brown SA (2001) fMRI measurement of brain dysfunction in alcohol-dependent young women. Alcohol Clin Exp Res 25:236–245

Tapert SF, Schweinsburg AD (2005) The human adolescent brain and alcohol use disorders. Recent Dev Alcohol 17:177–197

Tapert SF, Schweinsburg AD, Barlett VC, Brown GG, Brown SA, Frank LR, Meloy MJ (2004) Blood oxygen level dependent response and spatial working memory in adolescents with alcohol use disorders. Alcohol Clin Exp Res 28:1577–1586

Thomasius R, Petersen K, Buchert R, Andresen B, Zapletalova P, Wartberg L, Nebeling B, Schmoldt A (2003) Mood, cognition and serotonin transporter availability in current and former ecstasy (MDMA) users. Psychopharmacology (Berl) 167:85–96

Ulrich M, Jonas C, Gron G (2010) Functional compensation of increasing memory encoding demands in the hippocampus. Neuroreport 21:59–63

Ward BD (2000) Simultaneous inference for FMRI data. Biophysics Research Institute, Medical College of Wisconsin, Milwaukee

Whitfield-Gabrieli S, Ford JM (2012) Default mode network activity and connectivity in psychopathology. Annu Rev Clin Psychol 8:49–76

Wixted JT (2009) Remember/know judgments in cognitive neuroscience: an illustration of the underrepresented point of view. Learn Mem 16:406–412
Acknowledgments
This research was made possible by grant support from the National Institute on Alcohol Abuse and Alcoholism (AA016599 and AA019036-01, Pearlson). The authors thank Gregory Book, Broderick Sawyer, Samantha Leen, Meredith Ginley, Krishna Pancholi, Balaji Narayanan, and Laura Mickes. Portions of this work were presented at the Society of Biological Psychiatry 67th Annual Scientific Convention, May 3–5, 2012, Philadelphia, PA.
Electronic supplementary material
Below is the link to the electronic supplementary material.
About this article
Cite this article
Dager, A.D., Jamadar, S., Stevens, M.C. et al. fMRI response during figural memory task performance in college drinkers. Psychopharmacology 231, 167–179 (2014). https://doi.org/10.1007/s00213-013-3219-1
Received:

Accepted:

Published:

Issue Date:
Keywords
Alcohol

Adolescent

Young adult

fMRI

Learning

Memory

Cognition