Abstract
There is intense interest in the development of effective cognitive enhancing drugs which would have therapeutic application across a number of neurological and psychological disorders including dementia, schizophrenia and depression. However, development in this area has been limited by the absence of sensitive biomarkers which can be used to detect and refine therapeutic-like action in phase 1 clinical studies. The aim of the present study was therefore to develop a measure of cognition relevant to the action of candidate cognitive enhancers which might be sensitive to pharmacological manipulation in healthy volunteers. Healthy volunteers (n = 34) were randomised to receive a single dose of modafinil (100 mg) or placebo. Five hours post dose, attentional flexibility in learning was assessed using a novel implicit learning task. Volunteers also completed an auditory digit span task and visual analogue scales (VAS). Modafinil increased alertness as measured by the VAS. In the implicit learning task, modafinil enhanced learning rates in terms of both accuracy and reaction time, suggesting an increase in implicit rule learning. These results suggest that the novel learning task should be explored as a biomarker of early cognitive improvement which could be more sensitive than conventional measures.
Access options
Buy single article
Instant access to the full article PDF.
USD 39.95
Price includes VAT (USA)
Tax calculation will be finalised during checkout.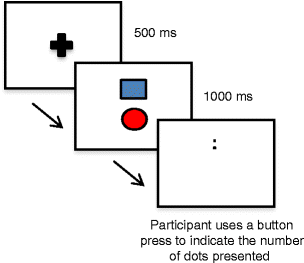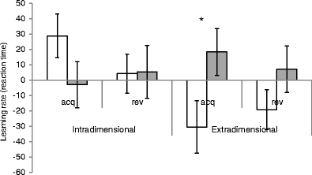 References
Baranski JV, Pigeau R, Dinich P, Jacobs I (2004) Effects of modafinil on cognitive and meta-cognitive performance. Human Psychopharmacology 19:323–332

Barnett JH, Robbins TW, Leeson VC, Sahakian BJ, Joyce EM, Blackwell AD (2010) Assessing cognitive function in clinical trials of schizophrenia. Neurosci Biobehav Rev 34:1161–1177

Beck AT, Ward CH, Mendelson M, Mock J, Erbaugh J (1961) An inventory for measuring depression. Arch Gen Psychiatry 4:561–571

Bond A, Lader M (1974) The use of analogue scales in rating subjective feelings. Br J Med Psychol 47:211–218

Cleeremans A (2006) Conscious and unconscious cognition: a graded dynamic perspective. Psychology Press, Hove

Eysenck SBG, Eysenck HJ, Barrett P (1985) A revised version of the psychoticism scale. Personal Individ Differ 6:21–29

First MB, Spitzer RL, Gibbon M, Williams JBW (1996) Structured clinical interview for axis I and II DSM-IV disorders: patient edition (SCID-IV/P). Biometrics Research Department, New York

Galderisi S, Davidson M, Kahn RS, Mucci A, Boter H, Gheorghe MD, Rybakowski JK, Libiger J, Dollfus S, Lopez-Ibor JJ, Peuskens J, Hranov LG, Fleischhacker WW (2009) Correlates of cognitive impairment in first episode schizophrenia: the EUFEST study. Schizophr Res 115:104–114

Harmer C, Cowen P, Goodwin G (2011) Efficacy markers in depression. J Psychopharmacol (Oxford, England) 25:1148–1158

Hunter MD, Ganesan V, Wilkinson ID, Spence SA (2006) Impact of modafinil on prefrontal executive function in schizophrenia. Am J Psychiatry 163:2184–2186

Husain M, Mehta MA (2011) Cognitive enhancement by drugs in health and disease. Trends Cogn Sci 15:28–36

Kaufman SB, Deyoung CG, Gray JR, Jimenez L, Brown J, Mackintosh N (2010) Implicit learning as an ability. Cognition 116:321–340

Loose R, Kaufmann C, Tucha O, Auer DP, Lange KW (2006) Neural networks of response shifting: influence of task speed and stimulus material. Brain Res 1090:146–155

MacLeod CM, Mathews A, Tata P (1986) Attentional bias in emotional disorders. J Abnorm Psychol 95:15–20

Marchant NL, Kamel F, Echlin K, Grice J, Lewis M, Rusted JM (2009) Modafinil improves rapid shifts of attention. Psychopharmacology (Berl) 202:487–495

Mehta MA, Owen AM, Sahakian BJ, Mavaddat N, Pickard JD, Robbins TW (2000) Methylphenidate enhances working memory by modulating discrete frontal and parietal lobe regions in the human brain. J Neurosci 20:RC65

Millan MJ, Agid Y, Brune M, Bullmore ET, Carter CS, Clayton NS, Connor R, Davis S, Deakin B, DeRubeis RJ, Dubois B, Geyer MA, Goodwin GM, Gorwood P, Jay TM, Joels M, Mansuy IM, Meyer-Lindenberg A, Murphy D, Rolls E, Saletu B, Spedding M, Sweeney J, Whittington M, Young LJ (2012) Cognitive dysfunction in psychiatric disorders: characteristics, causes and the quest for improved therapy. Nat Rev Drug Discov 11:141–168

Minzenberg MJ, Carter CS (2008) Modafinil: a review of neurochemical actions and effects on cognition. Neuropsychopharmacology 33:1477–1502

Muller U, Rowe JB, Rittman T, Lewis C, Robbins TW, Sahakian BJ (2013) Effects of modafinil on non-verbal cognition, task enjoyment and creative thinking in healthy volunteers. Neuropharmacology 64:490–495

Murphy SE, Longhitano CL, Ayres RE, Cowen PJ, Harmer CJ (2006) Tryptophan supplementation induces a positive bias in the processing of emotional material in healthy female volunteers. Psychopharmacology 187:121–130

Nelson HE (1982) National Adult Reading Test (NART): test manual. NFER-Nelson, Windsor

Nosek BA, Hawkins CB, Frazier RS (2011) Implicit social cognition: from measures to mechanisms. Trends Cogn Sci 15:152–159

Randall DC, Shneerson JM, Plaha KK, File SE (2003) Modafinil affects mood, but not cognitive function, in healthy young volunteers. Hum Psychopharmacol 18:163–173

Randall DC, Fleck NL, Shneerson JM, File SE (2004) The cognitive-enhancing properties of modafinil are limited in non-sleep-deprived middle-aged volunteers. Pharmacol Biochem Behav 77:547–555

Randall DC, Shneerson JM, File SE (2005a) Cognitive effects of modafinil in student volunteers may depend on IQ. Pharmacol Biochem Behav 82:133–139

Randall DC, Viswanath A, Bharania P, Elsabagh SM, Hartley DE, Shneerson JM, File SE (2005b) Does modafinil enhance cognitive performance in young volunteers who are not sleep-deprived? J Clin Psychopharmacol 25:175–179

Rasetti R, Mattay VS, Stankevich B, Skjei K, Blasi G, Sambataro F, Arrillaga-Romany IC, Goldberg TE, Callicot JH, Apud JA, Weinberger DR (2010) Modulatory effects of modafinil on neural circuits regulating emotion and cognition. Neuropsychopharmacology 35:2101–2109

Robbins TW, Arnsten AF (2009) The neuropsychopharmacology of fronto-executive function: monoaminergic modulation. Annu Rev Neurosci 32:267–287

Spielberger CD, Gorsuch RL, Lushene RD (1970) STAI manual. Consulting Psychologists Press, Palo Alto

Stacy AW, Wiers RW (2010) Implicit cognition and addiction: a tool for explaining paradoxical behavior. Annu Rev Clin Psychol 6:551–575

Sylvester CY, Wager TD, Lacey SC, Hernandez L, Nichols TE, Smith EE, Jonides J (2003) Switching attention and resolving interference: fMRI measures of executive functions. Neuropsychologia 41:357–370

Turner DC, Robbins TW, Clark L, Aron AR, Dowson J, Sahakian BJ (2003) Cognitive enhancing effects of modafinil in healthy volunteers. Psychopharmacology (Berl) 165:260–269

Turner DC, Clark L, Dowson J, Robbins TW, Sahakian BJ (2004a) Modafinil improves cognition and response inhibition in adult attention-deficit/hyperactivity disorder. Biol Psychiatry 55:1031–1040

Turner DC, Clark L, Pomarol-Clotet E, McKenna P, Robbins TW, Sahakian BJ (2004b) Modafinil improves cognition and attentional set shifting in patients with chronic schizophrenia. Neuropsychopharmacology 29:1363–1373

von Zerseen D, Strian F, Schwarz D (1974) Evaluation of depressive states, especially in longitudinal studies. In: Pichot B (ed) Psychological measurements in psychopharmacology. Karger, Basel

Watson D, Clarke LA, Tellegen A (1988) Development and validation of brief measures of positive and negative affect: the positive and negative affect schedule scales. J Personal Soc Psychol 54:1063–1070

Wiers RW, Teachman BA, De Houwer J (2007) Implicit cognitive processes in psychopathology: an introduction. J Behav Ther Exp Psychiatry 38:95–104
Conflicts of interest
CJH has acted as a consultant for the following companies: Servier, GSK, Astra-Zeneca. Lundbeck and P1vital. She also holds shares in P1vital and is on the advisory board. PJC has been a paid member of advisory boards of Eli Lilly, Lundbeck, Servier and Wyeth and has been a paid lecturer for Eli Lilly, Lundbeck, GlaxoSmithKline and Servier. He has received remuneration for scientific advice given to legal representatives of GlaxoSmithKline. AP, EP and MB report no conflicts of interest.
About this article
Cite this article
Pringle, A., Browning, M., Parsons, E. et al. Early markers of cognitive enhancement: developing an implicit measure of cognitive performance. Psychopharmacology 230, 631–638 (2013). https://doi.org/10.1007/s00213-013-3186-6
Received:

Accepted:

Published:

Issue Date:
Keywords
Cognitive enhancement

Modafinil

Set shifting