Abstract
Rationale
Numerous case reports have suggested that aripiprazole can worsen psychotic symptoms in schizophrenia.
Objectives
We reviewed reported cases which have suggested that aripiprazole can worsen psychotic symptoms in schizophrenia and evaluated each regarding quality of the causal relationship.
Methods
A systematic literature search was conducted on August 18, 2012, using the PubMed and the EMBASE. Twenty-two cases met the following inclusion criteria: (1) diagnosis of schizophrenia or schizoaffective disorder, (2) worsening of psychotic symptoms associated with aripiprazole, and (3) aripiprazole dose ≤30 mg/day. Information about the causal relationship between aripiprazole and increased psychotic symptoms was extracted. The quality of the causal relationship was evaluated according to the modified guidelines for evaluation of drug-associated events and classified as "questionable," "moderately suggestive," or "highly suggestive."
Results
Patients were chronic in at least 15 cases, and prior antipsychotic dose exceeded recommended guidelines in 19 cases. Psychotic symptoms worsened after simply adding aripiprazole to the current regimen in eight cases. Besides psychotic symptoms, increasing agitation (nine cases), aggression (11 cases), and/or activation (seven cases) were reported. Clinical resolution occurred after aripiprazole discontinuation in eight cases. Regarding causal relationship, 11 cases were classified as "highly suggestive," three as "moderately suggestive," and eight as "questionable".
Conclusions
Clinicians should be vigilant when adding aripiprazole to patients with chronic schizophrenia also receiving relatively high doses of other antipsychotics, and discontinuation of aripiprazole should be considered if psychotic symptoms and/or agitation/aggression/activation increase.
This is a preview of subscription content, log in to check access.
Access options
Buy single article
Instant access to the full article PDF.
US$ 39.95
Price includes VAT for USA
Subscribe to journal
Immediate online access to all issues from 2019. Subscription will auto renew annually.
US$ 199
This is the net price. Taxes to be calculated in checkout.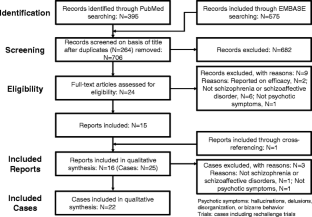 References
Adan-Manes J, Garcia-Parajua P (2009) Aripiprazole in combination with other antipsychotic drugs may worsen psychosis. J Clin Pharm Ther 34:245–246

Ahuja N, Lloyd AJ (2007) Aripiprazole and worsening of psychosis: a case report. J Clin Psychiatry 68:805–806

Aubry JM, Simon AE, Bertschy G (2000) Possible induction of mania and hypomania by olanzapine or risperidone: a critical review of reported cases. J Clin Psychiatry 61:649–655

Avari J, Mahgoub N, Alexopoulos GS (2011) Adding aripiprazole to clozapine worsened delusions and hallucinations: a case report. J Clin Psychopharmacol 31:528–531

Barnas ME, Hussain N, Petrides G (2005) Treatment-emergent psychosis with aripiprazole. J Clin Psychiatry 66:1339

Benyamina A, Samalin L (2012) Atypical antipsychotic-induced mania/hypomania: a review of recent case reports and clinical studies. Int J Psychiatry Clin Pract 16:2–7

Burke MJ, Lincoln J (2006) Aripiprazole and haloperidol: a clinically relevant interaction with a dopamine antagonist and partial agonist. Ann Clin Psychiatry 18:129–130

Burris KD, Molski TF, Xu C, Ryan E, Tottori K, Kikuchi T, Yocca FD, Molinoff PB (2002) Aripiprazole, a novel antipsychotic, is a high-affinity partial agonist at human dopamine D2 receptors. J Pharmacol Exp Ther 302:381–389

Chiu YH, Chen CH, Lu ML (2011) Worsening psychosis after adding aripiprazole to clozapine. Prog Neuropsychopharmacol Biol Psychiatry 35:291–292

Cho DY, Lindenmayer JP (2009) Aripiprazole-induced agitation after clozapine discontinuation: a case report. J Clin Psychiatry 70:141–143

DeLeon A, Patel NC, Crismon ML (2004) Aripiprazole: a comprehensive review of its pharmacology, clinical efficacy, and tolerability. Clin Ther 26:649–666

DeQuardo JR (2004) Worsened agitation with aripiprazole: adverse effect of dopamine partial agonism? J Clin Psychiatry 65:132–133

Ducroix C, Beghelli F, Rousset I, Vacheron MN (2008) Emergent mania with atypical antipsychotics: review of the literature about one case. Therapie 63:153–154

Fleischhacker WW, Heikkinen ME, Olie JP, Landsberg W, Dewaele P, McQuade RD, Loze JY, Hennicken D, Kerselaers W (2010) Effects of adjunctive treatment with aripiprazole on body weight and clinical efficacy in schizophrenia patients treated with clozapine: a randomized, double-blind, placebo-controlled trial. Int J Neuropsychopharmacol 13:1115–1125

Gardner DM, Murphy AL, O'Donnell H, Centorrino F, Baldessarini RJ (2010) International consensus study of antipsychotic dosing. Am J Psychiatry 167:686–693

Glick ID, Duggal V, Hodulik C (2006) Aripiprazole as a dopamine partial agonist: positive and negative effects. J Clin Psychopharmacol 26:101–103

Grover S, Sharan P, Gupta N (2006) Aripiprazole worsens psychosis: a case report. Prim Care Companion J Clin Psychiatry 8:380–381

Jaskiw GE, Popli AP (2004) A meta-analysis of the response to chronic l-dopa in patients with schizophrenia: therapeutic and heuristic implications. Psychopharmacology (Berl) 171:365–374

Kapusta ND, Mossaheb N, Barnas C, Fischer P (2007) Aripiprazole-induced psychosis: a case report of reexposure by stepwise up-titration. J Clin Psychiatry 68:1445–1446

Lea JW, Stoner SC, Lafollette J (2007) Agitation associated with aripiprazole initiation. Pharmacotherapy 27:1339–1342

Letmaier M, Painold A, Holl AK, Grohmann R, Vergin H (2012) Severe psychotic exacerbation during combined treatment with aripiprazole/haloperidol after prior treatment with risperidone. Int J Psychiatry Clin Pract 16:153–156

Lieberman JA, Kane JM, Alvir J (1987) Provocative tests with psychostimulant drugs in schizophrenia. Psychopharmacology (Berl) 91:415–433

Lin HC, Chong MY, Lee Y, Yeh WC, Lin PY (2009) Switching of antipsychotics to aripiprazole in the treatment of schizophrenia. Chang Gung Med J 32:409–416

Marder SR, McQuade RD, Stock E, Kaplita S, Marcus R, Safferman AZ, Saha A, Ali M, Iwamoto T (2003) Aripiprazole in the treatment of schizophrenia: safety and tolerability in short-term, placebo-controlled trials. Schizophr Res 61:123–136

Michalopoulou PG, Lykouras L (2006) Manic/hypomanic symptoms induced by atypical antipsychotics: a review of the reported cases. Prog Neuropsychopharmacol Biol Psychiatry 30:549–564

Moher D, Liberati A, Tetzlaff J, Altman DG (2009) Preferred reporting items for systematic reviews and meta-analyses: the PRISMA statement. BMJ 339:b2535

Moncrieff J (2006) Does antipsychotic withdrawal provoke psychosis? Review of the literature on rapid onset psychosis (supersensitivity psychosis) and withdrawal-related relapse. Acta Psychiatr Scand 114:3–13

Newcomer JW, Campos JA, Marcus RN, Breder C, Berman RM, Kerselaers W, L'Italien GJ, Nys M, Carson WH, McQuade RD (2008) A multicenter, randomized, double-blind study of the effects of aripiprazole in overweight subjects with schizophrenia or schizoaffective disorder switched from olanzapine. J Clin Psychiatry 69:1046–1056

Padala PR, Wengel SP, Petty F (2007) Manic episode during treatment with aripiprazole. Am J Psychiatry 164:172–173

Ponde MP, Novaes CM (2007) Aripiprazole worsening positive symptoms and memantine reducing negative symptoms in a patient with paranoid schizophrenia. Rev Bras Psiquiatr 29:92

Rachid F, Bertschy G, Bondolfi G, Aubry JM (2004) Possible induction of mania or hypomania by atypical antipsychotics: an updated review of reported cases. J Clin Psychiatry 65:1537–1545

Raja M (2007) Improvement or worsening of psychotic symptoms after treatment with low doses of aripiprazole. Int J Neuropsychopharmacol 10:107–110

Ramaswamy S, Vijay D, William M, Sattar SP, Praveen F, Petty F (2004) Aripiprazole possibly worsens psychosis. Int Clin Psychopharmacol 19:45–48

Reeves RR, Mack JE (2004) Worsening schizoaffective disorder with aripiprazole. Am J Psychiatry 161:1308

Shim JC, Shin JG, Kelly DL, Jung DU, Seo YS, Liu KH, Shon JH, Conley RR (2007) Adjunctive treatment with a dopamine partial agonist, aripiprazole, for antipsychotic-induced hyperprolactinemia: a placebo-controlled trial. Am J Psychiatry 164:1404–1410

Silvestri S, Seeman MV, Negrete JC, Houle S, Shammi CM, Remington GJ, Kapur S, Zipursky RB, Wilson AA, Christensen BK, Seeman P (2000) Increased dopamine D2 receptor binding after long-term treatment with antipsychotics in humans: a clinical PET study. Psychopharmacology (Berl) 152:174–180

Stroup TS, McEvoy JP, Ring KD, Hamer RH, LaVange LM, Swartz MS, Rosenheck RA, Perkins DO, Nussbaum AM, Lieberman JA (2011) A randomized trial examining the effectiveness of switching from olanzapine, quetiapine, or risperidone to aripiprazole to reduce metabolic risk: comparison of antipsychotics for metabolic problems (CAMP). Am J Psychiatry 168:947–956

Takeuchi H, Uchida H, Suzuki T, Watanabe K, Kashima H (2009) Predictors of clinical worsening after a switch to aripiprazole in patients with schizophrenia: a 1-year naturalistic follow-up study. J Clin Psychopharmacol 29:394–395

Traber R, Schneiter R, Modestin J (2007) A case of aripiprazole-induced mania. Pharmacopsychiatry 40:37–38
Conflict of interest
Dr. Takeuchi has received fellowship grants from the Japanese Society of Clinical Neuropsychopharmacology and Astellas Foundation for Research on Metabolic Disorders, speaker's honoraria from Dainippon Sumitomo Pharma, Eli Lilly, GlaxoSmithKline, Janssen Pharmaceutical, Meiji Seika Pharma, and Otsuka Pharmaceutical, and manuscript fees from Dainippon Sumitomo Pharma within the past 5 years. Dr. Remington has received research support from Novartis, Medicure, and Neurocrine Bioscience, consultant fees from Roche, and speaker's fees from Novartis. He holds no commercial investments in any pharmaceutical company within the past 5 years.
About this article
Cite this article
Takeuchi, H., Remington, G. A systematic review of reported cases involving psychotic symptoms worsened by aripiprazole in schizophrenia or schizoaffective disorder. Psychopharmacology 228, 175–185 (2013). https://doi.org/10.1007/s00213-013-3154-1
Received:

Accepted:

Published:

Issue Date:
Keywords
Aripiprazole

Psychotic symptoms

Worsening

Antipsychotics

Schizophrenia