Abstract
Rationale
It is well established that alcohol acutely impairs the ability to inhibit a pre-potent response (motor impulsivity), but its effects on cognitive impulsivity, including temporal (delayed gratification) and reflection (decision making) impulsivity, are not clear. An important factor contributing to the effects of alcohol is cognitive expectancies of alcohol-related outcomes.
Objectives
The current study investigated the effect of alcohol, and alcohol outcome expectancies, on subtypes of impulsivity.
Methods
Impulsivity was tested using the Stop Signal, the Single Key Impulsivity and the Information Sampling Task for motor, temporal and reflection impulsivity, respectively. Participants (n = 48) received placebo, a low (0.4 g/kg) or high dose (0.8 g/kg) of alcohol, before completing the impulsivity measures.
Results
Motor impulsivity was affected by alcohol dose; participants receiving a high dose displayed reduced inhibitory control. Reflection impulsivity was affected by cognitive alcohol expectancies, but not by alcohol condition; participants expecting greater cognitive and behavioural impairment by alcohol exhibited low impulsivity. Temporal impulsivity was not affected by either alcohol dose or outcome expectancies.
Conclusions
These data suggest that the effects of alcohol on the subtypes of impulsivity are dissociable. Motor impulsivity is sensitive to the pharmacological effects of alcohol, whereas the reflection subtype is affected by cognitive alcohol expectancies. The findings have implications for the understanding of impulsive behaviour under the influence of alcohol.
This is a preview of subscription content, log in to check access.
Access options
Buy single article
Instant access to the full article PDF.
US$ 39.95
Price includes VAT for USA
Subscribe to journal
Immediate online access to all issues from 2019. Subscription will auto renew annually.
US$ 199
This is the net price. Taxes to be calculated in checkout.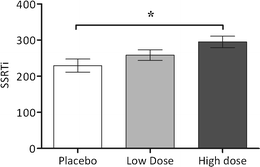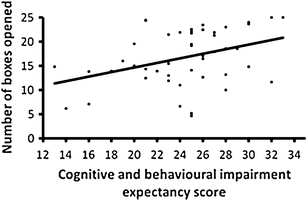 References
Ainslie G (1975) Specious reward: a behavioral theory of impulsiveness and impulse control. Psychol Bull 82(4):463–496

Beck AT, Steer RA, Ball R, Ranieri WF (1996) Comparison of Beck Depression Inventories-IA and-II in psychiatric outpatients. J Personal Assess 67(3):588–597

Carreto-Dios H, De los Santos-Roig M, Buela-Casal G (2009) Role of the matching familiar figures test-20 in the analysis of theoretical validity of the reflection-impulsivity: a study with personality. Int J Psychol Res 2(1):6–15

Caswell A, Morgan MJ, Duka T (2013) Inhibitory control contributes to "motor"—but not "cognitive"—impulsivity. Exp Psychol (in press)

Clark L, Robbins TW, Ersche KD, Sahakian BJ (2006) Reflection impulsivity in current and former substance users. Biol Psychiatry 60(5):515–522

Congdon E, Canli T (2008) A neurogenetic approach to impulsivity. J Pers 76(6):1447–1484

Dalley JW, Everitt BJ, Robbins TW (2011) Impulsivity, compulsivity, and top-down cognitive control. Neuron 69(4):680–694

de Wit H, Crean J, Richards JB (2000) Effects of d-amphetamine and ethanol on a measure of behavioral inhibition in humans. Behav Neurosci 114(4):830–837

Dougherty DM, Mathias CW, Marsh DM, Jagar AA (2005) Laboratory behavioral measures of impulsivity. Behav Res Methods 37(1):82–90

Dougherty DM, Marsh-Richard DM, Hatzis ES, Nouvion SO, Mathias CW (2008) A test of alcohol dose effects on multiple behavioral measures of impulsivity. Drug Alcohol Depend 96(1–2):111–120

Duka T, Stephens DN, Russell C, Tasker R (1998) Discriminative stimulus properties of low doses of ethanol in humans. Psychopharmacology (Berl) 136(4):379–389

Eagle DM, Baunez C, Hutcheson DM, Lehmann O, Shah AP, Robbins TW (2008) Stop-signal reaction-time task performance: role of prefrontal cortex and subthalamic nucleus. Cereb Cortex 18(1):178–188

Enticott PG, Ogloff JRP, Bradshaw JL (2006) Associations between laboratory measures of executive inhibitory control and self-reported impulsivity. Personal Individ Differ 41(2):285–294

Evenden JL (1999) Varieties of impulsivity. Psychopharmacology (Berl) 146(4):348–361

Fillmore MT, Blackburn J (2002) Compensating for alcohol-induced impairment: alcohol expectancies and behavioral disinhibition. J Stud Alcohol 63(2):237–246

Fillmore MT, Vogelsprott M (1995) Expectancies about alcohol-induced motor impairment predict individual-differences in responses to alcohol and placebo. J Stud Alcohol 56(1):90–98

Fillmore MT, Vogel-Sprott M (1995a) Behavioral effects of alcohol in novice and experienced drinkers: alcohol expectancies and impairment. Psychopharmacology (Berl) 122(2):175–181

Fillmore MT, Vogel-Sprott M (1995b) Expectancies about alcohol-induced motor impairment predict individual differences in responses to alcohol and placebo. J Stud Alcohol 56(1):90–98

Fillmore MT, Vogel-Sprott M (1998) Behavioral impairment under alcohol: cognitive and pharmacokinetic factors. Alcohol Clin Exp Res 22(7):1476–1482

Fillmore MT, Vogel-Sprott M (1999) An alcohol model of impaired inhibitory control and its treatment in humans. Exp Clin Psychopharmacol 7(1):49–55

Fillmore MT, Carscadden JL, Vogel-Sprott M (1998) Alcohol, cognitive impairment and expectancies. J Stud Alcohol 59(2):174–179

Flory JD, Harvey PD, Mitropoulou V, New AS, Silverman JM, Siever LJ et al (2006) Dispositional impulsivity in normal and abnormal samples. J Psychiatr Res 40(5):438–447

Fromme K, Stroot E, Kaplan D (1993) Comprehensive effects of alcohol: development and psychometric assessment of a new expectancy questionnaire. Psychol Assess 5(1):19–26

George S, Rogers RD, Duka T (2005) The acute effect of alcohol on decision making in social drinkers. Psychopharmacology (Berl) 182(1):160–169

Gustafson R, Kallmen H (1990) Alcohol and the compensation hypothesis: a test with cognitive and psychomotor tasks. Percept Mot Skills 71(3 Pt 2):1367–1374

Jones BT, Corbin W, Fromme K (2001) A review of expectancy theory and alcohol consumption. Addiction 96(1):57–72

Kagan J (1965) Individual differences in the resolution of response uncertainty. J Pers Soc Psychol 56:154–160

Kirby KN, Petry NM, Bickel WK (1999) Heroin addicts have higher discount rates for delayed rewards than non-drug-using controls. J Exp Psychol Gen 128(1):78–87

Lawrence AJ, Luty J, Bogdan NA, Sahakian BJ, Clark L (2009) Impulsivity and response inhibition in alcohol dependence and problem gambling. Psychopharmacology (Berl) 207(1):163–172

Loeber S, Duka T (2009) Acute alcohol impairs conditioning of a behavioural reward-seeking response and inhibitory control processes—implications for addictive disorders. Addiction 104(12):2013–2022

Logan GD (1994) On the ability to inhibit thought and action: a users' guide to the stop signal paradigm. In: Inhibitory processes in attention, memory, and language. Academic Press, San Diego, pp. 189–239

Marczinski CA, Fillmore MT (2005) Compensating for alcohol-induced impairment of control: effects on inhibition and activation of behavior. Psychopharmacology (Berl) 181(2):337–346

Merrill JE, Wardell JD, Read JP (2009) Is expectancy reality? Associations between tension reduction beliefs and mood following alcohol consumption. Exp Clin Psychopharmacol 17(6):434–444

Mulvihill LE, Skilling TA, Vogel-Sprott M (1997) Alcohol and the ability to inhibit behavior in men and women. J Stud Alcohol 58(6):600–605

Nelson HE, O'Connell A (1978) Dementia: the estimation of premorbid intelligence levels using the New Adult Reading Test. Cortex 14(2):234–244

Ortner CN, MacDonald TK, Olmstead MC (2003) Alcohol intoxication reduces impulsivity in the delay-discounting paradigm. Alcohol Alcohol 38(2):151–156

Pattij T, Vanderschuren LJ (2008) The neuropharmacology of impulsive behaviour. Trends Pharmacol Sci 29(4):192–199

Patton JH, Stanford MS, Barratt ES (1995) Factor structure of the Barratt impulsiveness scale. J Clin Psychol 51(6):768–774

Ramaekers JG, Kuypers KP (2006) Acute effects of 3,4-methylenedioxymethamphetamine (MDMA) on behavioral measures of impulsivity: alone and in combination with alcohol. Neuropsychopharmacology 31(5):1048–1055

Ray Li C-S, Yan P, Sinha R, Lee T-W (2008) Subcortical processes of motor response inhibition during a stop signal task. NeuroImage 41(4):1352–1363

Reynolds B, Richards JB, de Wit H (2006) Acute-alcohol effects on the Experiential Discounting Task (EDT) and a question-based measure of delay discounting. Pharmacol Biochem Behav 83(2):194–202

Richards JB, Zhang L, Mitchell SH, de Wit H (1999) Delay or probability discounting in a model of impulsive behavior: effect of alcohol. J Exp Anal Behav 71(2):121–143

Rose AK, Duka T (2007) The influence of alcohol on basic motoric and cognitive disinhibition. Alcohol Alcohol 42(6):544–551

Strakowski SM, Fleck DE, DelBello MP, Adler CM, Shear PK, McElroy SL et al (2009) Characterizing impulsivity in mania. Bipolar Disord 11(1):41–51

Swann AC, Lijffijt M, Lane SD, Steinberg JL, Moeller FG (2009) Trait impulsivity and response inhibition in antisocial personality disorder. J Psychiatr Res 43(12):1057–1063

Townshend JM, Duka T (2002) Patterns of alcohol drinking in a population of young social drinkers: a comparison of questionnaire and diary measures. Alcohol Alcohol 37(2):187–192

Townshend JM, Duka T (2005) Binge drinking, cognitive performance and mood in a population of young social drinkers. Alcohol Clin Exp Res 29(3):317–325

Verbruggen F, Chambers CD, Logan GD (2013) Fictitious inhibitory differences: how skewness and slowing distort the estimation of 755 stopping latencies. Psychol Sci 24: 352–362

Williams RM, Goldman MS, Williams DL (1981) Expectancy and pharmacological effects of alcohol on human cognitive and motor performance: the compensation for alcohol effect. J Abnorm Psychol 90(3):267–270

Winstanley CA, Eagle DM, Robbins TW (2006) Behavioral models of impulsivity in relation to ADHD: translation between clinical and preclinical studies. Clin Psychol Rev 26(4):379–395
Acknowledgments
This work was supported by Alcohol Research UK and the University of Sussex on a PhD studentship, and by Medical Research Council Project Grant G0802642 to TD. The authors wish to thank Dr. Kyriaki Nikolaou for help with the use of the Stop Signal Task. The experiment complies with ethical standards laws of the UK.
Conflict of interest
The authors declare no potential conflict of interest.
About this article
Cite this article
Caswell, A.J., Morgan, M.J. & Duka, T. Acute alcohol effects on subtypes of impulsivity and the role of alcohol-outcome expectancies. Psychopharmacology 229, 21–30 (2013). https://doi.org/10.1007/s00213-013-3079-8
Received:

Accepted:

Published:

Issue Date:
Keywords
Impulsive behaviour

Ethanol

Alcohol outcome expectancies

Reflection impulsivity

Temporal impulsivity

Motor impulsivity