Abstract
Rationale
The endocannabinoid system has been implicated in the pathogenesis of major depression (MD) as well as in the mediation of antidepressant drug effects.
Objectives
To analyze CNR1 gene variants in MD and clinical response to citalopram (selective serotonin re-uptake inhibitors [SSRI]).
Methods
The role of CNR1 gene (rs806368, rs1049353, rs806371, rs806377 and rs1535255) was investigated in 319 outpatients with MD and 150 healthy individuals. A subsample of 155 depressive patients were treated with citalopram and evaluated for response (fourth week) and remission (12th week) by the 21-item Hamilton Depression Rating Scale (HDRS).
Results
We observed a higher frequency of rs806371 G carriers in MD patients with both presence of melancholia (p = 0.018) and psychotic symptoms (p = 0.007) than in controls. Haplotype frequency distributions between MD sample and controls showed a significant difference for Block 1 (rs806368–rs1049353–rs806371) (p = 0.008). This haplotype finding was consistent when we compared controls with MD subsample stratified by melancholia (p = 0.0009) and psychotic symptoms (p = 0.014). The TT homozygous of the rs806368 and rs806371 presented more risk of no Remission than the C carriers (p = 0.008 and 0.012, respectively). Haplotype frequency distributions according to Remission status showed a significant difference for Block 1 (p = 0.032). Also, we observed significant effect of time–sex–genotype interaction for the rs806368, showing that the C carrier men presented a better response to antidepressant treatment throughout the follow-up than TT homozygous men and women group (p = 0.026).
Conclusions
These results suggest an effect of CNR1 gene in the etiology of MD and clinical response to citalopram.
This is a preview of subscription content, log in to check access.
Access options
Buy single article
Instant access to the full article PDF.
US$ 39.95
Tax calculation will be finalised during checkout.
Subscribe to journal
Immediate online access to all issues from 2019. Subscription will auto renew annually.
US$ 199
Tax calculation will be finalised during checkout.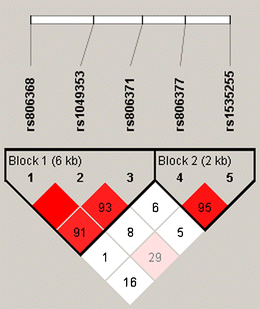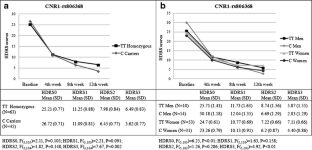 References
Adamczyk P, Golda A, McCreary AC, Filip M, Przegalinski E (2008) Activation of endocannabinoid transmission induces antidepressant-like effects in rats. J Physiol Pharmacol 59:217–28

Agrawal A, Wetherill L, Dick DM, Xuei X, Hinrichs A, Hesselbrock V, Kramer J, Nurnberger JI Jr, Schuckit M, Bierut LJ, Edenberg HJ, Foroud T (2009) Evidence for association between polymorphisms in the cannabinoid receptor 1 (CNR1) gene and cannabis dependence. Am J Med Genet B Neuropsychiatr Genet 150B:736–40

Arias B, Serretti A, Mandelli L, Gasto C, Catalan R, Ronchi DD, Fananas L (2009) Dysbindin gene (DTNBP1) in major depression: association with clinical response to selective serotonin reuptake inhibitors. Pharmacogenet Genomics 19:121–128

Arranz MJ, Kapur S (2008) Pharmacogenetics in psychiatry: are we ready for widespread clinical use? Schizophr Bull 34:1130–1144

Barna I, Zelena D, Arszovszki AC, Ledent C (2004) The role of endogenous cannabinoids in the hypothalamo-pituitary-adrenal axis regulation: in vivo and in vitro studies in CB1 receptor knockout mice. Life Sci 75:2959–2970

Barret O, Carpenter TA, Clark JC, Ansorge RE, Fryer TD (2005) Monte Carlo simulation and scatter correction of the GE advance PET scanner with SimSET and Geant4. Phys Med Biol 50:4823–40

Barrett JC, Fry B, Maller J, Daly MJ (2005) Haploview: analysis and visualization of LD and haplotype maps. Bioinformatics 21:263–5

Baumann P, Nil R, Souche A, Montaldi S, Baettig D, Lambert S, Uehlinger C, Kasas A, Amey M, Jonzier-Perey M (1996) A double-blind, placebo-controlled study of citalopram with and without lithium in the treatment of therapy-resistant depressive patients: a clinical, pharmacokinetic, and pharmacogenetic investigation. J Clin Psychopharmacol 16:307–14

Belanoff JK, Flores BH, Kalezhan M, Sund B, Schatzberg AF (2001) Rapid reversal of psychotic depression using mifepristone. J Clin Psychopharmacol 21:516–21

Biver F, Lotstra F, Monclus M, Wikler D, Damhaut P, Mendlewicz J, Goldman S (1996) Sex difference in 5HT2 receptor in the living human brain. Neurosci Lett 204:25–8

Cardon LR, Bell JI (2001) Association study designs for complex diseases. Nat Rev Genet 2:91–9

Carter GC, Cantrell RA, Victoria Z, Haynes VS, Phillips G, Alatorre CI, Goetz I, Paczkowski R, Marangell LB (2012) Comprehensive review of factors implicated in the heterogeneity of response in depression. Depress Anxiety 29:340–54

Caspi A, Sugden K, Moffitt TE, Taylor A, Craig IW, Harrington H, McClay J, Mill J, Martin J, Braithwaite A, Poulton R (2003) Influence of life stress on depression: moderation by a polymorphism in the 5-HTT gene. Science 301:386–9

Cohen J (1988) Statistical power analysis for the behavioral sciences. New Jersey, Hillsdale, pp 8–14

Cota D, Marsicano G, Tschop M, Grubler Y, Flachskamm C, Schubert M, Auer D, Yassouridis A, Thone-Reineke C, Ortmann S, Tomassoni F, Cervino C, Nisoli E, Linthorst ACE, Pasquali R, Lutz B, Stalla GK, Pagotto U (2003) The endogenous cannabinoid system affects energy balance via central orexigenic drive and peripheral lipogenesis. J Clin Invest 112:423–431

Christensen R, Kristensen PK, Bartels EM, Blidda H, Astrup A (2007) Efficacy and safety of the weight-loss drug rimonabant: a meta-analysis of randomised trials. Lancet 370:1706–1713

Dean AG, Dean JA, Burton AH, Dicker RC (1991) Epi Info: a general-purpose microcomputer program for public health information systems. Am J Prev Med 7:178–82

Di S, Malcher-Lopes R, Halmos KC, Tasker JG (2003) Nongenomic glucocorticoid inhibition via endocannabinoid release in the hypothalamus: a fast feedback mechanism. J Neurosci 23:4850–7

Domschke K, Danniowski U, Ohrmann P, Lawford B, Bauer J, Kugel H, Heindel W, Young R, Morris P, Arolt V, Deckert J, Suslow T, Baune BT (2008) Cannabinoid receptor 1 (CNR1) gene: impact on antidepressant treatment response and emotion processing in Major Depression. Eur Neuropsychopharmacol 18:751–759

Frank E, Prien RF, Jarrett RB, Keller MB, Kupfer DJ, Lavori PW, Rush AJ, Weissman MM (1991) Conceptualization and rationale for consensus definitions of terms in major depressive disorder. Remission, recovery, relapse, and recurrence. Arch Gen Psychiatry 48:851–5

Freedman ML, Reich D, Penney KL, McDonald GJ, Mignault AA, Patterson N, Gabriel SB, Topol EJ, Smoller JW, Pato CN, Pato MT, Petryshen TL, Kolonel LN, Lander ES, Sklar P, Henderson B, Hirschhorn JN, Altshuler D (2004) Assessing the impact of population stratification on genetic association studies. Nat Genet 36:388–93

Gobbi G, Bambico FR, Mangieri R, Bortolato M, Campolongo P, Solinas M, Cassano T, Morgese MG, Debonnel G, Duranti A, Tontini A, Tarzia G, Mor M, Trezza V, Goldberg SR, Cuomo V, Piomelli D (2005) Antidepressant-like activity and modulation of brain monoaminergic transmission by blockade of anandamide hydrolysis. Proc Natl Acad Sci USA 102:18620–18625

Goldberg DP, Hillier VF (1979) Scaled version of the General Health Questionnaire. Psychol Med 9:139–145

Gonzalez S, Bisogno T, Wenger T, Manzanares J, Milone A, Berrendero F, Di Marzo V, Ramos JA, Fernandez-Ruiz JJ (2000) Sex steroid influence on cannabinoid CB1 receptor mRNA and endocannabinoid levels in the anterior pituitary gland. Biochem Biophys Res Commun 270:260–266

Hasler G, Drevets WC, Manji HK, Charney DS (2004) Discovering endophenotypes for major depression. Neuropsychopharmacology 29:1765–1781

Herkenham M (1991) Characterization and localization of cannabinoid receptors in brain: an in vitro technique using slide-mounted tissue sections. NIDA Res Monogr 112:129–45

Hill MN, Gorzalka BB (2005a) Pharmacological enhancement of cannabinoid CB1 receptor activity elicits an antidepressant-like response in the rat forced swim test. Eur Neuropsychopharmacol 15:593–599

Hill MN, Gorzalka BB (2005b) Is there a role for the endocannabinoid system in the etiology and treatment of melancholic depression? Behav Pharmacol 16:333–352

Hill MN, Ho WS, Sinopoli KJ, Viau V, Hillard CJ, Gorzalka BB (2006) Involvement of the endocannabinoid system in the ability of long-term tricyclic antidepressant treatment to suppress stress-induced activation of the hypothalamic–pituitary–adrenal axis. Neuropsychopharmacology 31:2591–9

Hill MN, Karacabeyli ES, Gorzalka BB (2007) Estrogen recruits the endocannabinoid system to modulate emotionality. Psychoneuroendocrinology 32:350–357

Hill MN, Miller GE, Carrier EJ, Gorzalka BB, Hillard CJ (2009) Circulating endocannabinoids and N-acyl ethanolamines are differentially regulated in major depression and following exposure to social stress. Psychoneuroendocrinology 34:1257–1262

Hungund BL, Vinod KY, Kassir SA, Basavarajappa BS, Yalamanchili R, Cooper TB, Mann JJ, Arango V (2004) Upregulation of CB1 receptors and agonist-stimulated S-35 GTP gamma S binding in the prefrontal cortex of depressed suicide victims. Mol Psychiatry 9:184–190

Kendler KS (1997) The diagnostic validity of melancholic major depression in a population-based sample of female twins. Arch Gen Psychiatry 54:299–304

Kendler KS, Gardner CO, Neale MC, Prescott CA (2001) Genetic risk factors for major depression in men and women: similar or different heritabilities and same or partly distinct genes? Psychol Med 31:605–16

Klengel T, Binder EB (2011) Using gene–environment interactions to target personalized treatment in mood disorder. Personalized Medicine 8:23–34

Koethe D, Llenos IC, Dulay JR, Hoyer C, Torrey EF, Leweke FM, Weis S (2007) Expression of CB1 cannabinoid receptor in the anterior cingulate cortex in schizophrenia, bipolar disorder, and major depression. J Neural Transm 114:1055–1063

Komar AA (2007) Genetics. SNPs, silent but not invisible. Science 315:466–7

Lai CH (2011) Major Depressive disorder gender differences in symptoms, life quality, and sexual function. J Clin Psychopharmacol 31:39–44

Legato MJ (2010) The skewed sex distribution in affective disorders—a diagnostic, social, or biological problem? Prog Brain Res 186:159–66

Lingjaerde O, Ahlfors UG, Bech P, Dencker SJ, Elgen K (1987) The UKU side effect rating scale. A new comprehensive rating scale for psychotropic drugs and a cross-sectional study of side effects in neuroleptic-treated patients. Acta Psychiatr Scand Suppl 334:1–100

Martin M, Ledent C, Parmentier M, Maldonado R, Valverde O (2002) Involvement of CB1 cannabinoid receptors in emotional behaviour. Psychopharmacology 159:379–387

Mitjans M, Gasto C, Catalan R, Fananas L, Arias B (2012) Genetic variability in the endocannabinoid system and 12-week clinical response to citalopram treatment: the role of the CNR1, CNR2 and FAAH genes. J Psychopharmacol 26:1391–8

Monteleone P, Bifulco M, Maina G, Tortorella A, Gazzerro P, Proto MC, Di Filippo C, Monteleone F, Canestrelli B, Buonerba G, Bogetto F, Maj M (2010) Investigation of CNR1 and FAAH endocannabinoid gene polymorphisms in bipolar disorder and major depression. Pharmacol Res 61:400–404

Nishizawa S, Benkelfat C, Young SN, Leyton M, Mzengeza S, de Montigny C, Blier P, Diksic M (1997) Differences between males and females in rates of serotonin synthesis in human brain. Proc Natl Acad Sci USA 94:5308–13

Olesen OV, Linnet K (1996) Simplified high-performance liquid chromatographic method for the determination of citalopram and desmethylcitalopram in serum without interference from commonly used psychotropic drugs and their metabolites. J Chromatogr B Biomed Appl 675:83–8

Patel S, Roelke CT, Rademacher DJ, Cullinan WE, Hillard CJ (2004) Endocannabinoid signaling negatively modulates stress-induced activation of the hypothalamic–pituitary–adrenal axis. Endocrinology 145:5431–8

Rasmussen-Torvik LJ, McAlpine DD (2007) Genetic screening for SSRI drug response among those with major depression: great promise and unseen perils. Depress Anxiety 24:350–7

Reus VI, Wolkowitz OM (2001) Antiglucocorticoid drugs in the treatment of depression. Expert Opin Investig Drugs 10:1789–1796

Rodriguez de Fonseca F, del Arco I, Bermudez-Silva FJ, Bilbao A, Cippitelli A, Navarro M (2005) The endocannabinoid system: physiology and pharmacology. Alcohol Alcohol 40:2–14

Sauna ZE, Kimchi-Sarfaty C, Ambudkar SV, Gottesman MM (2007) Silent polymorphisms speak: how they affect pharmacogenomics and the treatment of cancer. Cancer Res 67:9609–12

Schaid DJ, Rowland CM, Tines DE, Jacobson RM, Poland GA (2002) Score tests for association between traits and haplotypes when linkage phase is ambiguous. Am J Hum Genet 70:425–434

Serretti A, Kato M, Kennedy JL (2008) Pharmacogenetic studies in depression: a proposal for methodologic guidelines. Pharmacogenomics J 8:90–100

Spitzer RL WJ, Gibbon M, First MEB (1990) Structured clinical interview for Dsm-Iii-R. Washington, DC: American Psychiatric Press

Tang K, Fu DJ, Julien D, Braun A, Cantor CR, Koster H (1999) Chip-based genotyping by mass spectrometry. Proc Natl Acad Sci USA 96:10016–10020

Uher R (2011) Genes, environment, and individual differences in responding to treatment for depression. Harv Rev Psychiatry 19:109–24

van der Sluis S, Verhage M, Posthuma D, Dolan CV (2010) Phenotypic complexity, measurement bias, and poor phenotypic resolution contribute to the missing heritability problem in genetic association studies. PLoS One 5:e13929

Vermeiden M, van den Broek WW, Mulder PGH, Birkenhager TK (2010) Influence of gender and menopausal status on antidepressant treatment response in depressed inpatients. J Psychopharmacol 24:497–502

Weidenfeld J, Feldman S, Mechoulam R (1994) effect of the brain constituent anandamide, a cannabinoid receptor agonist, on the hypothalamo–pitutary–adrenal axis in the rat. Neuroendocrinology 59:110–112

Weissman MM, Bland RC, Canino GJ, Faravelli C, Greenwald S, Hwu HG, Joyce PR, Karam EG, Lee CK, Lellouch J, Lepine JP, Newman SC, Rubio-Stipec M, Wells JE, Wickramaratne PJ, Wittchen H, Yeh EK (1996) Cross-national epidemiology of major depression and bipolar disorder. JAMA 276:293–9

Winokur G (1997) All roads lead to depression: clinically homogeneous, etiologically heterogeneous. J Affect Disord 45:97–108

Zuo L, Kranzler HR, Luo X, Covault J, Gelernter J (2007) CNR1 variation modulates risk for drug and alcohol dependence. Biol Psychiatry 62:616–26
Acknowledgments
This study was supported through research projects funded by the Ministry of Science and Innovation (SAF2008-05674-C03-00/03, FIS07/0815 and IT2009-0016), the Institute of Health Carlos III, CIBER of Mental Health (CIBERSAM), the Comissionat per a Universitats I Recerca del DIUE of the Generalitat de Catalunya (2009SGR827) and the Ministero dell'Istruzione, dell'Università e della Ricerca, Italy (IT107CB8DC).
About this article
Cite this article
Mitjans, M., Serretti, A., Fabbri, C. et al. Screening genetic variability at the CNR1 gene in both major depression etiology and clinical response to citalopram treatment. Psychopharmacology 227, 509–519 (2013). https://doi.org/10.1007/s00213-013-2995-y
Received:

Accepted:

Published:

Issue Date:
Keywords
Endocannabinoid system

Major depression

Clinical response

Selective serotonin reuptake inhibitors