Abstract
Rationale
It is well established that nicotine improves, and deprivation impairs, cognitive performance and mood in smokers. Prospective memory (PM), remembering to execute a delayed intention at a given time point, is under-explored in smokers. Whilst a handful of studies have shown improved PM with nicotine, the effects of nicotine delivered via the electronic cigarette (e-cigarette) have not been investigated.
Objective
This study explores whether, by comparison with placebo, nicotine delivered via the e-cigarette can improve PM, tobacco withdrawal symptoms and desire to smoke in abstinent smokers.
Methods
Twenty smokers, abstinent for 8–10 h, each completed two experimental sessions under nicotine (18 mg) and placebo (0 mg) e-cigarette conditions. Participants completed a single-item desire-to-smoke scale and the Mood and Physical Symptoms Scale. PM was measured using the Cambridge Prospective Memory Test.
Results
Compared with placebo, the nicotine e-cigarette reduced the desire to smoke and tobacco withdrawal symptoms, and improved time-based but not event-based PM. There was a moderate, marginally significant negative correlation between PM performance during abstinence and nicotine dependence.
Conclusions
This is the first study to show that nicotine derived via e-cigarette can improve PM in abstinent smokers, suggesting efficient nicotine delivery. The finding that the effect of nicotine was restricted to time-based rather than event-based PM is consistent with the view that nicotine acts to improve performance on strategic (effortful) rather than automatic processing. These findings add to the growing body of evidence that the e-cigarette can replace some of the effects of nicotine derived from tobacco smoking, thus highlighting its potential for smoking cessation.
Access options
Buy single article
Instant access to the full article PDF.
USD 39.95
Price excludes VAT (USA)
Tax calculation will be finalised during checkout.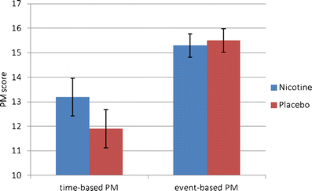 References
Ahnallen CG, Nestor PG, Shenton ME, McCarley RW, Niznikiewicz MA (2008) Early nicotine withdrawal and transdermal nicotine effects on neurocognitive performance in schizophrenia. Schizophr Res 100:261–269

Altmann J, Everitt BJ, Glautier S, Markou A, Nutt D, Oretti R, Phillips GD, Robbins TW (1996) The biological, social and clinical bases of drug addiction: commentary and debate. Psychopharmacology 125:285–345

American Psychiatric Association (2000) The diagnostic and statistical manual of mental disorders. 4th ed. text revision. American Psychiatric Association, Washington

Atzori G, Lemmonds CA, Kotler ML, Durcan MJ, Boyle J (2008) Efficacy of a nicotine (4 mg) containing lozenge on the cognitive impairment of nicotine withdrawal. J Clin Psychopharmacol 28:667–674

Bates T, Mangan G, Stough C, Corballis P (1995) Smoking, processing speed and attention in a choice reaction time task. Psychopharmacology 120:209–212

Bell SL, Taylor RC, Singleton EG, Henningfield JE, Heishman SJ (1999) Smoking after nicotine deprivation enhances cognitive performance and decreases tobacco craving in drug abusers. Nicotine Tob Res 1:45–52

Bullen C, McRobbie H, Thornley S, Glover M, Lin R, Langesen M (2010) Effect of an electronic nicotine delivery device (e cigarette) on desire to smoke and withdrawal, user preferences and nicotine delivery: randomised cross-over trial. Tob Control 19:98–103

Burgess PW, Gonen-Yaacovi G, Volle E (2011) Functional neuroimaging studies of prospective memory: what have we learnt so far? Neuropsychologia 49:2245–2257

Cook MR, Gerkovich MM, Graham C, Hoffman SJ, Peterson RC (2003) Effects of nicotine patch on performance during the first week of smoking cessation. Nicotine Tob Res 5:169–180

Dawkins L, Powell J, Pickering A, West R, Powell J (2007) A double-blind placebo-controlled experimental study of nicotine: II – effects on response inhibition and executive functioning. Psychopharmacology 190:457–467

Dawkins L, Turner J, Hasna S, Soar K (2012) The electronic-cigarette: effects on desire to smoke, mood and cognition. Addict Behav 37:970–973

Di Matteo V, Pierucci M, Di Giovanni G, Benigno A, Esposito E (2007) The neurobiological bases for the pharmacotherapy of nicotine addiction. Curr Pharm Des 13:1269–1284

Edginton T, Rusted JM (2003) Separate and combined effects of scopolamine and nicotine on retrieval-induced forgetting. Psychopharmacology 170:351–357

Einstein GO, McDaniel MA (1990) Normal aging and prospective memory. J Exp Psychol 16:717–726

Einstein GO, McDaniel MA (1996) Retrieval processes in prospective memory: theoretical approaches and some new empirical findings. In: Brandimonte M, Einstein GO, McDaniel MA (eds) Prospective memory: theory and applications. Erlbaum, Mahwah, pp 115–142

Einstein GO, McDaniel MA, Thomas R, Mayfield S, Shank H, Morrisette N (2005) Multiple processes in prospective memory retrieval: factors determining monitoring versus spontaneous retrieval. J Exp Psychol-Gen 134:327–342

Eissenberg T (2010) Electronic nicotine delivery devices: ineffective nicotine delivery and craving suppression after acute administration. Tob Control 19:87–88

Ernst M, Matochik JA, Heishman SJ, Van Horn JD, Jons PH, Henningfield JE, London ED (2001) Effects of nicotine on brain activation during performance of a working memory task. Proc Natl Acad Sci USA 98:4728–4733

Etter JF, Bullen C (2011a) Electronic cigarette: users profile, utilization, satisfaction and perceived efficacy. Addiction 106:2017–2028

Etter JF, Bullen C (2011b) Saliva cotinine levels in users of electronic cigarettes. Eur Respir J 38:1219–1220

Giannakoulas G, Katramados A, Melas N, Diamantopoulos L, Chimonas E (2003) Acute effects of nicotine withdrawal syndrome in pilots during flight. Aviat Space Environ Med 74:247–251

Gilbert DG, Estes SL, Welser R (1997) Does noise stress modulate effects of smoking/nicotine? Mood, vigilance, and EEG responses. Psychopharmacology 129:382–389

Grobe JE, Perkins KA, Goettler-Good J, Wilson A (1998) Importance of environmental distracters in the effects of nicotine on short-term memory. Exp Clin Psychopharmacol 6:209–216

Hadjiefhyvoulou F, Fisk JE, Montgomery C, Bridges N (2011) Prospective memory functioning among ecstasy/polydrug users: evidence from the Cambridge Prospective Memory Test (CAMPROMPT). Psychopharmacology 215:761–774

Hahn B, Ross TJ, Yang Y, Kim I, Huestis MA, Stein EA (2007) Nicotine enhances visuospatial attention by deactivating areas of the resting brain default network. J Neurosci 27:3477–3489

Heffernan TM, Ling J, Parrott AC, Buchanan T, Scholey AB, Rodgers J (2005) Self-rated everyday and prospective memory abilities of cigarette smokers and non-smokers: a web-based study. Drug Alcohol Depend 78:235–241

Heffernan TM, O'Neill TS (2012) Everyday prospective memory and executive function deficits associated with exposure to second hand smoke. Addiction 2013:1–7

Heffernan T, O'Neill T, Moss M (2010) Smoking and everyday prospective memory: a comparison of self-report and objective methodologies. Drug Alcohol Depend 112:234–238

Heatherton TF, Kozlowski LT, Frecker RC, Fagerström KO (1991) The Fagerström Test for Nicotine Dependence: a revision of the Fagerström Tolerance Questionnaire. Br J Addiction 86:1119–1127

Heishman SJ, Kleykamp BA, Singleton EG (2010) Meta-analysis of the acute effects of nicotine and smoking on human performance. Psychopharmacology 210:453–469

Hughes JR (2007) Effects of abstinence from tobacco: valid symptoms and time course. Nicotine Tob Res 9:315–327

Jacobsen LK, Krystal JH, Menci WE, Westerveld M, Frost SJ, Pugh KR (2005) Effects of smoking and smoking abstinence on cognition in adolescent tobacco smokers. Biol Psychiatry 57:56–66

Jansari A, Froggart D, Edgington T, Dawkins L (2013) Investigating the impact of nicotine on executive functions using a novel virtual reality assessment. Addiction. doi:10.1111/add.12082

Kleykamp BA, Jennings JM, Blank MD, Eissenberg T (2008) The influence of transdermal nicotine on tobacco/nicotine abstinence and the effects of a concurrently administered cigarette in women and men. Exp Clin Psychopharmacol 16:99–112

Kruk-Slomka M, Budzynska B, Biala G (2012) Involvement of cholinergic receptors in the different stages of memory measured in the modified elevated plus maze test in rats. Pharmacol Rep 64:1066–1080

Levin ED, McClernon FJ, Rezvani AH (2006) Nicotinic effects on cognitive function: behavioral characterization, pharmacological specification, and anatomic localization. Psychopharmacology 184:523–539

Mancuso G, Andres P, Ansseau M, Tirelli E (1999) Effects of nicotine administered via a transdermal delivery system on vigilance: a repeated measure study. Psychopharmacology 142:18–23

Maylor EA (1996) Age-related impairment in an event-based prospective memory task. Psychol Aging 11:74–78

Merritt PS, Cobb AR, Cook GI (2012) Sex differences in the cognitive effects of tobacco abstinence: a pilot study. Exp Clin Psychopharmacol 20:258–263

Moreno-López L, Stamatakis EA, Fernández-Serrano MJ, Gómez-Río M, Rodríguez-Fernández A et al (2012) Neural correlates of the severity of cocaine, heroin, alcohol, MDMA and cannabis use in polysubstance abusers: a resting-PET brain metabolism study. PLoS One 7(6):e39830. doi:10.1371/journal.pone.0039830

McDaniel MA, Einstein GO (2000) Strategic and automatic processes in prospective memory retrieval: a multiprocess framework. Appl Cognitive Psych 14:S127–S144

Nowinski JL, Dismukes RK (2005) Effects of ongoing task context and target typicality on prospective memory performance: the importance of associative cueing. Memory 13:649–657

Parrot AC, Craig D (1992) Cigarette smoking and nicotine gum (0, 2 and 4 mg): effects upon four visual attention tasks. Neuropsychobiol 25:34–43

Perkins KA, Grobe JE, Mitchell SL et al (1995) Acute tolerance to nicotine in smokers: lack of dissipation within 2 hours. Psychopharmacology 118:164–170

Powell J, Dawkins L, Davis R (2001) Smoking, reward responsiveness, and response inhibition: tests of an incentive motivational model. Biol Psychiatry 51:151–163

Robbins TW, Roberts AC (2007) Differential regulation of fronto-executive function by the monoamines and acetylcholine. Cereb Cortex 17(suppl 1):i151–i160

Rusted JM, Ruest T, Gray MA (2011) Acute effects of nicotine administration during prospective memory, an event related fMRI study. Neuropsychologia 49:2362–2368

Rusted JM, Sawyer R, Jones C, Trawley SL, Marchant NL (2009) Positive effects of nicotine on cognition: the deployment of attention for prospective memory. Psychopharmacology 202:93–102

Rusted JM, Trawley S (2006) Comparable effects of nicotine in smokers and non-smokers on a prospective memory task. Neuropsychopharmacol 31:1545–1549

Rusted JM, Trawley S, Heath J, Kettle G, Walker H (2005) Nicotine improves memory for delayed intentions. Psychopharmacology 182:355–365

Sahakian BJ (1998) Cholinergic drugs and human cognitive performance. In: Iversen LL, Iversen SD, Snyder SH (eds) Handbook of psychopharmacology, vol 20. Plenum, London, pp 393–424

Shiffman S, Ferguson SG, Gwaltney CJ, Balabanis MH, Shadel WG (2006) Reduction of abstinence-induced withdrawal and craving using high-dose nicotine replacement therapy. Psychopharmacology 184:637–644

Smith RE, Bayen UJ (2005) The effects of working memory resource availability on prospective memory: a formal modeling approach. Exp Psychol 52:243–256

Smith RE, Persyn D, Butler P (2011) Prospective memory, personality, and working memory: a formal modelling approach. Z Psychol 219:108–116

Soar K, Dawkins L, Begum H, Parrott A (2008) The effects of cigarette smoking and abstinence on auditory verbal learning. Hum Psychopharmacol 23:621–627

Vansickel AR, Cobb CO, Weaver MF, Eissenberg TE (2010) A clinical laboratory model for evaluating the acute effects of electronic 'cigarettes': nicotine delivery profile and cardiovascular and subjective effects. Cancer Epidem Biomar 19:1945–1953

Vansickel AR, Eissenberg T (2012) Electronic cigarettes: effective nicotine delivery after acute administration. Nicotine Tob Res. doi:10.1093/ntr/ntr316

Volkow ND, Fowler JS, Wang GJ, Swanson JM (2004) Dopamine in drug abuse and addiction: results from imaging studies and treatment implications. Mol Psychiatry 9:557–569

Warburton DM, Mancuso G (1998) Evaluation of the information processing and mood effects of a transdermal nicotine patch. Psychopharmacology 135:305–310

West R (1993) Beneficial effects of nicotine: fact or fiction? Addiction 88:589–590

West R, Hajek P (2004) Evaluation of the mood and physical symptoms scale (MPSS) to assess cigarette withdrawal. Psychopharmacology 177:195–199

Wilson BA, Emslie H, Foley J, Shiel A, Watson P, Hawkins K et al (2005) The Cambridge Prospective Memory Test. Harcourt Assessment, London
Funding
None
Conflict of interest
The first author has a collaborative relationship with Totally Wicked E-Liquids (TWEL), who provided the electronic cigarettes for this study. TWEL had no involvement in the design, conduct or write-up of this study.
About this article
Cite this article
Dawkins, L., Turner, J. & Crowe, E. Nicotine derived from the electronic cigarette improves time-based prospective memory in abstinent smokers. Psychopharmacology 227, 377–384 (2013). https://doi.org/10.1007/s00213-013-2983-2
Received:

Accepted:

Published:

Issue Date:

DOI: https://doi.org/10.1007/s00213-013-2983-2
Keywords