Abstract
A consistent effect of repeated exposure to 3,4 methylenedioxymethamphetamine (MDMA) is a decrease in the tissue levels of serotonin (5-HT). A variety of behavioural and neurochemical tests were conducted to determine whether the tissue deficits were accompanied by an increased sensitivity of the 5-HT1a autoreceptor. Tests were conducted 2 weeks following MDMA exposure (four injections of 10.0 mg/kg, IP, administered at 2-h intervals in a single day). The response to the 5-HT1a agonist, 8-OHDPAT (0.003–0.5 mg/kg, SC), was assessed using lower lip retraction (LLR), hypoactivity, and 5-hydroxytryptophan (5-HTP) accumulation following decarboxylase inhibition. The 8-OHDPAT produced a dose-dependent increase in LLR and hypoactivity, but these effects were comparable for MDMA and saline pretreated groups. MDMA decreased tissue levels of 5-HT and the accumulation of 5-HTP, but these effects were not reflected in the changes in autoreceptor sensitivity. The data suggest that the decrease in tissue levels of 5-HT produced by MDMA is accompanied by a decrease in tryptophan hydroxylase activity but cannot be explained by supersensitivity of the 5-HT1a autoreceptor.
Access options
Buy single article
Instant access to the full article PDF.
US$ 39.95
Tax calculation will be finalised during checkout.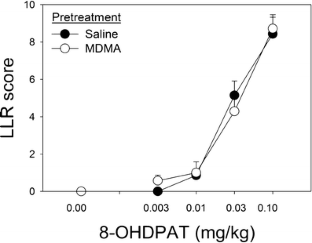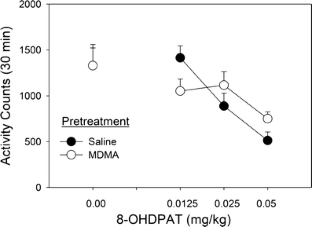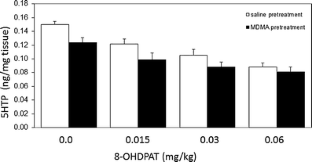 References
Ádori C, Ando RD, Szekeres A-M, Gutknecht L, Kovács GG, Hunyady L, Lesch K-P, Bagdy G (2011) Recovery and aging of serotonergic fibers after single and intermittent MDMA treatment in dark agouti rat. J Comp Neurology 519:2353–2378

Aguirre N, Frechilla D, García-Osta A, Lasheras B, Del Río J (1997) Differential regulation by methylenedioxymethamphetamine of 5-hydroxytryptamine1A receptor density and mRNA expression in rat hippocampus, frontal cortex, and brainstem: the role of corticosteroids. J Neurochem 68:1099–1105

Aguirre N, Galbete JL, Lasheras B, Del Río J (1995) Methylenedioxymethamphetamine induces opposite changes in central pre- and postsynaptic 5-HT1A receptors in rats. Eur J Pharmacol 281:101–105

Baumann MH, Wang X, Rothman RB (2007) 3,4-Methylenedioxymethamphetamine (MDMA) neurotoxicity in rats: a reappraisal of past and present findings. Psychopharmacology (Berl) 189(4):407–424

Berendsen HH, Broekkamp CL (1991) Attenuation of 5-HT1A and 5-HT2 but not 5-HT1C receptor mediated behavior in rats following chronic treatment with 5-HT receptor agonists, antagonists or anti-depressants. Psychpharmacol 105:219–224

Berendsen HH, Broekkamp CL, van Delft AM (1991) Depletion of brain serotonin differently affects behaviors induced by 5HT1A, 5HT1C, and 5HT2 receptor activation in rats. Behav Neural Biol 55:214–226

Blier P, Pineyro G, el Mansari M, Bergeron R, de Montigny C (1998) Role of somatodendritic 5-HT autoreceptors in modulating 5-HT neurotransmission. Ann NY Acad Sci 861:204–216

Boadle-Biber MC (1993) Regulation of serotonin synthesis. Prog Biophys Mol Biol 60:1–15

Bonkale WL, Austin MC (2008) 3,4-Methylenedioxymethamphetamine induces differential regulation of tryptophan hydroxylase 2 protein and mRNA levels in the rat dorsal raphe nucleus. Neuroscience 155:270–276

Carey RJ, Depalma G, Damianopoulos E, Müller CP, Huston JP (2004) The 5-HT1A receptor and behavioral stimulation in the rat: effects of 8-OHDPAT on spontaneous and cocaine-induced behavior. Psychopharmacology 177:46–54

Clark MS, McDevitt RA, McClain M, Root D, Kohen R, Neumaier JF (2006) Quantitative mapping of tryptophan hydroxylase-2, 5HT1A, 5HT1B and serotonin transporter expression across the anteroposterior axis of the rat dorsal and median raphe nuclei. J Comp Neurol 498:611–623

Degenhardt L, Bruno R, Topp L (2010) Is ecstasy a drug of dependence? Drug Alcohol Depend 107:1–10

Dekeyne A, Brocco M, Adhumeau A, Gobert A, Millan MJ (2000) The selective serotonin (5-HT)1A receptor ligand, S15535, displays anxiolytic-like effects in the social interaction and Vogel models and suppresses dialysate levels of 5-HT in the dorsal hippocampus of freely-moving rats. A comparison with other anxiolytic agents. Psychopharmacology 152:55–66

Do J, Schenk S (2012) Self-administered MDMA produces dose- and time-dependent serotonin deficits in the rat brain. Addict Biol. doi:10.1111/j.1369-1600.2011.00370.x

Esteban S, Lladó J, Sastre-Coll A, García-Sevilla JA (1999) Activation and desensitization by cyclic antidepressant drugs of alpha2-autoreceptors, alpha2-heteroreceptors and 5-HT1A-autoreceptors regulating monamine synthesis in the rat brain in vivo. Naunyn Schmiedebergs Arch Pharmacol 360:135–143

García-Osta A, Del Río J, Frechilla D (2004) Increased CRE-binding activity and tryptophan hydroxylase mRNA expression induced by 3,4-methylenedioxymethamphetamine (MDMA, "ecstasy") in the rat frontal cortex but not in the hippocampus. Brain Res Mol Brain Res 126:181–187

Giannaccini G, Betti L, Pirone A, Palego L, Fabiani O, Fabbrini L, Mascia G, Giusti L, Macchia M, Giusiani M, Martini C, Lucacchini A (2007) Short-term effects of 3,4-methylen-dioxy-metamphetamine (MDMA) on 5-HT(1A) receptors in the rat hippocampus. Neurochem Int 51:496–506

Green AR, Mechan AO, Elliott JM, O'Shea E, Colado MI (2003) The pharmacology and clinical pharmacology of 3,4-methylenedioxymethamphetamine (MDMA, "ecstasy"). Pharmacol Rev 55:463–508

Hjorth S, Magnusson T (1988) The 5-HT 1A receptor agonist, 8-OH-DPAT, preferentially activates cell body 5-HT autoreceptors in rat brain in vivo. Naunyn Schmiedebergs Arch Pharmacol 338:463–471

Johnson M, Mitros K, Stone DM, Zobrist R, Hanson GR, Gibb JW (1992) Effect of flunarizine and nimodipine on the decrease in tryptophan hydroxylase activity induced by methamphetamine and 3,4-methylenedioxymethamphetamine. J Pharmacol Exp Ther 261:586–591

Jones K, Brennan KA, Colussi-Mas J, Schenk S (2010) Tolerance to 3,4-methylenedioxymethamphetamine is associated with impaired serotonin release. Addict Biol 15:289–98

Kleven M, Ybema C, Carilla E, Hamon M, Koek W (1995) Modification of behavioral effects of 8-hydroxy-2-(di-n-propylamino)tetralin following chronic ethanol consumption in the rat: evidence for the involvement of 5-HT1A receptors in ethanol dependence. Eur J Pharmacol 281:219–928

Li J-X, France CP (2008) Food restriction and streptozotocin treatment decrease 5HT1A and 5HT2A receptor mediated behavioral effects in rats. Behav Pharmacol 19:292–297

Liu RJ, Lambe EK, Aghajanian GK (2005) Somatodendritic autoreceptor regulation of serotonergic neurons: dependence on L-tryptophan and tryptophan hydroxylase-activating kinases. Eur J Neurosci 21:945–958

Moranta D, Esteban S, García-Sevilla JA (2009) Chronic treatment and withdrawal of the cannabinoid agonist WIN 55,212-2 modulate the sensitivity of presynaptic receptors involved in the regulation of monoamine syntheses in rat brain. Naunyn Schmiedebergs Arch Pharmacol 379:61–72

McGregor IS, Clemens KJ, Van der Plasse G, Li KM, Hunt GE, Chen F, Lawrence AJ (2003) Increased anxiety 3 months after brief exposure to MDMA ("ecstasy") in rats: association with altered 5-HT transporter and receptor density. Neuropsychopharmacology 28:1472–1484

Müller CP, Carey RJ, Huston JP, De Souza Silva MA (2007) Serotonin and psychostimulant addiction: focus on 5-HT1A-receptors. Prog Neurobiol 81:133–78

O'Shea E, Granados R, Esteban B, Colado MI, Green AR (1998) The relationship between the degree of neurodegeneration of rat brain 5-HT nerve terminals and the dose and frequency of administration of MDMA ('ecstasy'). Neuropharmacology 37:919–926

O'Shea E, Orio L, Escobedo I, Sanchez V, Camarero J, Green AR, Colado MI (2006) MDMA-induced neurotoxicity: long-term effects on 5-HT biosynthesis and the influence of ambient temperature. Br J Pharmacol 148:778–785

Piñeyro G, Blier P (1999) Autoregulation of serotonin neurons: role in antidepressant drug action. Pharmacol Rev 51(3):533–591

Renoir T, Païzanis E, El Yacoubi M, Saurini F, Hanoun N, Melfort M, Lesch KP, Hamon M, Lanfumey L (2008) Differential long-term effects of MDMA on the serotoninergic system and hippocampal cell proliferation in 5-HTT knock-out vs. wild-type mice. Int J Neuropsychopharmacol 11:1149–1162

Reveron ME, Maier EY, Duvauchelle CL (2010) Behavioral, thermal and neurochemical effects of acute and chronic 3,4-methylenedioxymethamphetamine ("ecstasy") self-administration. Behav Brain Res 207:500–507

Rogers G, Elston J, Garside R, Roome C, Taylor R, Younger P, Zawada A, Somerville M (2009) The harmful health effects of recreational ecstasy: a systematic review of observational evidence. Health Technol Assess 13(iii-iv, ix-xii):1–315

Sastre-Coll A, Esteban S, García-Sevilla JA (2002) Supersensitivity of 5-HT1A autoreceptors and alpha2-adrenoceptors regulating monoamine synthesis in the brain of morphine-dependent rats. Naunyn Schmiedebergs Arch Pharmacol 365:210–219

Scanzello CR, Hatzidimitriou G, Martello AL, Katz JL, Ricaurte GA (1993) Serotonergic recovery after (+/−)3,4-(methylenedioxy) methamphetamine injury: observations in rats. J Pharmacol Exp Ther 264:1484–91

Schmidt CJ, Taylor VL (1988) Direct central effects of acute methylenedioxymethamphetamine on serotonergic neurons. Eur J Pharmacol 156:121–131

Shankaran M, Gudelsky GA (1999) A neurotoxic regimen of MDMA suppresses behavioral, thermal and neurochemical responses to subsequent MDMA administration. Psychopharmacology (Berl) 147:66–72

Sprouse JS, Aghajanian GK (1987) Electrophysiological responses of serotoninergic dorsal raphe neurons to 5-HT1A and 5-HT1B agonists. Synapse 1:3–9

Stone DM, Hanson GR, Gibb JW (1989) In vitro reactivation of rat cortical tryptophan hydroxylase following in vivo inactivation by methylenedioxymethamphetamine. J Neurochem 53:572–581

Stone DM, Stahl DC, Hanson GR, Gibb JW (1986) The effects of 3,4-methylenedioxymethamphetamine (MDMA) and 3,4-methylenedioxyamphetamine (MDA) on monoaminergic systems in the rat brain. Eur J Pharmacol 128:41–48

Tricklebank MD, Middlemiss DN, Neill J (1986) Pharmacological analysis of the behavioural and thermoregulatory effects of the putative 5-HT1 receptor agonist, RU 24969, in the rat. Neuropharmacology 25:877–886

Trulson ME, Trulson VM (1982) Effects of chronic methamphetamine administration on tryptophan hydroxylase activity, [3H]serotonin synaptosomal uptake, and serotonin metabolism in rat brain following systemic tryptophan loading. Neuropharmacology 21:521–527

Vergé D, Daval G, Marcinkiewicz M, Patey A, el Mestikawy S, Gozlan H, Hamon M (1986) Quantitative autoradiography of multiple 5-HT1 receptor subtypes in the brain of control or 5,7-dihydroxytryptamine-treated rats. J Neurosci 6:3474–3482

Wang X, Baumann MH, Dersch CM, Rothman RB (2007) Restoration of 3,4-methylenedioxymethamphetamine-induced 5-HT depletion by the administration of l-5-hydroxytryptophan. Neuroscience 148:212–220

Wood JL, Russo AF (2001) Autoregulation of cell-specific MAP kinase control of the tryptophan hydroxylase promoter. J Biol Chem 276:21262–21271
Acknowledgments
The authors gratefully acknowledge the technical assistance of Richard Moore. These studies were funded by the Royal Society of New Zealand Marsden Fund.
About this article
Cite this article
Schenk, S., Abraham, B., Aronsen, D. et al. Effects of repeated exposure to MDMA on 5HT1a autoreceptor function: behavioral and neurochemical responses to 8-OHDPAT. Psychopharmacology 227, 355–361 (2013). https://doi.org/10.1007/s00213-013-2980-5
Received:

Accepted:

Published:

Issue Date:
Keywords
MDMA

Serotonin

Autoreceptor

Tryptophan hydroxylase

8-OHDPAT