Abstract
Rationale
Despite 100 years of psychopharmacological research, the extent to which caffeine consumption benefits human functioning remains unclear.
Objectives
To measure the effects of overnight caffeine abstinence and caffeine administration as a function of level of habitual caffeine consumption.
Methods
Medium-high (n = 212) and non-low (n = 157) caffeine consumers completed self-report measures and computer-based tasks before (starting at 10:30 AM) and after double-blind treatment with either caffeine (100 mg, then 150 mg) or placebo. The first treatment was given at 11:15 AM and the second at 12:45 PM, with post-treatment measures repeated twice between 1:45 PM and 3:30 PM.
Results
Caffeine withdrawal was associated with some detrimental effects at 10:30 AM, and more severe effects, including greater sleepiness, lower mental alertness, and poorer performance on simple reaction time, choice reaction time and recognition memory tasks, later in the afternoon. Caffeine improved these measures in medium-high consumers but, apart from decreasing sleepiness, had little effect on them in non-low consumers. The failure of caffeine to increase mental alertness and improve mental performance in non-low consumers was related to a substantial caffeine-induced increase in anxiety/jitteriness that offset the benefit of decreased sleepiness. Caffeine enhanced physical performance (faster tapping speed and faster simple and choice reaction times) in both medium-high and non-low consumers.
Conclusions
While caffeine benefits motor performance and tolerance develops to its tendency to increase anxiety/jitteriness, tolerance to its effects on sleepiness means that frequent consumption fails to enhance mental alertness and mental performance.
Access options
Buy single article
Instant access to the full article PDF.
USD 39.95
Price excludes VAT (USA)
Tax calculation will be finalised during checkout.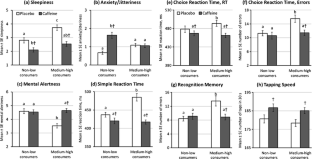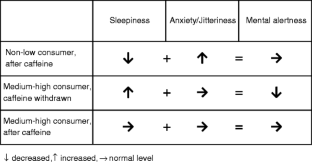 References
Barthel T, Mechau D, Wehr T, Schnittker R, Liesen H, Weiss M (2001) Readiness potential in different states of physical activation and after ingestion of taurine and/or caffeine containing drinks. Amino Acids 20:63–73

Benjamin LT (2010) Coca-Cola—brain tonic or poison? The Psychologist 23:942–943

Childs E, de Wit H (2006) Subjective, behavioral, and physiological effects of acute caffeine in light, nondependent caffeine users. Psychopharmacology 185:514–523

Cohen J (1988) Statistical power analysis for the behavioral sciences, 2nd edn. Erlbaum, New Jersey

Dews PB, O'Brien CP, Bergman J (2002) Caffeine: behavioral effects of withdrawal and related issues. Food Chem Toxicol 40:1257–1261

Eysenck MW, Derakshan N, Santos R, Calvo MG (2007) Anxiety and cognitive performance: attentional control theory. Emotion 7:336–353

Ferguson GA, Takane Y (1989) Statistical analysis in psychology and education, 3rd edn. McGraw Hill, New York

Fredholm BB, Bättig K, Holmén J, Nehlig A, Zvartan EE (1999) Actions of caffeine in the brain with special reference to factors that contribute to its widespread use. Pharmacol Rev 51:83–133

Goldstein A, Kaizer S, Whitby O (1969) Psychotropic effects of caffeine in man. IV. Quantitative and qualitative differences associated with habituation to coffee. Clin Pharmacol Ther 10:489–497

Graham TE (2001) Caffeine and exercise. Sports Med 31:785–807

Haskell CF, Kennedy DO, Wesnes KA, Scholey AB (2005) Cognitive and mood improvements of caffeine in habitual consumers and habitual non-consumers of caffeine. Psychopharmacology 179:813–825

Heatherley SV, Hayward RC, Seers HE, Rogers PJ (2005) Cognitive and psychomotor performance, mood, and pressor effects of caffeine after 4, 6 and 8 h caffeine abstinence. Psychopharmacology 178:461–470

Heatherley SV, Mullings EL, Tidbury MA, Rogers PJ (2006) Caffeine consumption among a sample of UK adults. Appetite 47:266

Hollingworth HL (1912) The influence of caffeine on motor and mental efficiency. Arch Psychol 22:1–166

James JE (2004) Critical review of dietary caffeine and blood pressure: a relationship that should be taken more seriously. Psychosom Med 6:63–71

James JE, Rogers PJ (2005) Effects of caffeine on performance and mood: withdrawal reversal is the most plausible explanation. Psychopharmacology 182:1–8

James JE, Bloomer RJ, Cox G, Davis J-K, Desbrow B, Graham T (2011) Caffeine and physical performance. J Caffeine Res 1:145–151

Juliano LM, Griffiths RR (2004) A critical review of caffeine withdrawal: empirical validation of symptoms and signs, incidence, severity, and associated features. Psychopharmacology 176:1–29

Lieberman HR, Tharion WJ, Shukitt-Hale B, Speckman KL, Tulley R (2002) Effects of caffeine, sleep loss, and stress on cognitive performance and mood during U.S. Navy SEAL training. Psychopharmacology 164:250–261

Okuro M, Fujiki N, Kotorii N, Ishimaru Y, Sokoloff P, Nishino S (2010) Effects of paraxanthine and caffeine on sleep, locomotor activity, and body temperature in orexin/ataxin-3 transgenic narcoleptic mice. Sleep 33:930–942

Richardson NJ, Rogers PJ, Elliman NA, O'Dell RJ (1995) Mood and performance effects of caffeine in relation to acute and chronic caffeine deprivation. Pharmacol Biochem Behav 52:313–320

Rogers PJ (2000) Caf or decaf?—impact of regular caffeine consumption on alertness, and mental and physical performance. In: McNulty GJ (ed) Proceedings of the 3rd International Conference on Quality, Reliability, and Maintenance. Professional Engineering, Bury St. Edmonds, Sulfolk, pp 343–346

Rogers PJ, Smith JE (2011) Caffeine, mood and cognition. In: Benton D (ed) Lifetime nutritional influences on cognition, behaviour and psychiatric illness. Woodhead, Oxford, pp 251–271

Rogers PJ, O'Dell RJ, Richardson NJ (1995a) Coffee and tea drinking: early experience and perceived benefits. Appetite 24:197

Rogers PJ, Richardson NJ, Elliman NA (1995b) Overnight caffeine abstinence and negative reinforcement of preference for caffeine-containing drinks. Psychopharmacology 120:457–462

Rogers PJ, Martin J, Smith C, Heatherley SV, Smit HJ (2003) Absence of reinforcing, mood and psychomotor performance effects of caffeine in habitual non-consumers of caffeine. Psychopharmacology 167:54–62

Rogers PJ, Heatherley SV, Hayward RC, Seers HE, Hill J, Kane M (2005) Effects of caffeine and caffeine withdrawal on mood and cognitive performance degraded by sleep restriction. Psychopharmacology 179:742–752

Rogers PJ, Hohoff C, Heatherley SV, Mullings EL, Maxfield PJ, Evershed RP, Deckert J, Nutt DJ (2010) Association of the anxiogenic and alerting effects of caffeine with ADORA2A and ADORA1 polymorphisms and habitual level of caffeine consumption. Neuropsychopharmacology 35:1973–1983

Shapiro CM, Auch C, Reimer M, Kayumov L, Heslegrave R, Huterer N, Driver H, Devins GM (2006) A new approach to the construct of alertness. J Psychosom Res 60:595–603

Sigmon SC, Herning RI, Better W, Cadet JL, Griffiths RJ (2009) Caffeine withdrawal, acute effects, tolerance, and absence of net beneficial effects of chronic administration: cerebral blood flow velocity, quantitative EEG, and subjective effects. Psychopharmacology 204:573–585

Smit HJ, Rogers PJ (2007) Effects of caffeine on mood. In: Smith BD, Gupta U, Gupta BS (eds) Caffeine and activation theory: effects on health and behavior. CRC, Boca Raton, pp 229–282

Smith JE (2011) Caffeine, theanine and anxiety; fMRI and behavioural studies. Ph.D. thesis, University of Bristol, Bristol

Smith AP, Christopher G, Sutherland D (2006) Effects of caffeine in overnight-withdrawn consumers and non-consumers. Nutr Neurosci 9:63–71

Specterman M, Bhuiya A, Kuppuswamy A, Strutton PH, Catley M, Davey NJ (2005) The effect of an energy drink containing glucose and caffeine on human corticospinal excitability. Physiol Behav 83:723–728

Tabachnick BG, Fidell LS (2007) Using multivariate statistics, 5th edn. Pearson, Boston

Warren GL, Park ND, Maresca RD, Mckibans KL, Millard-Stafford M (2010) Effect of caffeine ingestion on muscular strength and endurance: a meta-analysis. Med Sci Sports Exerc 42:1375–1387

Weiss B, Laties VG (1962) Enhancement of human performance by caffeine and amphetamines. Pharmacol Rev 14:1–36

Yang A, Childs E, Palmer AA, de Wit H (2010) More on ADORA. Psychopharmacology 212:699–700

Zwyghuizen-Doorenbos A, Roehrs TA, Lipschutz L, Timms V, Roth T (1990) Effects of caffeine on alertness. Psychopharmacology 100:36–39
Acknowledgments
This research was funded by a grant (BBS/B/01855) from the UK Biotechnology and Biological Sciences Research Council. We thank the volunteers who participated in this study and our colleagues Professor Richard Evershed and Dr. Pete Maxfield for their expertise in the analysis of salivary caffeine and paraxanthine concentrations. PJR has received grants to support research on caffeine from GlaxoSmithKline.
About this article
Cite this article
Rogers, P.J., Heatherley, S.V., Mullings, E.L. et al. Faster but not smarter: effects of caffeine and caffeine withdrawal on alertness and performance. Psychopharmacology 226, 229–240 (2013). https://doi.org/10.1007/s00213-012-2889-4
Received:

Accepted:

Published:

Issue Date:

DOI: https://doi.org/10.1007/s00213-012-2889-4
Keywords
Caffeine

Tolerance

Withdrawal

Mental performance

Physical performance

Reaction time

Cognition

Alertness

Sleep

Anxiety