Abstract
Rationale
Breathing exercises have been proposed as a way of combating cigarette cravings, potentially presenting a low-cost, easily scalable smoking cessation aid.
Objective
The aim of this study is to evaluate the acute impact of breathing exercises based on yogic pranayama on cravings in abstaining smokers.
Methods
Participants visited the laboratory on two occasions 24 h apart and were asked to abstain from smoking12 h prior to the first visit until the end of the second visit. Smokers (N = 96) were randomly allocated to a yogic breathing exercise (YBG) or video control (VCG) group. The former was instructed on breathing exercises, practised these for 10 min and asked to use these when experiencing cravings until the next visit. The latter was shown a breathing exercise video for 10 min and asked to concentrate on their breathing. Strength of urges to smoke, other craving measures and mood and physical symptoms associated with cigarette withdrawal were assessed at the beginning and end of the first visit, and again at the second visit.
Results
At immediate follow-up, in the laboratory, all craving measures were reduced in YBG compared with VCG (strength of urges: F(1, 96) = 16.1, p < 0.001; cigarette craving: F(1, 96) = 11.3, p = 0.001; desire to smoke: F(1, 96) = 6.6, p = 0.012). There was no effect on mood or physical symptoms. Adherence to the breathing exercise regimen in the following 24 h was low, and at 24 h follow-up, there was no evidence of reduced cravings in YBG compared with VCG.
Conclusions
Simple yogic-style breathing exercises can reduce cigarette craving acutely in the laboratory. Further research is needed to determine how far this translates into field settings.
Access options
Buy single article
Instant access to the full article PDF.
US$ 39.95
Tax calculation will be finalised during checkout.
Subscribe to journal
Immediate online access to all issues from 2019. Subscription will auto renew annually.
US$ 119
Tax calculation will be finalised during checkout.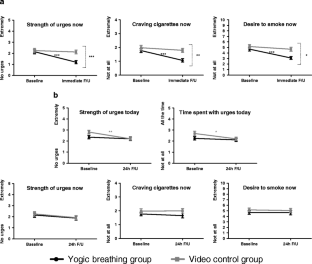 References
Al-Chalabi L, Prasad N, Steed L, Stenner S, Aveyard P, Beach J, Ussher M (2008) A pilot randomised controlled trial of the feasibility of using body scan and isometric exercises for reducing urge to smoke in a smoking cessation clinic. BMC Publ Health 8:349

Ashare RL, Sinha R, Lampert R, Weinberger AH, Anderson GM, Lavery ME, Yanagisawa K, McKee SA (2012) Blunted vagal reactivity predicts stress-precipitated tobacco smoking. Psychopharmacology (Berl) 220:259–268

Bock BC, Morrow KM, Becker BM, Williams DM, Tremont G, Gaskins RB, Jennings E, Fava J, Marcus BH (2010) Yoga as a complementary treatment for smoking cessation: rationale, study design and participant characteristics of the Quitting-in-Balance study. BMC Complement Altern Med 10:14

Cropley M, Ussher M, Charitou E (2007) Acute effects of a guided relaxation routine (body scan) on tobacco withdrawal symptoms and cravings in abstinent smokers. Addiction 102:989–993

Fagerstrom K (2012) Determinants of tobacco use and renaming the FTND to the Fagerstrom Test for Cigarette Dependence. Nicotine Tob Res 14:75–78

Faul F, Erdfelder E, Lang AG, Buchner A (2007) G*Power 3: a flexible statistical power analysis program for the social, behavioral, and biomedical sciences. Behav Res Methods 39:175–191

Fidler JA, Shahab L, West R (2011) Strength of urges to smoke as a measure of severity of cigarette dependence: comparison with the Fagerstrom Test for Nicotine Dependence and its components. Addiction 106:631–638

Hughes JR (1992) Tobacco withdrawal in self-quitters. J Consult Clin Psychol 60:689–697

Hughes JR, Hatsukami D (1986) Signs and symptoms of tobacco withdrawal. Arch Gen Psychiatry 43:289–294

Hughes JR, Higgins ST, Bickel WK (1994) Nicotine withdrawal versus other drug withdrawal syndromes: similarities and dissimilarities. Addiction 89:1461–1470

Jerath R, Edry JW, Barnes VA, Jerath V (2006) Physiology of long pranayamic breathing: neural respiratory elements may provide a mechanism that explains how slow deep breathing shifts the autonomic nervous system. Med Hypotheses 67:566–571

Kenny PJ (2011) Tobacco dependence, the insular cortex and the hypocretin connection. Pharmacol Biochem Behav 97:700–707

Killen JD, Fortmann SP (1997) Craving is associated with smoking relapse: findings from three prospective studies. Exp Clin Psychopharmacol 5:137–142

Kochupillai V, Kumar P, Singh D, Aggarwal D, Bhardwaj N, Bhutani M, Das SN (2005) Effect of rhythmic breathing (Sudarshan Kriya and Pranayam) on immune functions and tobacco addiction. Ann N Y Acad Sci 1056:242–252

McClernon FJ, Westman EC, Rose JE (2004) The effects of controlled deep breathing on smoking withdrawal symptoms in dependent smokers. Addict Behav 29:765–772

McEwen A, West R, Gaiger M (2008) Nicotine absorption from seven current nicotine replacement products and a new wide-bore nicotine delivery device. J Smok Cessat 3:117–123

Naqvi NH, Rudrauf D, Damasio H, Bechara A (2007) Damage to the insula disrupts addiction to cigarette smoking. Science 315:531–534

Ramdev S (2010) Yog science: pranayam/yog aasan (DVD Part 1). Patanjali Yog Vidyapeeth, Haridwar, India

Raupach T, Bahr F, Herrmann P, Luethje L, Heusser K, Hasenfuss G, Bernardi L, Andreas S (2008) Slow breathing reduces sympathoexcitation in COPD. Eur Respir J 32:387–392

Schrand JR (2010) Does insular stroke disrupt the self-medication effects of nicotine? Med Hypotheses 75:302–304

Shafey O, Eriksen M, Ross H, Mackay J (2009) The tobacco atlas. American Cancer Society, Atlanta

Shahab L, McEwen A, West R (2011) Acceptability and effectiveness for withdrawal symptom relief of a novel oral nicotine delivery device: a randomised crossover trial. Psychopharmacology (Berl) 216:187–196

Shiffman SM, Jarvik ME (1976) Smoking withdrawal symptoms in two weeks of abstinence. Psychopharmacology (Berl) 50:35–39

Shiffman S, Engberg JB, Paty JA, Perz WG, Gnys M, Kassel JD, Hickcox M (1997) A day at a time: predicting smoking lapse from daily urge. J Abnorm Psychol 106:104–116

Sofuoglu M, Babb D, Hatsukami DK (2003) Labetalol treatment enhances the attenuation of tobacco withdrawal symptoms by nicotine in abstinent smokers. Nicotine Tob Res 5:947–953

Ussher M, Nunziata P, Cropley M, West R (2001) Effect of a short bout of exercise on tobacco withdrawal symptoms and desire to smoke. Psychopharmacology (Berl) 158:66–72

Ussher M, Cropley M, Playle S, Mohidin R, West R (2009) Effect of isometric exercise and body scanning on cigarette cravings and withdrawal symptoms. Addiction 104:1251–1257

West BT (2009) Analyzing longitudinal data with the linear mixed models procedure in SPSS. Eval Health Prof 32:207–228

West R, Hajek P (2004) Evaluation of the mood and physical symptoms scale (MPSS) to assess cigarette withdrawal. Psychopharmacology 177:195–199

West R, Ussher M (2010) Is the ten-item Questionnaire of Smoking Urges (QSU-brief) more sensitive to abstinence than shorter craving measures? Psychopharmacology (Berl) 208:427–432

West RJ, Hajek P, Belcher M (1987) Time course of cigarette withdrawal symptoms during four weeks of treatment with nicotine chewing gum. Addict Behav 12:199–203

West RJ, Hajek P, Belcher M (1989) Severity of withdrawal symptoms as a predictor of outcome of an attempt to quit smoking. Psychol Med 19:981–985

West R, Hajek P, Burrows S (1990) Effect of glucose tablets on craving for cigarettes. Psychopharmacology (Berl) 101:555–559

West R, Ussher M, Evans M, Rashid M (2006) Assessing DSM-IV nicotine withdrawal symptoms: a comparison and evaluation of five different scales. Psychopharmacology (Berl) 184:619–627
Acknowledgments
We are grateful to the Cancer Research UK for funding the study and the support of the UK Centre for Tobacco Control Studies and the Wellcome Trust. We would also like to thank Sharlene Andrew, Antonia Shahab and Ndidi Superville for their help in carrying out this study.
Conflict of interest
RW undertakes consultancy and research for and receives travel funds and hospitality from manufacturers of medications for smoking cessation. He also undertakes training for smoking cessation advisors and has a share of a patent for a novel nicotine delivery device. LS has received honoraria for talk and travel expenses from manufacturers of medications for smoking cessation to attend meetings and workshops. BKS has a UKC-Wellcome trust capacity building grant to PHFI, India and has no conflict of interest to declare.
About this article
Cite this article
Shahab, L., Sarkar, B.K. & West, R. The acute effects of yogic breathing exercises on craving and withdrawal symptoms in abstaining smokers. Psychopharmacology 225, 875–882 (2013). https://doi.org/10.1007/s00213-012-2876-9
Received:

Accepted:

Published:

Issue Date:
Keywords
Yogic breathing

Withdrawal symptoms

Craving

Smoking cessation intervention