Abstract
Objective
This study aims to develop a new alcohol hangover symptom severity scale and compare its effectiveness with the Hangover Symptoms Scale (HSS), the Acute Hangover Scale (AHS), and a one-item hangover score.
Methods
Data from 1,410 Dutch students (Penning et al., Alcohol Alcohol 47:248-252, 2012) on the severity of 47 hangover symptoms were re-analyzed to develop the Alcohol Hangover Severity Scale (AHSS). The psychometric properties of the AHSS were compared with those of the HSS and the AHS. A survey among 1,000 students compared the AHSS and HSS with a one-item hangover severity score. The AHSS was further tested in a naturalistic hangover experiment.
Results
The 12 items of the AHSS were fatigue, clumsiness, dizziness, apathy, sweating, shivering, nausea, heart pounding, confusion, stomach pain, concentration problems, and thirst. The Penning et al. (Alcohol Alcohol 47:248–252, 2012) data revealed that the predictive validity of the AHSS (92.4 %) for the overall hangover score was significantly higher than that of the HSS (81.5 %) and the AHS (71.0 %). The survey data (N = 966) showed that scores on the AHSS (39.7 %) and the HSS (47.6 %) only moderately predicted the one-item hangover score. A total of 119 subjects completed the naturalistic study. On average, they consumed 9.7 alcoholic consumptions, yielding a mean estimated blood alcohol concentration (BAC) of 0.16 %. During hangover, the AHSS score correlated significantly with the number of alcoholic consumptions (r = 0.38, p < 0.0001) and estimated BAC (r = 0.40, p < 0.0001).
Conclusions
The AHS, HSS, and AHSS all seem appropriate for application in hangover research. The use of a one-item hangover scale is not recommended.
This is a preview of subscription content, log in to check access.
Access options
Buy single article
Instant access to the full article PDF.
US$ 39.95
Price includes VAT for USA
Subscribe to journal
Immediate online access to all issues from 2019. Subscription will auto renew annually.
US$ 199
This is the net price. Taxes to be calculated in checkout.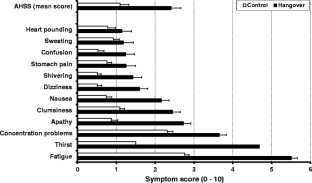 References
Bendsten P, Jones AW, Helander A (1998) Urinary excretion of methanol and 5-hydroxytryptophol as biochemical markers of recent drinking in the hangover state. Alcohol Alcohol 33:431–438

Chapman LF (1970) Experimental induction of hangover. Q J Stud Alcohol 5:67–86

Gjerde H, Christophersen AS, Moan IS et al (2010) Use of alcohol and drugs by Norwegian employees: A pilot study using questionnaires and analysis of oral fluid. J Occup Med Toxicol 15:13

Harburg E, Davis D, Cummings KM, Gunn R (1981) Negative affect, alcohol consumption and hangover symptoms among normal drinkers in a small community. J Stud Alcohol 42:998–1012

Ling J, Stephens R, Heffernan TM (2010) Cognitive and psychomotor performance during alcohol hangover. Curr Drug Abuse Rev 3:80–87

McKinney A, Coyle K (2004) Next day effects of a normal night's drinking on memory and psychomotor performance. Alcohol Alcohol 39:509–513

Myrsten A, Rydberg U, Idestörm CM, Lamble R (1980) Alcohol intoxication and hangover: Modification of hangover: Modification of hangover by chlormethiazole. Psychopharmacol 69:117–125

Newlin DB, Pretorius MB (1990) Sons of alcoholics report greater hangover symptoms than sons of nonalcoholics: A pilot study. Alcoholism Clin Exp Res 14:713–716

Penning R, van Nuland M, Fliervoet LA, Olivier B, Verster JC (2010) The pathology of alcohol hangover. Curr Drug Abuse Rev 3:68–75

Penning R, McKinney A, Verster JC (2012) Alcohol hangover symptoms and their contribution to overall hangover severity. Alcohol Alcohol 47:248–252

Rohsenow DJ, Howland J, Minsky SJ, Greece J, Almeida A, Roehrs TA (2007) The acute hangover scale: A new measure of immediate hangover symptoms. Addictive Behav 32:1314–1320

Slutske WS, Piasecki TM, Hunt-Carter EE (2003) Development and initial validation of the hangover symptoms scale: Prevalence and correlates of hangover symptoms in college students. Alcoholism Clin Exp Res 27:1442–1450

Stephens R, Ling J, Heffernan TM, Heather N, Jones K (2008) A review of the literature on the cognitive effects of alcohol hangover. Alcohol Alcohol 43:163–170

Swift R, Davidson D (1998) Alcohol hangover: Mechanisms and mediators. Alcohol Health Res World 22:54–60

Verster JC (2008) The alcohol hangover—a puzzling phenomenon. Alcohol Alcohol 43:124–126

Verster JC, van Herwijnen J, Olivier B, Kahler CW (2009) Validation of the Dutch version of the brief young adult alcohol consequences questionnaire (B-YAACQ). Addictive Behav 34:411–414

Verster JC, Stephens R, Penning R et al (2010) The alcohol hangover research group consensus statement on best practice in alcohol hangover research. Curr Drug Abuse Rev 3:116–126

Watson PE, Watson ID, Batt RD (1981) Prediction of blood alcohol concentrations in human subjects: Updating the Widmark equation. J Stud Alcohol 42:547–56

Ylikhari RH, Huttunen MO, Eriksson CJ, Nikkilä EA (1974) Metabolic studies on the pathogenesis of hangover. Eur J Clin Invest 4:93–100
Acknowledgments
This study was funded by Utrecht University. The authors have no conflicts of interest to disclose. Joris Verster has received research support from Takeda Pharmaceuticals, Red Bull GmbH, and acted as consultant for Sanofi-Aventis, Transcept, Takeda, Sepracor, Red Bull GmbH, Deenox, Trimbos Institute, and CBD.
Appendix
Appendix
Alcohol Hangover Severity Scale (AHSS)
The day after alcohol consumption you may experience several symptoms or complaints.
Please indicate to what extent you experience the following at this moment:
(0 = absent, 10 = extreme)
About this article
Cite this article
Penning, R., McKinney, A., Bus, L.D. et al. Measurement of alcohol hangover severity: development of the Alcohol Hangover Severity Scale (AHSS). Psychopharmacology 225, 803–810 (2013). https://doi.org/10.1007/s00213-012-2866-y
Received:

Accepted:

Published:

Issue Date:
Keywords
Alcohol

Hangover

Scale

AHSS

Questionnaire

Measurement

Severity

Symptoms