Abstract
Rationale
Increased food consumption following ∆9-tetrahydrocannabinol-induced cannabinoid type 1 receptor agonism is well documented. However, possible non-∆9-tetrahydrocannabinol phytocannabinoid-induced feeding effects have yet to be fully investigated. Therefore, we have assessed the effects of the individual phytocannabinoids, cannabigerol, cannabidiol and cannabinol, upon feeding behaviors.
Methods
Adult male rats were treated (p.o.) with cannabigerol, cannabidiol, cannabinol or cannabinol plus the CB1R antagonist, SR141716A. Prior to treatment, rats were satiated and food intake recorded following drug administration. Data were analyzed for hourly intake and meal microstructure.
Results
Cannabinol induced a CB1R-mediated increase in appetitive behaviors via significant reductions in the latency to feed and increases in consummatory behaviors via increases in meal 1 size and duration. Cannabinol also significantly increased the intake during hour 1 and total chow consumed during the test. Conversely, cannabidiol significantly reduced total chow consumption over the test period. Cannabigerol administration induced no changes to feeding behavior.
Conclusion
This is the first time cannabinol has been shown to increase feeding. Therefore, cannabinol could, in the future, provide an alternative to the currently used and psychotropic ∆9-tetrahydrocannabinol-based medicines since cannabinol is currently considered to be non-psychotropic. Furthermore, cannabidiol reduced food intake in line with some existing reports, supporting the need for further mechanistic and behavioral work examining possible anti-obesity effects of cannabidiol.
Access options
Buy single article
Instant access to the full article PDF.
USD 39.95
Price excludes VAT (USA)
Tax calculation will be finalised during checkout.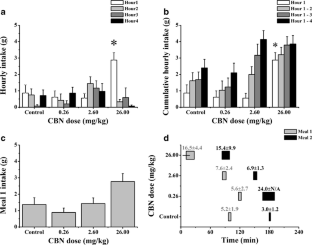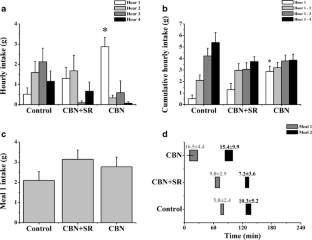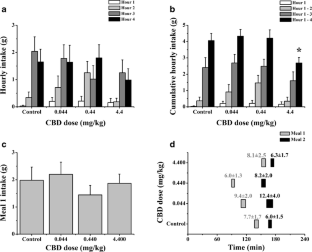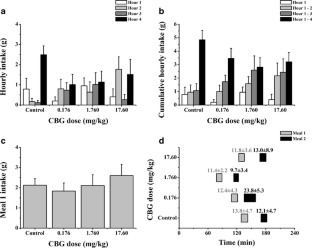 Abbreviations
2-AG:

2-Arachidonoylglycerol

∆9THC:

∆9-Tetrahydrocannabinol

∆9THCV:

∆9-Tetrahydrocannabivarin

AEA:

Anandamide

ANOVA:

Analysis of variance

BDS:

Botanical drug substance

CB1R:

Cannabinoid type 1 receptor

CB2R:

Cannabinoid type 2 receptor

CBD:

Cannabidiol

CBG:

Cannabigerol

CBN:

Cannabinol

CNS:

Central nervous system

eCB:

Endocannabinoid

pCB:

Phytocannabinoid
References
Abel E (1975) Cannabis: effects on hunger and thirst. Behav Biol 15:255

Amar B (2006) Cannabinoids in medicine: a review of their therapeutic potential. J Ethnopharmacol 105:1–25

Bayewitch M, Rhee MH, Avidor-Reiss T, Breuer A, Mechoulam R, Vogel Z (1996) (−)-Delta9-tetrahydrocannabinol antagonizes the peripheral cannabinoid receptor-mediated inhibition of adenylyl cyclase. J Biol Chem 271:9902–9905

BNF (2006) British National Formulary. BMJ Publishing Group, London

Cadoni C, Pisanu A, Solinas M, Acquas E, Di Chiara G (2001) Behavioural sensitization after repeated exposure to Delta 9-tetrahydrocannabinol and cross-sensitization with morphine. Psychopharmacology 158(3):259–266

Cascio MG, Gauson LA, Stevenson LA, Ross RA, Pertwee RG (2010) Evidence that the plant cannabinoid cannabigerol is a highly potent α2-adrenoceptor agonist and moderately potent 5HT1A receptor antagonist. Br J Pharmacol 159:129–141

Clark RT (2009) Annual Report Pursuant to Section 13 or 15(d) of the Securities Exchange Act of 1934 For the Fiscal Year Ended December 31, 2008 United States Securities and Exchange Commission. Merck & Co., Inc., Washington

De Filippis Dea (2008) Effect of cannabidiol on sepsis-induced motility disturbances in mice: involvement of CB1 receptors and fatty acid amide hydrolase. Neurogastroenterol Motil 20:919–927

Deiana S, Watanabe A, Yamasaki Y, Amada N, Arthur M, Fleming S, Woodcock H, Dorward P, Pigliacampo B, Close S, Platt B, Riedel G (2012) Plasma and brain pharmacokinetic profile of cannabidiol (CBD), cannabidivarine (CBDV), ∆9-tetrahydrocannabivaron (THCV) and cannabigerol (CBG) in rats and mice following oral and intraperitoneal administration and CBD action on obsessive–compulsive behaviour. Psychopharmacol 219:859-873

Devane W, Dysarz F, Johnson MR, Melvin LS, Howlett A (1988) Determination and characterisation of a cannabinoid receptor in the rat brain. Mol Pharmacol 34:605–613

Devane WA, Hanus L, Breuer A, Pertwee RG, Stevenson LA, Griffin G, Gibson D, Mandelbaum A, Etinger A, Mechoulam R (1992) Isolation and structure of a brain constituent that binds to the cannabinoid receptor. Science 258:1946–1949

EMA (2009) Procedural steps taken and scientific information after the authorisation Acomplia. In: Agency EM (ed) EMEA/H/C/000666/A20/0012. European Union, Brussels

Evans AT, Formukong E, Evans FJ (1987) Activation of phospholipase A2 by cannabinoids: lack of correlation with CNS effects. FEBS Lett 211:119–122

Farrimond J, Hill A, Whalley B, Williams C (2010a) Cannabis constituents modulate 9-tetrahydrocannabinol-induced hyperphagia in rats. Psychopharmacology 210:97–106

Farrimond JA, Whalley BJ, Williams CM (2010b) A low Δ9tetrahydrocannabinol cannabis extract induces hyperphagia in rats. Behav Pharmacol 21:769–773

Farrimond JA, Mercier MS, Whalley BJ, Williams CM (2011) Cannabis sativa and the endogenous cannabinoid system: therapeutic potential for appetite regulation. Phytother Res 25:18

Farrimond JA, Whalley BJ, Williams CM (2012) Non-∆9tetrahydrocannabinol phytocannabinoids are effective modulators of rat feeding patterns in vivo. Behav Pharmacol 23:113--117

Felder CC, Joyce KE, Briley EM, Mansouri J, Mackie K, Blond O, Lai Y, Ma AL, Mitchell RL (1995) Comparison of the pharmacology and signal transduction of the human cannabinoid CB1 and CB2 receptors. Mol Pharmacol 48:443–450

Gaoni Y, Mechoulam R (1964) Isolation, structure, and partial synthesis of an active constituent of hashish. J Am Chem Soc 86:1646–1647

Gauson L, Stevenson L, Thomas A, Baillie G, Ross R, Pertwee R (2007) Cannabigerol behaves as a partial agonist at both CB1 and CB2 receptors. Symposium on the Cannabinoids. International Cannabinoid Research Society, Burlington, Vermont, USA, 206 pp

Glass M (2001) The role of cannabinoids in neurodegenerative diseases. Progress in Neuro-psychopharmacology and Biological Psychiatry 25:743–765

Hao S, Avraham Y, Mechoulam R, Berry EM (2000) Low dose anandamide affects food intake, cognitive function, neurotransmitter and corticosterone levels in diet-restricted mice. Eur J Pharmacol 392:147–156

Herkenham M, Lynn AB, Johnson MR, Melvin LS, de Costa BR, Rice KC (1991) Characterization and localization of cannabinoid receptors in rat brain: a quantitative in vitro autoradiographic study. J Neurosci 11:563–583

Hill A, Williams C, Whalley B, Stephens G (2012) Phytocannabinoids as novel therapeutic agents in CNS disorders. Pharmacol Ther 133:79–97

Ignatowska-Jankowska B, Jankowski M, Swiergiel A (2010) Cannabidiol decreases body weight gain in rats: involvement of CB2 receptors. Neurosci Lett 490:82–84

Izzo AA, Borrelli F, Capasso R, Di Marzo V, Mechoulam R (2009) Non-psychotropic plant cannabinoids: new therapeutic opportunities from an ancient herb. Trends Pharmacol Sci 30:515–527

Jamshidi N, Taylor DA (2001) Anandamide administration into the ventromedial hypothalamus stimulates appetite in rats. Br J Pharmacol 134:1151–1154

Koch JE, Matthews SM (2001) 9-Tetrahydrocannabinol stimulates palatable food intake in Lewis rats: effects of peripheral and central administration. Nutr Neurosci 4:179–187

Ligresti A, Moriello A, Starowicz K, Matias I, Pisanti S, De Petrocellis L, Laezza C, Portella G, Bifulco M, Di Marzo V (2006) Antitumor activity of plant cannabinoids with emphasis on the effect of cannabidiol on human breast carcinoma. J Pharmacol Exp Ther 318:1375

Martin BR, Balster RL, Razdan RK, Harris LS, Dewey WL (1981) Behavioral comparisons of the stereoisomers of tetrahydrocannabinols. Life Science 29:565–574

Matsuda LA, Lolait SJ, Brownstein MJ, Young AC, Bonner TI (1990) Structure of a cannabinoid receptor and functional expression of the cloned cDNA. Nature 346:561–564

Mechoulam R, Ben-Shabat S, Hanus L, Ligumsky M, Kaminski NE, Schatz AR, Gopher A, Almog S, Martin BR, Compton DR (1995) Identification of an endogenous 2-monoglyceride, present in canine gut, that binds to cannabinoid receptors. Biochem Pharmacol 50:83–90

Munro S, Thomas KL, Abu-Shaar M (1993) Molecular characterization of a peripheral receptor for cannabinoids. Nature 365:61–65

O'Shaughnessey WB (1843) On the Preparations of the Indian hemp, or gunjah (Cannabis indica): their effects on the animal system in health, and their utility in the treatment of tetanus and other convulsive diseases. Provincial Medical Journal 5

Pertwee RG (2008) The diverse CB1 and CB2 receptor pharmacology of three plant cannabinoids: Δ9-tetrahydrocannabinol, cannabidiol and Δ9-tetrahydrocannabivarin. Br J Pharmacol 153:199–215

Petrosino S, Ligresti A, Di Marzo V (2009) Endocannabinoid chemical biology: a tool for the development of novel therapies. Curr Opin Chem Biol 13:309–320

Pryce G, Ahmed Z, Hankey D, Jackson S, Croxford J, Pocock J, Ledent C, Petzold A, Thompson A, Giovannoni G, Cuzner M, Baker D (2003) Cannabinoids inhibit neurodegeneration in models of multiple sclerosis. Brain 126:2191–2202

Rhee MH, Vogel Z, Barg J, Bayewitch M, Levy R, Hanus L, Breuer A, Mechoulam R (1997) Cannabinol derivatives: binding to cannabinoid receptors and inhibition of adenylylcyclase. J Med Chem 40:3228–3233

Riedel G, Fadda P, McKillop-Smith S, Pertwee R, Platt B, Robinson L (2009) Synthetic and plant-derived cannabinoid receptor antagonists show hypophagic properties in fasted and non-fasted mice. Br J Pharmacol 156:1154–1166

Rinaldi-Carmona M, Barth F, Héaulme M, Shire D, Calandra B, Congy C et al (1999) SR141716A, a potent and selective antagonist of the brain cannabinoid receptor. FEBS Lett 350(2–3):240–244

Rubino T, Viganò D, Massi P, Parolaro D (2001) The psychoactive ingredient of marijuana induces behavioural sensitization. Eur J Neurosci 14(5):884–886

Ryan D, Drysdale AJ, Lafourcade C, Pertwee RG, Platt B (2009) Cannabidiol targets mitochondria to regulate intracellular Ca2+ levels. J Neurosci 29:2053–2063

Scopinho AA, Guimaraes FS, Correa F, Resstel L (2011) Cannabidiol inhibits the hyperphagia induced by cannabinoid-1 or serotonin-1A receptor agonists. Pharmacol Biochem Behav 98:268–272

Sofia RD, Knobloch LC (1976) Comparative effects of various naturally occurring cannabinoids on food, sucrose and water consumption by rats. Pharmacol Biochem Behav 4:591–599

Sugiura T, Kondo S, Sukagawa A, Nakane S, Shinoda A, Itoh K, Yamashita A, Waku K (1995) 2-Arachidonoylglycerol: a possible endogenous cannabinoid receptor ligand in brain. Biochem Biophys Res Commun 215:89–97

Van Gaal LF, Rissanen AM, Scheen AJ, Ziegler O, Rössner S (2005) Effects of the cannabinoid-1 receptor blocker rimonabant on weight reduction and cardiovascular risk factors in overweight patients: 1-year experience from the RIO-Europe Study. Lancet 365:1389–1397

Wang T, Collet J, Shapiro S, Ware M (2008) Adverse effects of medical cannabinoids: a systematic review. Can Med Assoc J 178:1669

Wiley J, Burston J, Leggett D, Alekseeva O, Razdan R, Mahadevan A, Martin B (2005) CB1 cannabinoid receptor-mediated modulation of food intake in mice. Br J Pharmacol 145:293–300

Williams CM, Kirkham TC (1999) Anandamide induces overeating: mediation by central cannabinoid CB1 receptors. Psychopharmacology 143:315–317

Williams CM, Kirkham TC (2002a) Observational analysis of feeding induced by Delta9-THC and anandamide. Physiology and Behaviour 76:241–250

Williams CM, Kirkham TC (2002b) Reversal of D9-THC hyperphagia by SR141716 and naloxone but not dexfenfluramine. Pharmacol Biochem Behav 71:333–340

Williams CM, Rogers PJ, Kirkham TC (1998) Hyperphagia in pre-fed rats following oral D9-THC. Physiol Behav 65:343–346
Acknowledgments
This research was supported in part by the University of Reading Research Endowment Trust Fund (to JAF). The authors thank Ms. Pam Rummings and her team for technical assistance and GW Pharmaceuticals for the kind gift of purified phytocannabinoids.
Ethical compliance
All procedures were performed in compliance with the requirements of the United Kingdom Animals (Scientific Procedures) Act 1986 and all other applicable laws and standards in the UK.
About this article
Cite this article
Farrimond, J.A., Whalley, B.J. & Williams, C.M. Cannabinol and cannabidiol exert opposing effects on rat feeding patterns. Psychopharmacology 223, 117–129 (2012). https://doi.org/10.1007/s00213-012-2697-x
Received:

Accepted:

Published:

Issue Date:

DOI: https://doi.org/10.1007/s00213-012-2697-x
Keywords
Cannabis

Cannabigerol

Cannabidiol

Cannabinol

Phytocannabinoids

Feeding

Appetite

Behavio(u)r