Abstract
Rationale
Most studies on the subjective effects of ecstasy are based on the assumption that the substance that was taken is 3,4-methylenedioxymethamphetamine (MDMA). However, many tablets sold as ecstasy contain other substances and MDMA in varying doses. So far, few attempts have been made to take this into account while assessing subjective effects.
Objectives
This study aims to link the pharmacological content of tablets sold as ecstasy to the subjective experiences reported by ecstasy users.
Methods
Self-reported effects on ecstasy tablets were available from 5,786 drug users who handed in their tablets for chemical analysis at the Drug Information and Monitoring System (DIMS) in the Netherlands. Logistic regression was employed to link the pharmacological content of ecstasy tablets to the self-reported subjective effects and compare effects with MDMA to other substances present.
Results
MDMA showed a strong association with desirable subjective effects, unparalleled by any other psychoactive substance. However, the association of MDMA was dose-dependent, with higher doses (>120 mg/tablet) likely to evoke more adverse effects. The novel psychostimulants mephedrone and p-fluoroamphetamine were considered relatively desirable, whereas meta-chlorophenylpiperazine (mCPP) and p-methoxymethamphetamine (PMMA) were strongly associated with adverse subjective effects. Also, 3,4-methylene-dioxyamphetamine (MDA) and benzylpiperazine (BZP) were not appreciated as replacement for MDMA.
Conclusion
Linking the pharmacological content of ecstasy sold on the street to subjective experiences contributes to a better understanding of the wide range of subjective effects ascribed to ecstasy and provides a strong rationale for the prolonged endurance of MDMA as the key ingredient of the ecstasy market.
Access options
Buy single article
Instant access to the full article PDF.
US$ 39.95
Tax calculation will be finalised during checkout.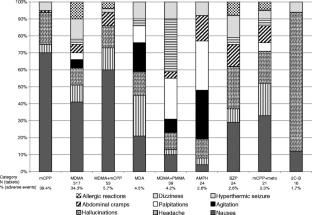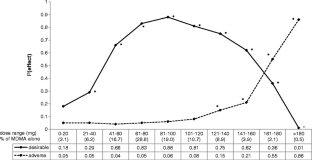 References
Aerts LA, Mallaret M, Rigter H (2000) N-Methyl-1-(1,3-benzodioxol-5-yl)-2-butanamine (MBDB): its properties and possible risks. Addict Biol 5:269–282

Antia U, Lee HS, Kydd RR, Tingle MD, Russell BR (2009) Pharmacokinetics of 'party pill' drug N-benzylpiperazine (BZP) in healthy human participants. Forensic Sci Int 186:63–67

Baylen CA, Rosenberg H (2006) A review of the acute subjective effects of MDMA/ecstasy. Addiction 101:933–947

Becker J, Neis P, Röhrich J, Zörntlein S (2003) A fatal paramethoxymethamphetamine intoxication. Leg Med (Tokyo) 5:S138–S141

Bossong MG, Van Dijk JP, Niesink RJ (2005) Methylone and mCPP, two new drugs of abuse? Addict Biol 10:321–323

Bossong M, Brunt TM, Van Dijk JP, Rigter S, Hoek J, Goldschmidt H, Niesink RJ (2010) mCPP: an undesired addition to the ecstasy market. J Psychopharmacol 24:1395–1401

Boyer EW, Quang L, Woolf A, Shannon M, Magnani B (2001) Dextromethorphan and ecstasy pills. JAMA 285:409–410

Brunt TM, Poortman A, Niesink RJ, van den Brink W (2010) Instability of the ecstasy market and a new kid on the block: mephedrone. J Psychopharmacol. doi:10.1177/0269881110378370

Butler RA, Sheridan JL (2007) Highs and lows: patterns of use, positive and negative effects of benzylpiperazine-containing party pills (BZP-party pills) amongst young people in New Zealand. Harm Reduct J 4:18

Bytzer P, Hallas J (2000) Drug-induced symptoms of functional dyspepsia and nausea. A symmetry analysis of one million prescriptions. Aliment Pharmacol Ther 14:1479–1484

Caldicott DG, Edwards NA, Kruys A, Kirkbride KP, Sims DN, Byard RW, Prior M, Irvine RJ (2003) Dancing with "death": p-methoxyamphetamine overdose and its acute management. J Toxicol Clin Toxicol 41:143–154

Callaghan PD, Irvine RJ, Daws LC (2005) Differences in the in vivo dynamics of neurotransmitter release and serotonin uptake after acute para-methoxyamphetamine and 3,4-methylenedioxymethamphetamine revealed by chronoamperometry. Neurochem Int 47:350–361

Camilleri AM, Caldicott D (2005) Underground pill testing, down under. Forensic Sci Int 151:53–58

Carhart-Harris RL, King LA, Nutt DJ (2011) A web-based survey on mephedrone. Drug Alcohol Depend. doi:10.1016/j.drugalcdep.2011.02.011

Cohen BM, Butler R (2010) BZP-party pills: a review of research on benzylpiperazine as a recreational drug. Int J Drug Policy 22:95–101

Cole JC, Bailey M, Sumnall HR, Wagstaff GF, King LA (2002) The content of ecstasy tablets: implications for the study of their long-term effects. Addiction 97:1531–1536

Cunningham RS (1997) 5-HT3-receptor antagonists: a review of pharmacology and clinical efficacy. Oncol Nurs Forum 24:33–40

de Boer D, Bosman IJ, Hidvégi E, Manzoni C, Benkö AA, dos Reys LJ, Maes RA (2001) Piperazine-like compounds: a new group of designer drugs-of-abuse on the European market. Forensic Sci Int 121:47–56

Dumont GJ, Verkes RJ (2006) A review of acute effects of 3,4-methylenedioxymethamphetamine in healthy volunteers. J Psychopharmacol 20:176–187

EMCDDA (2003–2011) European information system and database on new drugs, EWS final reports 2003–2011, http://ednd.emcdda.europa.eu/

EMCDDA (2010) European Monitoring Centre for Drugs and Drug Addiction, Annual Report 2010, http://www.emcdda.europa.eu/attachements.cfm/att_120104_EN_EMCDDA_AR2010_EN.pdf

Erowid (2006) Erowid 4-Fluoroamphetamine (para-Fluoroamphetamine) Vault, http://www.erowid.org/chemicals/4_fluoroamphetamine/

Erowid (2010) Erowid Experience Vaults: 4-Methylmethcathinone Reports, http://www.erowid.org/experiences/subs/exp_4Methylmethcathinone.shtml

Europol-EMCDDA (2010) Annual Report on the implementation of Council Decision 2005/387/JHA,http://www.emcdda.europa.eu/attachements.cfm/att_132857_EN_EMCDDA-Europol%20Annual%20Report%202010A.pdf

Feuchtl A, Bagli M, Stephan R, Frahnert C, Kölsch H, Kühn KU, Rao ML (2004) Pharmacokinetics of m-chlorophenylpiperazine after intravenous and oral administration in healthy male volunteers: implication for the pharmacodynamic profile. Pharmacopsychiatry 37:180–188

Gijsman HJ, Cohen AF, van Gerven JM (2004) The application of the principles of clinical drug development to pharmacological challenge tests of the serotonergic system. J Psychopharmacol 18:7–13

Giraudon I, Bello PY (2007) Monitoring ecstasy content in France: results from the National Surveillance System 1999–2004. Subst Use Misuse 42:1567–1578

Glennon RA, Ismaiel AE, McCarthy BG, Peroutka SJ (1989) Binding of arylpiperazines to 5-HT3 serotonin receptors: results of a structure-affinity study. Eur J Pharmacol 168:387–392

Gouzoulis-Mayfrank E, Thelen B, Habermeyer E, Kunert HJ, Kovar KA, Lindenblatt H, Hermle L, Spitzer M, Sass H (1999) Psychopathological, neuroendocrine and autonomic effects of 3,4-methylenedioxyethylamphetamine (MDE), psilocybin and d-methamphetamine in healthy volunteers. Results of an experimental double-blind placebo-controlled study. Psychopharmacology Berl 142:41–50

Hegadoren KM, Baker GB, Bourin M (1999) 3,4-Methylenedioxy analogues of amphetamine: defining the risks to humans. Neurosci Biobehav Rev 23:539–553

Hermle L, Spitzer M, Borchardt D, Kovar KA, Gouzoulis E (1993) Psychological effects of MDE in normal subjects. Are entactogens a new class of psychoactive agents? Neuropsychopharmacology 8:171–176

Higgins GA, Kilpatrick GJ (1999) 5-HT(3) receptor antagonists. Expert Opin Investig Drugs 8:2183–2188

Hiyama T, Yoshihara M, Tanaka S, Haruma K, Chayama K (2009) Effectiveness of prokinetic agents against diseases external to the gastrointestinal tract. J Gastroenterol Hepatol 24:537–546

Hosmer DW, Lemeshow S (2000) Applied logistic regression, 2nd edn. Wiley, University of Massachusetts, Massachusetts

Huxster JK, Pirona A, Morgan MJ (2006) The sub-acute effects of recreational ecstasy (MDMA) use: a controlled study in humans. J Psychopharmacol 20:281–290

Jan RK, Lin JC, Lee H, Sheridan JL, Kydd RR, Kirk IJ, Russell BR (2010) Determining the subjective effects of TFMPP in human males. Psychopharmacology Berl 211:347–353

Johnstone AC, Lea RA, Brennan KA, Schenk S, Kennedy MA, Fitzmaurice PS (2007) Benzylpiperazine: a drug of abuse? J Psychopharmacol 21:888–894

Johansen SS, Hansen AC, Müller IB, Lundemose JB, Franzmann MB (2003) Three fatal cases of PMA and PMMA poisoning in Denmark. J Anal Toxicol 27:253–256

Kalasinsky KS, Hugel J, Kish SJ (2004) Use of MDA (the "love drug") and methamphetamine in Toronto by unsuspecting users of ecstasy (MDMA). J Forensic Sci 49:1106–1112

Kenyon SL, Ramsey JD, Lee T, Johnston A, Holt DW (2005) Analysis for identification in amnesty bin samples from dance venues. Ther Drug Monit 27:793–798

Kolbrich EA, Goodwin RS, Gorelick DA, Hayes RJ, Stein EA, Huestis MA (2008) Physiological and subjective responses to controlled oral 3,4-methylenedioxymethamphetamine administration. J Clin Psychopharmacol 28:432–440

Liechti ME, Gamma A, Vollenweider FX (2001) Gender differences in the subjective effects of MDMA. Psychopharmacology Berl 154:161–168

Lin DL, Liu HC, Yin HL (2007) Recent paramethoxymethamphetamine (PMMA) deaths in Taiwan. J Anal Toxicol 31:109–113

Lin JC, Bangs N, Lee H, Kydd RR, Russell BR (2009) Determining the subjective and physiological effects of BZP on human females. Psychopharmacology Berl 207:439–446

Lin JC, Jan RK, Lee H, Jensen MA, Kydd RR, Russell BR (2011) Determining the subjective and physiological effects of BZP combined with TFMPP in human males. Psychopharmacology Berl 214:761–768

Lora-Tamayo C, Tena T, Rodríguez A, Moreno D, Sancho JR, Enseñat P, Muela F (2004) The designer drug situation in Ibiza. Forensic Sci Int 140:195–206

Marona-Lewicka D, Rhee GS, Sprague JE, Nichols DE (1995) Psychostimulant-like effects of p-fluoroamphetamine in the rat. Eur J Pharmacol 287:105–113

Matok I, Gorodischer R, Koren G, Sheiner E, Wiznitzer A, Levy A (2009) The safety of metoclopramide use in the first trimester of pregnancy. N Engl J Med 360:2528–2535

Maurer HH, Kraemer T, Springer D, Staack RF (2004) Chemistry, pharmacology, toxicology, and hepatic metabolism of designer drugs of the amphetamine (ecstasy), piperazine, and pyrrolidinophenone types: a synopsis. Ther Drug Monit 26:127–131

McElrath K, O'Neill C (2011) Experiences with mephedrone pre- and post-legislative controls: perceptions of safety and sources of supply. Int J Drug Policy 22:120–127

Morefield KM, Keane M, Felgate P, White JM, Irvine RJ (2011) Pill content, dose and resulting plasma concentrations of 3,4-methylendioxymethamphetamine (MDMA) in recreational 'ecstasy' users. Addiction 106:1293–1300

Murphy PN, Wareing M, Fisk J (2006) Users' perceptions of the risks and effects of taking ecstasy (MDMA): a questionnaire study. J Psychopharmacol 20:447–455

Nagai F, Nonaka R, Satoh Hisashi Kamimura K (2007) The effects of non-medically used psychoactive drugs on monoamine neurotransmission in rat brain. Eur J Pharmacol 559:132–137

Páleníček T, Balíková M, Rohanová M, Novák T, Horáček J, Fujáková M, Höschl C (2011) Behavioral, hyperthermic and pharmacokinetic profile of para-methoxymethamphetamine (PMMA) in rats. Pharmacol Biochem Behav 98:130–139

Parrott AC, Buchanan T, Scholey AB, Heffernan T, Ling J, Rodgers J (2002) Ecstasy/MDMA attributed problems reported by novice, moderate and heavy recreational users. Hum Psychopharmacol 17:309–312

Parrott AC (2004) Is ecstasy MDMA? A review of the proportion of ecstasy tablets containing MDMA, their dosage levels, and the changing perceptions of purity. Psychopharmacology Berl 173:234–241

Parrott AC (2006) MDMA in humans: factors which affect the neuropsychobiological profiles of recreational ecstasy users, the integrative role of bioenergetic stress. J Psychopharmacol 20:147–163

Parrott AC, Rodgers J, Buchanan T, Ling J, Heffernan T, Scholey AB (2006) Dancing hot on Ecstasy: physical activity and thermal comfort ratings are associated with the memory and other psychobiological problems reported by recreational MDMA users. Hum Psychopharmacol 21:285–298

Peroutka SJ, Newman H, Harris H (1988) Subjective effects of 3,4-methylenedioxymethamphetamine in recreational users. Neuropsychopharmacology 1:273–277

Rohanova M, Balikova M (2009) Studies on distribution and metabolism of para-methoxymethamphetamine (PMMA) in rats after subcutaneous administration. Toxicology 259:61–68

Schifano F, Corkery J, Deluca P, Oyefeso A, Ghodse AH (2006) Ecstasy (MDMA, MDA, MDEA, MBDB) consumption, seizures, related offences, prices, dosage levels and deaths in the UK (1994–2003). J Psychopharmacol 20:456–463

Schifano F, Albanese A, Fergus S, Stair JL, Deluca P, Corazza O, Davey Z, Corkery J, Siemann H, Scherbaum N, Farré M, Torrens M, Demetrovics Z, Ghodse AH, Psychonaut Web Mapping; ReDNet Research Groups (2011) Mephedrone (4-methylmethcathinone; 'meow meow'): chemical, pharmacological and clinical issues. Psychopharmacology Berl 214:593–602

Simonsen KW, Kaa E, Nielsen E, Rollmann D (2003) Narcotics at street level in Denmark. A prospective investigation from 1995 to 2000. Forensic Sci Int 131:162–170

Staack RF (2007) Piperazine designer drugs of abuse. Lancet 369:1411–1413

Staack RF, Maurer HH (2003) Piperazine-derived designer drug 1-(3-chlorophenyl)piperazine (mCPP): GC-MS studies on its metabolism and its toxicological detection in rat urine including analytical differentiation from its precursor drugs trazodone and nefazodone. J Anal Toxicol 27:560–568

Sumnall HR, Cole JC, Jerome L (2006) The varieties of ecstatic experience: an exploration of the subjective experiences of ecstasy. J Psychopharmacol 20:670–682

Tancer ME, Johanson CE (2001) The subjective effects of MDMA and mCPP in moderate MDMA users. Drug Alcohol Depend 65:97–101

Tancer M, Johanson CE (2003) Reinforcing, subjective, and physiological effects of MDMA in humans: a comparison with d-amphetamine and mCPP. Drug Alcohol Depend 72:33–44

Tanner-Smith EE (2006) Pharmacological content of tablets sold as "ecstasy": results from an online testing service. Drug Alcohol Depend 83:247–254

Thomasius R, Petersen K, Buchert R, Andresen B, Zapletalova P, Wartberg L, Nebeling B, Schmoldt A (2003) Mood, cognition and serotonin transporter availability in current and former ecstasy (MDMA) users. Psychopharmacology Berl 167:85–96

Thompson I, Williams G, Caldwell B, Aldington S, Dickson S, Lucas N, McDowall J, Weatherall M, Robinson G, Beasley R (2010) Randomised double-blind, placebo-controlled trial of the effects of the 'party pills' BZP/TFMPP alone and in combination with alcohol. J Psychopharmacol 24:1299–1308

UNODC (2010) United Nations Office on Drugs and Crime, World Drug Report 2010, http://www.unodc.org/documents/wdr/WDR_2010/World_Drug_Report_2010_lo-res.pdf

Verheyden SL, Hadfield J, Calin T, Curran HV (2002) Sub-acute effects of MDMA (+/−3,4-methylenedioxymethamphetamine, "ecstasy") on mood: evidence of gender differences. Psychopharmacology Berl 161:23–31

Vogels N, Brunt TM, Rigter S, van Dijk P, Vervaeke H, Niesink RJ (2009) Content of ecstasy in the Netherlands: 1993–2008. Addiction 104:2057–2066

Wee S, Anderson KG, Baumann MH, Rothman RB, Blough BE, Woolverton WL (2005) Relationship between the serotonergic activity and reinforcing effects of a series of amphetamine analogs. J Pharmacol Exp Ther 313:848–854

Winstock AR, Mitcheson LR, Deluca P, Davey Z, Corazza O, Schifano F (2011) Mephedrone, new kid for the chop? Addiction 106:154–161
Acknowledgements
This research was financially supported by the Dutch Ministry of Health, Welfare and Sports. The authors would like to acknowledge Dr. Cristina Mayo for her statistical advice, and Sander Rigter, Mariëtte Pouw and Peter van Dijk for their assistance with data collection. The authors would also like to thank all participants of the DIMS network.
Conflict of interest
The authors have no conflict of interest to declare.
About this article
Cite this article
Brunt, T.M., Koeter, M.W., Niesink, R.J.M. et al. Linking the pharmacological content of ecstasy tablets to the subjective experiences of drug users. Psychopharmacology 220, 751–762 (2012). https://doi.org/10.1007/s00213-011-2529-4
Received:

Accepted:

Published:

Issue Date:
Keywords
3,4-Methylenedioxymethamphetamine (MDMA)

Ecstasy

Subjective effects

Desirable

Adverse

Dose