Abstract
Rationale
There is potential for multivitamin supplementation to improve cognition in the elderly. This randomized, double-blind, placebo-controlled trial was conducted to investigate the effects of 16 weeks multivitamin supplementation (Swisse Women's 50+ Ultivite ®) on cognition in elderly women.
Methods
Participants in this study were 56 community dwelling, elderly women, with subjective complaints of memory loss. Cognition was assessed using a computerized battery of memory and attention tasks designed to be sensitive to age-related declines to fluid intelligence, and a measure of verbal recall. Biochemical measures of selected nutrients, homocysteine, markers of inflammation, oxidative stress, and blood safety parameters were also collected. All cognitive and haematological parameters were assessed at baseline and 16 weeks post-treatment.
Results
The multivitamin improved speed of response on a measure of spatial working memory, however benefits to other cognitive processes were not observed. Multivitamin supplementation decreased levels of homocysteine and increased levels of vitamin B6 and B12, with a trend for vitamin E to increase. There were no hepatotoxic effects of the multivitamin formula indicating this supplement was safe for everyday usage in the elderly.
Conclusion
Sixteen weeks ssupplementation with a combined multivitamin, mineral and herbal formula may benefit working memory in elderly women at risk of cognitive decline.
This is a preview of subscription content, log in to check access.
Access options
Buy single article
Instant access to the full article PDF.
US$ 39.95
Price includes VAT for USA
Subscribe to journal
Immediate online access to all issues from 2019. Subscription will auto renew annually.
US$ 199
This is the net price. Taxes to be calculated in checkout.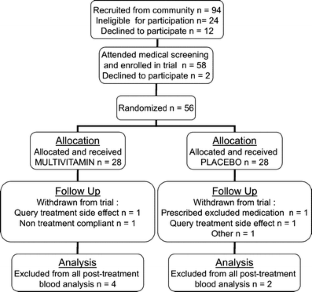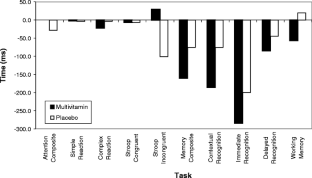 References
Ahlemeyer B, Krieglstein J (2003) Pharmacological studies supporting the therapeutic use of Ginkgo biloba extract for Alzheimer's disease. Pharmacopsychiatry 36(suppl 1):8–14

Arnaud J, Bost M, Vitoux D, Labarère J, Galan P, Faure H, Hercberg S, Bordet JC, Roussel AM, Chappuis P (2007) Effect of low dose antioxidant vitamin and trace element supplementation on the urinary concentrations of thromboxane and prostacyclin metabolites. J Am Coll Nutr 26(5):405–411

Balk EM, Raman G, Tatsioni A, Chung M, Lau J, Rosenberg IH (2007) Vitamin B6, B12, and folic acid supplementation and cognitive function: a systematic review of randomized trials. Arch Intern Med 167(1):21–30

Berr C, Richard MJ, Roussel AM, Bonithon-Kopp C (1998) Systemic oxidative stress and cognitive performance in the population-based EVA study. Free Radic Biol Med 24(7–8):1202–1208

Bhattacharya SK, Bhattacharya A, Kumar A, Ghosal S (2000) Antioxidant activity of Bacopa monniera in rat frontal cortex, striatum and hippocampus. Phytother Res 14(3):174–179

Block G, Jensen CD, Norkus EP, Dalvi TB, Wong LG, McManus JF, Hudes ML (2007) Usage patterns, health, and nutritional status of long-term multiple dietary supplement users: a cross-sectional study. Nutr J 6(30)

Block G, Jensen CD, Morrow JD, Holland N, Norkus EP, Milne GL, Hudes M, Dalvi TB, Crawford PB, Fung EB, Schumacher L, Harmatz P (2008) The effect of vitamins C and E on biomarkers of oxidative stress depends on baseline level. Free Radic Biol Med 45(4):377–384

Bourre JM (2006) Effects of nutrients (in food) on the structure and function of the nervous system: Update on dietary requirements for brain: Part 1. Micronutrients. J Nutr Health Aging 10(5):377–385

Breteler MMB, Claus JJ, Grobbee DE, Hofman A (1994) Cardiovascular disease and distribution of cognitive function in elderly people: the Rotterdam Study. Br Med J 308(6944):1604–1608

Bryan J, Calvaresi E, Hughes D (2002) Short-term folate, vitamin B-12 or vitamin B-6 supplementation slightly affects memory performance but not mood in women of various ages. J Nutr 132(6):1345–1356

Burns NR, Bryan J, Nettelbeck T (2006) Ginkgo biloba: no robust effect on cognitive abilities or mood in healthy young or older adults. Hum Psychopharmacol 21(1):27–37

Carty JL, Bevan R, Waller H, Mistry N, Cooke M, Lunec J, Griffiths HR (2000) The effects of vitamin C supplementation on protein oxidation in healthy volunteers. Biochem Biophys Res Commun 273(2):729–735

Cheng TY, Zhu Z, Masuda S, Morcos NC (2001) Effects of multinutrient supplementation on antioxidant defense systems in healthy human beings. J Nutr Biochem 12(7):388–395

Christensen H (2001) What cognitive changes can be expected with normal ageing? Aust N Z J Psychiatry 35(6):768–775

Church TS, Earnest CP, Wood KA, Kampert JB (2003) Reduction of C-reactive protein levels through use of a multivitamin. Am J Med 115(9):702–707

Clarke R, Harrison G, Richards S (2003) Effect of vitamins and aspirin on markers of platelet activation, oxidative stress and homocysteine in people at high risk of dementia. J Intern Med 254(1):67–75

Cockle SM, Haller J, Kimber S, Dawe RA, Hindmarch I (2000) The influence of multivitamins on cognitive function and mood in the elderly. Aging Ment Health 4(4):339–353

Collins AR (2005) Assays for oxidative stress and antioxidant status: applications to research into the biological effectiveness of polyphenols. Am J Clin Nutr 81(Suppl 1):261S–267S

Den Heijer T, Vermeer SE, Clarke R, Oudkerk M, Koudstaal PJ, Hofman A, Breteler MMB (2003) Homocysteine and brain atrophy on MRI of non-demented elderly. Brain 126(1):170–175

Di Renzo G (2000) Ginkgo biloba and the central nervous system. Fitoterapia 71(suppl 1):43S–47S

Durga J, van Boxtel MP, Schouten EG, Kok FJ, Jolles J, Katan MB, Verhoef P (2007) Effect of 3-year folic acid supplementation on cognitive function in older adults in the FACIT trial: a randomised, double blind, controlled trial. Lancet 369(9557):208–216

Earnest CP, Cooper KH, Marks A, Mitchell TL (2002) Efficacy of a complex multivitamin supplement. Nutrition 18(9):738–742

Earnest CP, Wood KA, Church TS (2003) Complex multivitamin supplementation improves homocysteine and resistance to LDL-C oxidation. J Am Coll Nutr 22(5):400–407

Elias MF, Robbins MA, Budge MM, Elias PK, Brennan SL, Johnston C, Nagy Z, Bates CJ (2006) Homocysteine, folate, and vitamins B6 and B12 blood levels in relation to cognitive performance: the Maine–Syracuse study. Psychosom Med 68:547–554

Eussen SJ, De Groot LC, Joosten LW, Bloo RJ, Clarke R, Ueland PM, Schneede J, Blom HJ, Hoefnagels WH, Van Staveren WA (2006) Effect of oral vitamin B-12 with or without folic acid on cognitive function in older people with mild vitamin B-12 deficiency: a randomized, placebo-controlled trial. Am J Clin Nutr 84(2):361–370

Folstein MF, Folstein SE, McHugh PR (1975) Mini-Mental State. A practical method for grading the cognitive state of patients for the clinician. J Psychiatr Res 12:189–198

Fuhrman B, Volkova N, Rosenblat M, Aviram M (2000) Lycopene synergistically inhibits LDL oxidation in combination with vitamin E, glabridin, rosmarinic acid, carnosic acid, or garlic. Antioxid Redox Signal 2(3):491–506

Hara H, Kato H, Kogure K (1990) Protective effect of α-tocopherol on ischemic neuronal damage in the gerbil hippocampus. Brain Res 510(2):335–338

Haskell CF, Scholey AB, Jackson PA, Elliott JM, Defeyter MA, Greer J, Robertson BC, Buchanan T, Tiplady B, Kennedy DO (2008) Cognitive and mood effects in healthy children during 12 weeks' supplementation with multi-vitamin/minerals. Br J Nutr 100(5):1086–1096

Haskell CF, Robertson B, Jones E, Forster J, Jones R, Wilde A, Maggini S, Kennedy DO (2010) Effects of a multi-vitamin/mineral supplement on cognitive function and fatigue during extended multi-tasking. Hum Psychopharmacol 25(6):448–461

Holcomb LA, Dhanasekaran M, Hitt AR, Young KA, Riggs M, Manyam BV (2006) Bacopa monniera extract reduces amyloid levels in PSAPP mice. J Alzheimers Dis 9(3):243–251

Huskisson E, Maggini S, Ruf M (2007) The influence of micronutrients on cognitive function and performance. J Int Med Res 35(1):1–19

Ishige K, Schubert D, Sagara Y (2001) Flavonoids protect neuronal cells from oxidative stress by three distinct mechanisms. Free Radic Biol Med 30(4):433–446

Jorm AF, Christensen H, Korten AE, Henderson AS, Jacomb PA, Mackinnon A (1997) Do cognitive complaints either predict future cognitive decline or reflect past cognitive decline? A longitudinal study of an elderly community sample. Psychol Med 27(1):91–98

Jorm AF, Christensen H, Korten AE, Jacomb PA, Henderson AS (2001) Memory complaints as a precursor of memory impairment in older people: a longitudinal analysis over 7–8 years. Psychol Med 31(3):441–449

Kasapoglu M, Özben T (2001) Alterations of antioxidant enzymes and oxidative stress markers in aging. Exp Gerontol 36(2):209–220

Kennedy DO, Veasey R, Watson A, Dodd F, Jones E, Maggini S, Haskell CF (2010) Effects of high-dose B vitamin complex with vitamin C and minerals on subjective mood and performance in healthy males. Psychopharmacology 211(1):1–14

La Rue A, Koehler KM, Wayne SJ, Chiulli SJ, Haaland KY, Garry PJ (1997) Nutritional status and cognitive functioning in a normally aging sample: a 6 year reassessment. Am J Clin Nutr 65:20–29

Lewerin C, Matousek M, Steen G, Johansson B, Steen B, Nilsson-Ehle H (2005) Significant correlations of plasma homocysteine and serum methylmalonic acid with movement and cognitive performance in elderly subjects but no improvement from short-term vitamin therapy: a placebo-controlled randomized study. Am J Clin Nutr 81(5):1155–1162

Lucas SK, Carstairs JR, Shores EA (2003) A comparison of methods to estimate premorbid intelligence in an Australian sample: data from the Macquarie University Neuropsychological Normative Study (MUNNS). Aust Psychol 38(3):227–237

Macready AL, Kennedy OB, Ellis JA, Williams CM, Spencer JP, Butler LT (2009) Flavonoids and cognitive function: a review of human randomized controlled trial studies and recommendations for future studies. Genes Nutr 4(4):227–242

MacReady AL, Butler LT, Kennedy OB, Ellis JA, Williams CM, Spencer JPE (2011) Cognitive tests used in chronic adult human randomised controlled trial micronutrient and phytochemical intervention studies. Nutr Res Rev 23(2):200–229

Mantle D, Pickering AT, Perry EK (2000) Medicinal plant extracts for the treatment of dementia: a review of their pharmacology, efficacy and tolerability. CNS Drugs 13(3):201–213

McMahon JA, Green TJ, Skeaff CM, Knight RG, Mann JI, Williams SM (2006) A controlled trial of homocysteine lowering and cognitive performance. New Engl J Med 354(26):2764–2772

McNeill G, Avenell A, Campbell MK, Cook JA, Hannaford PC, Kilonzo MM, Milne AC, Ramsay CR, Seymour DG, Stephen AI, Vale LD (2007) Effect of multivitamin and multimineral supplementation on cognitive function in men and women aged 65 years and over: a randomised controlled trial. Nutr J 6(10)

Mix JA, Crews WD (2002) A double-blind, placebo-controlled, randomized trial of Ginkgo biloba extract EGb 761® in a sample of cognitively intact older adults: neuropsychological findings. Hum Psychopharmacol 17(6):267–277

O'Doherty MG, Gilchrist SECM, Young IS, McKinley MC, Yarnell JWG, Gey KF, Evans A, Skidmore PML, Woodside JV (2010) Effect of supplementation with B vitamins and antioxidants on levels of asymmetric dimethylarginine (ADMA) and C-reactive protein (CRP): a double-blind, randomised, factorial design, placebo-controlled trial. Eur J Nutr 49(8):483–492

Pipingas A, Silberstein RB, Vitetta L, Van Rooy C, Harris EV, Young JM, Frampton CM, Sali A, Nastasi J (2008) Improved cognitive performance after dietary supplementation with a Pinus radiata bark extract formulation. Phytother Res 22(9):1168–1174

Pipingas A, Harris E, Tournier E, King R, Kras M, Stough CK (2010) Assessing the efficacy of nutraceutical interventions on cognitive functioning in the elderly. Curr Top Nutraceut Res 8(2–3):79–87

Quadri P, Fragiacomo C, Pezzati R, Zanda E, Tettamanti M, Lucca U (2005) Homocysteine and B vitamins in mild cognitive impairment and dementia. Clin Chem Lab Med 43(10):1096–1100

Rajagopalan P, Hua X, Toga AW, Jack CR Jr, Weiner MW, Thompson PM (2011) Homocysteine effects on brain volumes mapped in 732 elderly individuals. NeuroReport 22(8):391–395

Ribeiro ML, Arçari DP, Squassoni AC, Pedrazzoli J Jr (2007) Effects of multivitamin supplementation on DNA damage in lymphocytes from elderly volunteers. Mech Ageing Dev 128(10):577–580

Ronnlund M, Nyberg L, Bäckman L, Nilsson LG (2005) Stability, growth, and decline in adult life span development of declarative memory: cross-sectional and longitudinal data from a population-based study. Psychol Aging 20(1):3–18

Rosenberg IH, Miller JW (1992) Nutritional factors in physical and cognitive functions of elderly people. Am J Clin Nutr 55(6 suppl):1237–1243

Ryan J, Croft K, Mori T, Wesnes K, Spong J, Downey L, Kure C, Lloyd J, Stough C (2008) An examination of the effects of the antioxidant Pycnogenol® on cognitive performance, serum lipid profile, endocrinological and oxidative stress biomarkers in an elderly population. J Psychopharmacol 22:553–562

Salonen JT, Salonen R, Seppanen K, Rinta-Kiikka S, Kuukka M, Korpela H, Alfthan G, Kantola M, Schalch W (1991) Effects of antioxidant supplementation on platelet function: a randomized pair-matched, placebo-controlled, double-blind trial in men with low antioxidant status. Am J Clin Nutr 53(5):1222–1229

Scholey AB, French SJ, Morris PJ, Kennedy DO, Milne AL, Haskell CF (2010) Consumption of cocoa flavanols results in acute improvements in mood and cognitive performance during sustained mental effort. J Psychopharmacol 24(10):1505–1514

Selhub J, Bagley LC, Miller J, Rosenberg IH (2000) B vitamins, homocysteine, and neurocognitive function in the elderly. Am J Clin Nutr 71(2)

Sen CK, Khanna S (2010) Palm oil derived natural vitamin E alpha-tocotrienol in brain health and disease. J Am Coll Nutr 29(Suppl 3):314S–323S

Shargorodsky M, Debby O, Matas Z, Zimlichman R (2010) Effect of long-term treatment with antioxidants (vitamin C, vitamin E, coenzyme Q10 and selenium) on arterial compliance, humoral factors and inflammatory markers in patients with multiple cardiovascular risk factors. Nutr Metab 7:55

Smith AD, Smith SM, de Jager CA, Whitbread P, Johnston C, Agacinski G, Oulhaj A, Bradley KM, Jacoby R, Refsum H (2010) Homocysteine-lowering by B vitamins slows the rate of accelerated brain atrophy in mild cognitive impairment: a randomized controlled trial. PLoS ONE 5(9):1–10

Spencer JP (2008) Flavonoids: modulators of brain function? Br J Nutr 99(E-suppl 1):60S–77S

Spencer JP (2009) The impact of flavonoids on memory: physiological and molecular considerations. Chem Soc Rev 38:1152–1161

Stickel F, Egerer G, Seitz HK (2000) Hepatotoxicity of botanicals. Public Health Nutr 3(2):113–124

Stough C, Lloyd J, Clarke J, Downey LA, Hutchison CW, Rodgers T, Nathan PJ (2001) The chronic effects of an extract of Bacopa monniera (Brahmi) on cognitive function in healthy human subjects. Psychopharmacology 156(4):481–484

Summers WK, Martin RL, Cunningham M, Deboynton VL, Marsh GM (2010) Complex antioxidant blend improves memory in community-dwelling seniors. J Alzheimer's Dis 19(2):429–439

Williams JH, Pereira EA, Budge MM, Bradley KM (2002) Minimal hippocampal width relates to plasma homocysteine in community-dwelling older people. Age Ageing 31(6):440–444

Wolters M, Hickstein M, Flintermann A, Tewes U, Hahn A (2005) Cognitive performance in relation to vitamin status in healthy elderly German women—the effect of 6-month multivitamin supplementation. Prev Med 41(1):253–259

Xie Z, Sastry BR (1993) Induction of hippocampal long-term potentiation by α-tocopherol. Brain Res 604(1–2):173–179
Acknowledgements
This work was supported by funding from Swisse Vitamins Pty Ltd. The authors are grateful to Swisse Vitamins for providing the multivitamin and placebo supplements used in this trial.
Conflicts of interest
The National Institute of Integrative Medicine, of which Professor Avni Sali is currently Director, receives financial support from Swisse Vitamins Pty Ltd. The treatments were randomly allocated by Swisse Vitamins Pty Ltd. Swisse Vitamins Pty Ltd was not involved in any other aspects of the conduct of the trial, analysis, or interpretation of the trial findings.
About this article
Cite this article
Macpherson, H., Ellis, K.A., Sali, A. et al. Memory improvements in elderly women following 16 weeks treatment with a combined multivitamin, mineral and herbal supplement. Psychopharmacology 220, 351–365 (2012). https://doi.org/10.1007/s00213-011-2481-3
Received:

Accepted:

Published:

Issue Date:
Keywords
Multivitamin

Vitamin

Elderly

Cognition

Cognitive

Memory

Homocysteine

Oxidative stress

Inflammation

Blood safety

Working memory