Abstract
Rationale
Reconsolidation is the process by which memories require restabilisation following destabilisation at retrieval. Since even old, well-established memories become susceptible to disruption following reactivation, treatments based upon disrupting reconsolidation could provide a novel form of therapy for neuropsychiatric disorders based upon maladaptive memories, such as drug addiction. Pavlovian cues are potent precipitators of relapse to drug-seeking behaviour and influence instrumental drug seeking through at least three psychologically and neurobiologically distinct processes: conditioned reinforcement, conditioned approach (autoshaping) and conditioned motivation (pavlovian–instrumental transfer or PIT). We have previously demonstrated that the reconsolidation of memories underlying the conditioned reinforcing properties of drug cues depends upon NMDA receptor (NMDAR)- and β-adrenergic receptor (βAR)-mediated signalling. However, it is unknown whether the drug cue memory representations underlying conditioned approach and PIT depend upon the same mechanisms.
Objectives
Using orally self-administered ethanol as a reinforcer in two separate experiments, we investigated whether the reconsolidation of the memories underlying conditioned approach and PIT requires βAR- and NMDAR-dependent neurotransmission.
Results
For ethanol self-administering but non-dependent rats, the memories underlying conditioned approach and PIT for a pavlovian drug cue were disrupted by the administration of the NMDAR antagonist MK-801, but not the administration of the βAR antagonist propranolol, when given in conjunction with memory reactivation.
Conclusions
As for natural reinforcers, NMDARs are required for the reconsolidation of all aspects of pavlovian drug memories, but βARs are only required for the memory representation underlying conditioned reinforcement. These results indicate the potential utility of treatments based upon disrupting cue–drug memory reconsolidation in preventing relapse.
Access options
Buy single article
Instant access to the full article PDF.
US$ 39.95
Tax calculation will be finalised during checkout.
Subscribe to journal
Immediate online access to all issues from 2019. Subscription will auto renew annually.
US$ 119
Tax calculation will be finalised during checkout.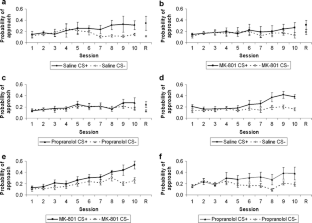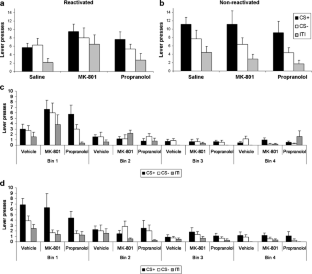 References
Bernardi RE, Lattal KM, Berger SP (2006) Postretrieval propranolol disrupts a cocaine conditioned place preference. Neuroreport 17:1443–1447

Bernardi RE, Ryabinin AE, Berger SP, Lattal KM (2009) Post-retrieval disruption of a cocaine conditioned place preference by systemic and intrabasolateral amygdala β2 and α1-adrenergic antagonists. Learn Mem 16:777–789

Burns LH, Robbins TW, Everitt BJ (1993) Differential effects of excitotoxic lesions of the basolateral amygdala, ventral subiculum and medial prefrontal cortex on responding with conditioned reinforcement and locomotor activity potentiated by intra-accumbens infusions of D-amphetamine. Behav Brain Res 55:167–183

Cardinal RN, Aitken MRF (2006) ANOVA for the behavioural sciences researcher. Lawrence Erlbaum Associates, Inc., New Jersey

Cardinal RN, Aitken MRF (2010) Whisker: a client-server high-performance multimedia research control system. Behav Res Methods 42:1059–1071

Corbit LH, Balleine BW (2005) Double dissociation of basolateral and central amygdala lesions on the general and outcome-specific forms of pavlovian-instrumental transfer. J Neurosci 25:962–970

Crombag HS, Shaham Y (2002) Renewal of drug seeking by contextual cues after prolonged extinction in rats. Behav Neurosci 116:169–173

de Wit H, Stewart J (1981) Reinstatement of cocaine-reinforced responding in the rat. Psychopharmacology 75:134–143

Debiec J, LeDoux JE (2004) Disruption of reconsolidation but not consolidation of auditory fear conditioning by noradrenergic blockade in the amygdala. Neuroscience 129:267–272

Debiec J, LeDoux JE, Nader K (2002) Cellular and systems reconsolidation in the hippocampus. Neuron 36:527–538

Dickinson A, Smith J, Mirenowicz J (2000) Dissociation of pavlovian and instrumental incentive learning under dopamine antagonists. Behav Neurosci 114:468–483

Eisenberg M, Kobilo T, Berman DE, Dudai Y (2003) Stability of retrieved memory: inverse correlation with trace dominance. Science 301:1102–1104

Everitt BJ, Cador M, Robbins TW (1989) Interactions between the amygdala and ventral striatum in stimulus-reward associations: studies using a second-order schedule of sexual reinforcement. Neuroscience 30:63–75

Everitt BJ, Cardinal RN, Hall J, Parkinson JA, Robbins TW (2000) Differential involvement of amygdala subsystems in appetitive conditioning and drug addiction. In: Aggleton JP (ed) The Amygdala: a functional analysis (2nd ed). Oxford University Press, Oxford, pp 353–390

Everitt BJ, Dickinson A, Robbins TW (2001) The neuropsychological basis of addictive behaviour. Brain Res Rev 36:129–138

Falls WA, Miserendino MJD, Davis M (1992) Extinction of fear-potentiated startle: blockade by infusion of an NMDA antagonist into the amygdala. J Neurosci 12:854–863

Feltenstein MW, See RE (2007) NMDA receptor blockade in the basolateral amygdala disrupts consolidation of stimulus-reward memory and extinction learning during reinstatement of cocaine-seeking in an animal model of relapse. Neurobiol Learn Mem 88:435–444

Flagel SB, Robinson TE, Clark JJ, Clinton SM, Watson SJ, Seeman P, Phillips PEM, Akil H (2010) An animal model of genetic vulnerability to behavioral disinhibition and responsiveness to reward-related cues: implications for addiction. Neuropsychopharmacology 35:388–400

Fricks-Gleason AN, Marshall JF (2008) Post-retrieval β-adrenergic receptor blockade: effects on extinction and reconsolidation of cocaine-cue memories. Learn Mem 15:643–648

Gawin FH, Kleber HD (1992) Evolving conceptualizations of cocaine dependence. In: Kosten TR and Kleber HD (eds) Clinician's guide to cocaine addiction: theory, research and treatment. The Guildford Press, New York, pp 33–52

Hall J, Parkinson JA, Connor TM, Dickinson A, Everitt BJ (2001) Involvement of the central nucleus of the amygdala and nucleus accumbens core in mediating Pavlovian influences on instrumental behaviour. Eur J Neurosci 13:1984–1992

Hatfield T, Han JS, Conley M, Gallagher M, Holland PC (1996) Neurotoxic lesions of basolateral, but not central, amygdala interfere with Pavlovian second-order conditioning and reinforcer devaluation effects. J Neurosci 16:5256–5265

Holland PC, Gallagher M (2003) Double dissociation of the effects of lesions of basolateral and central amygdala on conditioned stimulus-potentiated feeding and pavlovian-instrumental transfer. Eur J Neurosci 17:1680–1694

Kearns DN, Weiss SJ (2004) Sign-tracking (autoshaping) in rats: a comparison of cocaine and food as unconditioned stimuli. Learning Behav 32:463–476

Krank MD, O'Neill S, Squarey K, Jacob J (2008) Goal- and signal-directed incentive: conditioned approach, seeking, and consumption established with unsweetened alcohol in rats. Psychopharmacology 196:397–405

Lee JLC, Everitt BJ (2008a) Appetitive memory reconsolidation depends upon NMDA receptor-mediated neurotransmission. Neurobiol Learn Mem 90:147–154

Lee JLC, Everitt BJ (2008b) Reactivation-dependent amnesia in pavlovian approach and instrumental transfer. Learn Mem 15:597–602

Lee JLC, Everitt BJ, Thomas KL (2004) Independent cellular processes for hippocampal memory consolidation and reconsolidation. Science 304:839–843

Lee JLC, Di Ciano P, Thomas KL, Everitt BJ (2005) Disrupting reconsolidation of drug memories reduces cocaine seeking behavior. Neuron 47:795–801

Lee JLC, Milton AL, Everitt BJ (2006a) Cue-induced cocaine seeking and relapse are reduced by disruption of drug memory reconsolidation. J Neurosci 26:5881–5887

Lee JLC, Milton AL, Everitt BJ (2006b) Reconsolidation and extinction of conditioned fear: inhibition and potentiation. J Neurosci 26:10051–10056

Lewis DJ (1979) Psychobiology of active and inactive memory. Psychol Bull 86:1054–1083

Miller CA, Marshall JF (2005) Molecular substrates for retrieval and reconsolidation of cocaine-associated contextual memory. Neuron 47:873–884

Milton AL, Everitt BJ (2010) The psychological and neurochemical mechanisms of drug memory reconsolidation: implications for the treatment of addiction. Eur J Neurosci 31:2308–2319

Milton AL, Lee JLC, Butler VJ, Gardner RJ, Everitt BJ (2008a) Intra-amygdala and systemic antagonism of NMDA receptors prevents the reconsolidation of drug-associated memory and impairs subsequently both novel and previously acquired drug-seeking behaviors. J Neurosci 28:8230–8237

Milton AL, Lee JLC, Everitt BJ (2008b) Reconsolidation of appetitive memories for both natural and drug reinforcement is dependent on β-adrenergic receptors. Learn Mem 15:88–92

Muravieva EV, Alberini CM (2010) Limited efficacy of propranolol on the reconsolidation of fear memories. Learn Mem 17:306–313

Nader K (2003) Memory traces unbound. Trends Neurosci 26:65–72

Nader K, Schafe GE, LeDoux JE (2000) Fear memories require protein synthesis in the amygdala for reconsolidation after retrieval. Nature 406:722–726

Parkinson JA, Olmstead MC, Burns LH, Robbins TW, Everitt BJ (1999) Dissociation in effects of lesions of the nucleus accumbens core and shell on appetitive pavlovian approach behavior and the potentiation of conditioned reinforcement and locomotor activity by D-amphetamine. J Neurosci 19:2401–2411

Parkinson JA, Cardinal RN, Everitt BJ (2000a) Limbic cortical-ventral striatal systems underlying appetitive conditioning. Prog Brain Res 126:263–285

Parkinson JA, Robbins TW, Everitt BJ (2000b) Dissociable roles of the central and basolateral amygdala in appetitive emotional learning. Eur J Neurosci 12:405–413

Parkinson JA, Crofts HS, McGuigan M, Tomic DL, Everitt BJ, Roberts AC (2001) The role of the primate amygdala in conditioned reinforcment. J Neurosci 21:7770–7780

Pedreira ME, Pérez-Cuesta LM, Maldonado H (2004) Mismatch between what is expected and what actually occurs triggers memory reconsolidation or extinction. Learn Mem 11:579–585

Robinson MJF, Franklin KBJ (2007) Central but not peripheral beta-adrenergic antagonism blocks reconsolidation for a morphine place preference. Behav Brain Res 182:129–134

Tomie A, Kuo T, Apor KR, Salomon KE, Pohorecky LA (2004) Autoshaping induces ethanol drinking in nondeprived rats: evidence of long-term retention but no induction of ethanol preference. Pharmacol Biochem Behav 77:797–804

von der Goltz C, Vengeliene V, Bilbao A, Perreau-Lenz S, Pawlak CR, Kiefer F, Spanagel R (2009) Cue-induced alcohol seeking behaviour is reduced by disrupting the reconsolidation of alcohol-related memories. Psychopharmacology 205:389–397

Walker DL, Ressler KJ, Lu KT, Davis M (2002) Facilitation of conditioned fear extinction by systemic administration or intra-amygdala infusions of D-cycloserine as assessed with fear-potentiated startle in rats. J Neurosci 22:2343–2351

Wouda JA, Diergaarde L, Riga D, Van Mourik Y, Schoffelmeer ANM, De Vries TJ (2010) Disruption of long-term alcohol-related memory reconsolidation: role of β-adrenoceptors and NMDA receptors. Front Behav Neurosci 4:179. doi:10.3389/fnbeh.2010.00179
Acknowledgements
This research was supported by a UK Medical Research Council grant (no. 9536855) to BJE and was conducted in the MRC/Wellcome Trust Behavioural and Clinical Neuroscience Institute. JRW was supported by Grindley funding from the Department of Experimental Psychology, and MJWS was supported by an MRC Doctoral Training Grant. The authors have no conflicts of interest to declare.
About this article
Cite this article
Milton, A.L., Schramm, M.J.W., Wawrzynski, J.R. et al. Antagonism at NMDA receptors, but not β-adrenergic receptors, disrupts the reconsolidation of pavlovian conditioned approach and instrumental transfer for ethanol-associated conditioned stimuli. Psychopharmacology 219, 751–761 (2012). https://doi.org/10.1007/s00213-011-2399-9
Received:

Accepted:

Published:

Issue Date:
Keywords
Memory reconsolidation

NMDA receptor

β-adrenergic receptor

Pavlovian conditioned approach

Pavlovian–instrumental transfer

Alcohol