Abstract
Rationale
This dose-effect study extends previous observations showing that psilocybin can occasion mystical-type experiences having persisting positive effects on attitudes, mood, and behavior.
Objectives
This double-blind study evaluated psilocybin (0, 5, 10, 20, 30 mg/70 kg, p.o.) administered under supportive conditions.
Methods
Participants were 18 adults (17 hallucinogen-naïve). Five 8-h sessions were conducted individually for each participant at 1-month intervals. Participants were randomized to receive the four active doses in either ascending or descending order (nine participants each). Placebo was scheduled quasi-randomly. During sessions, volunteers used eyeshades and were instructed to direct their attention inward. Volunteers completed questionnaires assessing effects immediately after and 1 month after each session, and at 14 months follow-up.
Results
Psilocybin produced acute perceptual and subjective effects including, at 20 and/or 30 mg/70 kg, extreme anxiety/fear (39% of volunteers) and/or mystical-type experience (72% of volunteers). One month after sessions at the two highest doses, volunteers rated the psilocybin experience as having substantial personal and spiritual significance, and attributed to the experience sustained positive changes in attitudes, mood, and behavior, with the ascending dose sequence showing greater positive effects. At 14 months, ratings were undiminished and were consistent with changes rated by community observers. Both the acute and persisting effects of psilocybin were generally a monotonically increasing function of dose, with the lowest dose showing significant effects.
Conclusions
Under supportive conditions, 20 and 30 mg/70 kg psilocybin occasioned mystical-type experiences having persisting positive effects on attitudes, mood, and behavior. Implications for therapeutic trials are discussed.
Access options
Buy single article
Instant access to the full article PDF.
US$ 39.95
Tax calculation will be finalised during checkout.
Subscribe to journal
Immediate online access to all issues from 2019. Subscription will auto renew annually.
US$ 119
Tax calculation will be finalised during checkout.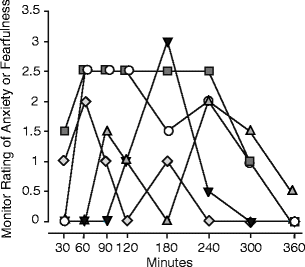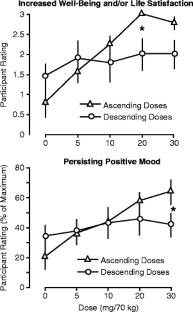 References
Abraham HD, Aldridge AM, Gogia P (1996) The psychopharmacology of hallucinogens. Neuropsychopharmacology 14:285–298.

Blewett DB., Chwelos N (1959) Handbook for the therapeutic use of lysergic acid diethylamide-25: individual and group procedures. Available at http://www.erowid.org/psychoactives/guides/handbook_lsd25.shtml#11. Accessed January 4, 2011

Dittrich A (1998) The standardized psychometric assessment of altered states of consciousness (ASCs) in humans. Pharmacopsychiatry 31(Suppl 2):80–84

Doblin R (1991) Pahnke's Good Friday experiment: a long-term follow-up and methodological critique. J Transpers Psychol 23:1–28

Glennon RA, Titeler M, McKenney D (1984) Evidence for 5-HT2 involvement in the mechanism of action of hallucinogenic agents. Life Sci 35:2505–2511

Griffiths RR, Grob CS (2010) Hallucinogens as medicine. Scientific American 303:77–79

Griffiths RR, Richards WA, McCann U, Jesse R (2006) Psilocybin can occasion mystical experiences having substantial and sustained personal meaning and spiritual significance. Psychopharmacology (Berl) 187:268–283

Griffiths RR, Richards WA, Johnson MW, McCann U, Jesse R (2008) Mystical-type experiences occasioned by psilocybin mediate the attribution of personal meaning and spiritual significance 14 months later. J Psychopharmacol 22(6):621–632

Grob CS, Danforth AL, Chopra GS, Hagerty M, McKay CR, Halberstadt AL, Greer GR (2011) Pilot study of psilocybin treatment for anxiety in patients with advanced-stage cancer. Arch Gen Psychiatry 68(1):71–78

Guzmán G (2008) Hallucinogenic mushrooms in Mexico: an overview. Econ Bot 62:404–412

Haertzen CA (1966) Development of scales based on patterns of drug effects, using the Addiction Research Center Inventory (ARCI). Psychol Rep 18:163–194

Halpern JH, Pope HG (1999) Do hallucinogens cause residual neuropsychological toxicity? Drug Alcohol Depend 53:247–256

Hasler F, Grimberg U, Benz MA, Huber T, Vollenweider FX (2004) Acute psychological and physiological effects of psilocybin in healthy humans: a double-blind, placebo-controlled dose-effect study. Psychopharmacology (Berl) 172:145–156

Hollister LE (1961) Clinical, biochemical and psychologic effects of psilocybin. Arch Int Pharmacodyn Ther 130:42–52

Hood RW Jr, Morris RJ (1983) Toward a theory of death transcendence. J Sci Stud Rel 22(4):353–365

Hood RW Jr, Ghorbani N, Watson PJ, Ghramaleki AF, Bing MN, Davison HK, Morris RJ, Williamson WP (2001) Dimensions of the mysticism scale: confirming the three-factor structure in the United States and Iran. J Sci Stud Rel 40:691–705

Hood RW Jr, Hill PC, Spilka B (2009) The psychology of religion: an empirical approach, 4th edn. Guilford, New York

Isbell H (1959) Comparison of the reactions induced by psilocybin and LSD-25 in man. Psychopharmacologia 1:29–38

Jasinski DR (1977) Assessment of the abuse potential of morphine-like drugs (methods used in man). In: Martin WR (ed) Drug addiction. Springer, New York, pp 197–258

Johnson MW, Richards WA, Griffiths RR (2008) Human hallucinogen research: guidelines for safety. J Psychopharmacol 22(6):603–620

Kast E (1967) Attenuation of anticipation: a therapeutic use of lysergic acid diethylamide. Psychiatr Q 41:646–657

Leary T, Litwin GH, Metzner R (1963) Reactions to psilocybin administered in a supportive environment. J Nerv Ment Dis 137:561–573

Malitz S, Esecover H, Wilkens B, Hoch PH (1960) Some observations on psilocybin, a new hallucinogen, in volunteer subjects. Compr Psychiatry 1:8–17

Martin WR, Sloan JW, Sapira JD, Jasinski DR (1971) Physiologic, subjective, and behavioral effects of amphetamine, methamphetamine, ephedrine, phenmetrazine, and methylphenidate in man. Clin Pharmacol Ther 12:245–258

Metzner R (2004) Teonanacatl: sacred mushroom of visions. Four Tree, El Verano

Metzner R, Litwin G, Weil G (1965) The relation of expectation and mood to psilocybin reactions: a questionnaire study. Psychedelic Rev 5:3–39

Miller WR, C'de Baca J (2001) Quantum change: when epiphanies and sudden insights transform ordinary lives. Guilford, New York

Nichols DE (2004) Hallucinogens. Pharmacol Ther 101:131–181

Pahnke W (1963) Drugs and mysticism: an analysis of the relationship between psychedelic drugs and the mystical consciousness. Thesis presented to the President and Fellows of Harvard University for the Ph.D. in Religion and Society

Pahnke WN (1969) Psychedelic drugs and mystical experience. Int Psychiatry Clin 5:149–162

Richards WA, Grof S, Goodman LE, Kurland AA (1972) LSD-assisted psychotherapy and the human encounter with death. J Transpers Psychol 4(2):121–150

Richards WA, Rhead JC, DiLeo FB, Yensen R, Kurland AA (1977) The peak experience variable in DPT-assisted psychotherapy with cancer patients. J Psychedelic Drugs 9:1–10

Rinkel M, Atwell CR, Dimascio A, Brown J (1960) Experimental psychiatry. V. Psilocybine, a new psychotogenic drug. N Engl J Med 262:295–297

Rosenberg DE, Isbell H, Miner EJ, Logan CR (1964) The effect of N,N-dimethyltryptamine in human subjects tolerant to lysergic acid diethylamide. Psychopharmacologia 5:217–227

Stamets P (1996) Psilocybin mushrooms of the world: an identification guide. Ten Speed, Berkeley

Stolaroff MJ (1997) The secret chief revealed. Multidisciplinary Association for Psychedelic Studies, Sarasota

Strassman RJ, Qualls CR, Uhlenhuth EH, Kellner R (1994) Dose–response study of N,N-dimethyltryptamine in humans. II. Subjective effects and preliminary results of a new rating scale. Arch Gen Psychiatry 51:98–108

Turek IS, Soskin RA, Kurland AA (1974) Methylenedioxyamphetamine (MDA) subjective effects. J Psychedelic Drugs 6:7–14

VandeCreek L (1999) The death transcendence scale. In: Hill PC, Hood RW Jr (eds) Measures of religiosity. Religious Education Press, Birmingham, pp 442–445

Wasson RG (1980) The wondrous mushroom: mycolatry in Mesoamerica. McGraw-Hill, New York

Wolbach AB Jr, Miner EJ, Isbell H (1962) Comparison of psilocin with psilocybin, mescaline and LSD-25. Psychopharmacologia 3:219–223
Acknowledgments
Conduct of this research was supported by grants from the Council on Spiritual Practices, the Heffter Research Institute, and the Betsy Gordon Foundation. Effort for Roland Griffiths, Ph.D. in writing this paper was partially provided by NIH grant RO1DA03889. We thank David Nichols, Ph.D. for synthesizing the psilocybin, Mary Cosimano, M.S.W. for her role as a primary session monitor, Maggie Klinedinst for data management, and Linda Felch, M.A. and Paul Nuzzo, M.A. for statistical analyses. We also thank Larry Carter, Ph.D., Ryan Lanier, Ph.D., Benjamin McKay, Chad Ressig, Ph.D., and Ryan Vandrey, Ph.D. for serving as assistant session monitors. The study was conducted in compliance with United States laws.
About this article
Cite this article
Griffiths, R.R., Johnson, M.W., Richards, W.A. et al. Psilocybin occasioned mystical-type experiences: immediate and persisting dose-related effects. Psychopharmacology 218, 649–665 (2011). https://doi.org/10.1007/s00213-011-2358-5
Received:

Accepted:

Published:

Issue Date:
Keywords
Psilocybin

Dose effects

Hallucinogen

Entheogen

Psychedelic

Mystical experience

Fear

Spiritual

Religion

Positive psychology

Humans