Abstract
Rationale
This study investigated the acute mood effects of oral MDMA, methamphetamine, and placebo in a double-blind laboratory study.
Methods
Fifty-two healthy participants comprised abstinent recreational users of stimulant drugs, 27 female and 25 male, mean age 24.8 years. Three test sessions involved acute 100 mg oral 3.4-methylendioxymethamphetamine (MDMA), 0.42 mg/kg oral methamphetamine, and matching placebo. Drug administration was counterbalanced, testing was double-blind, and medical supervision was present throughout. Car-driving performance on a laboratory simulator was assessed after 3 and 24 h, with the findings being presented elsewhere. Positive and negative moods (PANAS self-ratings) were completed before drug administration, 3, 4.5, and 24 h later. Blood samples were taken to monitor drug plasma levels.
Results
Following MDMA, there were no significant increases in positive moods, whereas negative moods were significantly higher than under placebo. Methamphetamine led to significant increases in both positive and negative moods. The MDMA findings contrast with the elated moods, typically noted by dance clubbers on Ecstasy. However, they are consistent with some previous laboratory findings, since a wide array of positive and negative mood changes have been demonstrated. One possible explanatory factor was the neutral environmental situation, particularly if a primary action of MDMA is to intensify ongoing psychological states. Other explanatory factors, such as dosage, gender, post-drug timing, neurohormonal aspects, and social factors, are also discussed.
Conclusions
In the laboratory, acute methamphetamine led to significantly higher positive moods. However, against expectations, MDMA did not generate a significant increase in positive moods.
This is a preview of subscription content, log in to check access.
Access options
Buy single article
Instant access to the full article PDF.
US$ 39.95
Price includes VAT for USA
Subscribe to journal
Immediate online access to all issues from 2019. Subscription will auto renew annually.
US$ 199
This is the net price. Taxes to be calculated in checkout.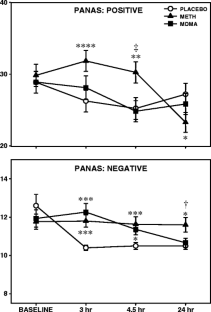 References
Baylen CA, Rosenberg N (2006) A review of the acute subjective effects of MDMA/ecstasy. Addiction 101:933–994

Bedi G, de Wit H (2011). Individual differences in acute responses to MDMA in humans: effects of sex and past ecstasy use. Open Addiction Journal (in press)

Bedi G, Phan KL, Angstadt M, de Wit H (2009) Effects of MDMA on sociability and neural response to social threat and social reward. Psychopharmacology 207:73–83

Bedi G, Hyman D, de Wit H (2010) Is ecstasy an empathogen? Effects of 3, 4-methylenedioxymethamphetamine on prosocial feelings and identification of emotional states in others. Biol Psychiatry 68:1134–1140

Cadet JL, Krasnova IN, Jayanthi S, Lyles J (2007) Neurotoxicity of substituted amphetamines: molecular and cellular mechanisms. Neurotox Res 11:183–202

Cami J, Farré M, Mas M, Roset PN, Poudevida S, Mas A, San L, de la Torre R (2000) Human pharmacology of 3, 4-methylenedioxymethamphetamine ("ecstasy"): psychomotor performance and subjective effects. J Clin Psychopharmacol 20:455–466

Clemens KJ, McGregor IS, Hunt GE, Cornish JL (2007) MDMA, methamphetamine and their combination: possible lessons for party drug users from recent preclinical research. Drug Alcohol Rev 26:9–15

Cohen RS (1998) The love drug: marching to the beat of ecstasy. Haworth Medical Press, New York State

Comer SD, Hart CL, Ward AS, Haney M, Foltin RW, Fischman MW (2001) Effects of repeated oral methamphetamine administration in humans. Psychopharmacology 155:397–404

Cruickshank CC, Dyer KR (2009) A review of the clinical pharmacology of methamphetamine. Addiction 104:1085–1099

Davison D, Parrott AC (1997) Ecstasy in recreational users: self-reported psychological and physiological effects. Hum Psychopharmacol 12:91–97

Degenhardt L, Hall W (2009). The health and psychological effects of "ecstasy" (MDMA) use. NDARC monograph, no. 62. University of New South Wales, Australia

Dumont GJ, Verkes RJ (2006) A review of acute effects of 3, 4-methylenedioxymethamphetamine in healthy volunteers. J Psychopharmacol 20:176–187

Dumont GJ, Sweep FC, van der Steen R, Hermsen R, Donders AR, Touw DJ, van Gerven JM, Buitelaar JK, Verkes RJ (2009) Increased oxytocin concentrations and prosocial feelings in humans after ecstasy (3, 4-methylenedioxymethamphetamine) administration. Soc Neurosci 4:359–366

Dumont GJ, Schoemaker RC, Touw DJ, Sweep FC, Buitelaar JK, van Gerven JM, Verkes RJ (2010) Acute psychomotor effects of MDMA and ethanol (co-) administration over time in healthy volunteers. J Psychopharmacol 24:155–164

Farré M, de la Torre R, Mathúna BO, Roset PN, Peiró AM, Torrens M, Ortuño J, Pujadas M, Camí J (2004) Repeated doses administration of MDMA in humans: pharmacological effects and pharmacokinetics. Psychopharmacology 173:364–375

Green AR, Mechan AO, Elliott JM, O'Shea E, Colado MI (2003) The pharmacology and clinical pharmacology of 3, 4-methylenedioxymethamphetamine (MDMA, "ecstasy"). Pharmacol Rev 55:463–508

Greer G, Tolbert R (1990). The therapeutic use of MDMA. The clinical, pharmacological and neurotoxicological effects of the drug MDMA. Peroutka SJ (ed.). Kluwer, New York

Greer G, Tolbert R (1986). Subjective reports of the effects of MDMA in a clinical setting. J Psychoact Drugs 18:319–327

Hart CL, Ward AS, Haney M, Foltin RW, Fischman MW (2001) Methamphetamine self-administration by humans. Psychopharmacology 157:75–81

Hart CL, Gunderson EW, Perez A, Kirkpatrick MG, Thurmond A, Comer SD et al (2008) Acute physiological and behavioral effects of intranasal methamphetamine in humans. Neuropsychopharmacology 33:1847–1855

Hernández-López C, Farré M, Roset PN, Menoyo E, Pizarro N, Ortuño J, Torrens M, Camí J, de La Torre R (2002) 3, 4-Methylenedioxymethamphetamine (ecstasy) and alcohol interactions in humans: psychomotor performance, subjective effects, and pharmacokinetics. J Pharmacol Exp Ther 300:236–244

Irvine RJ, Keane M, Felgate P, McCann UD, Callaghan PD, White JM (2006) Plasma drug concentrations and physiological measures in 'dance party' participants. Neuropsychopharmacology 31:424–430

Iversen L (2006) Speed, ecstasy, ritalin: the science of the amphetamines. Oxford University Press, Oxford

Johanson CE, Kilbey M, Gatchalian K, Tancer M (2006) Discriminative stimulus effects of 3, 4-methylenedioxymethamphetamine (MDMA) in humans trained to discriminate among d-amphetamine, meta-chlorophenylpiperazine and placebo. Drug Alcohol Depend 81:27–36

Kolbrich EA, Goodwin RS, Gorelick DA, Hayes RJ, Stein EA, Huestis MA (2008) Physiological and subjective responses to controlled oral 3, 4-methylenedioxymethamphetamine administration. J Clin Psychopharmacol 28:432–440

Liechti ME, Gamma A, Vollenweider FX (2001) Gender differences in the subjective effects of MDMA. Psychopharmacology 154:161–168

Lynch WJ, Roth ME, Carroll ME (2002) Biological basis of sex differences in drug abuse: pre-clinical and clinical studies. Psychopharmacology 164:121–137

M ter Bogt TF, Engels RC (2005) "Partying" hard: party style, motives for and effects of MDMA use at rave parties. Subst Use Misuse 40:1479–1502

McCardle K, Luebbers S, Carter JD, Croft RJ, Stough C (2004) Chronic MDMA (ecstasy) use, cognition and mood. Psychopharmacology 173:434–439

McGregor IS, Callaghan PD, Hunt GE (2008) From ultrasocial to antisocial: a role for oxytocin in the acute reinforcing effects and long-term adverse consequences of drug use? Br J Pharmacol 154:358–368

Mendelson J, Uemura N, Harris D, Nath RP, Fernandez E, Jacob P, Everhart ET, Jones RT (2006) Human pharmacology of the methamphetamine stereoisomers. Clin Pharmacol Ther 80:403–420

Murphy PN, Wareing M, Fisk JE, Montgomery C (2009) Executive working memory deficits in abstinent ecstasy/MDMA users: a critical review. Neuropsychobiology 60:159–175

Papafotiou K, Carter JD, Stough C (2005) The relationship between performance on the standardised field sobriety tests, driving performance and the level of Delta9-tetrahydrocannabinol (THC) in blood. Forensic Sci Int 155:172–178

Parrott AC (1994) Individual differences in stress and arousal during cigarette smoking. Psychopharmacology 115:389–396

Parrott AC (1999) Does cigarette smoking cause stress? Am Psychol 54:817–820

Parrott AC (2001) Human psychopharmacology of Ecstasy (MDMA): a review of fifteen years of empirical research. Hum Psychopharmacol 16:557–577

Parrott AC (2002) Recreational MDMA (Ecstasy), the serotonin syndrome, and serotonergic neurotoxicity. Pharmacol Biochem Behav 71:837–844

Parrott AC (2004a) Is Ecstasy MDMA ? A review of the proportion of ecstasy tablets containing MDMA, dosage levels, and the changing perceptions of purity. Psychopharmacology 173:234–241

Parrott AC (2004b) MDMA (3, 4-methylenedioxymethamphetamine) or Ecstasy: the neuropsychobiological implications of taking it at dances and raves. Neuropsychobiology 50:329–335

Parrott AC (2005) Chronic tolerance to recreational MDMA (3, 4-methylenedioxymethamphetamine) or Ecstasy. J Psychopharmacol 19:71–83

Parrott AC (2006) MDMA in humans: factors which affect the neuropsychobiological profiles of recreational Ecstasy users, the integrative role of bio-energetic stress. J Psychopharmacol 20:147–163

Parrott AC (2009) Cortisol and MDMA: neurohormonal aspects of bioenergetic stress in Ecstasy users. Neuropsychobiology 60:148–158

Parrott AC (2010) Conscious awareness versus optimistic beliefs in recreational Ecstasy/MDMA users. In: Perry E, Collerton D, LeBeau F, Ashton HE (eds) New horizons in the neuroscience of consciousness. John Benjamins Publishers, Amsterdam

Parrott AC, Lasky J (1998) Ecstasy (MDMA) effects upon mood and cognition; before, during, and after a Saturday night dance. Psychopharmacology 139:261–268

Parrott AC, Lock J, Conner AC, Kissling C, Thome J (2008) Dance clubbing on-MDMA and during abstinence from MDMA: prospective neuroendocrine and psychobiological changes. Neuropsychobiology 57:165–180

Peroutka SJ, Newman H, Harris H (1988) Subjective effects of 3, 4-methylenedioxymethamphetamine in recreational users. Neuropsychopharmacology 1:273–277

Scholey AB, Parrott AC, Buchanan T, Heffernan T, Ling J, Rodgers J (2004) Increased intensity of Ecstasy and polydrug usage in the more experienced recreational Ecstasy/MDMA users: a www study. Addict Behav 29:743–752

Scholey AB, Owen L, Gates J, Rodgers J, Buchanan T, Ling J, Heffernan T, Swan P, Stough C, Parrott AC (2010) Hair MDMA samples are consistent with reported Ecstasy use: findings from a study investigating effects of Ecstasy on mood and memory. Neuropsychobiology 63:15–21

Silber BY, Croft RJ, Papafotiou K, Stough C (2006) The acute effects of d-amphetamine and methamphetamine on attention and psychomotor performance. Psychopharmacology 187(1):54–169

Solowij N, Hall W, Lee N (1992) Recreational MDMA use in Sydney: a profile of ecstasy users and their experiences with the drug. Br J Addict 87:1161–1172

Tancer ME, Johanson CE (2001) The subjective effects of MDMA and mCPP in moderate MDMA users. Drug Alcohol Depend 65:97–101

Tancer ME, Johanson CE (2003) Reinforcing, subjective, and physiological effects of MDMA in humans: a comparison with d-amphetamine and mCPP. Drug Alcohol Depend 72:33–44

Tancer M, Johanson CE (2007) The effects of fluoxetine on the subjective and physiological effects of 3, 4-methylenedioxymethamphetamine (MDMA) in humans. Psychopharmacology 189:565–573

Topp L, Hando J, Dillon P, Roche A, Solowij N (1999) Ecstasy use in Australia: patterns of use and associated harm. Drug Alcohol Depend 55:105–115

Verheyden SL, Henry JA, Curran HV (2003) Acute, sub-acute and long-term subjective consequences of 'ecstasy' (MDMA) consumption in 430 regular users. Hum Psychopharmacol 18:507–517

Watson D, Clark LA, Tellegen A (1988) Development and validation of brief measures of positive and negative affect: the PANAS scales. J Pers Soc Psychol 54:1063–1070

White TL, Lott DC, de Wit H (2006) Personality and the subjective effects of acute amphetamine in healthy volunteers. Neuropsychopharmacology 31:1064–1074

Yacoubian GS, Boyle C, Harding CA, Loftus EA (2003) It's a rave new world: estimating the prevalence and perceived harm of ecstasy and other drug use among club rave attendees. J Drug Educ 33:187–196
Acknowledgments
This study was funded by an Australian Research Council Grant to Professors Con Stough, Papafotiou and Vic Ogden: grant DP0772762. Professor Andy Parrott was on sabbatical at the Brain Science Institute, Swinburne University, partially funded by NIDA grant DA-14910.
About this article
Cite this article
Parrott, A.C., Gibbs, A., Scholey, A.B. et al. MDMA and methamphetamine: some paradoxical negative and positive mood changes in an acute dose laboratory study. Psychopharmacology 215, 527–536 (2011). https://doi.org/10.1007/s00213-011-2184-9
Received:

Accepted:

Published:

Issue Date:
Keywords
MDMA

Ecstasy

Methamphetamine

Mood

Environment

PANAS

Serotonin

Dopamine