Abstract
Rationale
Although serotonin (5-HT) dysregulation is implicated in the pathophysiology of major depressive disorder (MDD), the role of specific receptor subtypes remains to be elucidated. Emerging preclinical research suggests an important role for the 5-HT1B receptor in behavioral regulation and depressive phenotypes. In particular, 5-HT1B heteroreceptors located within the striatum have been shown to play an essential role in antidepressant action.
Objectives
The objective of this study was to determine 5-HT1B receptor binding potential (BP ND) in the region of the ventral striatum/ventral pallidum (VS/VP) in individuals with MDD and healthy control participants.
Methods
Ten participants with MDD (30.8 ± 9.5 years, five men/five women) in a current major depressive episode (MDE) and ten healthy control participants (30.7 ± 10.5 years, five men/five women) underwent positron emission tomography (PET) scanning with the selective 5-HT1B receptor radioligand [11C]P943.
Results
Within the VS/VP region of interest, [11C]P943 BP ND was significantly reduced in the MDD group compared with the healthy control group (1.37 ± 0.13 and 1.68 ± 0.16, respectively; 18.7% between-group difference; p < 0.001).
Conclusions
Consistent with preclinical and postmortem data, our findings suggest abnormally reduced function of VS/VP 5-HT1B receptors in humans with MDD. Abnormal 5-HT1B heteroreceptor function may contribute to dysfunctional reward signaling within the striatum, including the nucleus accumbens, via interaction with dopamine, γ-amino-butyric acid, or glutamate systems. Our findings suggest reduced 5-HT1B receptor signaling in the VS/VP in MDD and contribute to the therapeutic rationale for testing 5-HT1B agonists as a novel class of antidepressants.
This is a preview of subscription content,
to check access.
Access this article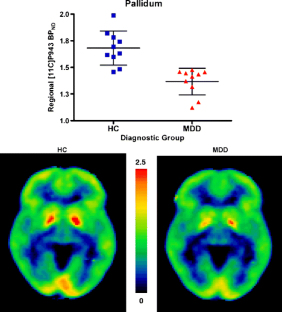 Similar content being viewed by others
References
aan het Rot M, Mathew SJ, Charney DS (2009) Neurobiological mechanisms in major depressive disorder. CMAJ 180:305–313. doi:10.1503/cmaj.080697

American Psychiatric Association. Task Force on DSM-IV (2000) Diagnostic and statistical manual of mental disorders: DSM-IV-TR. American Psychiatric Association, Washington

Belmaker RH, Agam G (2008) Major depressive disorder. N Engl J Med 358:55–68. doi:10.1056/NEJMra073096

Bhagwagar Z, Rabiner EA, Sargent PA, Grasby PM, Cowen PJ (2004) Persistent reduction in brain serotonin1A receptor binding in recovered depressed men measured by positron emission tomography with [11C]WAY-100635. Mol Psychiatry 9:386–392. doi:10.1038/sj.mp.4001401

Brody AL, Olmstead RE, Abrams AL, Costello MR, Khan A, Kozman D, Saxena S, Farahi J, London ED, Mandelkern MA (2009) Effect of a history of major depressive disorder on smoking-induced dopamine release. Biol Psychiatry 66:898–901. doi:10.1016/j.biopsych.2009.06.011

Carlezon WA Jr, Thomas MJ (2009) Biological substrates of reward and aversion: a nucleus accumbens activity hypothesis. Neuropharmacology 56(Suppl 1):122–132. doi:10.1016/j.neuropharm.2008.06.075

Chenu F, David DJ, Leroux-Nicollet I, Le Maitre E, Gardier AM, Bourin M (2008) Serotonin1B heteroreceptor activation induces an antidepressant-like effect in mice with an alteration of the serotonergic system. J Psychiatry Neurosci 33:541–550

Cleare AJ, Murray RM, Sherwood RA, O'Keane V (1998) Abnormal 5-HT1D receptor function in major depression: a neuropharmacological challenge study using sumatriptan. Psychol Med 28:295–300

Drevets WC, Frank E, Price JC, Kupfer DJ, Holt D, Greer PJ, Huang Y, Gautier C, Mathis C (1999) PET imaging of serotonin 1A receptor binding in depression. Biol Psychiatry 46:1375–1387

Drevets WC, Thase ME, Moses-Kolko EL, Price J, Frank E, Kupfer DJ, Mathis C (2007) Serotonin-1A receptor imaging in recurrent depression: replication and literature review. Nucl Med Biol 34:865–877. doi:10.1016/j.nucmedbio.2007.06.008

Epstein J, Pan H, Kocsis JH, Yang Y, Butler T, Chusid J, Hochberg H, Murrough J, Strohmayer E, Stern E, Silbersweig DA (2006) Lack of ventral striatal response to positive stimuli in depressed versus normal subjects. Am J Psychiatry 163:1784–1790. doi:10.1176/appi.ajp.163.10.1784

First MB, Spitzer RL, Gibbon M, Williams JBW (1995) Structured Clinical Interview for DSM-IV Axis Disorders (SCID). New York State Psychiatric Institute, Biometrics Research, New York

Gallezot JD, Nabulsi N, Neumeister A, Planeta-Wilson B, Williams WA, Singhal T, Kim S, Maguire RP, McCarthy T, Frost JJ, Huang Y, Ding YS, Carson RE (2010) Kinetic modeling of the serotonin 5-HT(1B) receptor radioligand [(11)C]P943 in humans. J Cereb Blood Flow Metab 30:196–210. doi:10.1038/jcbfm.2009.195

Hamilton M (1959) The assessment of anxiety states by rating. Br J Med Psychol 32:50–55

Hannon J, Hoyer D (2008) Molecular biology of 5-HT receptors. Behav Brain Res 195:198–213. doi:10.1016/j.bbr.2008.03.020

Hasler G, Fromm S, Carlson PJ, Luckenbaugh DA, Waldeck T, Geraci M, Roiser JP, Neumeister A, Meyers N, Charney DS, Drevets WC (2008) Neural response to catecholamine depletion in unmedicated subjects with major depressive disorder in remission and healthy subjects. Arch Gen Psychiatry 65:521–531. doi:10.1001/archpsyc.65.5.521

Heatherton TF, Kozlowski LT, Frecker RC, Fagerstrom KO (1991) The Fagerstrom Test for nicotine dependence: a revision of the Fagerstrom Tolerance questionnaire. Br J Addict 86:1119–1127

Heninger GR, Charney DS, Sternberg DE (1984) Serotonergic function in depression. Prolactin response to intravenous tryptophan in depressed patients and healthy subjects. Arch Gen Psychiatry 41:398–402

Hoyer D, Hannon JP, Martin GR (2002) Molecular, pharmacological and functional diversity of 5-HT receptors. Pharmacol Biochem Behav 71:533–554

Hu J, Henry S, Gallezot JD, Ropchan J, Neumaier JF, Potenza MN, Sinha R, Krystal JH, Huang Y, Ding YS, Carson RE, Neumeister A (2010) Serotonin 1B receptor imaging in alcohol dependence. Biol Psychiatry. doi:10.1016/j.biopsych.2009.12.028

Ichise M, Liow JS, Lu JQ, Takano A, Model K, Toyama H, Suhara T, Suzuki K, Innis RB, Carson RE (2003) Linearized reference tissue parametric imaging methods: application to [11C]DASB positron emission tomography studies of the serotonin transporter in human brain. J Cereb Blood Flow Metab 23:1096–1112. doi:10.1097/01.WCB.0000085441.37552.CA

Innis RB, Cunningham VJ, Delforge J, Fujita M, Gjedde A, Gunn RN, Holden J, Houle S, Huang SC, Ichise M, Iida H, Ito H, Kimura Y, Koeppe RA, Knudsen GM, Knuuti J, Lammertsma AA, Laruelle M, Logan J, Maguire RP, Mintun MA, Morris ED, Parsey R, Price JC, Slifstein M, Sossi V, Suhara T, Votaw JR, Wong DF, Carson RE (2007) Consensus nomenclature for in vivo imaging of reversibly binding radioligands. J Cereb Blood Flow Metab 27:1533–1539. doi:10.1038/sj.jcbfm.9600493

Jans LA, Riedel WJ, Markus CR, Blokland A (2007) Serotonergic vulnerability and depression: assumptions, experimental evidence and implications. Mol Psychiatry 12:522–543. doi:10.1038/sj.mp.4001920

Krishnan V, Nestler EJ (2008) The molecular neurobiology of depression. Nature 455:894–902. doi:10.1038/nature07455

Maxwell ME (1992) Family Interview for Genetic Studies (FIGS): Manual For FIGS. Clinical Neurogenetics Branch, Intramural Research Program, National Institute of Mental Health, Bethesda, MD

Meyer JH, McNeely HE, Sagrati S, Boovariwala A, Martin K, Verhoeff NP, Wilson AA, Houle S (2006) Elevated putamen D(2) receptor binding potential in major depression with motor retardation: an [11C]raclopride positron emission tomography study. Am J Psychiatry 163:1594–1602. doi:10.1176/appi.ajp.163.9.1594

Montgomery SA, Asberg M (1979) A new depression scale designed to be sensitive to change. Br J Psychiatry 134:382–389

Nabulsi N, Huang Y, Weinzimmer D, Ropchan J, Frost JJ, McCarthy T, Carson RE, Ding YS (2010) High-resolution imaging of brain 5-HT 1B receptors in the rhesus monkey using [11C]P943. Nucl Med Biol 37:205–214. doi:10.1016/j.nucmedbio.2009.10.007

Nestler EJ, Carlezon WA Jr (2006) The mesolimbic dopamine reward circuit in depression. Biol Psychiatry 59:1151–1159. doi:10.1016/j.biopsych.2005.09.018

Neumeister A, Nugent AC, Waldeck T, Geraci M, Schwarz M, Bonne O, Bain EE, Luckenbaugh DA, Herscovitch P, Charney DS, Drevets WC (2004) Neural and behavioral responses to tryptophan depletion in unmedicated patients with remitted major depressive disorder and controls. Arch Gen Psychiatry 61:765–773. doi:10.1001/archpsyc.61.8.765

Neumeister A, Hu XZ, Luckenbaugh DA, Schwarz M, Nugent AC, Bonne O, Herscovitch P, Goldman D, Drevets WC, Charney DS (2006) Differential effects of 5-HTTLPR genotypes on the behavioral and neural responses to tryptophan depletion in patients with major depression and controls. Arch Gen Psychiatry 63:978–986. doi:10.1001/archpsyc.63.9.978

Pauwels PJ (1997) 5-HT 1B/D receptor antagonists. Gen Pharmacol 29:293–303

Pizzagalli DA, Holmes AJ, Dillon DG, Goetz EL, Birk JL, Bogdan R, Dougherty DD, Iosifescu DV, Rauch SL, Fava M (2009) Reduced caudate and nucleus accumbens response to rewards in unmedicated individuals with major depressive disorder. Am J Psychiatry 166:702–710. doi:10.1176/appi.ajp.2008.08081201

Ruf BM, Bhagwagar Z (2009) The 5-HT(1B) receptor: a novel target for the pathophysiology of depression. Curr Drug Targets 10:1118–1138

Sari Y (2004) Serotonin1B receptors: from protein to physiological function and behavior. Neurosci Biobehav Rev 28:565–582. doi:10.1016/j.neubiorev.2004.08.008

Savitz J, Lucki I, Drevets WC (2009) 5-HT(1A) receptor function in major depressive disorder. Prog Neurobiol 88:17–31. doi:10.1016/j.pneurobio.2009.01.009

Svenningsson P, Chergui K, Rachleff I, Flajolet M, Zhang X, El Yacoubi M, Vaugeois JM, Nomikos GG, Greengard P (2006) Alterations in 5-HT1B receptor function by p11 in depression-like states. Science 311:77–80. doi:10.1126/science.1117571

Tatarczynska E, Klodzinska A, Stachowicz K, Chojnacka-Wojcik E (2004) Effects of a selective 5-HT1B receptor agonist and antagonists in animal models of anxiety and depression. Behav Pharmacol 15:523–534

Tzourio-Mazoyer N, Landeau B, Papathanassiou D, Crivello F, Etard O, Delcroix N, Mazoyer B, Joliot M (2002) Automated anatomical labeling of activations in SPM using a macroscopic anatomical parcellation of the MNI MRI single-subject brain. Neuroimage 15:273–289. doi:10.1006/nimg.2001.0978

Varnas K, Hurd YL, Hall H (2005) Regional expression of 5-HT1B receptor mRNA in the human brain. Synapse 56:21–28. doi:10.1002/syn.20128

Whale R, Clifford EM, Bhagwagar Z, Cowen PJ (2001) Decreased sensitivity of 5-HT(1D) receptors in melancholic depression. Br J Psychiatry 178:454–457

Yan QS, Yan SE (2001) Activation of 5-HT(1B/1D) receptors in the mesolimbic dopamine system increases dopamine release from the nucleus accumbens: a microdialysis study. Eur J Pharmacol 418:55–64
Acknowledgments
This study was supported by the National Institute of Mental Health grant R21 MH081103 (ARRA) and grant R21 MH085627, and the VA National Center for Posttraumatic Stress Disorder at the West Haven VA Connecticut Clinical Neurosciences Division.
The authors acknowledge the excellent work of the staff of the Yale PET Center and the nursing support from Sue Kasserman, R.N. for help in recruitment and patient care and Brenda Breault, R.N., B.S.N. for her contributions with patient care during the PET scans. In addition, we acknowledge the Yale-Pfizer Bioimaging Alliance for support in the development of [11C]P943.
Conflict of interest
Dr. Neumaier reports lecture fees from Eli Lilly and Wyeth, and Dr. Neumeister grant support from Pfizer Inc., Eli Lilly, UCB Pharma Inc., and Ortho-McNeil Janssen Scientific Affairs, LLC.; Dr. Neumeister has grant support from Pfizer Inc., Eli Lilly, UCB Pharma Inc., and Ortho-McNeil Janssen Scientific Affairs, LLC. No other potential conflict of interest relevant to this article was reported. The contents of the manuscript are solely the responsibility of the authors and do not necessarily represent the official views of any of the funding agencies.
About this article
Cite this article
Murrough, J.W., Henry, S., Hu, J. et al. Reduced ventral striatal/ventral pallidal serotonin1B receptor binding potential in major depressive disorder. Psychopharmacology 213, 547–553 (2011). https://doi.org/10.1007/s00213-010-1881-0
Received:

Accepted:

Published:

Issue Date:

DOI: https://doi.org/10.1007/s00213-010-1881-0
Keywords