Abstract
Rationale
Amisulpride is approved for clinical use in treating schizophrenia in a number of European countries and also for treating dysthymia, a mild form of depression, in Italy. Amisulpride has also been demonstrated to be an antidepressant for patients with major depression in many clinical trials. In part because of the selective D2/D3 receptor antagonist properties of amisulpride, it has long been widely assumed that dopaminergic modulation is the proximal event responsible for mediating its antidepressant and antipsychotic properties.
Objectives
The purpose of these studies was to determine if amisulpride's antidepressant actions are mediated by off-target interactions with other receptors.
Materials and Methods
We performed experiments that: (1) examined the pharmacological profile of amisulpride at a large number of central nervous system (CNS) molecular targets and, (2) after finding high potency antagonist affinity for human 5-HT7a serotonin receptors, characterized the actions of amisulpride as an antidepressant in wild-type and 5-HT7 receptor knockout mice.
Results
We discovered that amisulpride was a potent competitive antagonist at 5-HT7a receptors and that interactions with no other molecular target investigated in this paper could explain its antidepressant actions in vivo. Significantly, and in contrast to their wild-type littermates, 5-HT7 receptor knockout mice did not respond to amisulpride in two widely used rodent models of depression, the tail suspension test and the forced swim test.
Conclusions
These results indicate that 5-HT7a receptor antagonism, and not D2/D3 receptor antagonism, likely underlies the antidepressant actions of amisulpride.
Access options
Buy single article
Instant access to the full article PDF.
US$ 39.95
Tax calculation will be finalised during checkout.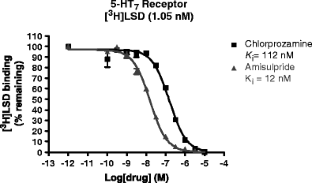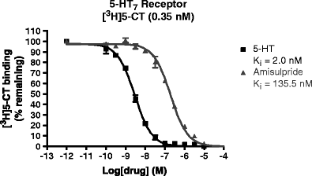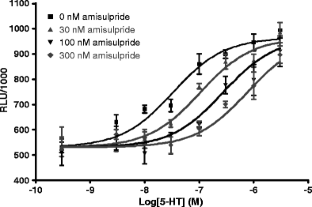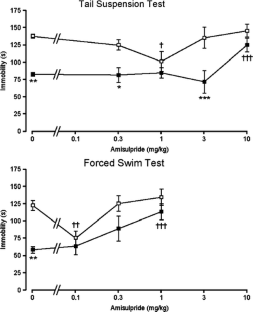 References
Armbruster BN, Roth BL (2005) Mining the receptorome. J Biol Chem 280:5129–5132

Bard JA, Zgombick J, Adham N, Vaysse P, Branchek TA, Weinshank RL (1993) Cloning of a novel human serotonin receptor (5-HT7) positively linked to adenylate cyclase. J Biol Chem 268:23422–23426

Brunello N, Armitage R, Feinberg I, Holsboer-Trachsler E, Leger D, Linkowski P, Mendelson WB, Racagni G, Saletu B, Sharpley AL, Turek F, Van Cauter E, Mendlewicz J (2000) Depression and sleep disorders: clinical relevance, economic burden and pharmacological treatment. Neuropsychobiology 42:107–119

Bymaster FP, Zhang W, Carter PA, Shaw J, Chernet E, Phebus L, Wong DT, Perry KW (2002) Fluoxetine, but not other selective serotonin uptake inhibitors, increases norepinephrine and dopamine extracellular levels in prefrontal cortex. Psychopharmacology (Berl) 160:353–361

Cervo L, Samanin R (1987) Evidence that dopamine mechanisms in the nucleus accumbens are selectively involved in the effect of desipramine in the forced swimming test. Neuropharmacology 26:1469–1472

Dailly E, Chenu F, Renard CE, Bourin M (2004) Dopamine, depression and antidepressants. Fundam Clin Pharmacol 18:601–607

Davis JM, Chen N, Glick ID (2003) A meta-analysis of the efficacy of second-generation antipsychotics. Arch Gen Psychiatry 60:553–564

Deeks ED, Keating GM (2008) Olanzapine/fluoxetine: a review of its use in the treatment of acute bipolar depression. Drugs 68:1115–1137

Drago F, Arezzi A, Virzi A (2000) Effects of acute or chronic administration of substituted benzamides in experimental models of depression in rats. Eur Neuropsychopharmacol 10:437–442

Ferrari F, Giuliani D (1997) Effects of (−) eticlopride and 7-OH-DPAT on the tail-suspension test in mice. J Psychopharmacol 11:339–344

Gibbs A, Naudts K, Spencer E, David A (2008) Effects of amisulpride on emotional memory using a dual-process model in healthy male volunteers. J Psychopharmacol 22:1–9

Guscott M, Bristow LJ, Hadingham K, Rosahl TW, Beer MS, Stanton JA, Bromidge F, Owens AP, Huscroft I, Myers J, Rupniak NM, Patel S, Whiting PJ, Hutson PH, Fone KC, Biello SM, Kulagowski JJ, McAllister G (2005) Genetic knockout and pharmacological blockade studies of the 5-HT7 receptor suggest therapeutic potential in depression. Neuropharmacology 48:492–502

Hedlund PB, Danielson PE, Thomas EA, Slanina K, Carson MJ, Sutcliffe JG (2003) No hypothermic response to serotonin in 5-HT7 receptor knockout mice. Proc Natl Acad Sci U S A 100:1375–1380

Hedlund PB, Huitron-Resendiz S, Henriksen SJ, Sutcliffe JG (2005) 5-HT7 receptor inhibition and inactivation induce antidepressantlike behavior and sleep pattern. Biol Psychiatry 58:831–837

Hedlund PB, Sutcliffe JG (2004) Functional, molecular and pharmacological advances in 5-HT7 receptor research. Trends Pharmacol Sci 25:481–486

Heidmann DE, Metcalf MA, Kohen R, Hamblin MW (1997) Four 5-hydroxytryptamine7 (5-HT7) receptor isoforms in human and rat produced by alternative splicing: species differences due to altered intron-exon organization. J Neurochem 68:1372–1381

Heidmann DE, Szot P, Kohen R, Hamblin MW (1998) Function and distribution of three rat 5-hydroxytryptamine7 (5-HT7) receptor isoforms produced by alternative splicing. Neuropharmacology 37:1621–1632

Holick KA, Lee DC, Hen R, Dulawa SC (2008) Behavioral effects of chronic fluoxetine in BALB/cJ mice do not require adult hippocampal neurogenesis or the serotonin 1A receptor. Neuropsychopharmacology 33:406–417

Jensen NH, Rodriguiz RM, Caron MG, Wetsel WC, Rothman RB, Roth BL (2008) N-desalkylquetiapine, a potent norepinephrine reuptake inhibitor and partial 5-HT1A agonist, as a putative mediator of quetiapine's antidepressant activity. Neuropsychopharmacology 33:2303–2312

Jordan S, Kramer GL, Zukas PK, Moeller M, Petty F (1994) In vivo biogenic amine efflux in medial prefrontal cortex with imipramine, fluoxetine, and fluvoxamine. Synapse 18:294–297

Kim SW, Shin IS, Kim JM, Lee SH, Lee JH, Yoon BH, Yang SJ, Hwang MY, Yoon JS (2007) Amisulpride versus risperidone in the treatment of depression in patients with schizophrenia: a randomized, open-label, controlled trial. Prog Neuropsychopharmacol Biol Psychiatry 31:1504–1509

Kodama M, Fujioka T, Duman RS (2004) Chronic olanzapine or fluoxetine administration increases cell proliferation in hippocampus and prefrontal cortex of adult rat. Biol Psychiatry 56:570–580

Kvachnina E, Liu G, Dityatev A, Renner U, Dumuis A, Richter DW, Dityateva G, Schachner M, Voyno-Yasenetskaya TA, Ponimaskin EG (2005) 5-HT7 receptor is coupled to G alpha subunits of heterotrimeric G12-protein to regulate gene transcription and neuronal morphology. J Neurosci 25:7821–7830

Lecrubier Y, Boyer P, Turjanski S, Rein W (1997) Amisulpride versus imipramine and placebo in dysthymia and major depression. Amisulpride Study Group. J Affect Disord 43:95–103

Leucht S, Corves C, Arbter D, Engel RR, Li C, Davis JM (2009) Second-generation versus first-generation antipsychotic drugs for schizophrenia: a meta-analysis. Lancet 373:31–41

Leucht S, Pitschel-Walz G, Engel RR, Kissling W (2002) Amisulpride, an unusual "atypical" antipsychotic: a meta-analysis of randomized controlled trials. Am J Psychiatry 159:180–190

Lovenberg TW, Baron BM, de Lecea L, Miller JD, Prosser RA, Rea MA, Foye PE, Racke M, Slone AL, Siegel BW et al (1993) A novel adenylyl cyclase-activating serotonin receptor (5-HT7) implicated in the regulation of mammalian circadian rhythms. Neuron 11:449–458

Malberg JE, Eisch AJ, Nestler EJ, Duman RS (2000) Chronic antidepressant treatment increases neurogenesis in adult rat hippocampus. J Neurosci 20:9104–9110

Montgomery SA (2002) Dopaminergic deficit and the role of amisulpride in the treatment of mood disorders. Int Clin Psychopharmacol 17(Suppl 4):S9–S15 discussion S16–S17

Mortimer AM, Joyce E, Balasubramaniam K, Choudhary PC, Saleem PT (2007) Treatment with amisulpride and olanzapine improve neuropsychological function in schizophrenia. Hum Psychopharmacol 22:445–454

Motulsky H, Christopoulos A (2004) Fitting models to biological data using linear and nonlinear regression: a practical guide to curve fitting. Oxford University Press, Oxford

Mullins UL, Gianutsos G, Eison AS (1999) Effects of antidepressants on 5-HT7 receptor regulation in the rat hypothalamus. Neuropsychopharmacology 21:352–367

Nandam LS, Jhaveri D, Bartlett P (2007) 5-HT7, neurogenesis and antidepressants: a promising therapeutic axis for treating depression. Clin Exp Pharmacol Physiol 34:546–551

Ott GE, Rao U, Nuccio I, Lin KM, Poland RE (2002) Effect of bupropion-SR on REM sleep: relationship to antidepressant response. Psychopharmacology (Berl) 165:29–36

Pani L, Gessa GL (2002) The substituted benzamides and their clinical potential on dysthymia and on the negative symptoms of schizophrenia. Mol Psychiatry 7:247–253

Perrault G, Depoortere R, Morel E, Sanger DJ, Scatton B (1997) Psychopharmacological profile of amisulpride: an antipsychotic drug with presynaptic D2/D3 dopamine receptor antagonist activity and limbic selectivity. J Pharmacol Exp Ther 280:73–82

Racagni G, Canonico PL, Ravizza L, Pani L, Amore M (2004) Consensus on the use of substituted benzamides in psychiatric patients. Neuropsychobiology 50:134–143

Roth BL (2007) Drugs and valvular heart disease. N Engl J Med 356:6–9

Roth BL, Baner K, Westkaemper R, Siebert D, Rice KC, Steinberg S, Ernsberger P, Rothman RB (2002) Salvinorin A: a potent naturally occurring nonnitrogenous kappa opioid selective agonist. Proc Natl Acad Sci U S A 99:11934–11939

Roth BL, Craigo SC, Choudhary MS, Uluer A, Monsma FJ Jr, Shen Y, Meltzer HY, Sibley DR (1994) Binding of typical and atypical antipsychotic agents to 5-hydroxytryptamine-6 and 5-hydroxytryptamine-7 receptors. J Pharmacol Exp Ther 268:1403–1410

Roth BL, Sheffler DJ, Kroeze WK (2004) Magic shotguns versus magic bullets: selectively non-selective drugs for mood disorders and schizophrenia. Nat Rev Drug Discov 3:353–359

Rothman RB, Baumann MH, Savage JE, Rauser L, McBride A, Hufeisen SJ, Roth BL (2000) Evidence for possible involvement of 5-HT(2B) receptors in the cardiac valvulopathy associated with fenfluramine and other serotonergic medications. Circulation 102:2836–2841

Santarelli L, Saxe M, Gross C, Surget A, Battaglia F, Dulawa S, Weisstaub N, Lee J, Duman R, Arancio O, Belzung C, Hen R (2003) Requirement of hippocampal neurogenesis for the behavioral effects of antidepressants. Science 301:805–809

Schoemaker H, Claustre Y, Fage D, Rouquier L, Chergui K, Curet O, Oblin A, Gonon F, Carter C, Benavides J, Scatton B (1997) Neurochemical characteristics of amisulpride, an atypical dopamine D2/D3 receptor antagonist with both presynaptic and limbic selectivity. J Pharmacol Exp Ther 280:83–97

Shapiro DA, Renock S, Arrington E, Chiodo LA, Liu LX, Sibley DR, Roth BL, Mailman R (2003) Aripiprazole, a novel atypical antipsychotic drug with a unique and robust pharmacology. Neuropsychopharmacology 28:1400–1411

Shen Y, Monsma FJ Jr, Metcalf MA, Jose PA, Hamblin MW, Sibley DR (1993) Molecular cloning and expression of a 5-hydroxytryptamine7 serotonin receptor subtype. J Biol Chem 268:18200–18204

Sleight AJ, Carolo C, Petit N, Zwingelstein C, Bourson A (1995) Identification of 5-hydroxytryptamine7 receptor binding sites in rat hypothalamus: sensitivity to chronic antidepressant treatment. Mol Pharmacol 47:99–103

Smeraldi E (1998) Amisulpride versus fluoxetine in patients with dysthymia or major depression in partial remission: a double-blind, comparative study. J Affect Disord 48:47–56

Staner L, Luthringer R, Macher J-P (1999) Effects of antidepressant drugs on sleep EEG in patients with major depression: mechanisms and therapeutic implications. CNS Drugs 11:49–60

Tanda G, Carboni E, Frau R, Di Chiara G (1994) Increase of extracellular dopamine in the prefrontal cortex: a trait of drugs with antidepressant potential? Psychopharmacology (Berl) 115:285–288

Thomas DR, Gittins SA, Collin LL, Middlemiss DN, Riley G, Hagan J, Gloger I, Ellis CE, Forbes IT, Brown AM (1998) Functional characterisation of the human cloned 5-HT7 receptor (long form); antagonist profile of SB-258719. Br J Pharmacol 124:1300–1306

Thomas DR, Melotto S, Massagrande M, Gribble AD, Jeffrey P, Stevens AJ, Deeks NJ, Eddershaw PJ, Fenwick SH, Riley G, Stean T, Scott CM, Hill MJ, Middlemiss DN, Hagan JJ, Price GW, Forbes IT (2003) SB-656104-A, a novel selective 5-HT7 receptor antagonist, modulates REM sleep in rats. Br J Pharmacol 139:705–714

To ZP, Bonhaus DW, Eglen RM, Jakeman LB (1995) Characterization and distribution of putative 5-ht7 receptors in guinea-pig brain. Br J Pharmacol 115:107–116

Wesolowska A, Nikiforuk A, Stachowicz K, Tatarczynska E (2006) Effect of the selective 5-HT7 receptor antagonist SB 269970 in animal models of anxiety and depression. Neuropharmacology 51:578–586

Wetzel H, Grunder G, Hillert A, Philipp M, Gattaz WF, Sauer H, Adler G, Schroder J, Rein W, Benkert O (1998) Amisulpride versus flupentixol in schizophrenia with predominantly positive symptomatology—a double-blind controlled study comparing a selective D2-like antagonist to a mixed D1-/D2-like antagonist. The Amisulpride Study Group. Psychopharmacology (Berl) 137:223–232

Xu H, Chen Z, He J, Haimanot S, Li X, Dyck L, Li XM (2006) Synergetic effects of quetiapine and venlafaxine in preventing the chronic restraint stress-induced decrease in cell proliferation and BDNF expression in rat hippocampus. Hippocampus 16:551–559
Acknowledgments
A.A., X.P.H., T.B.T., and B.L.R. were supported by NIMH61887, U19MH82441, and the NIMH Psychoactive Drug Screening Program; B.L.R. received additional support as a NARSAD Distinguished Investigator. A.A. was also supported by the CWRU MSTP and NIH T32 GM007250. P.B.H. was supported by NIMH MH73923.
About this article
Cite this article
Abbas, A.I., Hedlund, P.B., Huang, XP. et al. Amisulpride is a potent 5-HT7 antagonist: relevance for antidepressant actions in vivo. Psychopharmacology 205, 119–128 (2009). https://doi.org/10.1007/s00213-009-1521-8
Received:

Accepted:

Published:

Issue Date:
Keywords
Amisulpride

5-HT7
5-HT7 antagonist

Antidepressant

Atypical antipsychotic

DAN 2163