Abstract
Rationale
Exposure to smoking-related cues can trigger relapse in smokers attempting to maintain abstinence.
Objectives
In the present study, we evaluated the effect of 24-h smoking abstinence on brain responses to smoking-related cues using functional magnetic resonance imaging (fMRI).
Materials and methods
Eighteen adult smokers underwent fMRI scanning following smoking as usual (satiated condition) and following 24-h abstinence (abstinent condition). During scanning, they viewed blocks of photographic smoking and control cues.
Results
Following abstinence, greater activation was found in response to smoking cues compared to control cues in parietal (BA 7/31), frontal (BA 8/9), occipital (BA 19), and central (BA 4) cortical regions and in dorsal striatum (putamen) and thalamus. In contrast, no smoking cue greater than control cue activations were observed following smoking as usual. Direct comparisons between conditions (satiated vs. abstinent) showed greater brain reactivity in response to smoking cues following abstinence. In addition, positive correlations between pre-scan craving in the abstinent condition and smoking cue activation were observed in right dorsomedial prefrontal cortex (dmPFC) including superior frontal gyrus (BA 6/10), anterior cingulate gyrus (BA 32), and supplementary motor area (BA 6).
Conclusions
The present findings indicate that smoking abstinence significantly potentiates neural responses to smoking-related cues in brain regions subserving visual sensory processing, attention, and action planning. Moreover, greater abstinence-induced craving was significantly correlated with increased smoking cue activation in dmPFC areas involved in action planning and decision making. These findings suggest that drug abstinence can increase the salience of conditioned cues, which is consistent with incentive-motivation models of addiction.
Access options
Buy single article
Instant access to the full article PDF.
USD 39.95
Price excludes VAT (USA)
Tax calculation will be finalised during checkout.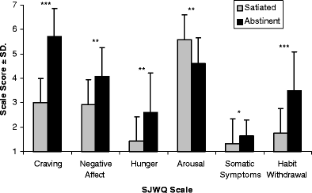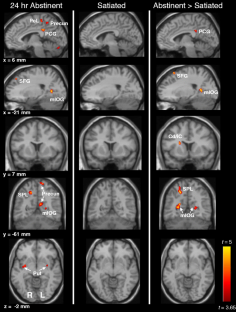 References
Brody AL, Mandelkern MA, London ED, Childress AR, Lee GS, Bota RG, Ho ML, Saxena S, Baxter LR Jr., Madsen D, Jarvik ME (2002) Brain metabolic changes during cigarette craving. Arch Gen Psychiatry 59:1162–1172

Brody AL, Mandelkern MA, Olmstead RE, Jou J, Tiongson E, Allen V, Scheibal D, London ED, Monterosso JR, Tiffany ST, Korb A, Gan JJ, Cohen MS (2007) Neural substrates of resisting craving during cigarette cue exposure. Biol Psychiatry 62:642–651

Bush G, Luu P, Posner MI (2000) Cognitive and emotional influences in anterior cingulate cortex. Trends Cogn Sci 4:215–222

Cabeza R, Nyberg L (2000) Imaging cognition II: an empirical review of 275 PET and fMRI studies. J Cogn NeuroSci 12:1–47

Carter BL, Tiffany ST (1999) Meta-analysis of cue-reactivity in addiction research. Addiction 94:327–340

CDC (2002) Cigarette smoking among adults—United States, 2000. Morb Mortal 51:642–645

Coull JT (1998) Neural correlates of attention and arousal: insights from electrophysiology, functional neuroimaging and psychopharmacology. Prog Neurobiol 55:343–361

David SP, Munafo MR, Johansen-Berg H, Smith SM, Rogers RD, Matthews PM, Walton RT (2005) Ventral striatum/nucleus accumbens activation to smoking-related pictorial cues in smokers and nonsmokers: a functional magnetic resonance imaging study. Biol Psychiatry 58:488–494

David SP, Munafo MR, Johansen-Berg H, Mackillop J, Sweet LH, Cohen RA, Niaura R, Rogers RD, Matthews PM, Walton RT (2007) Effects of acute nicotine abstinence on cue-elicited ventral striatum/nucleus accumbens activation in female cigarette smokers: a functional magnetic resonance imaging study. Brain Imaging Behav 1:43–57

Due DL, Huettel SA, Hall WG, Rubin DC (2002) Activation in mesolimbic and visuospatial neural circuits elicited by smoking cues: evidence from functional magnetic resonance imaging. Am J Psychiatr 159:954–960

Epstein LH, Bulik CM, Perkins KA, Caggiula AR, Rodefer J (1991) Behavioral economic analysis of smoking: money and food as alternatives. Pharmacol Biochem Behav 38:715–721

Everitt BJ, Robbins TW (2005) Neural systems of reinforcement for drug addiction: from actions to habits to compulsion. Nat Neurosci 8:1481–1489

Franklin TR, Wang Z, Wang J, Sciortino N, Harper D, Li Y, Ehrman R, Kampman K, O'Brien CP, Detre JA, Childress AR (2007) Limbic activation to cigarette smoking cues independent of nicotine withdrawal: a perfusion fMRI study. Neuropsychopharmacology 32:2301–2309

Friston KJ, Jezzard P, Turner R (1994) Analysis of functional MRI time-series. Human Brain Mapping 1:153–171

Garavan H, Pankiewicz J, Bloom A, Cho JK, Sperry L, Ross TJ, Salmeron BJ, Risinger R, Kelley D, Stein EA (2000) Cue-induced cocaine craving: neuroanatomical specificity for drug users and drug stimuli. American Journal of Psychiatry 157:1789–1798

Gilbert DG, Rabinovich NE (1999) International Smoking Image Series, Version 1.2, 1.2 edn. Intergrative Neuroscience Laboratory, Southern Illinois University-Carbondale, Intergrative Neuroscience Laboratory, Southern Illinois University—Carbondale

Gilbert DG, McClernon FJ, Rabinovich NE, Plath LC, Masson CL, Anderson AE, Sly KF (2002) Mood disturbance fails to resolve across 31 days of cigarette abstinence in women. J Consult Clin Psychol 70:142–152

Gron G, Wunderlich AP, Spitzer M, Tomczak R, Riepe MW (2000) Brain activation during human navigation: gender-different neural networks as substrate of performance. Nat Neurosci 3:404–408

Gross TM, Jarvik ME, Rosenblatt MR (1993) Nicotine abstinence produces content-specific Stroop interference. Psychopharmacology (Berl) 110:333–336

Heatherton TF, Kozlowski LT, Frecker RC, Fagerstrom KO (1991) The Fagerstrom test for nicotine dependence: a revision of the Fagerstrom tolerance questionnaire. Br J Addict 86:1119–1127

Hutcheson DM, Everitt BJ, Robbins TW, Dickinson A (2001) The role of withdrawal in heroin addiction: enhances reward or promotes avoidance? Nat Neurosci 4:943–947

Ito R, Dalley JW, Robbins TW, Everitt BJ (2002) Dopamine release in the dorsal striatum during cocaine-seeking behavior under the control of a drug-associated cue. J Neurosci 22:6247–6253

Jacob P 3rd, Wilson M, Benowitz NL (1981) Improved gas chromatographic method for the determination of nicotine and cotinine in biologic fluids. J Chromatogr 222:61–70

Kastner S, Ungerleider LG (2000) Mechanisms of visual attention in the human cortex. Annu Rev Neurosci 23:315–341

Kilts CD, Gross RE, Ely TD, Drexler KP (2004) The neural correlates of cue-induced craving in cocaine-dependent women. Am J Psychiatry 161:233–241

Kosten TR, Scanley BE, Tucker KA, Oliveto A, Prince C, Sinha R, Potenza MN, Skudlarski P, Wexler BE (2006) Cue-induced brain activity changes and relapse in cocaine-dependent patients. Neuropsychopharmacology 31:644–650

Lang PJ, Bradley MM, Cuthbert BN (1995) International Affective Picture System (IAPS): Technical Manual and Affective Ratings. NIMH Center for the Study of Emotion and Attention, University of FL, Gainesville, FL., NIMH Center for the Study of Emotion and Attention, University of FL, Gainesville, FL

Lawrence AD, Sahakian BJ, Robbins TW (1998) Cognitive functions and corticostriatal circuits: Insights from Huntington's disease. Trends Cogn Sci 2

Majdandzic J, Grol MJ, van Schie HT, Verhagen L, Toni I, Bekkering H (2007) The role of immediate and final goals in action planning: an fMRI study. Neuroimage 37:589–598

McBride D, Barrett SP, Kelly JT, Aw A, Dagher A (2006) Effects of expectancy and abstinence on the neural response to smoking cues in cigarette smokers: an fMRI study. Neuropsychopharmacology 31:2728–2738

McClernon FJ, Beckham JC, Mozley SL, Feldman ME, Vrana SR, Rose JE (2005a) The effects of trauma recall on smoking topography in posttraumatic stress disorder and non-posttraumatic stress disorder trauma survivors. Addict Behav 30:247–257

McClernon FJ, Hiott FB, Huettel SA, Rose JE (2005b) Abstinence-induced changes in self-report craving correlate with event-related FMRI responses to smoking cues. Neuropsychopharmacology 30:1940–1947

McClernon FJ, Hiott FB, Liu J, Salley AN, Behm FM, Rose JE (2007) Selectively reduced responses to smoking cues in amygdala following extinction-based smoking cessation: results of a preliminary functional magnetic resonance imaging study. Addict Biol 12:503–512

McClernon FJ, Kozink RV, Rose JE (2008) Individual differences in nicotine dependence, withdrawal symptoms, and sex predict transient fMRI-BOLD responses to smoking cues. Neuropsychopharmacology 33:2148–2157

Pochon JB, Riis J, Sanfey AG, Nystrom LE, Cohen JD (2008) Functional imaging of decision conflict. J Neurosci 28:3468–3473

Robinson TE, Berridge KC (1993) The neural basis of drug craving: an incentive-sensitization theory of addiction. Brain Res Brain Res Rev 18:247–291

Rose JE, Levin ED, Behm FM, Adivi C, Schur C (1990) Transdermal nicotine facilitates smoking cessation. Clin Pharmacol Ther 47:323–330

Rose JE, Behm FM, Salley AN, Bates JE, Coleman RE, Hawk TC, Turkington TG (2007) Regional brain activity correlates of nicotine dependence. Neuropsychopharmacology 32:2441–2452

Rushworth MF, Walton ME, Kennerley SW, Bannerman DM (2004) Action sets and decisions in the medial frontal cortex. Trends Cogn Sci 8:410–417

Shiffman SM, Jarvik ME (1976) Smoking withdrawal symptoms in two weeks of abstinence. Psychopharmacology (Berl) 50:35–39

Shiffman S, Paty JA, Gnys M, Kassel JA, Hickcox M (1996) First lapses to smoking: within-subjects analysis of real-time reports. J Consult Clin Psychol 64:366–379

Smolka MN, Buhler M, Klein S, Zimmermann U, Mann K, Heinz A, Braus DF (2006) Severity of nicotine dependence modulates cue-induced brain activity in regions involved in motor preparation and imagery. Psychopharmacology (Berl) 184:577–588

Steiger JH (1980) Tests for comparing elements of a correlation matrix. Psychol Bull 87:245–251

Stewart J, de Wit H, Eikelboom R (1984) Role of unconditioned and conditioned drug effects in the self-administration of opiates and stimulants. Psychol Rev 91:251–268

Vogt BA, Finch DM, Olson CR (1992) Functional heterogeneity in cingulate cortex: the anterior executive and posterior evaluative regions. Cereb Cortex 2:435–443

Volkow ND, Wang GJ, Telang F, Fowler JS, Logan J, Childress AR, Jayne M, Ma Y, Wong C (2006) Cocaine cues and dopamine in dorsal striatum: mechanism of craving in cocaine addiction. J Neurosci 26:6583–6588

Waters AJ, Feyerabend C (2000) Determinants and effects of attentional bias in smokers. Psychol Addict Behav 14:111–120

Wilson SJ, Sayette MA, Delgado MR, Fiez JA (2005) Instructed smoking expectancy modulates cue-elicited neural activity: A preliminary study. Nicotine Tob Res 7:637–645
Acknowledgements
This research was supported by NIDA grant K23DA017261 to Dr. McClernon and by an unrestricted research grant from Philip Morris USA, Inc to Dr. Rose. We thank Natalie Goutkin for her assistance with MRI scanning.
Electronic supplementary material
Below is the link to the electronic supplementary material.
Brain areas of significant activation for smoking cues versus control cues as measured by BOLD-fMRI across conditions (DOC 23.5 KB)
BOLD response to smoking cues was greater than response to control cues across smoking conditions in right paracentral lobule (PcL; BA 5), right cuneus (Cun; BA 19), hypothalamus (Hyp), left middle occipital gyrus (MOG; BA 19), right superior frontal gyrus (SFG; BA 6), and left insula (Ins). There were no significant areas of activation for control cues > smoking cues (PPT 1.89 MB)
About this article
Cite this article
McClernon, F.J., Kozink, R.V., Lutz, A.M. et al. 24-h smoking abstinence potentiates fMRI-BOLD activation to smoking cues in cerebral cortex and dorsal striatum. Psychopharmacology 204, 25–35 (2009). https://doi.org/10.1007/s00213-008-1436-9
Received:

Accepted:

Published:

Issue Date:

DOI: https://doi.org/10.1007/s00213-008-1436-9
Keywords
Cue-reactivity

Craving

Nicotine dependence

fMRI

Smoking

Dorsal striatum