Abstract
Background
Cannabis is one of the most widely used illicit substances, and there is growing interest in the therapeutic applications of cannabinoids. While known to modulate neuroendocrine function, the precise acute and chronic dose-related effects of cannabinoids in humans are not well-known. Furthermore, the existing literature on the neuroendocrine effects of cannabinoids is limited by small sample sizes (n = 6–22), heterogeneous samples with regard to cannabis exposure (lumping users and nonusers), lack of controlling for chronic cannabis exposure, differing methodologies, and limited dose–response data. Delta-9-tetrahydrocannabinol (Δ-9-THC) was hypothesized to produce dose-related increases in plasma cortisol levels and decreases in plasma prolactin levels. Furthermore, relative to controls, frequent users of cannabis were hypothesized to show altered baseline levels of these hormones and blunted Δ-9-THC-induced changes of these hormones.
Materials and methods
Pooled data from a series of laboratory studies with multiple doses of intravenous Δ-9-THC in healthy control subjects (n = 36) and frequent users of cannabis (n = 40) was examined to characterize the acute, chronic, and acute on chronic effects of cannabinoids on plasma cortisol and prolactin levels. Hormone levels were measured before (baseline) and 70 min after administration of each dose of Δ-9-THC. Data were analyzed using linear mixed models with +70 min hormonal levels as the dependant variable and baseline hormonal level as the covariate.
Results
At socially relevant doses, Δ-9-THC raised plasma cortisol levels in a dose-dependent manner but frequent users showed blunted increases relative to healthy controls. Frequent users also had lower baseline plasma prolactin levels relative to healthy controls.
Conclusions
These group differences may be related to the development of tolerance to the neuroendocrine effects of cannabinoids. Alternatively, these results may reflect inherent differences in neuroendocrine function in frequent users of cannabis and not a consequence of cannabis use.
Access options
Buy single article
Instant access to the full article PDF.
USD 39.95
Price includes VAT (USA)
Tax calculation will be finalised during checkout.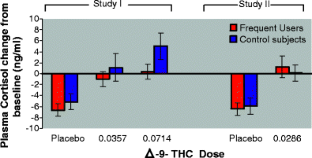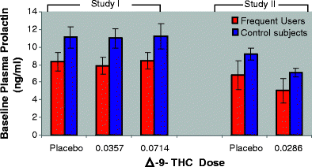 Abbreviations
Δ-9-THC:

delta-9-tetrahydrocannabinol

CB:

cannabinoid
References
Block RI, Farinpour R, Schlechte JA (1991) Effects of chronic marijuana use on testosterone, luteinizing hormone, follicle stimulating hormone, prolactin and cortisol in men and women. Drug Alcohol Depend 28:121–128

Brown TT, Dobs AS (2002) Endocrine effects of marijuana. J Clin Pharmacol 42:90S–96S

Compton WM, Grant BF, Colliver JD, Glantz MD, Stinson FS (2004) Prevalence of marijuana use disorders in the United States: 1991–1992 and 2001–2002. JAMA 291:2114–2121

Cone EJ, Johnson RE, Moore JD, Roache JD (1986) Acute effects of smoking marijuana on hormones, subjective effects and performance in male human subjects. Pharmacol Biochem Behav 24:1749–1754

Dax EM, Pilotte NS, Adler WH, Nagel JE, Lange WR (1989) The effects of 9-ene-tetrahydrocannabinol on hormone release and immune function. J Steroid Biochem 34:263–270

D'Souza DC, Perry E, MacDougall L, Ammerman Y, Cooper T, Wu YT, Braley G, Gueorguieva R, Krystal JH (2004) The psychotomimetic effects of intravenous delta-9-tetrahydrocannabinol in healthy individuals: implications for psychosis. Neuropsychopharmacology 29:1558–1572

D'Souza DC, Ranganathan M, Braley G, Gueorguieva R, Zimolo Z, Cooper T, Perry E, Krystal J (2008a) Blunted psychotomimetic and amnestic effects of delta-9-tetrahydrocannabinol in frequent users of cannabis. Neuropsychopharmacology 33(10):2505–2516

D'Souza DC, Braley G, Blaise R, Vendetti M, Oliver S, Pittman N, Ranganathan M, Bhakta S, Zimolo Z, Cooper T, Perry E (2008b) Effects of haloperidol on the behavioral, subjective, cognitive, motor and neuroendocrine effects of D-9-tetrahydrocannabinol in humans. Psychopharmacology (in press)

First MB, Spitzer RL, Gibbon M, Williams JBW (2002) Structured clinical interview for DSM-IV-TR axis I disorders—non-patient edition. American Psychiatric Association, Arlington, VA

Gonzalez S, Cebeira M, Fernandez-Ruiz J (2005) Cannabinoid tolerance and dependence: a review of studies in laboratory animals. Pharmacol Biochem Behav 81:300–318

Harmon J, Aliapoulios MA (1972) Gynecomastia in marihuana users. N Engl J Med 287:936

Huizink AC, Ferdinand RF, Ormel J, Verhulst FC (2006) Hypothalamic-pituitary-adrenal axis activity and early onset of cannabis use. Addiction 101:1581–1588

Kosten TA, Ambrosio E (2002) HPA axis function and drug addictive behaviors: insights from studies with Lewis and Fischer 344 inbred rats. Psychoneuroendocrinology 27:35–69

Lemberger L, Crabtree R, Rowe H, Clemens J (1975) Tetrahydrocannabinols and serum prolactin levels in man. Life Sci 16:1339–1343

Lichtman AH, Martin BR (2005) Cannabinoid tolerance and dependence. Handb Exp Pharmacol 168:691–717

Majewska MD (2002) HPA axis and stimulant dependence: an enigmatic relationship. Psychoneuroendocrinology 27:5–12

Markianos M, Stefanis C (1982) Effects of acute cannabis use and short-term deprivation on plasma prolactin and dopamine-beta-hydroxylase in long-term users. Drug Alcohol Depend 9:251–255

Mendelson JH, Ellingboe J, Mello NK (1984) Acute effects of natural and synthetic cannabis compounds on prolactin levels in human males. Pharmacol Biochem Behav 20:103–106

Mendelson JH, Mello NK, Ellingboe J (1985) Acute effects of marihuana smoking on prolactin levels in human females. J Pharmacol Exp Ther 232:220–222

Murphy LL, Steger RW, Smith MS, Bartke A (1990) Effects of delta-9-tetrahydrocannabinol, cannabinol and cannabidiol, alone and in combinations, on luteinizing hormone and prolactin release and on hypothalamic neurotransmitters in the male rat. Neuroendocrinology 52:316–321

Murphy LL, Munoz RM, Adrian BA, Villanua MA (1998) Function of cannabinoid receptors in the neuroendocrine regulation of hormone secretion. Neurobiol Dis 5:432–446

Olusi SO (1980) Hyperprolactinaemia in patients with suspected cannabis-induced gynaecomastia. Lancet 1:255

Pagotto U, Marsicano G, Cota D, Lutz B, Pasquali R (2006) The emerging role of the endocannabinoid system in endocrine regulation and energy balance. Endocr Rev 27:73–100

Rettori V, Wenger T, Snyder G, Dalterio S, McCann SM (1988) Hypothalamic action of delta-9-tetrahydrocannabinol to inhibit the release of prolactin and growth hormone in the rat. Neuroendocrinology 47:498–503

Rodriguez De Fonseca F, Gorriti MA, Bilbao A, Escuredo L, Garcia-Segura LM, Piomelli D, Navarro M (2001) Role of the endogenous cannabinoid system as a modulator of dopamine transmission: implications for Parkinson's disease and schizophrenia. Neurotox Res 3:23–35

Romero J, Garcia-Palomero E, Castro JG, Garcia-Gil L, Ramos JA, Fernandez-Ruiz JJ (1997) Effects of chronic exposure to delta9-tetrahydrocannabinol on cannabinoid receptor binding and mRNA levels in several rat brain regions. Brain Res Mol Brain Res 46:100–108

Rosenblitt JC, Soler H, Johnson SE, Quadagno DM (2001) Sensation seeking and hormones in men and women: exploring the link. Horm Behav 40:396–402

SAMHSA (2004) Results from the 2003 National Survey on Drug Use and Health: national findings. Substance Abuse and Mental Health Services Administration, Rockville, MD

Sobell LC, Sobell MB (1992) Timeline follow-back: a technique for assessing self-reported alcohol consumption. Measuring alcohol consumption. Humana, Totowa, NJ

Stinson FS, Ruan WJ, Pickering R, Grant BF (2006) Cannabis use disorders in the USA: prevalence, correlates and co-morbidity. Psychol Med 36:1447–1460

Wenger T, Rettori V, Snyder GD, Dalterio S, McCann SM (1987) Effects of delta-9-tetrahydrocannabinol on the hypothalamic-pituitary control of luteinizing hormone and follicle-stimulating hormone secretion in adult male rats. Neuroendocrinology 46:488–493
Acknowledgements
The authors wish to acknowledge the critical clinical research contributions of the Biological Studies Unit, VA Connecticut Healthcare System including Elizabeth O'Donell, RN; Angelina Genovese, RN; Sonah Yoo, RPh; Robert Sturwold, RPh; and Mr. Willie Ford. This study was supported by the National Institute of Drug Abuse (DA12382-01 to DCD). In addition, the authors acknowledge the support from the (1) Department of Veterans Affairs Schizophrenia Biological Research Center (John Krystal), (2) National Institute of Mental Health (MH61019-02 to DCD), (3) National Institute of Alcohol Abuse and Alcoholism (R03 AA11413-02 to DCD), (4) Stanley Medical Research Institute (DCD), and (5) Donaghue Foundation (DCD).
Declaration of interest
There are no direct or indirect conflicts of interest for any of the authors relevant to the subject of this manuscript.
About this article
Cite this article
Ranganathan, M., Braley, G., Pittman, B. et al. The effects of cannabinoids on serum cortisol and prolactin in humans. Psychopharmacology 203, 737 (2009). https://doi.org/10.1007/s00213-008-1422-2
Received:

Accepted:

Published:
Keywords
Cannabis

Cannabinoids

Delta-9-tetrahydrocannabinol

Prolactin

Cortisol

Hormones