Abstract
Rationale
Substances of misuse (such as nicotine) are associated with increases in activation within the mesocorticolimbic brain system, a system thought to mediate the rewarding effects of drugs of abuse. Pharmacological treatments have been designed to reduce cigarette cravings during temporary abstinence. Exercise has been found to be an effective tool for controlling cigarette cravings.
Objective
The objective of this study is to assess the effect of exercise on regional brain activation in response to smoking-related images during temporary nicotine abstinence.
Method
In a randomized crossover design, regular smokers (n = 10) undertook an exercise (10 min moderate-intensity stationary cycling) and control (passive seating for same duration) session, following 15 h of nicotine abstinence. Following treatments, participants entered a functional Magnetic Resonance Imaging (fMRI) scanner. Subjects viewed a random series of smoking and neutral images for 3 s, with an average inter-stimulus-interval (ISI) of 10 s. Self-reported cravings were assessed at baseline, mid-, and post-treatments.
Results
A significant interaction effect (time by group) was found, with self-reported cravings lower during and following exercise. During control scanning, significant activation was recorded in areas associated with reward (caudate nucleus), motivation (orbitofrontal cortex) and visuo-spatial attention (parietal lobe, parahippocampal, and fusiform gyrus). Post-exercise scanning showed hypo-activation in these areas with a concomitant shift of activation towards areas identified in the 'brain default mode' (Broadmanns Area 10).
Conclusion
The study confirms previous evidence that a single session of exercise can reduce cigarette cravings, and for the first time provides evidence of a shift in regional activation in response to smoking cues.
Access options
Buy single article
Instant access to the full article PDF.
US$ 39.95
Tax calculation will be finalised during checkout.
Subscribe to journal
Immediate online access to all issues from 2019. Subscription will auto renew annually.
US$ 119
Tax calculation will be finalised during checkout.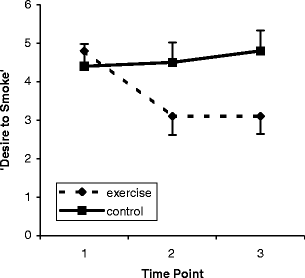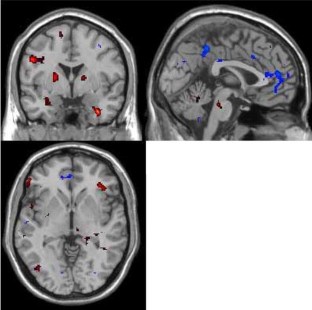 References
Balfour DJ (2001) The pharmacology underlying pharmacotherapy for tobacco dependence: a focus on bupropion. Int J Clin Pract 55:53–57

Bartholomew JR, Morrison D, Ciccolo JT (2005) Effects of acute exercise on mood and well-being in patients with major depressive disorders. Med Sci Sports Exerc 37:2032–2037

Berlin AA, Kop WJ, Deuster PA (2006) Depressive mood symptoms and fatigue after exercise withdrawal: the potential role of decreased fitness. Psychosom Med 68:24–230

Borg GAV (1998) Borg's Perceived Exertion and Pain Scales. Human Kinetics, Champaign, Ill

Brody A (2006) Functional brain imaging of tobacco use and dependence. J Psychiatr Res 40:404–418

Chen MJ, Fan X, Moe ST (2002) Criterion-related validity of the Borg scale in healthy individuals: a meta analysis. J Sport Sci 20:873–899

Cosgrove KP, Hunter RG, Carroll ME (2002) Wheel-running attenuates intravenous cocaine self-administration in rats: sex differences. Pharmacol Biochem Behav 73:663–671

David SP, Munafo MR, Johanen-Berg H, Smith SM, Rogers RD, Mathews PM et al (2005) Ventral Striatum/Nucleus Accumbens activation to smoking-related pictorial cues in smokers and nonsmokers: a Functional Magnetic Resonance Imaging study. Biol Psychiatry 58:488–494

Dietrich A (2003) Functional neuroanatomy of altered states of consciousness: The transient hypofrontality hypothesis. Conscious Cogn 12:231–256

Dietrich A (2006) Transient hypofrontality as a mechanism for the psychological effects of exercise. Psychiatry Res 145:79–83

Dietrich A, Sparling B (2004) Endurance exercise selectively impairs prefrontal dependent cognition. Brain Cogn 55:516–524

Due DL, Huetttel SA, Hall WG, Rubin DC (2002) Activation in mesolimbic and visuospatial neural circuits elicited by smoking cues: evidence from functional magnetic resonance Imaging. Am J Psychiatr 159:954–960

Fagard RH (2001) Exercise characteristics and the blood pressure response to dynamic physical training. Med Sci Sports Exerc 33:S484–S492

Forjaz CL, Matsudaira Y, Rodrigues FB, Nunes N, Negrao CE (1998) Post-exercise changes in blood pressure, heart rate and rate pressure product at different exercise intensities in normotensive humans. Braz J Med Biol Res 31:1247–1255

Gilbert DG, Rabinovitch NE (1998) International Smoking Image Series with neutral counterparts, 1.2 edn. Southern Illinois University at Carbondale, Carbondale, IL

Gilbert SJ, Frithz CD, Burgess PW (2005) Involvement of rostral prefrontal cortex in selection between stimulus-oriented and stimulus-independent thought. Eur J Neurosci 21:1423–1431

Gilbert SJ, Frithz CD, Burgess PW (2006) Performance-related activity in Medial Rostral Prefrontal Cortex (area 10) during low-demand tasks. J Exp Psychol Hum Percept Perform 32:45–58

Goldstein RZ, Volkow ND (2002) Drug addiction and its underlying neurobiological basis: neuroimaging evidence for the involvement of the frontal cortex. Am J Psychiatr 159:1642–1652

Graybiel AM (2005) The basal ganglia: learning new tricks and loving it. Curr Opin Neurobiol 15:638–644

Greicius MD, Krasnow B, Reiss AL, Menon V (2003) Functional connectivity in the resting brain: a network analysis of the default mode hypothesis. Proc Natl Acad Sci 100:253–258

Hattori S, Naoi M, Nishino H (1994) Striatal dopamine turnover during treadmill running in the rat: relation to the speed of running. Brain Res Bull 35:41–49

Heatherton TF, Kozlowski LT, Frecker RC, Fagerstrom KO (1991) The Fagerstrom test for nicotine dependence: A revision of the Fagerstrom Tolerance Questionnaire. Br J Addict 86:19–27

Ide K, Secher N (2002) Cerebral blood flow and metabolism during exercise. Prog Neurobiol 61:397–414

Iversen IH (1993) Techniques for establishing schedules with wheel running as reinforcement in rats. J Exp Anim Behav 60:219–238

Janse Van Rensburg K, Taylor AH (2008) The effects of acute exercise on cognitive functioning and cigarette cravings during temporary abstinence from smoking. Hum Psychopharmacol Clin Exp 23:193–199

Kanarek RB, Marks-Kaufman R, D'Anci KE, Przypek J (1995) Exercise attenuates oral intake of amphetamine in rats. Pharmacol Biochem Behav 51:725–729

Koob GF, LeMoal M (2001) Drug addiction, dysregulation of reward, and allostasis. Neuropsychopharmacology 24:97–129

Lee JH, Lim Y, Wiederhold BK, Graham SJ (2005) A functional magnetic resonance imaging (fMRI) study of cue-induced smoking cravings in virtual environments. Appl Psychophysiol Biofeedback 30:195–204

Lechin F, Van der Dijs B, Orozco B, Lechin ME, Baez S, Lechin AE (1995) Plasma neurotransmitters, blood pressure, and heart rate during supine-resting, orthostasis, and moderate exercise conditions in major. Biol Psychiatry 38:166–173

Lett BT, Grant VL, Byrne MJ, Koh MT (2000) Pairings of a distinctive chamber with the aftereffect of wheel running produce conditioned place preference. Appetite 34:87–94

Lim HK, Pae CU, Joo RH, Yoo SS, Choi BG, Kim DJ et al (2005) fMRI investigation on cue-induced smoking craving. J Psychiatr Res 39:333–335

Lynd-Balta E, Haber SN (1994) The organization of midbrain projections to the striatum in the primate: sensorimotor-related striatum versus ventral striatum. Neuroscience 59:625–640

McClernon JF, Hiott FB, Huetell SA, Rose JA (2005) Abstinence-induced changes in self-report craving correlate with event-related fMRI responses to smoking cues. Neuropsychopharmacology 30:1940–1947

McMillam DE, McClure GY, Hardwick WC (1995) Effects of access to a running wheel on food, water and ethanol intake in rats bred to accept ethanol. Drug Alcohol Deped 40:1–7

Meeusen R, Piacentini MF, De Meireir K (2001) Brain microdialysis in exercise research. Sports Med 31:965–983

Morgan D, Brebner K, Lynch WJ, Roberts DCS (2002) Increases in the reinforcing efficacy of cocaine after particular histories of reinforcement. Behav Pharmacol 13:389–396

Morris JN, Hardman AE (1997) Walking to health. J Sports Med 23:306–332

Raichle ME, MacLeod AM, Snyder AZ, Powers WJ, Gusnard DA, Shulman GL (2001) A default mode of brain function. Proc Natl Acad Sci 98:676–682

Sandlund ES, Norlander T (2000) The effects of Tai Chi Chuan relaxation and exercise on stress response and well-being: an overview of research. Int J Stress Manag 7:139–149

Simpson JR, Drevets WC, Snyder AZ, Gusnard DA, Raichle ME (2001) Emotion-indiced changes in human medial prefrontal cortex: during anticipatory anxiety. Proc Natl Acad Sci 98:688–693

Smolka MN, Buhler M, Klein S, Zimmermann U, Mann K, Heinz A et al (2006) Severity of nicotine dependence modulates cue-induced brain activity in regions involved in motor preparation and imagery. Psychopharmacology 184:577–588

Solomon RL (1980) The opponent-process theory of acquired motivation: the costs of pleasure and the benefits of pain. Am Psychol 35:691–712

Sutoo D, Akiyama K (2003) Regulation of brain function by exercise. Neurobiol Dis 13:1–14

Talairach J, Tounoux P (1988) Co-planar stereotactic atlas of the human brain: 3-dimensional proportional system: An approach to cerebral imaging. Thieme, Stuttgart

Taylor AH, Katomeri M (2007) Walking reduces cue-elicited cigarette cravings and withdrawal symptoms, and delays ad libitum smoking. Nicotine Tob Res 9:1183–1190

Taylor AH, Ussher MH, Faulkner G (2007) The acute effects of exercise on smoking behaviour, cravings, withdrawal symptoms and affect: a systematic review. Addiction 4:534–543

Tiffany ST, Drobes DJ (1991) The development and initial validation of a questionnaire on smoking urges. Br J Addict 86:1467–1476

Ussher M, Nunziata P, Cropley M, West R (2001) Effects of a short bout of exercise on tobacco withdrawal symptoms and desire to smoke. Psychopharmacology 158:66–72

Ussher M, Taylor AH, Faulkner G (2008) Exercise interventions for smoking cessation. Cochrane Rev (4):CD002295

Volkow ND, Fowler JS (2000) Addiction, a disease of compulsion and drive: involvement of the orbitofrontal cortex. Cerebral Cortex 10:318–325

Volkow ND, Fowler JS, Wang G-J (2003) The addicted human brain: insights from imaging studies. J Clin Invest 111:1444–14451

Wang GJ, Volkow ND, Fowler JS, Franceschi D, Logan J, Pappas NR et al (2000) PET studies of the effects of aerobic exercise on human striatal dopamine release. J Nucl Med 41:1352–1356

Waters AJ, Shiffman S, Sayette MA, Paty JA, Gwaltney CJ, Balabanis MH (2003) Attentional bias predicts outcome in smoking cessation. Health Psychol 22:378–387

Xiang JZ, Brown MW (1998) Differential neuronal encoding of novelty, familiarity and recency in regions of the anterior temporal lobe. Neuropharmacology 37:657–676
Acknowledgments
Thanks to Dr Jon Fulford for his technical support and Dr Tim Rees for his thoughtful suggestions on the manuscript.
Disclosure/Conflict of Interest
None of the authors have received financial reward/benefit for this research.
About this article
Cite this article
Janse Van Rensburg, K., Taylor, A., Hodgson, T. et al. Acute exercise modulates cigarette cravings and brain activation in response to smoking-related images: an fMRI study. Psychopharmacology 203, 589 (2009). https://doi.org/10.1007/s00213-008-1405-3
Received:

Accepted:

Published:
Keywords
Exercise

Smoking

Cravings

Cue-induced cravings

Mechanism