Abstract
Rationale
Environmental conditions during adolescence, a critical period of brain maturation, can have important consequences on subsequent vulnerability to drugs of abuse. We have recently found that the behavioral effects of cocaine as well as its ability to increase expression of zif-268 are reduced in mice reared in enriched environments (EE).
Objectives
The present experiments examined whether environmental enrichment has protective influences on the effects of heroin, a drug of addiction whose mechanism of action differs from that of cocaine.
Materials and methods
Mice were housed either in standard environments (SE) or in EE from weaning to adulthood before any drug exposure. EE were constituted by big housing cages and contained constantly a running wheel and a small house and four to five toys that were changed once a week with new toys of different shapes and colors. We assessed the influence of EE on the ability of heroin to (1) induce conditioned place preferences, (2) induce behavioral sensitization, (3) increase dopamine levels in the nucleus accumbens (NAc), and (4) increase expression of the immediate early gene zif-268 in the striatum.
Results
Conditioned place preference but not behavioral sensitization was reduced in EE mice compared to SE mice. Heroin induced similar increases in dopamine levels and in the expression of zif-268 in the NAc of EE and SE mice.
Conclusions
The rewarding effects of heroin are blunted by EE and appear to be, at least in part, independent from activation of the mesolimbic system.
Access options
Buy single article
Instant access to the full article PDF.
US$ 39.95
Tax calculation will be finalised during checkout.
Subscribe to journal
Immediate online access to all issues from 2019. Subscription will auto renew annually.
US$ 119
Tax calculation will be finalised during checkout.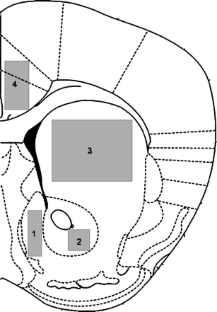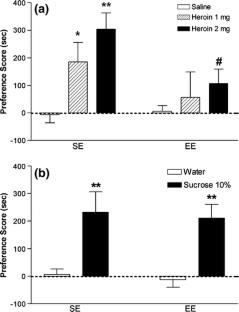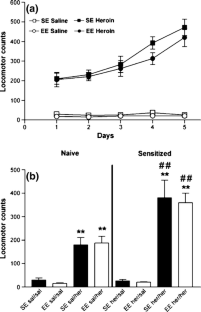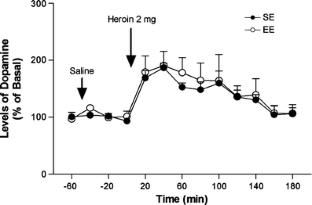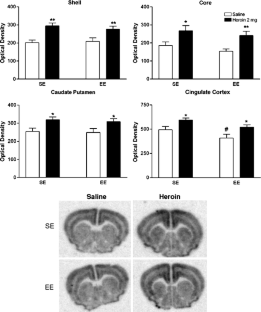 References
Abraham WC, Dragunow M, Tate WP (1991) The role of immediate early genes in the stabilization of long-term potentiation. Mol Neurobiol 5:297–314

Badiani A, Oates MM, Robinson TE (2000) Modulation of morphine sensitization in the rat by contextual stimuli. Psychopharmacology (Berl) 151:273–282

Bardo MT, Robinet PM, Hammer RF (1997) Effect of differential rearing environments on morphine-induced behaviors, opioid receptors and dopamine synthesis. Neuropharmacology 36:251–259

Bardo MT, Klebaur JE, Valone JM, Deaton C (2001) Environmental enrichment decreases intravenous self-administration of amphetamine in female and male rats. Psychopharmacology (Berl) 155:278–284

Benaroya-Milshtein N, Hollander N, Apter A, Kukulansky T, Raz N, Wilf A, Yaniv I, Pick CG (2004) Environmental enrichment in mice decreases anxiety, attenuates stress responses and enhances natural killer cell activity. Eur J Neurosci 20:1341–1347

Berke JD, Hyman SE (2000) Addiction, dopamine, and the molecular mechanisms of memory. Neuron 25:515–532

Bezard E, Dovero S, Belin D, Duconger S, Jackson-Lewis V, Przedborski S, Piazza PV, Gross CE, Jaber M (2003) Enriched environment confers resistance to 1-methyl-4-phenyl-1,2,3,6-tetrahydropyridine and cocaine: involvement of dopamine transporter and trophic factors. J Neurosci 23:10999–11007

Bontempi B, Sharp FR (1997) Systemic morphine-induced Fos protein in the rat striatum and nucleus accumbens is regulated by mu opioid receptors in the substantia nigra and ventral tegmental area. J Neurosci 17:8596–8612

Bozarth MA, Murray A, Wise RA (1989) Influence of housing conditions on the acquisition of intravenous heroin and cocaine self-administration in rats. Pharmacol Biochem Behav 33:903–907

Coudereau JP, Debray M, Monier C, Bourre JM, Frances H (1997) Isolation impairs place preference conditioning to morphine but not aversive learning in mice. Psychopharmacology (Berl) 130:117–123

Cunningham CL, Gremel CM, Groblewski PA (2006) Drug-induced conditioned place preference and aversion in mice. Nat Protoc 1:1662–1670

De Vries TJ, Shippenberg TS (2002) Neural systems underlying opiate addiction. J Neurosci 22:3321–3325

Di Chiara G, Bassareo V (2007) Reward system and addiction: what dopamine does and doesn't do. Curr Opin Pharmacol 7:69–76

Di Chiara G, Imperato A (1988) Drugs abused by humans preferentially increase synaptic dopamine concentrations in the mesolimbic system of freely moving rats. Proc Natl Acad Sci U S A 85:5274–5278

Di Chiara G, North RA (1992) Neurobiology of opiate abuse. Trends Pharmacol Sci 13:185–93

Dockstader CL, Rubinstein M, Grandy DK, Low MJ, van der Kooy D (2001) The D2 receptor is critical in mediating opiate motivation only in opiate-dependent and withdrawn mice. Eur J Neurosci 13:995–1001

Ettenberg A, Pettit HO, Bloom FE, Koob GF (1982) Heroin and cocaine intravenous self-administration in rats: mediation by separate neural systems. Psychopharmacology (Berl) 78:204–209

Gerrits MA, Ramsey NF, Wolterink G, van Ree JM (1994) Lack of evidence for an involvement of nucleus accumbens dopamine D1 receptors in the initiation of heroin self-administration in the rat. Psychopharmacology (Berl) 114:486–494

Goeders NE (2002) Stress and cocaine addiction. J Pharmacol Exp Ther 301:785–789

Green TA, Gehrke BJ, Bardo MT (2002) Environmental enrichment decreases intravenous amphetamine self-administration in rats: dose–response functions for fixed- and progressive-ratio schedules. Psychopharmacology (Berl) 162:373–378

Green TA, Cain ME, Thompson M, Bardo MT (2003) Environmental enrichment decreases nicotine-induced hyperactivity in rats. Psychopharmacology (Berl) 170:235–241

Harlan RE, Garcia MM (1998) Drugs of abuse and immediate-early genes in the forebrain. Mol Neurobiol 16:221–267

Homberg JR, van den Akker M, Raaso HS, Wardeh G, Binnekade R, Schoffelmeer AN, de Vries TJ (2002) Enhanced motivation to self-administer cocaine is predicted by self-grooming behaviour and relates to dopamine release in the rat medial prefrontal cortex and amygdala. Eur J Neurosci 15:1542–1550

Johnson SW, North RA (1992) Opioids excite dopamine neurons by hyperpolarization of local interneurons. J Neurosci 12:483–488

Laviola G, Rea M, Morley-Fletcher S, Di Carlo S, Bacosi A, De Simone R, Bertini M, Pacifici R (2004) Beneficial effects of enriched environment on adolescent rats from stressed pregnancies. Eur J Neurosci 20:1655–1664

Laviola G, Hannan A, Macrì S, Solinas M, Jaber M (2008) Effects of enriched environment on animal models of neurodegenerative diseases and psychiatric disorders. Neurobiol Dis 31(2):159–168

Liu J, Nickolenko J, Sharp FR (1994) Morphine induces c-fos and junB in striatum and nucleus accumbens via D1 and N-methyl-d-aspartate receptors. Proc Natl Acad Sci U S A 91:8537–8541

Marinelli M, Piazza PV (2002) Interaction between glucocorticoid hormones, stress and psychostimulant drugs. Eur J Neurosci 16:387–394

McBride WJ, Murphy JM, Ikemoto S (1999) Localization of brain reinforcement mechanisms: intracranial self-administration and intracranial place-conditioning studies. Behav Brain Res 101:129–152

Montag-Sallaz M, Welzl H, Kuhl D, Montag D, Schachner M (1999) Novelty-induced increased expression of immediate-early genes c-fos and arg 3.1 in the mouse brain. J Neurobiol 38:234–246

Morley-Fletcher S, Rea M, Maccari S, Laviola G (2003) Environmental enrichment during adolescence reverses the effects of prenatal stress on play behaviour and HPA axis reactivity in rats. Eur J Neurosci 18:3367–3374

Nithianantharajah J, Hannan AJ (2006) Enriched environments, experience-dependent plasticity and disorders of the nervous system. Nat Rev Neurosci 7:697–709

Olmstead MC, Franklin KB (1997) The development of a conditioned place preference to morphine: effects of lesions of various CNS sites. Behav Neurosci 111:1313–1323

Paolone G, Conversi D, Caprioli D, Bianco PD, Nencini P, Cabib S, Badiani A (2007) Modulatory effect of environmental context and drug history on heroin-induced psychomotor activity and fos protein expression in the rat brain. Neuropsychopharmacology 32:2611–2623

Papa M, Pellicano MP, Welzl H, Sadile AG (1993) Distributed changes in c-Fos and c-Jun immunoreactivity in the rat brain associated with arousal and habituation to novelty. Brain Res Bull 32:509–515

Paxinos G, Franklin K (2001) The mouse brain in stereotaxic coordinates, 2nd edn. Academic, San Diego

Pettit HO, Ettenberg A, Bloom FE, Koob GF (1984) Destruction of dopamine in the nucleus accumbens selectively attenuates cocaine but not heroin self-administration in rats. Psychopharmacology (Berl) 84:167–173

Rosenzweig MR (1966) Environmental complexity, cerebral change, and behavior. Am Psychol 21:321–332

Rosenzweig MR, Bennett EL (1996) Psychobiology of plasticity: effects of training and experience on brain and behavior. Behav Brain Res 78:57–65

Schenk S, Hunt T, Colle L, Amit Z (1983) Isolation versus grouped housing in rats: differential effects of low doses of heroin in the place preference paradigm. Life Sci 32:1129–1134

Schlussman SD, Zhang Y, Hsu NM, Allen JM, Ho A, Kreek MJ (2008) Heroin-induced locomotor activity and conditioned place preference in C57BL/6J and 129P3/J mice. Neurosci Lett 440:284–288

Smith MA, Chisholm KA, Bryant PA, Greene JL, McClean JM, Stoops WW, Yancey DL (2005) Social and environmental influences on opioid sensitivity in rats: importance of an opioid's relative efficacy at the mu-receptor. Psychopharmacology (Berl) 181:27–37

Solinas M, Justinova Z, Goldberg SR, Tanda G (2006) Anandamide administration alone and after inhibition of fatty acid amide hydrolase (FAAH) increases dopamine levels in the nucleus accumbens shell in rats. J Neurochem 98:408–419

Solinas M, Chauvet C, Thiriet N, Rawas RE, Jaber M (2008a) Reversal of cocaine addiction by environmental enrichment. Proc Natl Acad Sci U S A 105(44):17145–17150

Solinas M, Thiriet N, Rawas RE, Lardeux V, Jaber M (2008b) Environmental enrichment during early stages of life reduces the behavioral, neurochemical, and molecular effects of cocaine. Neuropsychopharmacology. doi:10.1038/npp.2008.51

Spielewoy C, Gonon F, Roubert C, Fauchey V, Jaber M, Caron MG, Roques BP, Hamon M, Betancur C, Maldonado R, Giros B (2000) Increased rewarding properties of morphine in dopamine-transporter knockout mice. Eur J Neurosci 12:1827–1837

Stinus L, Cador M, Le Moal M (1992) Interaction between endogenous opioids and dopamine within the nucleus accumbens. Ann N Y Acad Sci 654:254–273

Struthers WM, DuPriest A, Runyan J (2005) Habituation reduces novelty-induced FOS expression in the striatum and cingulate cortex. Exp Brain Res 167:136–140

Stuber GD, Roitman MF, Phillips PE, Carelli RM, Wightman RM (2005) Rapid dopamine signaling in the nucleus accumbens during contingent and noncontingent cocaine administration. Neuropsychopharmacology 30:853–863

Thiriet N, Aunis D, Zwiller J (2002) The nitric oxide releasing agent sodium nitroprusside modulates cocaine-induced immediate early gene expression in rat brain. Ann N Y Acad Sci 965:47–54

Thiriet N, Amar L, Toussay X, Lardeux V, Ladenheim B, Becker KG, Cadet J, Solinas M, Jaber M (2008) Environmental enrichment during adolescence regulates gene expression in the striatum of mice. Brain Res 1222:31–41

van der Harst JE, Baars AM, Spruijt BM (2003) Standard housed rats are more sensitive to rewards than enriched housed rats as reflected by their anticipatory behaviour. Behav Brain Res 142:151–156

Vanderschuren LJ, Kalivas PW (2000) Alterations in dopaminergic and glutamatergic transmission in the induction and expression of behavioral sensitization: a critical review of preclinical studies. Psychopharmacology (Berl) 151:99–120

van Praag H, Kempermann G, Gage FH (2000) Neural consequences of environmental enrichment. Nat Rev Neurosci 1:191–198

van Ree JM, Ramsey N (1987) The dopamine hypothesis of opiate reward challenged. Eur J Pharmacol 134:239–243

van Ree JM, Gerrits MA, Vanderschuren LJ (1999) Opioids, reward and addiction: an encounter of biology, psychology, and medicine. Pharmacol Rev 51:341–396

Wightman RM, Robinson DL (2002) Transient changes in mesolimbic dopamine and their association with 'reward'. J Neurochem 82:721–735

Wise RA (1989) Opiate reward: sites and substrates. Neurosci Biobehav Rev 13:129–133

Wongwitdecha N, Marsden CA (1996) Effect of social isolation on the reinforcing properties of morphine in the conditioned place preference test. Pharmacol Biochem Behav 53:531–534

Xu Z, Hou B, Gao Y, He F, Zhang C (2007) Effects of enriched environment on morphine-induced reward in mice. Exp Neurol 204:714–719

Zachariou V, Bolanos CA, Selley DE, Theobald D, Cassidy MP, Kelz MB, Shaw-Lutchman T, Berton O, Sim-Selley LJ, Dileone RJ, Kumar A, Nestler EJ (2006) An essential role for DeltaFosB in the nucleus accumbens in morphine action. Nat Neurosci 9:205–211
Acknowledgments
The authors acknowledge the support given by Fondation pour la Recherche Médicale (FRM, 2003), Mission Interministérielle de la Lutte contre les Drogues et la Toxicomanie (MILDT-INSERM, 2006–2007), and Région Poitou Charentes (2003). R. El Rawas is a recipient of a CNRS Ph.D. fellowship (BDI-PED, 2005–2008).
About this article
Cite this article
El Rawas, R., Thiriet, N., Lardeux, V. et al. Environmental enrichment decreases the rewarding but not the activating effects of heroin. Psychopharmacology 203, 561–570 (2009). https://doi.org/10.1007/s00213-008-1402-6
Received:

Accepted:

Published:

Issue Date:
Keywords
Drug addiction

Opiates

Enriched environments

Conditioned place preference

Behavioral sensitization

Dopamine

Nucleus accumbens

In vivo microdialysis

In situ hybridization

Zif-268