Abstract
Rationale
Nicotine displays rewarding and aversive effects, and while dopamine has been linked with nicotine's reward, the neurotransmitter(s) involved with aversion remains speculative. The κ-dynorphinergic system has been associated with negative motivational and affective states, and whether dynorphin (Dyn) contributes to the behavioral pharmacology of nicotine is a pertinent question.
Objective
We determined whether administration of a single dose of nicotine alters the biosynthesis of Dyn in the striatum of mice.
Results
Nicotine free base, 1 mg/kg, sc, induced a biphasic, protracted increase of striatal Dyn, an initial rise by 1 h, which declined to control levels by 2 h, and a subsequent increase, between 6 and 12 h, lasting over 24 h. At 1 h, the nicotine effect was dose dependent, with doses ≥0.5 mg/kg inducing a response. Prodynorphin mRNA increased by 30 min for over 24 h, and in situ hybridization demonstrated elevated signal in caudate/putamen and nucleus accumbens. The nicotinic antagonist mecamylamine prevented the Dyn response, and a similar effect was observed with D1- and D2-like dopamine receptor antagonists, SCH 23390, sulpiride, and haloperidol. The glutamate NMDA receptor antagonist MK-801 reversed the nicotine-induced increase of Dyn, while the AMPA antagonist NBQX had a marginal effect.
Conclusions
We interpret our findings to indicate that acute nicotine enhances the synthesis and release of striatal Dyn. We propose that nicotine influences Dyn primarily through dopamine release and that glutamate plays a modulatory role. A heightened dynorphinergic tone may contribute to the aversive effects of nicotine in naive animals and first-time tobacco smokers.
Access options
Buy single article
Instant access to the full article PDF.
US$ 39.95
Tax calculation will be finalised during checkout.
Subscribe to journal
Immediate online access to all issues from 2019. Subscription will auto renew annually.
US$ 119
Tax calculation will be finalised during checkout.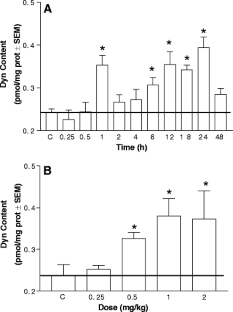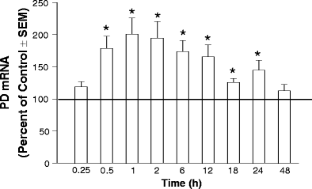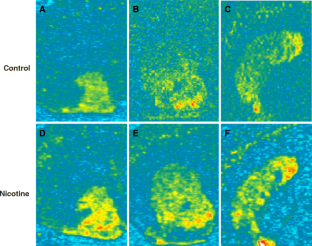 References
Adams DH, Hanson GR, Keefe KA (2000) Cocaine and methamphetamine differentially affect opioid peptide mRNA expression in the striatum. J Neurochem 75:2061–2070

Adams DH, Hanson GR, Keefe KA (2003) Distinct effects of methamphetamine and cocaine on preprodynorphin messenger RNA in rat striatal patch and matrix. J Neurochem 84:87–93

Angulo JA, McEwen BS (1994) Molecular aspects of neuropeptide regulation and function in the corpus striatum and nucleus accumbens. Brain Res Rev 19:1–28

Bals-Kubik R, Ableiter A, Hertz A, Shippenberg TS (1993) Neuroanatomical sites mediating the motivational effects of opioids as mapped by the conditioned place preference paradigm in rats. J Pharmacol Exp Ther 264:489–495

Carlezon WA Jr, Beguin C, DiNieri JA, Bauman MH, Richards MR, Todtenkopf MS, Rotham RB, Maz Z, Lee D-Y-W, Cohen BM (2006) Depressive like effects of the κ-opioid receptor agonist salvinorin A on behavior and neurochemistry in rats. J Pharmacol Exp Ther 316:440–447

Catarzi D, Colotta V, Varano F (2007) Competitive AMPA receptor antagonists. Medicinal Res Rev 27:239–278

Dhatt R, Gudehithlu KP, Wemlinger TA, Tejwani GA, Neff NH, Hadjiconstantinou M (1995) Preproenkephalin mRNA and methionine–enkephalin content are increased in mouse striatum after treatment with nicotine. J Neurochem 64:1878–1883

Di Chiara G (2000) Role of dopamine in the behavioral actions of nicotine related to addiction. Eur J Pharmacol 393:295–314

Di Chiara G, Imperato A (1988a) Drugs abused by humans preferentially increase synaptic dopamine concentrations in the mesolimbic system of freely moving rats. Proc Natl Acad Sci USA 85:5274–5278

Di Chiara G, Imperato A (1988b) Opposite effects of mu and kappa opiate agonists on dopamine release in the nucleus accumbens and in the dorsal caudate of freely moving rats. J Pharmacol Exp Ther 244:1067–1080

Fasano S, Brambilla R (2002) Cellular mechanisms of striatum-dependent behavioral plasticity and drug addiction. Curr Mol Med 2:649–665

Foulds J, Stapelton JA, Bell N, Swettenham J, Jarvis MJ, Russell MAH (1997) Mood and physiological effects of subcutaneous nicotine in smokers and never smokers. Drug and Alcohol Depend 44:105–115

Fu Y, Matta SG, Gao W, Brower VG, Sharp BM (2000) Systemic nicotine stimulates dopamine release in nucleus accumbens: re-evaluation of the role of N-methyl-D-aspartate receptors in the ventral tegmental area. J Pharmacol Exp Ther 294:458–465

Fudala PJ, Teoh KW, Iwamoto ET (1985) Pharmacologic characterization of nicotine-induced conditioned place preference. Pharmacol Biochem Behav 22:237–241

Gerfen CR, Engber TM, Mahan LC, Susel Z, Chase TN, Monsma FJ Jr, Sibley DR (1990) D1 and D2 dopamine receptor-regulated gene expression of striatonigral and striatopallidal neurons. Science 250:1429–1432

Gerfen CR, McGinty JF, Young WS III (1991) Dopamine differentially regulates dynorphin, substance P, and enkephalin expression in striatal neurons: in situ hybridization histochemical analysis. J Neurosci 11:1016–1031

Gommans J, Stolerman IP, Shoaib M (2000) Antagonism of the discriminative and aversive stimulus properties of nicotine in C57BL/6J mice. Neuropharmacology 39:2840–2847

Gotti C, Zoli M, Clementi F (2006) Brain nicotinic acetylcholine receptors: native subtypes and their relevance. Trends in Pharmacol Sci 27:482–491

Grenhoff J, Aston-Jones G, Svensson TH (1986) Nicotinic effects on the firing pattern of midbrain dopamine neurons. Acta Physiol Scand 128:351–358

Hadjiconstantinou M, Isola R, Colvin A, Tejwani GA, Neff NH, Duchemin A-M (2002) Altered dynorphin in the striatum after acute nicotine or nicotine withdrawal. J Neurochem 81(Suppl 1):AP04–06

Hanson GR, Merchant KM, Letter AA, Bush L, Gibb JW (1987) Methamphetamine-induced changes in the striatal–nigral dynorphin system: role of D-1 and D-2 receptors. Eur J Pharmacol 144:245–246

Hanson GR, Merchant KM, Bush L, Gibb JW (1988) Characterization of methamphetamine effects on the striata–nigral dynorphin system. Eur J Pharmacol 155:11–18

Heishman SJ, Henningfield JF (2000) Tolerance to repeated nicotine administration on performance, subjective, and physiological responses in nonsmokers. Psychopharmacology 152:321–333

Hertz A (1998) Opioid reward mechanisms: a key role in drug abuse? Can J Pharmacoll 76:252–258

Hjelmstad GO, Fields HL (2003) Kappa opioid receptor activation in the nucleus accumbens inhibits glutamate and GABA release through different mechanisms. J Neurophysiol 89:2389–2395

Houdi AA, Pierzchala K, Marson L, Palkovits M, Van Loon GR (1991) Nicotine-induced alteration in Tyr-Gly-Gly and met-enkephalin in discrete brain nuclei reflects altered enkephalin neuron activity. Peptides 12:161–166

Houdi AA, Dasgupta R, Kindy MS (1998) Effect of nicotine use and withdrawal on brain preproenkephalin A mRNA. Brain Res 799:257–263

Hurd YL, Herkenham M (1992) Influence of a single injection of cocaine, amphetamine or GBR 12909 on mRNA expression of striatal neuropeptides. Mol Brain Res 16:97–104

Ise Y, Narita M, Nagase H, Suzuki T (2000) Modulation of opioidergic system on mecamylamine-precipitated nicotine-withdrawal aversion in rats. Psychopharmacology 151:49–54

Ismail Z, el-Guebaly N (1998) Nicotine and endogenous opioids: toward specific pharmacotherapy. Can J Psychiatry 43:37–42

Isola R, Vogelsberg V, Wemlinger TA, Neff NH, Hadjiconstantinou M (1999) Nicotine abstinence in the mouse. Brain Res 850:189–196

Isola R, Duchemin A-M, Tejwani GA, Neff NH, Hadjiconstantinou M (2000) Glutamate receptors participate in the nicotine-induced changes of met-enkephalin in striatum. Brain Res 878:72–78

Isola R, Zhang H, Duchemin A-M, Tejwani GA, Neff NH, Hadjiconstantinou M (2002) Met-enkephalin and preproenkephalin mRNA changes in the striatum of the nicotine abstinense mouse. Neurosci Lett 325:67–71

Isola R, Zhang H, Tejwani GA, Neff NH, Hadjiconstantinou M (2008) Dynorphin and prodynorphin mRNA changes in the striatum during nicotine withdrawal. Synapse 62:448–455

Kenny PJ, Markou A (2001) Neurobiology of the nicotine withdrawal syndrome. Pharmacol Biochem Behav 70:531–549

Koob GF, Nestler EJ (1997) The neurobiology of drug addiction. J Neuropsych Clin Neurosci 9:482–497

Kosowski AR, Cebers G, Cebere A, Swanhagen A-C, Liljequist S (2002) Nicotine-induced dopamine release in the nucleus accumbens is inhibited by the novel AMPA antagonists ZK200775 and the NMDA antagonist CGP39551. Psychopharmacology 175:114–123

Laviolette SR, van der Kooy D (2003a) Blockade of mesolimbic dopamine transmission dramatically increases sensitivity to the rewarding effects of nicotine in the ventral tegmental area. Mol Psychiatry 8:50–59

Laviolette SR, van der Kooy D (2003b) The motivational valence of nicotine in the rat ventral tegmental area is switched from rewarding to aversive following blockade of the α7-subunit-containing nicotinic acetylcholine receptor. Psychopharmacology 166:306–313

Le Foll B, Goldberg SR (2005) Nicotine induces conditioned place preferences over a large range of doses in rats. Psychopharmacology 178:481–492

Le Foll B, Diaz J, Sokoloff P (2003) Increased dopamine D3 receptor expression accompanying behavioral sensitization to nicotine in rats. Synapse 47:176–183

Lundahl LH, Henningfield JE, Lukas SE (2000) Mecamylamine blockade of both positive and negative effects of IV nicotine in human volunteers. Pharmacol Biochem Behav 66:637–643

Malin DH, Lake JR, Newlin-Maultsby P, Roberts LK, Lanier JG, Carter VA, Cunninghan JS, Wilson OB (1992) Rodent model of nicotine abstinence syndrome. Pharmacol Biochem Behav 43:779–784

Malin DH, Lake RJ, Carter VA, Cunningham JS, Wilson OB (1993) Naloxone precipitates nicotine abstinence syndrome in the rat. Psychopharmacology 112:339–342

Mathieu-Kia A-M, Besson M-J (1998) Administration of cocaine, nicotine and ethanol: effects on preprodynorphin, preprotachykinin A and preproenkephalin mRNA expression in the dorsal and ventral striatum of the rat. Mol Brain Res 54:141–151

Mathieu A-M, Caboche J, Besson M-J (1996) Distribution of preproenkephalin, preprotachykinin A, and preprodynorphin A mRNAs in the rat nucleus accumbens. Effect of repeated nicotine administration. Synapse 23:94–106

McGinty JF (2007) Co-localization of GABA with other neuroactive substances in the basal ganglia. Prog Brain Res 160:273–284

McLauglin JP, Marton-Popovici M, Chavkin C (2003) κ Opioid receptor antagonism and prodynorphin gene disruption block stress-induced behavioral responses. J Neurosci 23:5674–5683

Mucha RF, Hertz A (1985) Motivational properties of κ- and µ-opioid receptor agonists studied with place and taste preference conditioning procedure. Psychopharmacology 86:274–280

Paxinos G, Franklin BL (2001) The mouse brain in stereotaxic coordinates. Academic, San Diego

Pescatore KA, Glowa JR, Riley AL (2005) Strain differences in the acquisition of nicotine-induced conditioned taste aversion. Pharmacol Bochem Behav 82:751–757

Pfeiffer A, Brandl V, Herz A, Emrich HM (1986) Psychomimesis mediated by kappa opiate receptors. Science 223:774–776

Picciotto MR, Zoli M, Rimondini R, Lena C, Marubio LM, Pich EM, Fuxe K, Changeux J-P (1998) Acetylcholine receptors containing the β2 subunit are involved in the reinforcing properties of nicotine. Nature 391:173–177

Pierzcala K, Houdi AA, Van Loon GR (1987) Nicotine-induced alterations of brain regional concentrations of native and cryptic met-and leu-enkephalin. Peptides 8:1035–1043

Pomerleau OF (1998) Endogenous opioids and smoking: a review of progress and problems. Psychopharmacology 23:115–130

Risinger FO, Oakes RA (1995) Nicotine-induced conditioned place preference and conditioned place aversion in mice. Pharmacol Biochem Behav 51:457–461

Risinger FO, Brown MM (1996) Genetic differences in nicotine-induced conditioned taste aversion. Life Sci 58:223–229

Schilström B, Nomikos GG, Nissel M, Hertel P, Svensson TH (1998) N-Methyl-D-aspartate receptor antagonism in the ventral tegmental area diminishes the systemic nicotine-induced dopamine release in the nucleus accumbens. Neuroscience 82:781–789

Shippenberg TS, Zapata A, Chefer VI (2007) Dynorphin and the pathophysiology of drug addiction. Pharmacol Ther 116:306–321

Shirayama Y, Ishida H, Iwata M, Hazama G, Kawahara R, Duman RS (2004) Stress increases dynorphin immunoreactivity in limbic brain regions and dynorphin antagonism produces anti-depressant-like effects. J Neurochem 90:1258–1268

Shoaib M, Gommans J, Morley A, Stolerman IP, Graillhe R, Changeux JP (2002) The role of nicotinic receptor beta-2 subunit in nicotine discrimination and conditional taste aversion. Neuropharmacology 42:530–539

Singh NA, Midgley LP, Bush LG, Gibb JW, Hanson GR (1991) N-Methyl-D-aspartate receptors mediate dopamine-induced changes in extrapyramidal and limbic dynorphin systems. Brain Res 555:233–238

Sivam SP (1989) Cocaine selectively increases striatonigral dynorphin levels by a dopaminergic mechanism. J Pharmacol Exp Ther 250:818–824

Smith AJW, McGinty JF (1994) Acute amphetamine and methamphetamine alters opioid peptide mRNA expression in rat striatum. Mol Brain Res 21:359–362

Spanagel R, Herz A, Shippenberg TS (1990) The effects of opioid peptides on dopamine release in the nucleus accumbens: an in vivo microdialysis study. J Neurochem 55:1734–1740

Spanagel R, Herz A, Shippenberg TS (1992) Opposing tonically active endogenous opioid systems modulate the mesolimbic dopaminergic pathway. Proc Natl Acad Sci U.S.A. 89:2046–2050

Steiner H, Gerfen CR (1998) Role of dynorphin and enkephalin in the regulation of striatal output pathways and behavior. Exp Brain Res 123:60–76

Sziraki I, Sershen H, Benuck M, Hashim A, Lajtha A (1998) Receptor systems participating in nicotine-specific effects. Neurochem Int 33:445–457

Sziraki I, Sershen H, Hashim A, Lajtha A (2002) Receptors in the ventral tegmental area mediating nicotine-induced dopamine release in the nucleus accumbens. Neurochem Res 27:253–2621

Todtenkopf MS, Marcus JF, Portoghese PS, Carlezon WA Jr (2004) Effects of kappa-opioid receptor ligands on intracranial self-stimulation in rats. Psychopharmacology 172:463–470

Toth E, Sershen H, Hashim A, Vizi ES, Lajtha A (1992) Effect of nicotine on extracellular levels of neurotransmitters assessed by microdialysis in various brain regions: role of glutamic acid. Neurochem Res 17:265–271

Trujillo KA, Day R, Akil K (1990) Regulation of striatonigral prodynorphin peptides by dopaminergic agents. Brain Res 518:244–256

Trujillo KA, Bronstein DM, Akil K (1993) Regulation of opioid peptides by self-administered drugs. In: Hammer RP Jr (ed) The neurobiology of opiates. CRC, USA, pp 223–255

Wang JQ, McGinty JF (1995) Dose-dependent alteration of zif/268 and preprodynorphin mRNA expression induced by amphetamine or methamphetamine in rat forebrain. J Pharmacol Exp Ther 273:909–917

Wang JQ, McGinty JF (1996a) D1 and D2 receptor regulation of preproenkephalin and preprodynorphin mRNA in rat striatum following acute injection of amphetamine or methamphetamine. Synapse 22:114–122

Wang JQ, McGinty JF (1996b) Acute methamphetamine-induced zif/268, preprodynorphin, and preproenkephalin mRNA expression in rat striatum depends on activation of NMDA and kainate/AMPA receptors. Brain Res Bulletin 39:349–357

Wang JQ, Smith AJW, McGinty JF (1995) A single injection of amphetamine or methamphetamine induces dynamic alterations in c-fos, zif/268 and preprodynorphin messenger RNA expression in rat forebrain. Neuroscience 68:83–95

Watkins SS, Stinus L, Koob GF, Markou A (2000) Reward and somatic changes during precipitated nicotine withdrawal in rats: centrally and peripherally mediated effects. J Pharmacol Exp Ther 292:1053–1064

Wewers ME, Dhatt RK, Snively TA, Tejwani GA (1999) The effect of chronic administration of nicotine on antinociception, opioid receptor binding and met-enkephalin levels in rats. Brain Res 822:107–113

Wonnacott S, Kaiser S, Mogg A, Soliakov L, Jones IW (2000) Presynaptic receptors modulating dopamine release in the rat striatum. Eur J Pharmacol 393:51–58

Wonnacott S, Sidhpura N, Balfour DJK (2005) Nicotine: from molecular mechanisms to behaviour. Curr Opin Pharmacol 5:53–59

Zimmer A, Valjent E, Konig M, Zimmer AM, Robledo P, Hahn H, Valverdre O, Maldonado R (2001) Absence of Δ-9-tetrahydrocannabinol dysphoric effects in dynorphin-deficient mice. J Neurochem 21:9499–9505
About this article
Cite this article
Isola, R., Zhang, H., Tejwani, G.A. et al. Acute nicotine changes dynorphin and prodynorphin mRNA in the striatum. Psychopharmacology 201, 507–516 (2009). https://doi.org/10.1007/s00213-008-1315-4
Received:

Accepted:

Published:

Issue Date:
Keywords
Nicotine

Dynorphin

Prodynorphin

Striatum

Acetylcholine nAChR receptors

Dopamine D1 and D2 receptors

Glutamate NMDA and AMPA receptors