Abstract
Rationale
Cannabidiol (CBD) is a non-psychotomimetic constituent of Cannabis sativa plant that induces anxiolytic effects. However, the brain sites and mechanisms of these effects remain poorly understood. The dorsolateral periaqueductal gray (dlPAG) is a midbrain structure related to anxiety that contains receptors proposed to interact with CBD such as 5HT1A. In addition, since CBD has been shown to inhibit anandamide metabolism, CB1 receptors could also be involved in the effects of this cannabinoid.
Objectives
To investigate if the dlPAG could be a possible site of the anxiolytic effects induced by CBD and if these effects depend on CB1 or 5HT1A receptors.
Materials and methods
Male Wistar rats with cannulae aimed at the dlPAG were tested in the elevated plus maze (EPM) and the Vogel conflict test (VCT).
Results
CBD injected into the dlPAG produced anxiolytic-like effects in the EPM with a bell-shaped dose–response curve. The anxiolytic effect of CBD was confirmed in the VCT. These effects were prevented by WAY100635, a 5HT1A receptor antagonist, but not by AM251, an antagonist of CB1 receptors.
Conclusion
These results suggest the CBD interacts with 5HT1A receptors to produce anxiolytic effects in the dlPAG.
Access options
Buy single article
Instant access to the full article PDF.
USD 39.95
Price excludes VAT (USA)
Tax calculation will be finalised during checkout.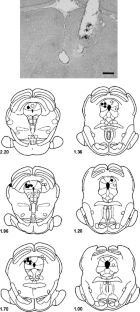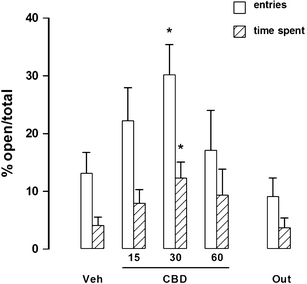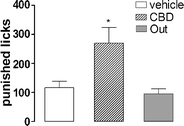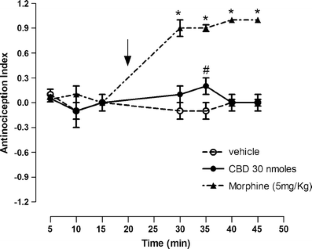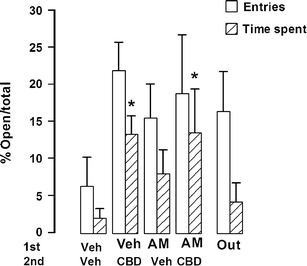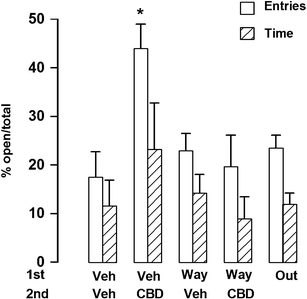 References
Bandler R, Keay KA, Floyd N, Price J (2000) Central circuits mediating patterned autonomic activity during active vs. passive emotional coping. Brain Res Bull 53:95–104

Beijamini V, Guimarães FS (2006) c-Fos expression increase in NADPH-diaphorase positive neurons after exposure to a live cat. Behav Brain Res 170:52–61

Bisogno T, Hanus L, De Petrocellis L, Tchilibon S, Ponde DE, Brandi I, Moriello AS, Davis JB, Mechoulam R, Di Marzo V (2001) Molecular targets for cannabidiol and its synthetic analogues: effect on vanilloid VR1 receptors and on the cellular uptake and enzymatic hydrolysis of anandamide. Br J Pharmacol 134:845–52

Carlini EA, Leite JR, Tannhauser M, Berardi AC (1973) Cannabidiol and Cannabis sativa extract protect mice and rats against convulsive agents. J Pharm Pharmacol 25:664–665

Carobrez AP, Bertoglio LJ (2005) Ethological and temporal analyses of anxiety-like behavior: The elevated plus-maze model 20 years on. Neurosci Biobehav Rev 29:1193–205

Carrasco GA, Van de Kar LD (2003) Neuroendocrine pharmacology of stress. Eur J Pharmacol 463:235–72

Carrier EJ, Auchampach JA, Hillard CJ (2006) Inhibition of an equilibrative nucleoside transporter by cannabidiol: a mechanism of cannabinoid immunosuppression. Proc Natl Acad Sci USA 103:7895–900

Corradetti R, Mlinar B, Falsini C, Pugliese AM, Cilia A, Destefani C, Testa R (2005) Differential effects of the 5-hydroxytryptamine (5-HT)1A receptor inverse agonists Rec 27/0224 and Rec 27/0074 on electrophysiological responses to 5-HT1A receptor activation in rat dorsal raphe nucleus and hippocampus in vitro. J Pharmacol Exp Ther 315:109–117

Cristino L, de Petrocellis L, Pryce G, Baker D, Guglielmotti V, Di Marzo V (2006) Immunohistochemical localization of cannabinoid type 1 and vanilloid transient receptor potential vanilloid type 1 receptors in the mouse brain. Neuroscience 139:1405–1415

D'Amour FE, Smith DL (1941) A method for determining loss of pain sensation. J Pharmacol Exp Ther 72:74–79

De Paula Soares V, Zangrossi H Jr (2004) Involvement of 5-HT1A and 5-HT2 receptors of the dorsal periaqueductal gray in the regulation of the defensive behaviors generated by the elevated T-maze. Brain Res Bull 64:181–188

Devane WA, Dysarz FA 3rd, Johnson MR, Melvin LS, Howlett AC (1988) Determination and characterization of a cannabinoid receptor in rat brain. Mol Pharmacol 34:605–613

File SE (1992) Behavioural detection of anxiolytic action. In: Elliott JM, Heal DJ, Marsden CA (eds) Experimental approaches to anxiety and depression. Wiley, New York, pp 25–44

Geller I, Kulak JT Jr, Seifter J (1962) The effects of chlordiazepoxide and chlorpromazine on a punishment discrimination. Psychopharmacologia 3:374–385

Guimarães FS, Chiaretti TM, Graeff FG, Zuardi AW (1990) Antianxiety effect of cannabidiol in the elevated plus-maze. Psychopharmacology (Berl) 100:558–559

Hamon M, Lanfumey L, el Mestikawy S, Boni C, Miquel MC, Bolaños F, Schechter L, Gozlan H (1990) The main features of central 5-HT1 receptors. Neuropsychopharmacology 3:349–360

Herkenham M, Lynn AB, Johnson MR, Melvin LS, de Costa BR, Rice KC (1991) Characterization and localization of cannabinoid receptors in rat brain: a quantitative in vitro autoradiographic study. J Neurosci 11:563–583

Hohmann AG, Suplita RL, Bolton NM, Neely MH, Fegley D, Mangieri R, Krey JF, Walker JM, Holmes PV, Crystal JD, Duranti A, Tontini A, Mor M, Tarzia G, Piomelli D (2005) An endocannabinoid mechanism for stress-induced analgesia. Nature 435:1108–1112

Malfait AM, Gallily R, Sumariwalla PF, Malik AS, Andreakos E, Mechoulam R, Feldmann M (2000) The nonpsychoactive cannabis constituent cannabidiol is an oral anti-arthritic therapeutic in murine collagen-induced arthritis. Proc Natl Acad Sci USA 97:9561–9566

Mechoulam R, Gaoni Y (1965) Hashish. IV. The isolation and structure of cannabinolic cannabidiolic and cannabigerolic acids. Tetrahedron 21:1223–1229

Millan MJ (2003) The neurobiology and control of anxious states. Prog Neurobiol 70:83–244

Mishima K, Hayakawa K, Abe K, Ikeda T, Egashira N, Iwasaki K, Fujiwara M (2005) Cannabidiol prevents cerebral infarction via a serotonergic 5-hydroxytryptamine1A receptor-dependent mechanism. Stroke 36:1077–1082

Molchanov ML, Guimarães FS (2002) Anxiolytic-like effects of AP7 injected into the dorsolateral or ventrolateral columns of the periaqueductal gray of rats. Psychopharmacology (Berl) 160:30–38

Moreira FA, Guimarães FS (2005) Cannabidiol inhibits the hyperlocomotion induced by psychotomimetic drugs in mice. Eur J Pharmacol 512:199–205

Moreira FA, Aguiar DC, Guimarães FS (2006) Anxiolytic-like effect of cannabidiol in the rat Vogel conflict test. Prog Neuropsychopharmacol Biol Psychiatry 30:1466–1471

Moreira FA, Aguiar DC, Guimarães FS (2007) Anxiolytic-like effect of cannabinoids injected into the rat dorsolateral periaqueductal gray. Neuropharmacology 52:958–965

Nogueira RL, Graeff FG (1995) Role of 5-HT receptor subtypes in the modulation of dorsal periaqueductal gray generated aversion. Pharmacol Biochem Behav 52:1–6

Palazzo E, de Novellis V, Marabese I, Cuomo D, Rossi F, Berrino L, Rossi F, Maione S (2002) Interaction between vanilloid and glutamate receptors in the central modulation of nociception. Eur J Pharmacol 439:69–75

Paxinos G, Watson C (1997) The rat brain in stereotaxic coordinates. Academic, New York

Pedigo NW, Dewey WL, Harris LS (1975) Determination and characterization of the antinociceptive activity of intraventricularly administered acetylcholine in mice. J Pharmacol Exp Ther 193:849–852

Pérez-Padilla A, Pellón R (2007) Behavioural and pharmacological specificity of the effects of drugs on punished schedule-induced polydipsia. Behav Pharmacol 18:681–689

Pertwee RG (2005) Inverse agonism and neutral antagonism at cannabinoid CB1 receptors. Life Sci 76:307–324

Raymond JR, Mukhin YV, Gettys TW, Garnovskaya MN (1999) The recombinant 5-HT1A receptor: G protein coupling and signalling pathways. Br J Pharmacol 127:1751–1764

Resstel LB, Joca SR, Moreira FA, Corrêa FM, Guimarães FS (2006) Effects of cannabidiol and diazepam on behavioral and cardiovascular responses induced by contextual conditioned fear in rats. Behav Brain Res 72:294–298

Rubino T, Realini N, Castiglioni C, Guidali C, Viganó D, Marras E, Petrosino S, Perletti G, Maccarrone M, Di Marzo V, Parolaro D (2007) Role in anxiety behavior of the endocannabinoid system in the prefrontal cortex. Cereb Cortex (in press)

Russo E, Guy GW (2006) A tale of two cannabinoids: the therapeutic rationale for combining tetrahydrocannabinol and canabidiol. Med Hypotheses 66:234–246

Russo EB, Burnett A, Hall B, Parker KK (2005) Agonistic properties of cannabidiol at 5-HT1a receptors. Neurochem Res 30:1037–1043

Ryberg E, Larsson N, Sjögren S, Hjorth S, Hermansson NO, Leonova J, Elebring T, Nilsson K, Drmota T, Greasley PJ (2007) The orphan receptor GPR55 is a novel cannabinoid receptor. Br J Pharmacol 152:1092–1101

Thomas A, Baillie GL, Phillips AM, Razdan RK, Ross RA, Pertwee RG (2007) Cannabidiol displays unexpectedly high potency as an antagonist of CB1 and CB2 receptor agonists in vitro. Br J Pharmacol 150:613–623

Vogel JR, Beer B, Clody DE (1971) A simple and reliable conflict procedure for testing anti-anxiety agents. Psychopharmalogia, 21:1–7

Zanoveli JM, Nogueira RL, Zangrossi H Jr (2003) Serotonin in the dorsal periaqueductal gray modulates inhibitory avoidance and one-way escape behaviors in the elevated T-maze. Eur J Pharmacol 473:153–161

Zuardi AW, Finkelfarb E, Bueno OF, Musty RE, Karniol IG (1981) Characteristics of the stimulus produced by the mixture of cannabidiol with delta 9-tetrahydrocannabinol. Arch Int Pharmacodyn Ther 249:137–146

Zuardi AW, Morais SL, Guimarães FS, Mechoulam R (1995) Antipsychotic effect of cannabidiol. J Clin Psychiatry 56:485–486
Acknowledgments
We thank Dr. Eleni T. Gomes and José Carlos de Aguiar for technical support. This research was supported by grants from FAPESP and CNPq. ACC was a recipient of a FAPESP fellowship.
About this article
Cite this article
Campos, A.C., Guimarães, F.S. Involvement of 5HT1A receptors in the anxiolytic-like effects of cannabidiol injected into the dorsolateral periaqueductal gray of rats. Psychopharmacology 199, 223–230 (2008). https://doi.org/10.1007/s00213-008-1168-x
Received:

Accepted:

Published:

Issue Date:

DOI: https://doi.org/10.1007/s00213-008-1168-x
Keywords