Abstract
Rationale
The opioid peptide β-endorphin (β-E) is synthesized by the pro-opiomelanocortin gene in response to environmental stressors and alcohol administration and is implicated in the behavioral sequelae associated with these stimuli.
Objectives
We sought to determine the influence of β-E on the stress response by evaluating basal measures of anxiety as well as on EtOH-induced anxiolytic behavior using transgenic mice that differ with respect to β-E.
Methods
Anxious behavior was evaluated for male and female heterozygous, wild-type, and β-E knockout mice using the Light–Dark Box and Plus Maze assays. Subsequent tests evaluated behavior 20 min after administration of intraperitoneal saline or EtOH (0.5, 1.0, and 1.5 g/kg).
Results
We observed a direct relationship between β-E levels and the percentage of entries into open arms of the Plus Maze as well as the time spent in either the open arms or the light compartment of the Light–Dark box during basal conditions, suggesting that this peptide normally inhibits anxious behavior. However, mice lacking β-E demonstrated an exaggerated anxiolytic response to EtOH in these assays.
Conclusions
These data suggest that β-E moderates the response to stressful stimuli and supports the hypothesis that this peptide influences the behavioral effects of EtOH.
Access options
Buy single article
Instant access to the full article PDF.
US$ 39.95
Tax calculation will be finalised during checkout.
Subscribe to journal
Immediate online access to all issues from 2019. Subscription will auto renew annually.
US$ 119
Tax calculation will be finalised during checkout.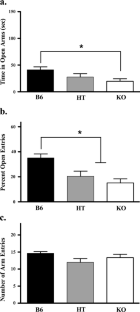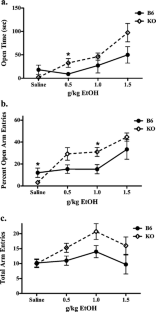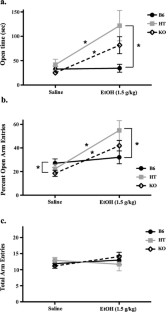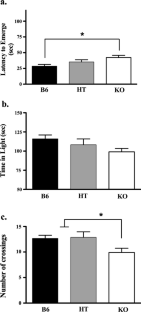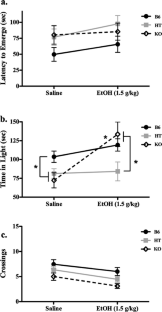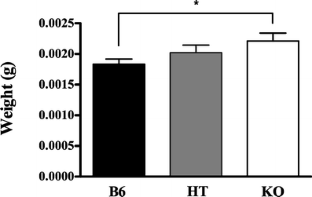 References
Aguirre JC, del Arbol JL, Rico J, Raya J, Mirand MT (1995) Classification of alcoholics on the basis of plasma b-endorphin concentration. Alcohol 12:531–534

Appleyard SM, Hayward M, Young JI, Butler AA, Cone RD, Rubinstein M, Low MJ (2003) A role for the endogenous opioid beta-endorphin in energy homeostasis. Endocrinology 144:1753–1760

Amario A (2006) The hypothalamic-pituitary-adrenal axis: what can it tell us about stressors. CNS Neurol Disord Drug Targets 5:485–501

Barrenha GD, Chester JA (2007) Genetic correlation between innate alcohol preference and fear-potentiated startle in selected mouse lines. Alcohol Clin Exp Res 31:1081–1088

Bloom FE (1980) The endorphins: natural peptides for pain, pleasure, and other purposes. Psychopharmacol Bull 16:51–52

Boyadjieva NI, Sarkar DK (1997) The role of cAMP in ethanol-regulated beta-endorphin release from hypothalamic neurons. Alcohol Clin Exp Res 21:728–31

Bowers BJ, Owen EH, Collins AC, Abeliovich A, Tonegawa S, Wehner JM (1999) Decreased ethanol sensitivity and tolerance development in gamma-protein kinase C null mutant mice is dependent on genetic background. Alcohol Clin Exp Res 23:387–397

Bradizza CM, Stasiewicz PR, Paas ND (2006) Relapse to alcohol and drug use among individuals diagnosed with co-occurring mental health and substance use disorders: a review. Clin Psychol Rev 26:162–178

Bronstein DM, Akil H (1990) In vitro release of hypothalamic beta-endorphin (beta E) by arginine vasopressin, corticotropin-releasing hormone and 5-hydroxytryptamine: evidence for release of opioid active and inactive beta E forms. Neuropeptides 16:33–40

Brown M (1986) Corticotropin releasing factor: central nervous system sites of action. Brain Res 99:10–14

Buckingham JC (1986) Stimulation and inhibition of corticotrophin releasing factor secretion by endorphin. Neuroendocrinology 42:148–152

Cappell H, Herman CP (1972) Alcohol and tension reduction. A review. Q J Stud Alcohol 33:33–64

Chong RY, Oswald L, Yang X, Uhart M, Lin PI, Wand GS (2006) The Micro-opioid receptor polymorphism A118G predicts cortisol responses to naloxone and stress. Neuropsychopharmacology 31:204–211

Compton WM, Thomas YF, Stinson FS, Grant BF (2007) Prevalence, correlates, disability, and comorbidity of DSM-IV drug abuse and dependence in the United States: results from the national epidemiologic survey on alcohol and related conditions. Arch Gen Psychiatry 64:566–576

Constantopoulos A, Papadaki-Papandreou U, Papaconstantinou E (1995) Increased beta-endorphin but not Leu-enkephalin in plasma due to preoperative stress. Experientia 51:16–18

Conway KP, Compton W, Stinson FS, Grant BF (2006) Lifetime comorbidity of DSM-IV mood and anxiety disorders and specific drug use disorders: results from the National Epidemiologic Survey on Alcohol and Related Conditions. J Clin Psychiatry 67:247–57

Costall B, Jones BJ, Kelly ME, Naylor RJ, Tomkins DM (1989) Exploration of mice in a black and white test box: validation as a model of anxiety. Pharmacol Biochem Behav 32:777–785

Cowen MS, Chen F, Lawrence AJ (2004) Neuropeptides: implications for alcoholism. J Neurochem 89:273–285

Dai X, Thavundayil J, Gianoulakis C (2005) Differences in the peripheral levels of β-E in response to alcohol and stress as a function of alcohol dependence and family history of alcoholism. Alcohol Clin Exp Res 29:1965–1975

De Waele JP, Gianoulakis C (1993) Effects of single and repeated exposures to ethanol on hypothalamic beta-endorphin and CRH release by the C57BL/6 and DBA/2 strains of mice. Neuroendocrinology 57:700–709

Diana M, Pistis M, Carboni S, Gessa GL, Rossetti ZL (1993) Profound decrement of mesolimbic dopaminergic neuronal activity during ethanol withdrawal syndrome in rats: Electrophysiological and biochemical evidence. Proc Natl Acad Sci U S A 90:7966–7969

Eckardt MJ, File SE, Gessa GL, Grant KA, Guerri C, Hoffman PL, Kalant H, Koob Gf, Li TK, Tabakoff B (1998) Effects of moderate alcohol consumption on the central nervous system. Alcohol Clin Exp Res 22:998–1040

Fein G, Di Sclafani V, Finn P, Scheiner DL (2007) Sub-diagnostic psychiatric comorbidity in alcoholics. Drug Alcohol Depend 87(2–3):139–145

Fratta W, Rossetti ZI, Poggioli R, Gessa GL (1981) Reciprocal antagonism between ACTH1-24 and b-endorphin in rats. Neurosci Lett 24:71–74

Froehlich JC, Harts J, Lument L, Li TK (1990) Naloxone attenuates voluntary ethanol intake in rats selectively bred for high ethanol preference. Pharmacol Biochem Behav 35:385–390

Froehlich JC, Zink RW, Li TK, Christian JC (2000) Analysis of heritability of hormonal responses to alcohol in twins: beta-endorphin as a potential biomarker of genetic risk for alcoholism. Alcohol Clin Exp Res 24:265–277

Funk CK, Zorrilla EP, Lee MJ, Rice KC, Koob GF (2007) Corticotropin-releasing factor 1 antagonists selectively reduce ethanol self-administration in ethanol-dependent rats. Biol Psychiatry 61:78–86

Gianoulakis C (1990) Characterization of the effects of acute ethanol administration on the release of beta-endorphin peptides by the rat hypothalamus. Eur J Pharmacol 180:21–29

Gianoulakis C (1996) Implications of endogenous opioids and dopamine in alcoholism: human and basic science studies. Alcohol 1:33–42

Gianoulakis C (2004) Endogenous opioids and addiction to alcohol and other drugs of abuse. Curr Top Med Chem 4:39–50

Gianoulakis C, Dai X, Brown T (2003) Effect of chronic alcohol consumption on the activity of the hypothalamic-pituitary-adrenal axis and pituitary β-E as a function of alcohol intake, age, and gender. Alcohol Clin Exp Res 27:410–423

Grisel JE, Mogil JS, Grahame NJ, Rubinstein M, Belknap JK, Crabbe JC, Low MJ (1999) Ethanol oral self-administration is increased in mutant mice with decreased β-E expression. Brain Res 835:62–67

Grobin AC, Matthews DB, Devaud LL, Morrow AL (1998) The role of GABA(A) receptors in the acute and chronic effects of ethanol. Psychopharmacology 139:2–19

Guillemin R, Vargo T, Rossier J, Minick S, Ling N, Rivier C, Vale W, Bloom F (1977) beta-Endorphin and adrenocorticotropin are selected concomitantly by the pituitary gland. Science. 197:1367–1369

Hayward MD, Schaich-Borg A, Pintar JE, Low MJ (2006) Differential involvement of endogenous opioids in sucrose consumption and food reinforcement. Pharmacol Biochem Behav 85:601–611

Hernandez-Avila CA, Oncken C, Van Kirk J, Wand G, Kranzler HR (2002) Adrenocorticotropin and cortisol responses to a naloxone challenge and risk of alcoholism. Biol Psychiatry 51:652–658

Herz A (1997) Endogenous opioid systems and alcohol addiction. Psychopharmacology 129:99–111

Hill TD, Angel RJ (2005) Neighborhood disorder, psychological distress, and heavy drinking. Soc Sci Med 61:965–975

Hossain SM, Wong BK, Simpson EM (2004) The dark phase improves genetic discrimination for some high throughput mouse behavioral phenotyping. Genes Brain Behav 3:167–177

Koven NS, Heller W, Miller GA (2005) The unique relationship between fear of cognitive dyscontrol and self-reports of problematic drinking. Addict Behav 30:489–499

Kushner MG, Sher KJ, Beitman BD (1990) The relation between alcohol problems and anxiety disorders. Am J Psychiatry 147:685–695

LaBuda CJ, Fuchs PN (2001) The anxiolytic effect of acute ethanol or Diazepam exposure is unaltered in u-opioid receptor knockout mice. Brain Res Bull 55:755–760

Lawyer SR, Karg RS, Murphy JG, McGlynn FD (2002) Heavy drinking among college students is influenced by anxiety sensitivity, gender, and contexts for alcohol use. J Anxiety Disord 16:165–173

Lê AD, Harding S, Juzytsch W, Watchus J, Shalev U, Shaham Y (2000) The role of corticotrophin-releasing factor in stress-induced relapse to alcohol-seeking behavior in rats. Psychopharmacology 150:317–324

Marinelli PW, Quirion R, Gianoulakis C (2003) A microdialysis profile of beta-endorphin and catecholamines in the rat nucleus accumbens following alcohol administration. Psychopharmacology 169:60–67

Marinelli PW, Quirion R, Gianoulakis C (2004) An in vivo profile of beta-endorphin release in the arcuate nucleus and nucleus accumbens following exposure to stress or alcohol. Neuroscience 127:777–784

Marquez P, Baliram R, Dabaja I, Gajawada N, Lufty K (2008) The role of beta-endorphin in the acute motor stimulatory and rewarding actions of cocaine in mice. Psychopharmacology 197:443–448

Millan MJ (1981) Stress and endogenous opioid peptides: a review. Mod Probl Pharmacopsychiatry 17:49–67

Mogil JS, Grisel JE (1998) Transgenic studies of pain. Pain 77:107–28

Mogil JS, Grisel JE, Hayward MD, Bales JR, Rubinstein M, Belknap JK, Low MJ (2000) Disparate spinal and supraspinal opioid antinociceptive responses in beta-endorphin-deficient mutant mice. Neuroscience 101:709–717

Mollenauer S, Bryson R, Robison M, Sardo J, Coleman C (1993) EtOH self-administration in anticipation of noise stress in C57BL/6J mice. Pharmacol Biochem Behav 46:35–38

Oltras CM, Mora F, Vives F (1987) Beta-endorphin and ACTH in plasma: effects of physical and psychological stress. Life Sci 40:1683–1686

Olive MF, Koenig HN, Nannini MA, Hedge CW (2001) Stimulation of endorphin neutrotransmission in the nucleus accumbens by ethanol, cocaine, and amphetamine. J Neurosci L21:RC184

Oswald LM, Wand GS (2004) Opioids and alcoholism. Physiol Behav 81:339–358

Pacak K, Palkovits M (2001) Stressor specificity of central neuroendocrine responses: Implications for stress-related disorders. Endocrine Reviews 22:502–548

Panksepp J (2003) Feeling the pain of social loss. Science 302:237–239

Pfaff DW, Phillips MI, Rubin RT (2004) Principles of Hormone/Behavior Relations. Elsevier, Amsterdam, pp 55–56

Plotsky PM (1991) Pathways to the secretion of adrenocorticotropin: a review from the portal. J Endocrinol 3:1–18

Pohorecky LA (1991) Stress and alcohol interaction: an update of human research. Alcohol Clin Exp Res 15:438–459

Poplawski MM, Boyadjieva N, Sarkar DK (2005) Vasoactive intestinal peptide and corticotropin-releasing hormone increase beta-endorphin release and proopiomelanocortin messenger RNA levels in primary cultures of hypothalamic cells: effects of acute and chronic ethanol treatment. Alcohol Clin Exp Res 29:648–655

Redei E, Branch BJ, Gholami S, Lin EY, Taylor AN (1988) Effects of ethanol on CRF release in vitro. Endocrinology 123:2736–2743

Ribeiro SC, Kennedy SE, Smith YR, Stohler CS, Zubieta JK (2005) Interface of physical and emotional stress regulation through the endogenous opioid system and mu-opioid receptors. Prog Neuropsychopharmacol Biol Psychiatry 29:1264–1280

Rivier C (1996) Alcohol stimulates ACTH secretion in the rat: mechanisms of action and interactions with other stimuli. Alcohol Clin Exp Res 20:240–254

Rubinstein M, Mogil JS, Japón M, Chan EC, Allen RG, Low MJ (1996) Absence of opioid stress-induced analgesia in mice lacking beta-endorphin by site-directed mutagenesis. Proc Natl Acad Sci U S A 93:3995–4000

Sarkar DK, Kuhn P, Marano J, Chen C, Boyadjieva N (2007) Alcohol exposure during the developmental period induces beta-endorphin neuronal death and causes alteration in the opioid control of stress axis function. Endocrinology 148:2828–2834

Scanlon MN, Lazar WE, Grant KA, Kunos G (1992) Proopiomelanocortin messenger RNA is decreased in medio-basal hypothalamus of rats made dependent upon ethanol. Alc Clin Exp Res 16:1147–1151

Schedlowski M, Flüge T, Richter S, Tewes U, Schmidt RE, Wagner TO (1995) Beta-endorphin, but not substance-P, is increased by acute stress in humans. Psychoneuroendocrinology 20:103–110

Schulz R, Wuster M, Duka T, Herz A (1980) Acute and chronic ethanol treatment changes endorphin level in brain and pituitary. Psychopharmacology 68:221–227

Sher L (2003) Alcoholism, anxiety, and opioid-dopaminergic interactions. Psychopharmacology 165:202–203

Thiagarajan AB, Mefford IN, Eskay RL (1988) Acute effect of intragastric ethanol administration on plasma levels of stress hormones. Adv Alcohol Subst Abuse 7:227–130

Thiagarajan AB, Mefford IN, Eskay RL (1989) Single-dose ethanol administration activates the hypothalamic-pituitary-adrenal axis: exploration of the mechanism of action. Neuroendocrinology 50:427–432

Valdez GR, Sabino V, Koob GF (2004) Increased anxiety-like behavior and ethanol self-adminstration in dependent rats: reversal via corticotrophin-releasing factor-2 receptor activation. Alcohol Clin Exp Res 28:865–872

Vendruscolo LF, Terenina-Rigaldie E, Raba F, Ramos A, Takahashi RN, Mormede P (2006) Evidence for a female-specific effect of a chromosome 4 locus on anxiety-related behaviors and ethanol drinking in rats. Genes Brain Behav 5:441–450

Wand GS, Mangold D, El Deiry S, McCaul ME, Hoover D (1998) Family history of alcoholism and hypothalamic opioidergic activity. Arch Gen Psychiatry 55:1114–1119

Williams SB, Holloway A, Karwan K, Allen SA, Grisel JE (2007) Oral self-administration of Ethanol in transgenic mice lacking b-endorphin. Published online, Impulse. Accessed at http://impulse.schc.sc.edu/articles/2007-9-14-Williams.pdf

Wolffgramm J (1990) Free choice ethanol intake of laboratory rats under different social conditions. Psychopharmacology 101:233–239

Yamada K, Nabeshima T (1995) Stress-induced behavioral responses and multiple opioid systems in the brain. Behav Brain Res 67:133–145

Zalenska-Kaszubska J, Czarnecka E (2005) Deficit in beta-endorphin peptide and tendency to alcohol abuse. Peptides 26:701–705

Zimmerman P, Wittchen H–U, Hofler M, Pfister H, Kessler RC, Lieb R (2003) Primary anxiety disorders and the development of subsequent alcohol use disorders: a 4-year community study of adolescents and young adults. Psychol Med 33:1211–1222
Acknowledgements
The authors would like to acknowledge the foresight of Dr. John C. Crabbe at Oregon Health Sciences University that lead to this series of studies, the Psychology Department at Reed College, in Portland, OR, USA where the studies began and Christopher Smith, Gregory Cloonan, Amanda Lee, and Carmen Sanchez who assisted with experiments at Furman University.
Additional information
This publication was made possible by NIH Grant Numbers P20 RR-016461 from the National Center for Research Resources, AA13259 (through the INIA Stress Consortium) and AA13641 from the National Institute on Alcohol Abuse and Alcoholism.
About this article
Cite this article
Grisel, J.E., Bartels, J.L., Allen, S.A. et al. Influence of β-Endorphin on anxious behavior in mice: interaction with EtOH. Psychopharmacology 200, 105–115 (2008). https://doi.org/10.1007/s00213-008-1161-4
Received:

Accepted:

Published:

Issue Date:
Keywords
Addiction

Ethanol

Anxiety

Opioids

Mice

Transgenic

Self-medication