Abstract
Background and purpose
The effects of sleep deprivation are a burden in our 24-h society. The use of wake-promoting compounds could improve the performance in situations where sleep cannot be allowed. In this study, the efficacy of the wake-promoting compounds, modafinil and caffeine, in counteracting the effects of 24-h sleep deprivation in the marmoset monkey were tested. As caffeine is habitually used, the efficacy of both compounds after short- and long-term use was investigated.
Materials and methods
After a normal active day, the animals were kept awake and received wake-promoting compounds during the whole night. Three times during the sleep-deprived night, putative fatigue was assessed with an activity test and the vigilance and ability to execute a task was assessed with a hand–eye coordination (HEC) task.
Results
Both compounds were able to counteract to some extent the decline in performance. Modafinil was able to keep the activity at baseline performance, but performance on the HEC task was not improved. Caffeine was able to keep performance in the HEC task at a level just below daytime level but was not able to keep activity at daytime levels during the last part of the night. Caffeine and modafinil administration for 2 weeks showed a comparable effect on activity as acute use. The performance on the HEC task was similar after chronic caffeine and improved after chronic modafinil.
Conclusion
It is therefore concluded that modafinil and caffeine were both able to postpone or prevent the decline in vigilance and psychomotor performance and increase in fatigue induced by sleep deprivation.
Access options
Buy single article
Instant access to the full article PDF.
US$ 39.95
Tax calculation will be finalised during checkout.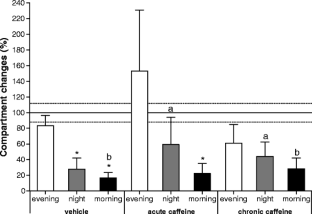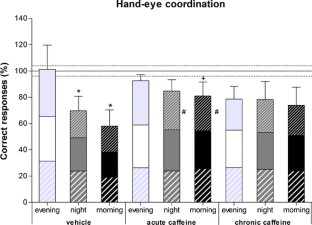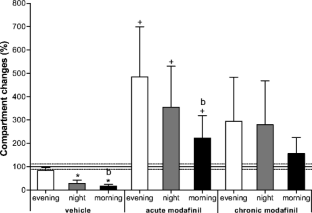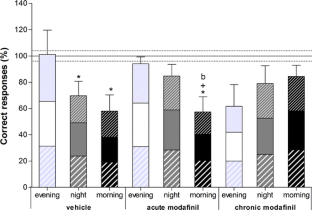 References
Bastuji H, Jouvet M (1988) Successful treatment of idiopathic hypersomnia and narcolepsy with modafinil. Prog Neuropsychopharmacol Biol Psychiatry 12:695–700

Bonnet MH, Balkin TJ, Dinges DF, Roehrs T, Rogers NL, Wesensten NJ (2005) The use of stimulants to modify performance during sleep loss: a review by the sleep deprivation and Stimulant Task Force of the American Academy of Sleep Medicine. Sleep 28:1163–1187

Blatter K, Graw P, Münch M, Knoblauch V, Wirz-Justice A, Cajochen C (2006) Gender and age differences in psychomotor vigilance performance under differential sleep pressure conditions. Behav Brain Res 168:312–317

Caldwell JA, Caldwell JL (1997) An in-flight investigation of the efficacy of dextroamphetamine for sustaining helicopter pilot performance. Aviat Space Environ Med 68(12):1073–1080

Caldwell JA, Caldwell JL (2005) Fatigue in military aviation: An overview of U.S. militairy-approved pharmacological countermeasures. Aviat Space Environ Med 76(7):C39–C51

Caldwell JA, Caldwell JL, Smith JK, Brown DL (2004) Modafinil's effects on simulator performance and mood in pilots during 37 h without sleep. Aviat Space Environ Med 68:1073–1080

Crofts HS, Wilson S, Muggleton NG, Nutt DJ, Scott EA, Pearce PC (2001) Investigation of the sleep electrocorticogram of the common marmoset (Callithrix jacchus) using radiotelemetry. Clin Neurophysiol 112:2265–2273

Emonson DL, Vanderbeek RD (1995) The use of amphetamines in U.S. Air Force tactical operations during Desert Shield and Storm. Aviat Environ Med 66(3):260–263

Erkert HG (1989) Characteristics of the circadian activity rhythm in common marmosets (Callithrix j. jacchus). Am J Primatol 17:271–286

Fredholm BB, Battig K, Holmen J, Nehlig A, Zvartau EE (1999) Actions of caffeine in the brain with special reference to factors that contribute to its widespread use. Pharmacol Rev 51:83–133

Folkard S, Lombardi DA, Tucker PT (2003) Shiftwork: safety, sleepiness and sleep. Ind Health 43:20–23

Howell LL (1995) Effects of caffeine on ventilation during acute and chronic nicotine administration in rhesus monkeys. J Pharmacol Exp Ther 273:1085–1094

Lagarde D, Batejat D, Van Beers P, Sarafian D, Pradella S (1995) Interest of modafinil, a new psychostimulant, during a sixty-hour sleep deprivation experiment. Fundam Clin Pharmacol 9:271–279

Lyons TJ, French J (1991) Modafinil: the unique properties of a new stimulant. Aviat Space Environ Med 62:432–435

McLellan TM, Bell DG, Kamimori GH (2004) Caffeine improves physical performance during 24 h of active wakefulness. Aviat Space Environ Med 75:666–672

McLellan TM, Kamimori GH, Bell DG, Smith IF, Johnson D, Belenky G (2005) Caffeine maintains vigilance and marksmanship in simulated urban operations with sleep deprivation. Aviat Space Environ Med 76:39–45

Mitler MM, Harsh J, Hirshkowitz M Guilleminault C (2000) Long-term efficacy and safety of modafinil for the treatment of excessive daytime sleepiness associated with narcolepsy. Sleep Med 1:231–243

Philippens IHCHM, Melchers BPC, Roeling TAP, Bruijnzeel PLB (2000) Behavioral test systems in marmoset monkeys. Behav Res Methods Instrum Comput 32(1):173–179

Philippens IH, Kersten CJ, Vanwersch RA, Strijkstra AM (2004) Sleep and sleep EEG spectra in Marmoset monkeys. Sleep–Wake Res Neth 15:49–51

Porrino LJ, Daunais JB, Rogers GA, Hampson RE, Deadwyler SA (2005) Facilitation of task performance and removal of the effects of sleep deprivation by an ampakine (CX717) in nonhuman primates. PloS Biol 3(9):1639–1652

Randall DC, Shneerson JM, Plaha KK, File SE (2003) Modafinil affects mood, but not cognition, in healthy young volunteers. Hum Psychopharmacol 18:163–173

Robertson P Jr., Hellriegel ET (2003) Clinical pharmacokinetic profile of modafinil. Clin Pharmacokinet 42:123–137

Rogers NL, Dorrian J, Dinges DF (2003) Sleep, waking and neurobehavioural performance. Front Biosci 8:1056–1067

Simon P, Hemet C, Ramassamy C, Costentin J (1995) Non-amphetaminic mechanism of stimulant locomotor effect of modafinil in mice. Eur Neuropsychopharmacol 5:509–514

Van Vliet SAM, Jongsma MJ, Vanwersch RAP, Olivier B, Philippens IHCHM (2006) Behavioral effects of modafinil in marmoset monkeys. Psychopharmacol 185(4):433–440

Ward CP, Harsh JR, York KM, Stewart KL, McCoy JG (2004) Modafinil facilitates performance on a delayed nonmatching to position swim task in rats. Pharmacol Biochem Behav 78:735–741

Wesensten NJ, Belenky G, Kautz MA, Thorne DR, Reichardt RM, Balkin TJ (2002) Maintaining alertness and performance during sleep deprivation: modafinil versus caffeine. Psychopharmacology 159:238–247

Wesensten NJ, Belenky G, Thorne DR, Kautz MA, Balkin TJ (2004) Modafinil vs. caffeine: effects on fatigue during sleep deprivation. Aviat Space Environ Med 75:520–525

Wesensten NJ, Killgore WD, Balkin TJ (2005) Performance and alertness effects of caffeine, dextroamphetamine and modafinil during sleep deprivation. J Sleep Res 14(3):255–266

Wolthuis OL, Groen B, Philippens IH (1994) A simple automated test to measure exploratory and motor activity of marmosets. Pharmacol Biochem Behav 47:879–881
Acknowledgments
This research was supported by the Dutch Ministry of Defence. The views, opinions, and/or findings contained in this paper are those of the authors and should not be considered to reflect the views of the Dutch Ministry of Defence.
About this article
Cite this article
van Vliet, S.A.M., Jongsma, M.J., Vanwersch, R.A. et al. Efficacy of caffeine and modafinil in counteracting sleep deprivation in the marmoset monkey. Psychopharmacology 197, 59 (2008). https://doi.org/10.1007/s00213-007-1005-7
Received:

Accepted:

Published:
Keywords
Sleep deprivation

Modafinil

Caffeine

Marmoset monkey

Vigilance

Psychomotor performance