Abstract
Rationale
Synthetic and plant-derived cannabinoid CB1 receptor agonists have consistently been shown to impair sexual behavior in male rodents; however, the role of the endocannabinoid system in regulating copulatory processes is largely unknown. The aim of this experiment was to determine the effect of pharmacological facilitation or antagonism of endocannabinoid signaling on male rat sexual behavior.
Materials and methods
Male Long-Evans rats were administered a single injection of either the cannabinoid CB1 receptor antagonist AM251 (1, 2, or 5 mg/kg), the fatty acid amide hydrolase (FAAH) inhibitor URB597 (0.1, 0.3, or 0.5 mg/kg), or the anandamide uptake inhibitor/FAAH inhibitor AM404 (1, 2, and 5 mg/kg), or their respective vehicles, and examined on parameters of appetitive and consummatory sexual behavior.
Results
Inhibition of anandamide metabolism through URB597 had no effect on any parameter of sexual behavior. However, the highest dose of AM404 increased the latency to engage in intromitting behavior, but had no other effect on sexual behavior, suggesting that this effect may be due to the sedative–suppressive effects of this drug. AM251 produced a dose-dependent facilitation of ejaculation, such that the number of intromissions required to achieve ejaculation and the ejaculation latency were reduced by AM251 administration.
Conclusions
These data suggest that antagonism of the CB1 receptor facilitates ejaculatory processes, an effect which may be due to interactions with neuropeptidergic systems in the hypothalamus, and further, suggest a novel target for pharmacological agents aimed at treating ejaculatory-based sexual dysfunction.
Access options
Buy single article
Instant access to the full article PDF.
US$ 39.95
Tax calculation will be finalised during checkout.
Subscribe to journal
Immediate online access to all issues from 2019. Subscription will auto renew annually.
US$ 119
Tax calculation will be finalised during checkout.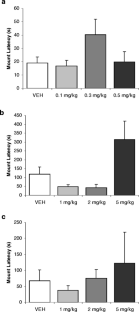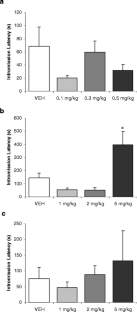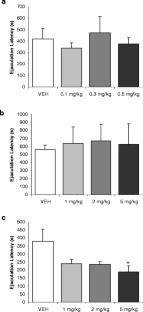 References
Bortolato M, Campolongo P, Mangieri RA, Scattoni ML, Frau R, Trezza V, La Rana G, Russo R, Calignano A, Gessa GL, Cuomo V, Piomelli D (2006) Anxiolytic-like properties of the anandamide transport inhibitor AM404. Neuropsychopharmacology 31:2652–2659

Di S, Malcher-Lopes R, Halmos KC, Tasker JG (2003) Nongenomic glucocorticoid inhibition via endocannabinoid release in the hypothalamus: a fast feedback mechanism. J Neurosci 23:4850–4857

Di S, Boudaba C, Popescu IR, Weng FJ, Harris C, Marcheselli VL, Bazan NG, Tasker JG (2005a) Activity-dependent release and actions of endocannabinoids in the rat hypothalamic supraoptic nucleus. J Physiol 569:751–760

Di S, Malcher-Lopes R, Marcheselli VL, Bazan NG, Tasker JG (2005b) Rapid glucocorticoid-mediated endocannabinoid release and opposing regulation of glutamate and gamma-aminobutyric acid inputs to hypothalamic magnocellular neurons. Endocrinology 146:4292–4301

Ferrari F, Ottani A, Giuliani D (2000) Inhibitory effects of the cannabinoid agonist HU 210 on rat sexual behaviour. Physiol Behav 69:547–554

Freund TF, Katona I, Piomelli D (2003) Role of endogenous cannabinoids in synaptic signaling. Physiol Rev 83:1017–1066

Giuffrida A, Rodriguez de Fonseca F, Nava F, Loubet-Lescoulie P, Piomelli D (2000) Elevated circulating levels of anandamide after administration of the transport inhibitor, AM404. Eur J Pharmacol 408:161–168

Gobbi G, Bambico FR, Mangieri R, Bortolato M, Campolongo P, Solinas M, Cassano T, Morgese MG, Debonnel G, Duranti A, Tontini A, Tarzia G, Mor M, Trezza V, Goldberg SR, Cuomo V, Piomelli D (2005) Antidepressant-like activity and modulation of brain monoaminergic transmission by blockade of anandamide hydrolysis. Proc Natl Acad Sci USA 102:18620–18625

Gonzalez S, Romero J, de Miguel R, Lastres-Becker I, Villanua MA, Makryiannis A, Ramos JA, Fernandez-Ruiz (1999) Extrapyramidal and neuroendocrine effects of AM404, an inhibitor of the carrier-mediated transport of anandamide. Life Sci 65:327–336

Gorzalka BB, Hill MN (2006) Cannabinoids, sexual behavior and reproduction. Annu Rev Sex Res 17:132–161

Gorzalka BB, Hanson LA, Brotto LA (1998) Chronic stress effects on sexual behavior in male and female rats: mediation by 5-HT2A receptors. Pharmacol Biochem Behav 61:405–412

Hill MN, Gorzalka BB (2005) Is there a role for the endocannabinoid system in the etiology and treatment of melancholic depression? Behav Pharmacol 16:333–352

Hirasawa M, Schwab Y, Natah S, Hillard CJ, Mackie K, Sharkey KA, Pittman QJ (2004) Dendritically released transmitters cooperate via autocrine and retrograde actions to inhibit afferent excitation in rat brain. J Physiol 559:611–624

Hughes AM, Everitt BJ, Lightman SL, Todd K (1987) Oxytocin in the central nervous system and sexual behavior in male rats. Brain Res 414:133–137

Hull EM, Muschamp JW, Sato S (2004) Dopamine and serotonin: influences on male sexual behavior. Physiol Behav 83:291–307

Mackie K (2005) Distribution of cannabinoid receptors in the central and peripheral nervous system. Handbook Exp Pharmacol 168:299–325

Marsicano G, Lutz B (1999) Expression of the cannabinoid receptor CB1 in distinct neuronal subpopulations in the adult mouse forebrain. Eur J Neurosci 11:4213–4225

Martinez-Gonzalez D, Bonilla-Jaime H, Morales-Otal A, Henriksen SJ, Velazquez-Moctezuma J, Prospero-Garcia O (2004) Oleamide and anandamide effects on food intake and sexual behavior of rats. Neurosci Lett 364:1–6

Melis MR, Succu S, Mascia MS, Argiolas A (2004) Antagonism of cannabinoid CB1 receptors in the paraventricular nucleus of male rats induces penile erection. Neurosci Lett 359:17–20

Melis MR, Succu S, Mascia MS, Sanna F, Melis T, Castelli MP, Argiolas A (2006) The cannabinoid receptor antagonist SR-141716A induces penile erection in male rats: involvement of paraventricular glutamic acid and nitric oxide. Neuropharmacology 50:219–228

Murphy LL, Gher J, Steger RW, Bartke A (1994) Effects of delta 9-tetrahydrocannabinol on copulatory behavior and neuroendocrine responses of male rats to female conspecifics. Pharmacol Biochem Behav 48:1011–1017

Patel S, Roelke CT, Rademacher DJ, Cullinan WE, Hillard CJ (2004) Endocannabinoid signaling negatively modulates stress-induced activation of the hypothalamic–pituitary–adrenal axis. Endocrinology 145:5431–5438

Pattij T, de Jong TR, Uitterdijk A, Waldinger MD, Veening JG, Cools AR, van der Graaf PH, Olivier B (2005) Individual differences in male rat ejaculatory behaviour: searching for models to study ejaculation disorders. Eur J Neurosci 22:724–734

Piomelli D, Tarzia G, Duranti A, Tontini A, Mor M, Compton TR, Dasse O, Monaghan EP, Parrott JA, Putnam D (2006) Pharmacological profile of the selective FAAH inhibitor KDS-4103 (URB597). CNS Drug Rev 12:21–38

Schlicker E, Kathmann M (2001) Modulation of transmitter release via presynaptic cannabinoid receptors. Trends Pharmacol Sci 22:565–572

Schuel H, Burkman LJ (2005) A tale of two cells: endocannabinoid-signaling regulates functions of neurons and sperm. Biol Reprod 73:1078–1086

Scorticati C, Fernandez-Solari J, De Laurentiis J, Mohn C, Prestifilippo JP, Lasaga M, Seilicovich A, Billi S, Franchi A, McCann SM, Rettori V (2004) The inhibitory effect of anandamide on luteinizing hormone-releasing hormone secretion is reversed by estrogen. Proc Natl Acad Sci USA 101:11891–11896

Shrenker P, Bartke A (1985) Suppression of male copulatory behavior by delta 9-THC is not dependent on changes in plasma testosterone or hypothalamic dopamine or serotonin content. Pharmacol Biochem Behav 22:415–420

Stoneham MD, Everitt BJ, Hansen S, Lightman SL, Todd K (1985) Oxytocin and sexual behaviour in the male rat and rabbit. J Endocrinol 107:97–106

Succu S, Mascia MS, Sanna F, Melis T, Argiolas A, Melis MR (2006) The cannabinoid CB1 receptor antagonist SR 141716A induces pennile erection by increasing extra-cellular glutamic acid in the paraventricular nucleus of male rats. Behav Brain Res 169:274–281

Tyrey L (1992) Delta-9-tetrahydrocannabinol attenuates luteinizing hormone release induced by electrochemical stimulation of the medial preoptic area. Biol Reprod 47:262–267

van Gaal LF, Rissanen AM, Scheen AJ, Ziegler O, Rossner S, RIO Europe Study Group (2005) Effects of the cannabinoid-1 receptor blocker rimonabant on weight reduction and cardiovascular risk factors in overweight patients: 1-year experience from the RIO-Europe study. Lancet 365:1389–1397

Waldinger MD, Hengeveld MW, Zwinderman AH, Olivier B (1998) Effect of SSRI antidepressants on ejaculation: a double blind, randomized, placebo-controlled study with fluoxetine, fluovoxamine, paroxetine and sertraline. J Clin Psychopharmacol 18:274–281

Waldinger MD, Zwinderman AH, Olivier B (2001) SSRIs and ejaculation: a double-blind, randomized, fixed-dose study with paroxetine and citalopram. J Clin Psychopharmacol 21:556–560

Wang H, Dey SK, Maccaronne M (2006) Jekyll and Hyde: two faces of cannabinoid signaling in male and female fertility. Endocrin Rev 27:427–448

Wenger T, Toth BE, Juaneda C, Leonardelli J, Tramu G (1997) The effects of cannabinoids on the regulation of reproduction. Life Sci 65:695–701

Witkin JM, Tzavara ET, Davis RJ, Li X, Nomikos GG (2005) A therapeutic role for cannabinoid CB1 receptor antagonists in major depressive disorders. Trends Pharmacol Sci 26:609–617

Witt DM, Insel TR (1994) Increased fos expression in oxytocin neurons following masculine sexual behavior. J Neuroendocrinol 6:13–18
Acknowledgment
This research was supported by a Natural Sciences and Engineering Research Council of Canada (NSERC) operating grant to BBG and a Michael Smith Foundation for Health Research postgraduate trainee award and a NSERC Canadian Graduate Scholarship to MNH. The authors would like to thank Shirley Sarkodee-Adoo, Morag Yule, Rajinder Gill, and Eda Karacabeyli for their technical assistance.
About this article
Cite this article
Gorzalka, B.B., Morrish, A.C. & Hill, M.N. Endocannabinoid modulation of male rat sexual behavior. Psychopharmacology 198, 479–486 (2008). https://doi.org/10.1007/s00213-007-0901-1
Received:

Accepted:

Published:

Issue Date:
Keywords
Copulation

Ejaculation

Oxytocin

Anandamide

2-AG

Hypothalamus

Sex