Abstract
Rationale and objective
Relapse to drug use in humans can be induced by exposure to drug-associated cues. The ability of drug cues to provoke 'relapse' has been studied in laboratory animals using a reinstatement model in which resumption of drug seeking is assessed after extinction of drug-reinforced responding. In this model, there are no adverse consequences of drug-seeking behavior. However, in humans, abstinence is often self-imposed, and relapse episodes likely involve making a choice between the desire for the drug and the negative consequences of pursuing it (a conflict situation). In this paper, we describe a conflict model of cue-induced relapse in rats that approximate the human condition.
Materials and methods
Rats were trained to lever press for cocaine; infusions were paired with a discrete light cue. An 'electric barrier' was then introduced by electrifying the floor area near the levers. Responding decreased over days with increasing shock intensities, until the rats did not approach the levers for 3 days. Subsequently, the effect of intermittent noncontingent light-cue presentations on resumption of lever responding (relapse) was assessed in extinction tests, with the electric barrier remaining activated; during testing, lever presses led to contingent light-cue presentations.
Results
Noncontingent cue exposure led to resumption of lever presses during the relapse tests in 14 of the 24 rats. Surprisingly, 24 h later, 11 of the 24 rats resumed lever responding in a subsequent post-noncontingent cue test under similar extinction conditions. Large individual differences in responding were observed during both tests.
Conclusions
At its current stage of development, the conflict relapse model appears particularly suitable for studying individual differences in cue-induced relapse to cocaine seeking or factors that promote this relapse.
Access options
Buy single article
Instant access to the full article PDF.
USD 39.95
Price excludes VAT (USA)
Tax calculation will be finalised during checkout.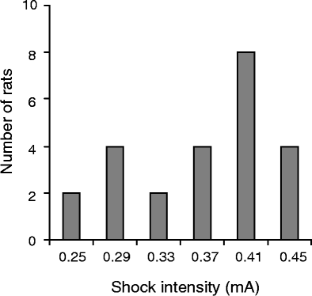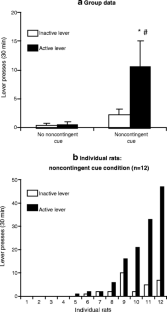 References
Balleine BW, Dickinson A (1998) Goal-directed instrumental action: contingency and incentive learning and their cortical substrates. Neuropharmacology 37:407–419

Bossert JM, Ghitza UE, Lu L, Epstein DH, Shaham Y (2005) Neurobiology of relapse to heroin and cocaine seeking: an update and clinical implications. Eur J Pharmacol 526:36–50

Bossert JM, Liu SY, Lu L, Shaham Y (2004) A role of ventral tegmental area glutamate in contextual cue-induced relapse to heroin seeking. J Neurosci 24:10726–10730

Carroll ME (1985) The role of food deprivation in the maintenance and reinstatement of cocaine-seeking behavior in rats. Drug Alcohol Depend 16:95–109

Catania CA (1992) Learning, 3rd edn. Prentice-Hall, Englewood Cliffs, NJ

Crombag HS, Shaham Y (2002) Renewal of drug seeking by contextual cues after prolonged extinction in rats. Behav Neurosci 116:169–173

de Wit H, Stewart J (1981) Reinstatement of cocaine-reinforced responding in the rat. Psychopharmacology 75:134–143

de Wit H, Stewart J (1983) Drug reinstatement of heroin-reinforced responding in the rat. Psychopharmacology 79:29–31

Deroche-Gamonet V, Piat F, Le Moal M, Piazza PV (2002) Influence of cue-conditioning on acquisition, maintenance and relapse of cocaine intravenous self-administration. Eur J Neurosci 15:1363–1370

Deroche-Gamonet V, Belin D, Piazza PV (2004) Evidence for addiction-like behavior in the rat. Science 305:1014–1017

Di Chiara G (1999) Drug addiction as dopamine-dependent associative learning disorder. Eur J Pharmacol 375:13–30

Di Ciano P, Everitt BJ (2004) Conditioned reinforcing properties of stimuli paired with self-administered cocaine, heroin or sucrose: implications for the persistence of addictive behaviour. Neuropharmacology 47(Suppl 1):202–213

Epstein DH, Preston KL (2003) The reinstatement model and relapse prevention: a clinical perspective. Psychopharmacology 168:31–41

Epstein DH, Preston KL, Stewart J, Shaham Y (2006) Toward a model of drug relapse: an assessment of the validity of the reinstatement procedure. Psychopharmacology 189:1–16

Erb S, Shaham Y, Stewart J (1996) Stress reinstates cocaine-seeking behavior after prolonged extinction and drug-free periods. Psychopharmacology 128:408–412

Everitt BJ, Wolf ME (2002) Psychomotor stimulant addiction: a neural systems perspective. J Neurosci 22:3312–3320

Everitt BJ, Parkinson JA, Olmstead MC, Arroyo M, Robledo P, Robbins TW (1999) Associative processes in addiction and reward. The role of amygdale–ventral striatal subsystems. Ann NY Acad Sci 877:412–438

Fuchs RA, Tran-Nguyen LT, Specio SE, Groff RS, Neisewander JL (1998) Predictive validity of the extinction/reinstatement model of drug craving. Psychopharamacology 135:151–160

Goldberg SR (1976) Stimuli associated with drug injections as events that control behavior. Pharmacol Rev 27:325–340

Grimm JW, Kruzich PJ, See RE (2000) Contingent access to stimuli associated with cocaine self-administration is required for reinstatement of drug-seeking behavior. Psychobiology 28:383–386

Jaffe JH, Cascell NG, Kumor KM, Sherer MA (1989) Cocaine-induced cocaine craving. Psychopharmacology 97:59–64

Jenkins TN, Warner LH, Warden CJ (1926) Standard apparatus for the study of animal motivation. J Comp Psychol 6:361–382

Johanson CE (1975) Pharmacological and environmental variables affecting drug preference in rhesus monkeys. Pharmacol Rev 27:343–355

Katz JL, Higgins ST (2003) The validity of the reinstatement model of craving and relapse to drug use. Psychopharmacology 168:21–30

Le AD, Harding S, Juzytsch W, Funk D, Shaham Y (2005) Role of alpha-2 adrenoceptors in stress-induced reinstatement of alcohol seeking and alcohol self-administration in rats. Psychopharmacology 179:366–373

Lee B, Tiefenbacher S, Platt DM, Spealman RD (2004) Pharmacological blockade of alpha(2)-arenoceptors induces reinstatement of cocaine-seeking behavior in squirrel monkeys. Neuropsychopharmacology 29:686–693

Lu L, Grimm JW, Dempsey J, Shaham Y (2004a) Cocaine seeking over extended withdrawal periods in rats: different time courses of responding induced by cocaine cues versus cocaine priming over the first 6 months. Psychopharmacology 176:101–108

Lu L, Grimm JW, Hope BT, Shaham Y (2004b) Incubation of cocaine craving after withdrawal: a review of preclinical data. Neuropharmacology 47(Suppl 1):214–226

Lu L, Hope BT, Dempsey J, Liu SY, Bossert JM, Shaham Y (2005) Central amygdala ERK signaling pathway is critical to incubation of cocaine craving. Nat Neurosci 8:212–219

Marlatt GA (2002) Do animal models provide a valid analogue for human drug lapse and relapse? Comment on Leri and Stewart (2002). Exp Clin Psychopharmacol 10:359–360

Meil WM, See RE (1996) Conditioned cued recovery of responding following prolonged withdrawal from self-administered cocaine in rats: an animal model of relapse. Behav Pharmacol 7:754–763

Mendelson JH, Mello NK (1996) Management of cocaine abuse and dependence. N Engl J Med 334:965–972

O'Brien CP (2005) Anticraving medications for relapse prevention: a possible new class of psychoactive medications. Am J Psychiatr 162:1423–1431

Olds J, Olds ME (1958) Positive reinforcement produced by stimulating hypothalamus with iproniazid and other compounds. Science 127:1175–1176

Panlilio LV, Thorndike EB, Schindler CW (2003) Reinstatement of punishment-suppressed opioid self-administration in rats: an alternative model of relapse to drug abuse. Psychopharmacology 168:229–235

Panlilio LV, Thorndike EB, Schindler CW (2005) Lorazepam reinstates punishment-suppressed remifentanil self-administration in rats. Psychopharmacology 179:374–382

Pelloux Y, Dickinson A, Everitt BJ (2007) Compulsive drug seeking by rats under punishment: effects of drug taking history. Psychopharmacology 79 (in press)

Robbins TW (1975) The potentiation of conditioned reinforcement by psychomotor stimulant drugs: a test of Hill's hypothesis. Psychopharmacologia 45:103–114

Robinson TE, Berridge KC (2003) Addiction. Annu Rev Psychol 54:25–53

See RE (2005) Neural substrates of cocaine-cue associations that trigger relapse. Eur J Pharmacol 526:140–146

Self DW, Barnhart WJ, Lehman DA, Nestler EJ (1996) Opposite modulation of cocaine-seeking behavior by D1- and D2-like dopamine receptor agonists. Science 271:1586–1589

Shaham Y, Stewart J (1995) Stress reinstates heroin self-administration behavior in drug-free animals: an effect mimicking heroin, not withdrawal. Psychopharmacology 119:334–341

Shaham Y, Rajabi H, Stewart J (1996) Relapse to heroin-seeking under opioid maintenance: the effects of opioid withdrawal, heroin priming and stress. J Neurosci 16:1957–1963

Shaham Y, Shalev U, Lu L, De Wit H, Stewart J (2003) The reinstatement model of drug relapse: history, methodology and major findings. Psychopharmacology 168:3–20

Shalev U, Grimm JW, Shaham Y (2002) Neurobiology of relapse to heroin and cocaine seeking: a review. Pharmacol Rev 54:1–42

Shalev U, Morales M, Hope B, Yap J, Shaham Y (2001a) Time-dependent changes in extinction behavior and stress-induced reinstatement of drug seeking following withdrawal from heroin in rats. Psychopharmacology 156:98–107

Shalev U, Yap J, Shaham Y (2001b) Leptin attenuates food deprivation-induced relapse to heroin seeking. J Neurosci 21:RC129

Shepard JD, Bossert JM, Liu SY, Shaham Y (2004) The anxiogenic drug yohimbine reinstates methamphetamine seeking in a rat model of drug relapse. Biol Psychiatry 55:1082–1089

Sinha R, Kimmerling A, Doebrick C, Kosten TR (2007) Effects of lofexidine on stress-induced and cue-induced opioid craving and opioid abstinence rates: preliminary findings. Psychopharmacology 190:569–574

Smith SG, Davis WM (1974) Punishment of amphetamine and morphine self-administration behavior. Psychol Rec 24:477–480

Spealman RD, Barrett-Larimore RL, Rowlett JK, Platt DM, Khroyan TV (1999) Pharmacological and environmental determinants of relapse to cocaine-seeking behavior. Pharmacol Biochem Behav 64:327–336

Stewart J, de Wit H, Eikelboom R (1984) Role of unconditioned and conditioned drug effects in the self-administration of opiates and stimulants. Psychol Rev 91:251–268

Stretch R, Gerber GJ, Wood SM (1971) Factors affecting behavior maintained by response-contingent intravenous infusions of amphetamine in squirrel monkeys. Can J Physiol Pharm 49:581–589

Tran-Nguyen TL, Fuchs RA, Coffey GP, O'Dell LE, Baker DA, Neisewander JL (1998) Time-dependent changes in cocaine-seeking behavior and dopamine overflow in the amygdala during cocaine withdrawal. Neuropsychopharmacology 19:48–59

Vanderschuren LJ, Everitt BJ (2004) Drug seeking becomes compulsive after prolonged cocaine self-administration. Science 305:1017–1019

Warden CJ (1931) Animal motivation: experimental studies on the albino rat. Columbia Univ. Press, New York

Weiss F (2005) Neurobiology of craving, conditioned reward and relapse. Curr Opin Pharmacol 5:9–19

Weiss F, Maldonado-Vlaar CS, Parsons LH, Kerr TM, Smit DL, Ben-Shahar O (2000) Control of cocaine-seeking behavior by drug-associated stimuli in rats: effects on recovery of extinguished operant-responding and extracellular dopamine levels in amygdala and nucleus accumbens. Proc Natl Acad Sci USA 97:4321–4326

Wolffgramm J, Heyne A (1995) From controlled drug intake to loss of control: the irreversible development of drug addiction in the rat. Behav Brain Res 70:77–94

Wolffgramm J, Galli G, Thimm F, Heyne A (2000) Animal models of addiction: models for therapeutic strategies? J Neural Transm 107:649–668
Acknowledgments
This research was supported by the by the Rosenzweig-Coopersmith Foundation (AZ), and the Intramural Research Program of the National Institute on Drug Abuse (YS). Dr. Zangen is an incumbent of the Reskin career development chair. We thank Emily Wentzel for editorial assistance and Drs. Jane Stewart, Leigh Panlilio, Charles Schindler, and David Epstein for helpful comments.
Additional information
Ayelet Cooper and Noam Barnea-Yigael contributed equally to the study.
About this article
Cite this article
Cooper, A., Barnea-Ygael, N., Levy, D. et al. A conflict rat model of cue-induced relapse to cocaine seeking. Psychopharmacology 194, 117–125 (2007). https://doi.org/10.1007/s00213-007-0827-7
Received:

Accepted:

Published:

Issue Date:

DOI: https://doi.org/10.1007/s00213-007-0827-7
Keywords