Abstract
Background
Marijuana intoxication appears to impair response inhibition, but it is unclear if impaired inhibition and associated brain abnormalities persist after prolonged abstinence among adolescent users. We hypothesized that brain activation during a go/no-go task would show persistent abnormalities in adolescent marijuana users after 28 days of abstinence.
Methods
Adolescents with (n = 16) and without (n = 17) histories of marijuana use were compared on blood oxygen level dependent (BOLD) response to a go/no-go task during functional magnetic resonance imaging (fMRI) after 28 days of monitored abstinence. Participants had no neurological problems or Axis I diagnoses other than cannabis abuse/dependence.
Results
Marijuana users did not differ from non-users on task performance but showed more BOLD response than non-users during inhibition trials in right dorsolateral prefrontal, bilateral medial frontal, bilateral inferior and superior parietal lobules, and right occipital gyri, as well as during "go" trials in right prefrontal, insular, and parietal cortices (p < 0.05, clusters > 943 μl). Differences remained significant even after controlling for lifetime and recent alcohol use.
Conclusions
Adolescent marijuana users relative to non-users showed increased brain processing effort during an inhibition task in the presence of similar task performance, even after 28 days of abstinence. Thus, increased brain processing effort to achieve inhibition may predate the onset of regular use or result from it. Future investigations will need to determine whether increased brain processing effort is associated with risk to use.
This is a preview of subscription content, log in to check access.
Access options
Buy single article
Instant access to the full article PDF.
US$ 39.95
Price includes VAT for USA
Subscribe to journal
Immediate online access to all issues from 2019. Subscription will auto renew annually.
US$ 199
This is the net price. Taxes to be calculated in checkout.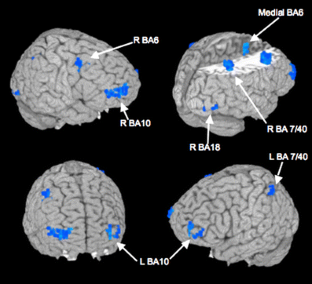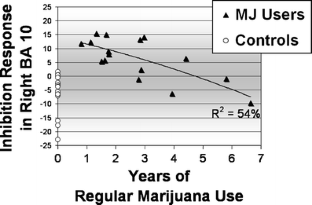 References
Achenbach TM, Rescorla LA (2001) Manual for the ASEBA school-age forms & profiles. University of Vermont, Research Center for Children, Youth, and Families, Burlington, VT

Adleman NE, Menon V, Blasey CM, White CD, Warsofsky IS, Glover GH, Reiss AL (2002) A developmental fMRI study of the Stroop color-word task. Neuroimage 16(1):61–75

Anderson KG, Schweinsburg AD, Paulus MP, Brown SA, Tapert SF (2005). Examining personality and alcohol expectancies using fMRI with adolescents. J Stud Alcohol 66(3):323–331

APA (1994) Diagnostic and statistical manual of mental disorders (4th edn). American Psychiatric Association, Washington, DC, USA

Bandettini PA, Jesmanowicz A, Wong EC, Hyde JS (1993) Processing strategies for time-course data sets in functional MRI of the human brain. Magn Reson Med 30:161–173

Beck AT (1978) Beck depression inventory (BDI). Psychological Corporation, San Antonio, TX, USA

Block RI, O'Leary DS, Hichwa RD, Augustinack JC, Ponto LL, Ghoneim MM, Arndt S, Ehrhardt JC, Hurtig RR, Watkins GL, Hall JA, Nathan PE, Andreasen NC (2000). Cerebellar hypoactivity in frequent marijuana users. NeuroReport 11(4):749–753

Bolla KI, Brown K, Eldreth D, Tate K, Cadet JL (2002) Dose related neurocognitive effects of marijuana use. Neurology 59(9):1337–1343

Boynton GM, Engel SA, Glover GH, Heeger DJ (1996) Linear systems analysis of functional magnetic resonance imaging in human V1. J Neurosci 16(13):4207–4221

Brown GG, Eyler Zorrilla LT, Georgy B, Kindermann SS, Wong EC, Buxton RB (2003). BOLD and perfusion response to finger-thumb apposition after acetazolamide administration: Differential relationship to global perfusion. J Cereb Blood Flow Metab 23:829–837

Brown SA, Myers MG, Lippke L, Tapert SF, Stewart DG, Vik PW (1998) Psychometric evaluation of the customary drinking and drug use record (CDDR): a measure of adolescent alcohol and drug involvement. J Stud Alcohol 59:427–438

Caldwell LC, Schweinsburg AD, Nagel BJ, Barlett VC, Brown SA, Tapert SF (2005) Gender and adolescent alcohol use disorders on BOLD (blood oxygen level dependent) response to spatial working memory. Alcohol Alcohol 40:194–200

Chang L, Yakupov R, Cloak C, Ernst T (2006) Marijuana use is associated with a reorganized visual-attention network and cerebellar hypoactivation. Brain 129(Pt 5):1096–1112

Chen AC, Porjesz B, Rangaswamy M, Kamarajan C, Tang Y, Jones KA, Chorlian DB, Stimus AT, Begleiter H (2007). Reduced frontal lobe activity in subjects with high impulsivity and alcoholism. Alcohol Clin Exp Res 31(1):156–165

Costa PTJ, McCrae RR (1992) Professional manual: revised NEO personality inventory (NEO PI-R) and NEO five-factor inventory (NEO-FFI). Psychological Assessment Resources, Lutz, FL, USA

Cox RW (1996) AFNI: Software for analysis and visualization of functional magnetic resonance neuroimages. Comput Biomed Res 29:162–173

Cox RW, Jesmanowicz A (1999) Real-time 3D image registration for functional MRI. Magn Reson Med 42:1014–1018

Delis D, Kaplan E (2001) Manual for the Delis–Kaplan executive function system. Psychological Corporation, San Antonio

Drummond SPA, Bischoff-Grethe A, Dinges DF, Ayalon L, Mednick CM, Meloy MJ (2005) The neural basis of the psychomotor vigilance task. Sleep 28:1059–1068

Drummond SPA, Paulus MP, Tapert SF (2006) Effects of 2 nights sleep deprivation and 2 nights recovery sleep on response inhibition. J Sleep Res 15:261–265

Eggan SM, Lewis DA (2007) Immunocytochemical distribution of the cannabinoid CB1 receptor in the primate neocortex: a regional and laminar analysis. Cereb Cortex 17:175–191

Fletcher JM, Page JB, Francis DJ, Copeland K, Naus MJ, Davis CM, Morris R, Krauskopf D, Satz P (1996) Cognitive correlates of long-term cannabis use in Costa Rican men. Arch Gen Psychiatry 53(11):1051–1057

Forman SD, Cohen JD, Fitzgerald M, Eddy WF, Mintun MA, Noll DC (1995) Improved assessment of significant activation in functional magnetic resonance imaging (fMRI): use of a cluster-size threshold. Magn Reson Med 33(5):636–647

Fraser AD, Coffin L, Worth, D (2002) Drug and chemical metabolites in clinical toxicology investigations: the importance of ethylene glycol, methanol and cannabinoid metabolite analyses. Clin Biochem 35(7):501–511

Fruyt FD, Mervielde I, Hoekstra HA, Rolland J-P (2000) Assessing adolescents' personality with the NEO-PI-R. Assessment 7:329–345

Gogtay N, Giedd JN, Lusk L, Hayashi KM, Greenstein D, Vaituzis AC, Nugent TF 3rd, Herman DH, Clasen LS, Toga AW, Rapoport JL, Thompson PM (2004) Dynamic mapping of human cortical development during childhood through early adulthood. Proc Natl Acad Sci USA 101(21):8174–8179

Gruber SA, Yurgelun-Todd DA (2005) Neuroimaging of marijuana smokers during inhibitory processing: a pilot investigation. Brain Res Cogn Brain Res 23(1):107–118

Heatherton TF, Kozlowski LT, Frecker RC, Fagerstrom KO (1991) The Fagerstrom test for nicotine dependence: a revision of the Fagerstrom tolerance questionnaire. Br J Addict 86(9):1119–1127

Herning RI, Better WE, Tate K, Cadet JL (2005) Cerebrovascular perfusion in marijuana users during a month of monitored abstinence. Neurology 64(3):488–493

Huestis MA, Cone EJ (1998) Differentiating new marijuana use from residual drug excretion in occasional marijuana users. J Anal Toxicol 22(6):445–454

Jacobsen LK, Mencl WE, Westerveld M, Pugh KR (2004) Impact of cannabis use on brain function in adolescents. Ann NY Acad Sci 1021:384–390

Jacobsen LK, Pugh KR, Constable RT, Westerveld M, Mencl WE (2007) Functional correlates of verbal memory deficits emerging during nicotine withdrawal in abstinent adolescent cannabis users. Biol Psychiatry 61:31–40

Johnston LD, O'Malley PM, Bachman JG, Schulenberg JE (2005) Monitoring the future national results on adolescent drug use 1975–2004: vol 1, secondary school students (NIH Publication No. 05-5727). National Institute on Drug Abuse, Bethesda, MD, USA

Kamarajan C, Porjesz B, Jones K, Chorlian D, Padmanabhapillai A, Rangaswamy M, Stimus A, Begleiter H (2006) Event-related oscillations in offspring of alcoholics: neurocognitive disinhibition as a risk for alcoholism. Biol Psychiatry 59(7):625–634

Kanayama G, Rogowska J, Pope HG, Gruber SA, Yurgelun Todd DA (2004) Spatial working memory in heavy cannabis users: a functional magnetic resonance imaging study. Psychopharmacology (Berl) 176(3–4):239–247

Kirisci L, Tarter RE, Reynolds M, Vanyukov M (2006) Individual differences in childhood neurobehavior disinhibition predict decision to desist substance use during adolescence and substance use disorder in young adulthood: a prospective study. Addict Behav 31(4):686–696

Lafolie P, Beck O, Blennow G, Boreus L, Borg S, Elwin CE, Karlsson L, Odelius G, Hjemdahl P (1991) Importance of creatinine analyses of urine when screening for abused drugs. Clin Chem 37(11):1927–1931

Lancaster JL, Woldorff MG, Parsons LM, Liotti M, Freitas CS, Rainey L, Kochunov PV, Nickerson D, Mikiten SA, Fox PT (2000) Automated Talairach atlas labels for functional brain mapping. Hum Brain Mapp 10(3):120–131

Liu X, Banich MT, Jacobson BL, Tanabe JL (2004) Common and distinct neural substrates of attentional control in an integrated Simon and spatial Stroop task as assessed by event-related fMRI. Neuroimage 22(3):1097–1106

Lucas CP, Zhang H, Fisher PW, Shaffer D, Regier DA, Narrow WE, Bourdon K, Dulcan MK, Canino G, Rubio Stipec M, Lahey BB, Friman P (2001) The DISC predictive scales (DPS): efficiently screening for diagnoses. J Am Acad Child Adolesc Psychiatry 40(4):443–449

Luna B, Thulborn KR, Munoz DP, Merriam EP, Garver KE, Minshew NJ, Keshavan MS, Genovese CR, Eddy WF, Sweeney JA (2001) Maturation of widely distributed brain function subserves cognitive development. Neuroimage 13(5):786–793

Lundqvist T, Jonsson S, Warkentin S (2001) Frontal lobe dysfunction in long-term cannabis users. Neurotoxicol Teratol 23(5):437–443

Mathew RJ, Wilson WH, Turkington TG, Hawk TC, Coleman RE, DeGrado TR, Provenzale J (2002) Time course of tetrahydrocannabinol induced changes in regional cerebral blood flow measured with positron emission tomography. Psychiatry Res 116(3):173–185

Medina KL, Nagel BJ, Park A, McQueeny T, Tapert SF (2007a) Depressive symptoms in adolescents: Associations with white matter volume and marijuana use. J Child Psychol Psychiatry 48:592–600

Medina KL, Schweinsburg AD, Cohen-Zion M, Nagel BJ, Tapert SF (2007b) Effects of alcohol and combined marijuana and alcohol use during adolescence on hippocampal volume and asymmetry. Neurotoxicol Teratol 29:141–152

Millsaps CL, Azrin RL, Mittenberg W (1994) Neuropsychological effects of chronic cannabis use on the memory and intelligence of adolescents. J Child Adolesc Subst Abuse 3(1):47–55

Nagel B, Medina K, Yoshii J, Schweinsburg A, Moadab I, Tapert S (2006) Age-related changes in prefrontal white matter volume across adolescence. NeuroReport 17:1427–1431

O'Leary DS, Block RI, Koeppel JA, Flaum M, Schultz SK, Andreasen NC, Ponto LB, Watkins GL, Hurtig RR, Hichwa RD (2002) Effects of smoking marijuana on brain perfusion and cognition. Neuropsychopharmacology 26(6):802–816

Pope HG Jr, Gruber AJ, Hudson JI, Huestis MA, Yurgelun Todd D (2001) Neuropsychological performance in long term cannabis users. Arch Gen Psychiatry 58(10):909–915

Pope HGJ, Yurgelun Todd D (1996) The residual cognitive effects of heavy marijuana use in college students. JAMA 275(7):521–527

Rajah MN, D'Esposito M (2005) Region-specific changes in prefrontal function with age: a review of PET and fMRI studies on working and episodic memory. Brain 128(Pt 9):1964–1983

Rice JP, Reich T, Bucholz KK, Neuman RJ, Fishman R, Rochberg N, Hesselbrock VM, Nurnberger JI Jr, Schuckit MA, Begleiter H (1995) Comparison of direct interview and family history diagnoses of alcohol dependence. Alcohol Clin Exp Res 19(4):1018–1023

SAMHSA (2003) Results from the 2002 national survey on drug use and health: national findings (No. DHHS Publication No. SMA 03-3836). Office of Applied Studies, Rockville, MD, USA

Schulz KP, Fan J, Tang CY, Newcorn JH, Buchsbaum MS, Cheung AM, Halperin JM (2004) Response inhibition in adolescents diagnosed with attention deficit hyperactivity disorder during childhood: an event related FMRI study. Am J Psychiatry 161(9):1650–1657

Schwartz RH, Gruenewald PJ, Klitzner M, Fedio P (1989) Short-term memory impairment in cannabis-dependent adolescents. Am J Dis Child 143(10):1214–1219

Schweinsburg AD, Nagel BJ, Barlett VC, Killeen LA, Caldwell LC, Pulido CP, Brown SA, Paulus MP, Tapert SF (2004a) fMRI of response inhibition across adolescent development. Paper presented at the Annual Meeting of the International Neuropsychological Society, Baltimore, MD, USA

Schweinsburg AD, Paulus MP, Barlett VC, Killeen LA, Caldwell LC, Pulido CP, Brown SA, Tapert SF (2004b) An fMRI study of response inhibition in youths with a family history of alcoholism. Ann NY Acad Sci 1021:391–394

Schweinsburg AD, Nagel BJ, Tapert SF (2005a) fMRI reveals alteration of spatial working memory networks across adolescence. J Int Neuropsychol Soc 11(5):631–644

Schweinsburg AD, Schweinsburg BC, Cheung EH, Brown GG, Brown SA, Tapert SF (2005b) fMRI response to spatial working memory in adolescents with comorbid marijuana and alcohol use disorders. Drug Alcohol Depend 79(2):201–210

Shaffer D, Fisher P, Lucas CP, Dulcan MK, Schwab-Stone ME (2000) NIMH diagnostic interview schedule for children version IV (NIMH DISC-IV): description, differences from previous versions, and reliability of some common diagnoses. J Am Acad Child Adolesc Psych 39(1):28–38

Sneider JT, Pope HG Jr, Silveri MM, Simpson NS, Gruber SA, Yurgelun-Todd DA (2006). Altered regional blood volume in chronic cannabis smokers. Exp Clin Psychopharmacol 14(4):422–428

Sobell LC, Sobell MB (1992) Timeline follow-back: a technique for assessing self-reported alcohol consumption. In: Litten RZ, Allen JP (eds) Measuring alcohol consumption: psychosocial and biochemical methods. Humana Press, Totowa, NJ, US, pp 41–72

Solowij N, Michie PT, Fox AM (1991) Effects of long-term cannabis use on selective attention: an event-related potential study. Pharmacol Biochem Behav 40(3):683–688

Solowij N, Michie PT, Fox AM (1995) Differential impairments of selective attention due to frequency and duration of cannabis use. Biol Psychiatry 37(10):731–739

Solowij N, Stephens RS, Roffman RA, Babor T, Kadden R, Miller M, Christiansen K, McRee B, Vendetti J (2002) Cognitive functioning of long term heavy cannabis users seeking treatment. JAMA 287(9):1123–1131

Sowell ER, Peterson BS, Thompson PM, Welcome SE, Henkenius AL, Toga AW (2003) Mapping cortical change across the human life span. Nat Neurosci 6:309–315

Sowell ER, Trauner DA, Gamst A, Jernigan TL (2002) Development of cortical and subcortical brain structures in childhood and adolescence: a structural MRI study. Dev Med Child Neurol 44(1):4–16

Spielberger CD, Gorsuch RL, Lushene RE (1970) Manual for the state-trait anxiety inventory. Consulting Psychologists Press, Palo Alto, CA, USA

Stewart DG, Brown SA (1995) Withdrawal and dependency symptoms among adolescent alcohol and drug abusers. Addiction 90:627–635

Struve FA, Patrick G, Straumanis JJ, Fitz-Gerald MJ, Manno J (1998) Possible EEG sequelae of very long duration marihuana use: pilot findings from topographic quantitative EEG analyses of subjects with 15 to 24 years of cumulative daily exposure to THC. Clin Electroencephalogr 29(1):31–36

Tabachnick BG, Fidell LS (2007) Using multivariate statistics (5th edn). Pearson, Boston

Talairach J, Tournoux P (1988) Coplanar stereotaxic atlas of the human brain. Three-dimensional proportional system: an approach to cerebral imaging. Thieme, New York

Tamm L, Menon V, Reiss AL (2002) Maturation of brain function associated with response inhibition. J Am Acad Child Adolesc Psych 41(10):1231–1238

Tapert SF, Brown GG, Kindermann S, Cheung EH, Frank LR, Brown SA (2001) fMRI measurement of brain dysfunction in alcohol-dependent young women. Alcohol Clin Exp Res 25:236–245

Tapert SF, Baratta MV, Abrantes AM, Brown SA (2002a) Attention dysfunction predicts substance involvement in community youths. J Am Acad Child Adolesc Psych 41(6):680–686

Tapert SF, Granholm E, Leedy NG, Brown SA (2002b) Substance use and withdrawal: Neuropsychological functioning over 8 years in youth. J Int Neuropsychol Soc 8(7):873–883

Tapert SF, Schweinsburg AD, Barlett VC, Brown SA, Frank LR, Brown GG, Meloy MJ (2004) Blood oxygen level dependent response and spatial working memory in adolescents with alcohol use disorders. Alcohol Clin Exp Res 28(10):1577–1586

Verdejo-Garcia A, Bechara A, Recknor EC, Perez-Garcia M (2006) Executive dysfunction in substance dependent individuals during drug use and abstinence: an examination of the behavioral, cognitive and emotional correlates of addiction. J Int Neuropsychol Soc 12(3):405–415

Ward BD (1997) Simultaneous inference for FMRI data. Biophysics Research Institute, Medical College of Wisconsin, Milwaukee, WI, USA

Ward BD (2002) Deconvolution analysis of FMRI time series data. Biophysics Research Institute, Medical College of Wisconsin, Milwaukee, WI, USA

Wechsler D (1999) Manual for the Wechsler abbreviated scale of intelligence. Psychological Corporation, San Antonio, TX, USA

Wilkinson GS (1993) The wide range achievement test-3 administration manual. Jastak Associates, Wilmington, DE, USA

Wong EC, Luh WM, Buxton RB, Frank LR (2000) Single slab high resolution 3D whole brain imaging using spiral FSE. Proc Int Soc Magn Reson Med 8:683

Yurgelun-Todd D, Gruber AJ, Hanson RA, Baird AA, Renshaw PF, Pope HG Jr (1998). Residual effects of marijuana use: an fMRI study. In: Harris LS (ed) Problems of drug dependence 1998: proceedings of the 60th annual scientific meeting, the college on problems of drug dependence. NIDA Research Monograph 179, National Institute on Drug Abuse, Bethesda, MD, USA, pp 78
Acknowledgements
This research was supported by National Institute on Drug Abuse grants R21 DA015228-03 and R01 DA021182-01 to S. F. Tapert, and R37 AA07033-19 to S. A. Brown. Appreciation is expressed to the following people for their assistance with this project: Valerie Barlett, Christina Burke, Lisa Caldwell, Mairav Cohen-Zion, Lawrence Frank, Krista Lisdahl Medina, Tim McQueeny, MJ Meloy, Bonnie Nagel, Ann Park, Claudia Padula, Brian Schweinsburg, Rebecca Theilmann, and Jennifer Winward. We would also like to acknowledge the support and advice of Dr. Robert Fitzgerald and the VA Laboratory Service.
Portions of this research were presented at the Annual Scientific Meeting of the College on Problems of Drug Dependence, June 18-23 2005, Orlando, FL, USA.
About this article
Cite this article
Tapert, S.F., Schweinsburg, A.D., Drummond, S.P.A. et al. Functional MRI of inhibitory processing in abstinent adolescent marijuana users. Psychopharmacology 194, 173–183 (2007). https://doi.org/10.1007/s00213-007-0823-y
Received:

Accepted:

Published:

Issue Date:
Keywords
Marijuana

Cannabis

Functional magnetic resonance imaging

Adolescence

Response inhibition

Abstinence