Abstract
Rationale
Tea has anecdotally been associated with stress relief, but this has seldom been tested scientifically.
Objectives
To investigate the effects of 6 weeks of black tea consumption, compared with matched placebo, on subjective, cardiovascular, cortisol and platelet responses to acute stress, in a parallel group double-blind randomised design.
Materials and methods
Seventy-five healthy nonsmoking men were withdrawn from tea, coffee and caffeinated beverages for a 4-week wash-out phase during which they drank four cups per day of a caffeinated placebo. A pretreatment laboratory test session was carried out, followed by either placebo (n = 38) or active tea treatment (n = 37) for 6 weeks, then, a final test session. Cardiovascular measures were obtained before, during and after two challenging behavioural tasks, while cortisol, platelet and subjective measures were assessed before and after tasks.
Results
The tasks induced substantial increases in blood pressure, heart rate and subjective stress ratings, but responses did not differ between tea and placebo treatments. Platelet activation (assessed using flow cytometry) was lower following tea than placebo treatment in both baseline and post-stress samples (P < 0.005). The active tea group also showed lower post-task cortisol levels compared with placebo (P = 0.032), and a relative increase in subjective relaxation during the post-task recovery period (P = 0.036).
Conclusions
Compared with placebo, 6 weeks of tea consumption leads to lower post-stress cortisol and greater subjective relaxation, together with reduced platelet activation. Black tea may have health benefits in part by aiding stress recovery.
This is a preview of subscription content, log in to check access.
Access options
Buy single article
Instant access to the full article PDF.
US$ 39.95
Price includes VAT for USA
Subscribe to journal
Immediate online access to all issues from 2019. Subscription will auto renew annually.
US$ 199
This is the net price. Taxes to be calculated in checkout.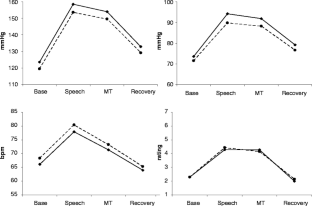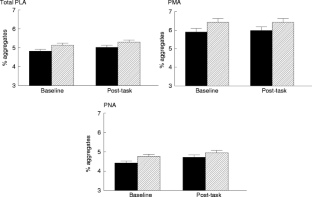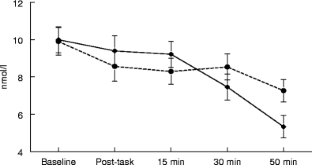 References
Adachi N, Tomonaga S, Tachibana T, Denbow DM, Furuse M (2006) (−)-Epigallocatechin gallate attenuates acute stress responses through GABAergic system in the brain. Eur J Pharmacol 531:171–175

Brosschot JF, Pieper S, Thayer JF (2005) Expanding stress theory: prolonged activation and perseverative cognition. Psychoneuroendocrinology 30:1043–1049

Brydon L, Magid K, Steptoe A (2006) Platelets, coronary heart disease, and stress. Brain Behav Immun 20:113–119

Cole CR, Blackstone EH, Pashkow FJ, Snader CE, Lauer MS (1999) Heart-rate recovery immediately after exercise as a predictor of mortality. N Engl J Med 341:1351–1357

Dekermendjian K, Kahnberg P, Witt MR, Sterner O, Nielsen M, Liljefors T (1999) Structure–activity relationships and molecular modeling analysis of flavonoids binding to the benzodiazepine site of the rat brain GABA(A) receptor complex. J Med Chem 42:4343–4350

Dickerson SS, Kemeny ME (2004) Acute stressors and cortisol responses: a theoretical integration and synthesis of laboratory research. Psychol Bull 130:355–391

Duarte J, Perez-Palencia R, Vargas F, Ocete MA, Perez-Vizcaino F, Zarzuelo A, Tamargo J (2001) Antihypertensive effects of the flavonoid quercetin in spontaneously hypertensive rats. Br J Pharmacol 133:117–124

Duffy SJ, Vita JA, Holbrook M, Swerdloff PL, Keaney JF Jr (2001) Effect of acute and chronic tea consumption on platelet aggregation in patients with coronary artery disease. Arterioscler Thromb Vasc Biol 21:1084–1089

Formica JV, Regelson W (1995) Review of the biology of Quercetin and related bioflavonoids. Food Chem Toxicol 33:1061–1080

Hamer M, Owen G, Kloek J (2005) The role of functional foods in the psychobiology of health and disease. Nutr Res Rev 18:77–88

Hamer M, Taylor A, Steptoe A (2006a) The effect of acute aerobic exercise on stress related blood pressure responses: a systematic review and meta-analysis. Biol Psychol 71:183–190

Hamer M, Williams ED, Vuononvirta R, Gibson EL, Steptoe A (2006b) The association between coffee consumption and markers of inflammation and cardiovascular function during mental stress. J Hypertens (in press)

Haskell CF, Kennedy D, Milne AL, Wesnes KA, Scholey AB (2005) Cognitive and mood effects of caffeine and theanine alone and in combination. Behav Pharmacol 16(Suppl 1):S26

Henry JP, Stephens-Larson P (1984) Reduction of chronic psychosocial hypertension in mice by decaffeinated tea. Hypertension 6:437–444

Hindmarch I, Quinlan PT, Moore KL, Parkin C (1998) The effects of black tea and other beverages on aspects of cognition and psychomotor performance. Psychopharmacology (Berl) 139:230–238

Hindmarch I, Rigney U, Stanley N, Quinlan P, Rycroft J, Lane J (2000) A naturalistic investigation of the effects of day-long consumption of tea, coffee and water on alertness, sleep onset and sleep quality. Psychopharmacology (Berl) 149:203–216

Hodgson JM, Puddey IB, Mori TA, Burke V, Baker RI, Beilin LJ (2001) Effects of regular ingestion of black tea on haemostasis and cell adhesion molecules in humans. Eur J Clin Nutr 55:881–886

James JE (2004) Critical review of dietary caffeine and blood pressure: a relationship that should be taken more seriously. Psychosom Med 66:63–71

James JE, Rogers PJ (2005) Effects of caffeine on performance and mood: withdrawal reversal is the most plausible explanation. Psychopharmacology (Berl) 182:1–8

Jezova D, Duncko R, Lassanova M, Kriska M, Moncek F (2002) Reduction of rise in blood pressure and cortisol release during stress by Ginkgo biloba extract (EGb 761) in healthy volunteers. J Physiol Pharmacol 53:337–348

Juneja LR, Chu DC, Okubo T, Nagato Y, Yokogoshi H (1999) l-theanine: a unique amino acid of green tea and its relaxation effect in humans. Trends Food Sci Technol 10:199–204

Kibler JL, Ma M (2004) Depressive symptoms and cardiovascular reactivity to laboratory behavioral stress. Int J Behav Med 11:81–87

Kunz-Ebrecht SR, Mohamed-Ali V, Feldman PJ, Kirschbaum C, Steptoe A (2003) Cortisol responses to mild psychological stress are inversely associated with proinflammatory cytokines. Brain Behav Immun 17:373–383

Lovallo WR, Whitsett TL, al'Absi M, Sung BH, Vincent AS, Wilson MF (2005) Caffeine stimulation of cortisol secretion across the waking hours in relation to caffeine intake levels. Psychosom Med 67:734–739

Lu K, Gray MA, Oliver C, Liley DT, Harrison BJ, Bartholomeusz CF, Phan KL, Nathan PJ (2004) The acute effects of l-theanine in comparison with alprazolam on anticipatory anxiety in humans. Hum Psychopharmacol 19:457–465

McEwen BS (1998) Protective and damaging effects of stress mediators. N Engl J Med 338:171–179

Michelson AD, Barnard MR, Krueger LA, Valeri CR, Furman MI (2001) Circulating monocyte–platelet aggregates are a more sensitive marker of in vivo platelet activation than platelet surface P-selectin: studies in baboons, human coronary intervention, and human acute myocardial infarction. Circulation 104:1533–1537

Monaco C, Mathur A, Martin JF (2005) What causes acute coronary syndromes? Applying Koch's postulates. Atherosclerosis 179:1–15

Neiva TJ, Morais L, Polack M, Simoes CM, D'Amico EA (1999) Effects of catechins on human blood platelet aggregation and lipid peroxidation. Phytother Res 13:597–600

Paladini AC, Marder M, Viola H, Wolfman C, Wasowski C, Medina JH (1999) Flavonoids and the central nervous system: from forgotten factors to potent anxiolytic compounds. J Pharm Pharmacol 51:519–526

Perez-Vizcaino F, Ibarra M, Cogolludo AL, Duarte J, Zaragoza-Arnaez F, Moreno L, Lopez-Lopez G, Tamargo J (2002) Endothelium-independent vasodilator effects of the flavonoid quercetin and its methylated metabolites in rat conductance and resistance arteries. J Pharmacol Exp Ther 302:66–72

Peters U, Poole C, Arab L (2001) Does tea affect cardiovascular disease? A meta-analysis. Am J Epidemiol 154:495–503

Pruessner JC, Kirschbaum C, Meinlschmidt G, Hellhammer D (2003) Two formulas for computation of the area under the curve represent measures of total hormone concentration versus time-dependent change. Psychoneuroendocrinology 28:916–931

Quinlan P, Lane J, Aspinall L (1997) Effects of hot tea, coffee and water ingestion on physiological responses and mood: the role of caffeine, water and beverage type. Psychopharmacology 134:164–173

Quinlan PT, Lane J, Moore KL, Aspen J, Rycroft JA, O'Brien DC (2000) The acute physiological and mood effects of tea and coffee: the role of caffeine level. Pharmacol Biochem Behav 66:19–28

Schneiderman N, McCabe PA (1989) Psychophysiologic strategies in laboratory research. In: Schneiderman N, Weiss SM, Kaufman PG (eds) Handbook of research methods in cardiovascular behavioral medicine. Plenum, New York, pp 349–364

Steptoe A (1997) Behavior and blood pressure: implications for hypertension. In: Zanchetti A, Mancia G (eds) Handbook of hypertension—pathophysiology of hypertension. Elsevier Science, Amsterdam, pp 674–708

Steptoe A, Marmot M (2005) Impaired cardiovascular recovery following stress predicts 3-year increases in blood pressure. J Hypertens 23:529–536

Steptoe A, Wardle J (1999) Mood and drinking: a naturalistic diary study of alcohol, coffee and tea. Psychopharmacology (Berl) 141:315–321

Steptoe A, Feldman PM, Kunz S, Owen N, Willemsen G, Marmot M (2002) Stress responsivity and socioeconomic status: a mechanism for increased cardiovascular disease risk? Eur Heart J 23:1757–1763

Steptoe A, Magid K, Edwards S, Brydon L, Hong Y, Erusalimsky J (2003) The influence of psychological stress and socioeconomic status on platelet activation in men. Atherosclerosis 168:57–63

Steptoe A, Gibson EL, Vuononvirta R, Hamer M, Wardle J, Rycroft JA, Martin JF, Erusalimsky J (2006) The effects of chronic tea intake on platelet activation and vascular biology: a double-blind placebo controlled trial. Atherosclerosis (in press)

Strike PC, Magid K, Whitehead DL, Brydon L, Bhattacharyya MR, Steptoe A (2006) Pathophysiological processes underlying emotional triggering of acute cardiac events. Proc Natl Acad Sci USA 103:4322–4327

von Kanel R, Mills PJ, Fainman C, Dimsdale JE (2001) Effects of psychological stress and psychiatric disorders on blood coagulation and fibrinolysis: a biobehavioral pathway to coronary artery disease? Psychosom Med 63:531–544
Acknowledgements
We are grateful to Peirluigi Giacobazzi and Kesson Magid for their assistance in data collection and biological assays. Leigh Gibson is now at Roehampton University, London, Raisa Vounonvirta at the Institute of Cancer Research, Sutton, UK, and Jorge Erusalimsky is at the University of Wales Institute, Cardiff.
Additional information
Funding: This research was supported by a Link award from the Biotechnology and Biological Sciences Research Council, UK, by Unilever Research Colworth, and by the British Heart Foundation.
An erratum to this article can be found at http://dx.doi.org/10.1007/s00213-006-0620-z
About this article
Cite this article
Steptoe, A., Gibson, E.L., Vounonvirta, R. et al. The effects of tea on psychophysiological stress responsivity and post-stress recovery: a randomised double-blind trial. Psychopharmacology 190, 81–89 (2007). https://doi.org/10.1007/s00213-006-0573-2
Received:

Accepted:

Published:

Issue Date:
Keywords
Tea

Stress

Cortisol

Heart rate

Blood pressure

Platelet activation

Caffeine

Mood