Abstract
Rationale
There is abundant evidence from clinical and preclinical studies that acute administration of nicotine has beneficial effects on attentional network function in the brain. In contrast, little is known about potentially neurotoxic effects on the attentional network during neurodevelopmentally critical periods, such as during adolescence and early adulthood.
Methods
Using event-related functional MRI (fMRI), we investigated prefrontal attentional network function in young adults (n=15 regular smokers and n=12 never-smokers; age: 22.6±1.5 years). Duration of smoking was 6.9±2.3 years (range of 2–10). Smokers were allowed to smoke ad libitum before the fMRI scanning was conducted.
Results
As expected from literature, prefrontal attentional network activity was significantly reduced in smokers compared to nonsmokers (Z=2.1; P=0.036). In smokers, we found that the history of smoking duration (years) is directly related to the extent of diminished attentional network activity (R=−0.67; P=0.012).
Conclusions
To our best knowledge, the relationship between the duration of smoking history and prefrontal attentional network function has not yet been reported. This finding might suggest that several years of chronic nicotine abuse may be sufficient to exert long-lasting effects on the brain function of adolescents and young adults.
Access options
Buy single article
Instant access to the full article PDF.
US$ 39.95
Tax calculation will be finalised during checkout.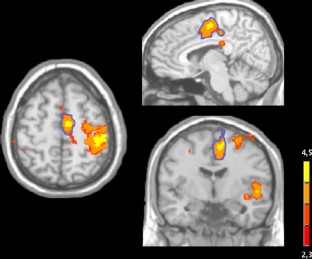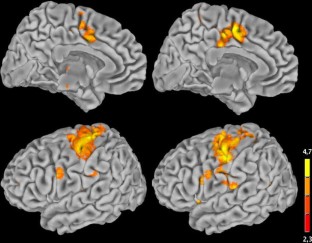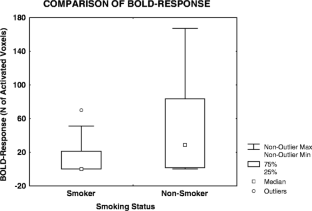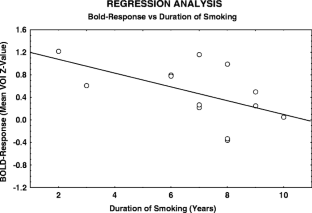 References
Adan A, Prat G, Sanchez-Turet M (2004) Effects of nicotine dependence on diurnal variations of subjective activation and mood. Addiction 99:1599–1607

Adriani W, Laviola G (2004) Windows of vulnerability to psychopathology and therapeutic strategy in adolescent rodent models. Behav Pharmacol 15:341–352

Adriani W, Spijker S, Deroche-Gamonet V, Laviola G, Le Moal M, Smit AB, Piazza PV (2003) Evidence for enhanced neurobehavioral vulnerability to nicotine during periadolescence in rats. J Neurosci 23:4712–4716

Adriani W, Granstrem O, Macri S, Izykenova G, Dambinova S, Laviola G (2004) Behavioral and neurochemical vulnerability during adolescence in mice: studies with nicotine. Neuropsychopharmacology 29:869–878

Arseneault L, Cannon M, Poulton R, Murray R, Caspi A, Moffitt TE (2002) Cannabis use in adolescence and risk for adult psychosis: longitudinal prospective study. Br Med J 325:1212–1213

Barron S, White A, Swartzwelder HS, Bell RL, Rodd ZA, Slawecki CJ, Ehlers CL, Levin ED, Rezvani AH, Spear LP (2005) Adolescent vulnerabilities to chronic alcohol or nicotine exposure: findings from rodent models. Alcohol Clin Exp Res 29:1720–1725

Behrens T, Woolrich MW, Smith S (2003) Multi-testing using a fully subject null hypothesis Bayesian framework: theory. In: Human Brain Mapping Meeting, New York Marriott Marquis, New York, 18–22 June 2003

Braak H, Del Tredici K, Schultz C, Braak E (2000) Vulnerability of select neuronal types to Alzheimer's disease. Ann N Y Acad Sci 924:53–61

Coull JT (1998) Neural correlates of attention and arousal: insights from electrophysiology, functional neuroimaging, and psychopharmacology. Prog Neurobiol 55:343–361

Coull JT, Frith CD, Frackowiak RSJ, Grasby PM (1996) A fronto-parietal network for rapid visual information processing: a PET study of sustained attention and working memory. Neuropsychologia 34:1085–1095

Edwards JA, Wesnes K, Warburton DM, Gale A (1985) Evidence of more rapid stimulus evaluation following cigarette smoking. Addict Behav 10:113–26

Eisenberg T, Griffiths RR, Stitzer M (1996) Mecamylamine does not precipitate withdrawal in cigarette smokers. Psychopharmacology 127:328–336

Ernst M, Moolchan ET, Robinson ML (2001a) Behavioral and neural consequences of prenatal exposure to nicotine. J Am Acad Child Adolesc Psychiatry 44:630–641

Ernst M, Matochik JA, Heishman SJ, Van Horn JD, Jons PH, Henningfield JE, London ED (2001b) Effect of nicotine on brain activation during performance of a working memory task. Proc Natl Acad Sci USA 98:4728–4733

Ernst M, Heishman SJ, Spurgeon L, London ED (2001c) Smoking history and nicotine effects on cognitve performance. Neuropsychopharmacology 25:313–319

First MB, Spitzer RL, Gibbon M, Williams JB (1995) The structured clinical interview for DSM-IV axis I disorders research version (SCID-1). American Psychiatric Press, New York

Forman SD, Cohen JD, Fitzgerald M, Eddy WF, Mintun MA, Noll DC (1995) Improved assessment of significant activation in functional magnetic resonance imaging (fMRI): use of a cluster-size threshold. Magn Reson Med 33:636–647

Friston KJ, Worsley KJ, Frakowiak RSJ, Mazziotta JC, Evans AC (1994) Assessing the significance of focal activations using their spatial extent. Hum Brain Mapp 1:214–220

Gardner TW, Dishion TJ, Posner MI (2006) Attention and adolescent tobacco use: a potential self-regulatory dynamic underlying nicotine addiction. Addict Behav 31:531–536

Gilbert D, McClernon J, Rabinovich N, Sugai C, Plath L, Asgaard G, Zuo Y, Huggenvik J, Botros N (2004) Effects of quitting smoking on EEG activation and attention last for more than 31 days and are more severe with stress, dependence, DRD2 A1 allele, and depressive traits. Nicotine Tob Res 6:249–267

Hahn B, Shoaib M, Stolerman IP (2002) Nicotine-induced enhancement of attention in the five-choice serial reaction time task: the influence of task demands. Psychopharmacology (Berl) 162:129–37

Hahn B, Sharples CG, Wonnacott S, Shoaib M, Stolerman IP (2003) Attentional effects of nicotinic agonists in rats. Neuropharmacology 44:1054–1067

Harris JG, Kongs S, Allensworth D, Martin L, Tregellas J, Sullivan B, Zerbe G, Freedman R (2004) Effects of nicotine on cognitive deficits in schizophrenia. Neuropsychopharmacology 29:1378–1385

Houlihan ME, Pritchard WS, Krieble KK, Robinson JH, Duke DW (1996a) Effects of cigarette smoking on EEG spectral-band power, dimensional complexity, and nonlinearity during reaction-time task performance. Psychophysiology 33:740–746

Houlihan ME, Pritchard WS, Robinson JH (1996b) Faster P300 latency after smoking in visual but not auditory oddball tasks. Psychopharmacology 123:231–238

Jacobsen LK, D'Souza DC, Mencl WE, Pugh KR, Skudlarski P, Krystal JH (2004) Nicotine effects on brain function and functional connectivity in schizophrenia. Biol Psychiatry 55:850–858

Jacobsen LK, Krystal JH, Mencl WE, Westerveld M, Frost SJ, Pugh KR (2005) Effects of smoking and smoking abstinence on cognition in adolescent tobacco smokers. Biol Psychiatry 57:56–66

Jacobsen LK, Slotkin TA, Westerveld M, Mencl WE, Pugh KR (2006) Visuospatial memory deficits emerging during nicotine withdrawal in adolescents with prenatal exposure to active maternal smoking. Neuropsychopharmacology 31:1550–1561

Jenkinson M, Bannister P, Brady J, Smith S (2002) Improved optimisation for the robust and accurate linear registration and motion correction of brain images. Neuroimage 17:825–841

Kandel DB, Chen K (2000) Extent of smoking and nicotine dependence in the United States: 1991–1993. Nicotine Tob Res 2:263–274

Kaplan E, Fein D, Morris R, Delis D (1991) WAIS-R as a neuropsychological instrument. The Psychological Corporation, New York

Kumari V, Gray JA, Ffytche DH, Mitterschiffthaler MT, Das M, Zachariah E, Vythelingum GN, Williams SC, Simmons A, Sharma T (2003) Cognitive effects of nicotine in humans: an fMRI study. Neuroimage 19:1002–1013

Kwon H, Reiss AL, Menon V (2002) Neural basis of protracted developmental changes in visuospatial working memory. Proc Natl Acad Sci USA 99:13336–13341

Lambert NM, Hartsough CS (1998) Prospektive study of tobacco smoking and substance dependencies among samples of ADHD and non-ADHD participants. J Learn Disabil 31:533–544

Laviola G, Adriani W, Terranova ML, Gerra G (1999) Psychobiological risk factors for vulnerability to psychostimulants in human adolescents and animal models. Neurosci Biobehav Rev 23:993–1010

Lawrence NS, Ross TJ, Stein EA (2002) Cognitive mechanisms of nicotine on visual attention. Neuron 36:539–548

Muir JL, Everitt BJ, Robbins TW (1994) AMPA-induced excitotoxic lesions of the basal forebrain: a significant role fort he cortical cholinergic system in attentional function. J Neurosci 14:2313–2326

Mulert C, Gallinat J, Pascual-Marqui R, Dorn H, Frick K, Schlattmann P, Mientus S, Herrmann WM, Winterer G (2001) Reduced event-related current density in the anterior cingulate cortex in schizophrenia. Neuroimage 13:589–600

Musso F, Konrad A, Vucurevic G, Schäffner C, Friedrich B, Frech P, Stoeter P, Winterer G (2006) Distributed BOLD response in association cortex vector state space predicts reaction time during selective attention. Neuroimage 29:1311–1318

Nyback H, Nordberg A, Langstrom B, Halldin C, Hartvig P, Ahlin A, Swahn CG, Sedvall G (1989) Attempts to visualize nicotinic receptors in the brain of monkey and man by positron emission tomography. Prog Brain Res 79:313–319

O'Loughlin J, DiFranza J, Tyndale RF, Meshfedjian G, McMillan-Davey E, Clarke PB, Hanley J, Paradis G (2003) Nicotine-dependence symptoms are associated with smoking frequency in adolescents. Am J Prev Med 25:219–225

Piasecki TM, Jorenby DE, Smith SS, Fiore MC (2005) Smoking withdrawal dynamics: III. Correlates of withdrawal heterogeneity. Exp Clin Psychopharmacol 11:276–285

Rezvani AH, Levin ED (2001) Cognitive effects of nicotine. Biol Psychiatry 49:258–267

Rezvani AH, Levin ED (2004) Adolescent and adult rats respond differently to nicotine and alcohol: motor activity and body temperature. Int J Dev Neurosci 22:349–354

Sacco KA, Bannon KL, George TP (2004) Nicotinic receptor mechanisms and cognition in normal states and neuropsychiatric disorders. J Psychopharmacol 18:457–474

Sarter M, Givens B, Bruno JP (2001) The cognitive neuroscience of sustained attention: where top-down meets bottom-up. Brain Res Rev 35:146–160

Sherwood N, Kerr JS, Hindmarch I (1992) Psychomotor performance in smokers following single and repeated doses of nicotine gum. Psychopharmacology (Berl) 108:432–436

Shoaib M, Bizarro L (2004) Deficits in a sustained attention task following nicotine withdrawal in rats. Psychopharmacology (Berl) 178:211–222

Slawecki CJ, Thorsell A, Ehlers CL (2004) Long-term neurobehavioral effects of alcohol or nicotine exposure in adolescent animal models. Ann N Y Acad Sci 1021:448–452

Slawecki CJ, Thorsell AK, Khoury AE, Mathe AA, Ehlers CL (2005) Increased CRF-like and NPY-like immunoreactivity in adult rats exposed to nicotine during adolescence: relation to anxiety-like and depressive-like behavior. Neuropeptides 39:369–377

Smith S (2002) Fast robust automated brain extraction. Hum Brain Mapp 17:143–155

Sowell ER, Thompson PM, Holmes CJ, Jernigan TL, Toga AW (1999) In vivo evidence for post-adolescent brain maturation in frontal and striatal regions. Nat Neurosci 2:859–861

Sowell ER, Thompson PM, Tessner KD, Toga AW (2001) Mapping continued brain growth and gray matter density reduction in dorsal frontalcortex: inverse relationships during postadolescent brain maturation. J Neurosci 21:8819–8829

Spear LP (2000) The adolescent brain and age-related behavioral manifestations. Neurosci Biobehav Rev 24:417–463

Stein EA, Pankiewicz J, Harsch HH, Cho JK, Fuller SA, Hoffmann RG, Hawkins M, Rao SM, Bandettini PA, Bloom AS (1998) Nicotine-induced limbic cortical activation in the human brain: a functional MRI study. Am J Psychiatry 155:1009–1015

Stolerman IP, Mirza NR, Hahn B, Shoaib M (2000) Nicotine in an animal model of attention. Eur J Pharmacol 393:147–154

Tewes U (1991) Hamburg-Wechsler-Intelligenztest für Erwachsene. HAWIE-R. Huber, Bern

Thiel CM, Zilles K, Fink GR (2005) Nicotine modulates reorienting of visuospatial attention and neural activity in human parietal cortex. Neuropsychopharmacology 30:810–820

Trauth JA, Seidler FJ, McCook EC, Slotkin TA (1999) Adolescent nicotine exposure causes persistent upregulation of nicotinic cholinergic receptors in rat brain regions. Brain Res 851:9–19

Tregellas JR, Tanabe JL, Martin LF, Freedman R (2005) FMRI of response to nicotine during a smooth pursuit eye movement task in schizophrenia. Am J Psychiatry 162:391–393

Voytko ML, Olton DS, Richardson RT, Gorman LK, Tobin JR, Price DL (1994) Basal forebrain lesions disrupt attention but not learning and memory. J Neurosci 14:167–186

Webster MJ, Weickert CS, Herman MM, Kleinman JE (2002) BDNF mRNA expression during postnatal development, maturation and aging of the human prefrontal cortex. Brain Res Dev Brain Res 139:139–150

Wesnes K, Warburton DM (1983) Effects of smoking on rapid information processing performance. Neuropsychobiology 9:223–229

Winterer G, Mulert C, Mientus S, Gallinat J, Schlattmann P, Dorn H, Herrmann WM (2001) P300 and LORETA: comparison of normal subjects and schizophrenic patients. Brain Topogr 13:299–313

Winterer G, Adams CA, Jones DW, Knutson B (2002) Volition to action—an event-related fMRI study. Neuroimage 17:851–858

Winterer G, Musso F, Beckmann C, Mattay V, Egan MF, Jones DW, Callicott JH, Coppola R, Weinberger DR (2006a) Instability of prefrontal signal processing in schizophrenia. Am J Psychiatry (in press)

Winterer G, Hariri AR, Goldman D, Weinberger DR (2006b) Neuroimaging and human genetics. Int Rev Neurobiol 67PB:325–383

Woolrich MW, Ripley BD, Brady JM, Smith SM (2001) Temporal autocorrelation in univariate linear modelling of FMRI data. Neuroimage 14:1370–1386

Worsley KJ, Evans AC, Marrett S, Neelin P (1992) A three-dimensional statistical analysis for CBF activation studies in human brain. J Cereb Blood Flow Metab 12:900–918

Zubieta J, Lombardi U, Minoshima S, Guthrie S, Ni L, Ohl LE, Koeppe RA, Domino EF (2001) Regional cerebral blood flow effects of nicotine in overnight abstinent smokers. Biol Psychiatry 49:906–913
About this article
Cite this article
Musso, F., Bettermann, F., Vucurevic, G. et al. Smoking impacts on prefrontal attentional network function in young adult brains. Psychopharmacology 191, 159–169 (2007). https://doi.org/10.1007/s00213-006-0499-8
Received:

Accepted:

Published:

Issue Date:
Keywords
Nicotine

Attentional network

Brain development

Prefrontal cortex

fMRI

Cognition