Abstract
Rationale
Ayahuasca is a South American psychoactive plant tea which contains the serotonergic psychedelic N,N-dimethyltryptamine (DMT) and monoamine-oxidase inhibitors that render DMT orally active. Previous investigations with ayahuasca have highlighted a psychotropic effect profile characterized by enhanced introspective attention, with individuals reporting altered somatic perceptions and intense emotional modifications, frequently accompanied by visual imagery. Despite recent advances in the study of ayahuasca pharmacology, the neural correlates of acute ayahuasca intoxication remain largely unknown.
Objectives
To investigate the effects of ayahuasca administration on regional cerebral blood flow.
Methods
Fifteen male volunteers with prior experience in the use of psychedelics received a single oral dose of encapsulated freeze-dried ayahuasca equivalent to 1.0 mg DMT/kg body weight and a placebo in a randomized double-blind clinical trial. Regional cerebral blood flow was measured 100–110 min after drug administration by means of single photon emission tomography (SPECT).
Results
Ayahuasca administration led to significant activation of frontal and paralimbic brain regions. Increased blood perfusion was observed bilaterally in the anterior insula, with greater intensity in the right hemisphere, and in the anterior cingulate/frontomedial cortex of the right hemisphere, areas previously implicated in somatic awareness, subjective feeling states, and emotional arousal. Additional increases were observed in the left amygdala/parahippocampal gyrus, a structure also involved in emotional arousal.
Conclusions
The present results suggest that ayahuasca interacts with neural systems that are central to interoception and emotional processing and point to a modulatory role of serotonergic neurotransmission in these processes.
Access options
Buy single article
Instant access to the full article PDF.
US$ 39.95
Tax calculation will be finalised during checkout.
Subscribe to journal
Immediate online access to all issues from 2019. Subscription will auto renew annually.
US$ 119
Tax calculation will be finalised during checkout.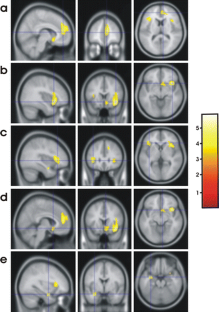 References
Anonymous (2000) Ayahuasca: from the Amazon to the urban jungles. In: The world geopolitics of drugs 1998/1999. Observatoire géopolitique des drogues, Paris, pp 103–107

Buckholtz NS, Boggan WO (1977) Monoamine oxidase inhibition in brain and liver produced by beta-carbolines: structure–activity relationships and substrate specificity. Biochem Pharmacol 26:1991–1996

Callaway JC, Airaksinen MM, McKenna DJ, Brito GS, Grob CS (1994) Platelet serotonin uptake sites increased in drinkers of ayahuasca. Psychopharmacology (Berl) 116:385–387

Callaway JC, McKenna DJ, Grob CS, Brito GS, Raymon LP, Poland RE, Andrade EN, Andrade EO, Mash DC (1999) Pharmacokinetics of Hoasca alkaloids in healthy humans. J Ethnopharmacol 65:243–256

Check E (2004) Psychedelic drugs: the ups and downs of ecstasy. Nature 429:126–128

Craig AD (2002) How do you feel? Interoception: the sense of the physiological condition of the body. Nat Rev Neurosci 3:655–666

Craig AD (2003) Interoception: the sense of the physiological condition of the body. Curr Opin Neurobiol 13:500–505

Critchley HD, Wiens S, Rotshtein P, Ohman A, Dolan RJ (2004) Neural systems supporting interoceptive awareness. Nat Neurosci 7:189–195

Damasio AR (2003) Looking for Spinoza: joy, sorrow, and the feeling brain. Harcourt, Orlando, FL

Damasio AR, Grabowski TJ, Bechara A, Damasio H, Ponto LL, Parvizi J, Hichwa RD (2000) Subcortical and cortical brain activity during the feeling of self-generated emotions. Nat Neurosci 3:1049–1056

Devinsky O, Morrell MJ, Vogt BA (1995) Contributions of anterior cingulate cortex to behaviour. Brain 118:279–306

Dobkin de Rios M (1984) Visionary vine: hallucinogenic healing in the Peruvian Amazon. Waveland, Prospect Heights, IL

Gouzoulis-Mayfrank E, Schreckenberger M, Sabri O, Arning C, Thelen B, Spitzer M, Kovar KA, Hermle L, Büll U, Sass H (1999) Neurometabolic effects of psilocybin, 3,4-methylenedioxyethylamphetamine (MDE) and d-methamphetamine in healthy volunteers. A double-blind, placebo-controlled PET study with [18F]FDG. Neuropsychopharmacology 20:565–581

Greenhouse L (2005) Supreme court to hear case of dispute over religious group's use of banned drug. The New York Times (April 19), p 15

Grob CS, McKenna DJ, Callaway JC, Brito GS, Neves ES, Oberlaender G, Saide OL, Labigalini E, Tacla C, Miranda CT, Strassman RJ, Boone KB (1996) Human psychopharmacology of hoasca, a plant hallucinogen used in ritual context in Brazil. J Nerv Ment Dis 184:86–94

Halpern JH (2004) Hallucinogens and dissociative agents naturally growing in the United States. Pharmacol Ther 102:131–138

Hamann S (2003) Nosing in on the emotional brain. Nat Neurosci 6:106–108

Hermle L, Fünfgeld M, Oepen G, Botsch H, Borchardt D, Gouzoulis E, Fehrenbach RA, Spitzer M (1992) Mescaline-induced psychopathological, neuropsychological, and neurometabolic effects in normal subjects: experimental psychosis as a tool for psychiatric research. Biol Psychiatry 32:976–991

Kotler S (2005) Psychedelics in rehab. Psychology Today (Mar/Apr)

Labate B, Araújo W (2002) O Uso Ritual da Ayahuasca. Mercado de Letras, Sao Paulo

Lamas X, Farré M, Llorente M, Camí J (1994) Spanish version of the 49-item short form of the Addiction Research Center Inventory. Drug Alcohol Depend 35:203–209

Lazar SW, Kerr CE, Wasserman RH, Gray JR, Greve DN, Treadway MT, McGarvey M, Quinn BT, Dusek JA, Benson H, Rauch SL, Moore CI, Fischl B (2005) Meditation experience is associated with increased cortical thickness. Neuroreport 16:1893–1897

Martin WR, Sloan JW, Sapira JD, Jasinski DR (1971) Physiologic, subjective, and behavioral effects of amphetamine, methamphetamine, ephedrine, phenmetrazine, and methylphenidate in man. Clin Pharmacol Ther 12:245–258

McKenna DJ (2004) Clinical investigations of the therapeutic potential of ayahuasca: rationale and regulatory challenges. Pharmacol Ther 102:111–129

McKenna DJ, Towers GH, Abbott F (1984) Monoamine oxidase inhibitors in South American hallucinogenic plants: tryptamine and beta-carboline constituents of ayahuasca. J Ethnopharmacol 10:195–223

McKenna DJ, Repke DB, Lo L, Peroutka SJ (1990) Differential interactions of indolealkylamines with 5-hydroxytryptamine receptor subtypes. Neuropharmacology 29:193–198

Melton L (2004) Dream drug or demon brew. New Sci 182(2453):42–43

Paus T (2001) Primate anterior cingulate cortex: where motor control, drive and cognition interface. Nat Rev Neurosci 2:417–424

Phan KL, Wager T, Taylor SF, Liberzon I (2002) Functional neuroanatomy of emotion: a meta-analysis of emotion activation studies in PET and fMRI. Neuroimage 16:331–348

Pierce PA, Peroutka SJ (1989) Hallucinogenic drug interactions with neurotransmitter receptor binding sites in human cortex. Psychopharmacology (Berl) 97:118–122

Rabin RA, Regina M, Doat M, Winter JC (2002) 5-HT2A receptor-stimulated phosphoinositide hydrolysis in the stimulus effects of hallucinogens. Pharmacol Biochem Behav 72:29–37

Reichel-Dolmatoff G (1990) The cultural context of an aboriginal hallucinogen: Banisteriopsis caapi. In: Furst P (ed) Flesh of the Gods: the ritual use of hallucinogens. Waveland, Prospect Heights, IL, pp 84–113

Reiman EM, Lane RD, Ahern GL, Schwartz GE, Davidson RJ, Friston KJ, Yun LS, Chen K (1997) Neuroanatomical correlates of externally and internally generated human emotion. Am J Psychiatry 154:918–925

Riba J, Rodriguez-Fornells A, Strassman RJ, Barbanoj MJ (2001a) Psychometric assessment of the hallucinogen rating scale. Drug Alcohol Depend 62:215–223

Riba J, Rodriguez-Fornells A, Urbano G, Morte A, Antonijoan R, Montero M, Callaway JC, Barbanoj MJ (2001b) Subjective effects and tolerability of the South American psychoactive beverage Ayahuasca in healthy volunteers. Psychopharmacology (Berl) 154:85–95

Riba J, Valle M, Urbano G, Yritia M, Morte A, Barbanoj MJ (2003) Human pharmacology of ayahuasca: subjective and cardiovascular effects, monoamine metabolite excretion, and pharmacokinetics. J Pharmacol Exp Ther 306:73–83

Salak K (2004) The vision seekers. The New York Times (September 12)

Schultes RE, Hofmann A (1980) The botany and chemistry of hallucinogens. Thomas, Springfield, IL

Schultes RE, Hofmann A (1987) Plants of the gods: origins of hallucinogenic use. A. van der Marck Editions, New York

Spruce R (1908) Notes of a botanist on the Amazon and Andes. Macmillan, London

Strassman RJ, Qualls CR (1994) Dose–response study of N,N-dimethyltryptamine in humans. I. Neuroendocrine, autonomic and cardiovascular effects. Arch Gen Psychiatry 51:85–97

Strassman RJ, Qualls CR, Uhlenhuth EH, Kellner R (1994) Dose–response study of N,N-dimethyltryptamine in humans. II. Subjective effects and preliminary results of a new rating scale. Arch Gen Psychiatry 51:98–108

Titeler M, Lyon RA, Glennon RA (1988) Radioligand binding evidence implicates the brain 5-HT2 receptor as a site of action for LSD and phenylisopropylamine hallucinogens. Psychopharmacology (Berl) 94:213–216

Villavicencio M (1858) Geografía de la República del Ecudador. Craighead, New York

Vollenweider FX, Leenders KL, Øye I, Hell D, Angst J (1997) Differential psychopathology and patterns of cerebral glucose utilisation produced by (S)- and (R)-ketamine in healthy volunteers using positron emission tomography (PET). Eur Neuropsychopharmacol 7:25–38

Vollenweider FX, Vollenweider-Scherpenhuyzen MF, Babler A, Vogel H, Hell D (1998) Psilocybin induces schizophrenia-like psychosis in humans via serotonin-2 agonist action. Neuroreport 9:3897–3902
Acknowledgements
This work was supported by grant SAF 2002-02746 from the Spanish Ministry of Education and Science and a private donation by Richard Wolfe.
We wish to thank Araceli Cabrero, Sylvie Cotxet, David Martínez, and Llúcia Benito for their help in data collection. The experiment reported in the present article complies with the Spanish law.
About this article
Cite this article
Riba, J., Romero, S., Grasa, E. et al. Increased frontal and paralimbic activation following ayahuasca, the pan-amazonian inebriant. Psychopharmacology 186, 93–98 (2006). https://doi.org/10.1007/s00213-006-0358-7
Received:

Accepted:

Published:

Issue Date:
Keywords
Ayahuasca

Dimethyltryptamine

Psychedelics

SPECT

Regional cerebral blood flow

Human