Abstract
Rationale
Nighttime agitation occurs frequently in patients with dementia and represents the number one burden on caregivers today. Current treatment options are few and limited due to substantial side effects.
Objectives
The aim of the study was to measure the effect of the cannabinoid dronabinol on nocturnal motor activity.
Methods
In an open-label pilot study, six consecutive patients in the late stages of dementia and suffering from circadian and behavioral disturbances—five patients with Alzheimer's disease and one patient with vascular dementia—were treated with 2.5 mg dronabinol daily for 2 weeks. Motor activity was measured objectively using actigraphy.
Results
Compared to baseline, dronabinol led to a reduction in nocturnal motor activity (P=0.028). These findings were corroborated by improvements in Neuropsychiatric Inventory total score (P=0.027) as well as in subscores for agitation, aberrant motor, and nighttime behaviors (P<0.05). No side effects were observed.
Conclusions
The study suggests that dronabinol was able to reduce nocturnal motor activity and agitation in severely demented patients. Thus, it appears that dronabinol may be a safe new treatment option for behavioral and circadian disturbances in dementia.
Access options
Buy single article
Instant access to the full article PDF.
USD 39.95
Price excludes VAT (USA)
Tax calculation will be finalised during checkout.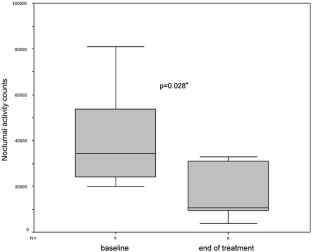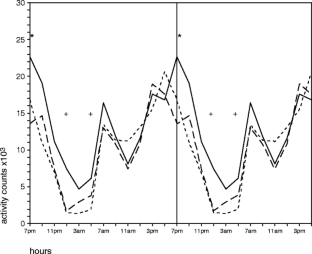 References
American Psychiatric Association (1994) Diagnostic and statistical manual of mental disorders, 4th edn. American Psychiatric Press, Washington, DC

Ancoli-Israel S, Clopton P, Klauber MR, Fell R, Mason W (1997) Use of wrist activity for monitoring sleep/wake in demented nursing-home patients. Sleep 20:24–27

Ballard CG, Thomas A, Fossey J, Lee L, Jacoby R, Lana MM, Bannister C, McShane R, Swann A, Juszczak E, O'Brien JT (2004) A 3-month, randomized, placebo-controlled, neuroleptic discontinuation study in 100 people with dementia: the neuropsychiatric inventory median cutoff is a predictor of clinical outcome. J Clin Psychiatry 65:114–119

Breivogel CS, Childers SR (1998) The functional neuroanatomy of brain cannabinoid receptors. Neurobiol Dis 5:417–431

Campbell FA, Tramer MR, Carroll D, Reynolds DJ, Moore RA, McQuay HJ (2001) Are cannabinoids an effective and safe treatment option in the management of pain? A qualitative systematic review. BMJ 323:13–16

Cummings JL, Mega M, Gray K, Rosenberg-Thompson S, Carusi DA, Gornbein J (1994) The Neuropsychiatric Inventory: comprehensive assessment of psychopathology in dementia. Neurology 44:2308–2314

Doody R, Stevens J, Beck C, Dubinsky R, Kaye J, Gwyther L, Mohs R, Thal LJ, Whitehouse P, DeKosky ST, Cummings JL (2001) Practice parameter: management of dementia (an evidence-based review). Report of the quality standards subcommittee of the American Academy of Neurology. Neurology 56:1154–1166

Folstein MF, Folstein SE, McHugh PR (1975) "Mini-mental state". A practical method for grading the cognitive state of patients for the clinician. J Psychiatr Res 12:189–198

Grotenhermen F (2003) Pharmacokinetics and pharmacodynamics of cannabinoids. Clin Pharmacokinet 42:327–360

Hebert R, Dubois MF, Wolfson C, Chambers L, Cohen C (2001) Factors associated with long-term institutionalization of older people with dementia: data from the Canadian Study of Health and Aging. J Gerontol A Biol Sci Med Sci 56:M693–M699

Hope T, Keene J, Fairburn CG, Jacoby R, McShane R (1999) Natural history of behavioural changes and psychiatric symptoms in Alzheimer's disease. A longitudinal study. Br J Psychiatry 174:39–44

Howlett AC, Barth F, Bonner TI, Cabral G, Casellas P, Devane WA, Felder CC, Herkenham M, Mackie K, Martin BR, Mechoulam R, Pertwee RG (2002) International Union of Pharmacology. XXVII. Classification of cannabinoid receptors. Pharmacol Rev 54:161–202

Lee PE, Gill SS, Freedman M, Bronskill SE, Hillmer MP, Rochon PA (2004) Atypical antipsychotic drugs in the treatment of behavioural and psychological symptoms of dementia: systematic review. BMJ 329:75–79

Mahlberg R, Kunz D, Sutej I, Kuhl KP, Hellweg R (2004) Melatonin treatment of day–night rhythm disturbances and sundowning in Alzheimer disease: an open-label pilot study using actigraphy. J Clin Psychopharmacol 24:456–459

McKhann G, Drachman D, Folstein M, Katzman R, Price D, Stadlan EM (1984) Clinical diagnosis of Alzheimer's disease: report of the NINCDS-ADRDA Work Group under the auspices of Department of Health and Human Services Task Force on Alzheimer's Disease. Neurology 34:939–944

Muller-Vahl KR, Prevedel H, Theloe K, Kolbe H, Emrich HM, Schneider U (2003a) Treatment of Tourette syndrome with delta-9-tetrahydrocannabinol (delta 9-THC): no influence on neuropsychological performance. Neuropsychopharmacology 28:384–388

Muller-Vahl KR, Schneider U, Prevedel H, Theloe K, Kolbe H, Daldrup T, Emrich HM (2003b) Delta 9-tetrahydrocannabinol (THC) is effective in the treatment of tics in Tourette syndrome: a 6-week randomized trial. J Clin Psychiatry 64:459–465

Murillo-Rodriguez E, Blanco-Centurion C, Sanchez C, Piomelli D, Shiromani PJ (2003) Anandamide enhances extracellular levels of adenosine and induces sleep: an in vivo microdialysis study. Sleep 26:943–947

Ramirez BG, Blazquez C, Gomez dP, Guzman M, de Ceballos ML (2005) Prevention of Alzheimer's disease pathology by cannabinoids: neuroprotection mediated by blockade of microglial activation. J Neurosci 23:1904–1913

Sclan SG, Reisberg B (1992) Functional assessment staging (FAST) in Alzheimer's disease: reliability, validity, and ordinality. Int Psychogeriatr 4(Suppl 1):55–69

Svendsen KB, Jensen TS, Bach FW (2004) Does the cannabinoid dronabinol reduce central pain in multiple sclerosis? Randomised double blind placebo controlled crossover trial. BMJ 329:253

Tariot PN (1999) Treatment of agitation in dementia. J Clin Psychiatry 60(Suppl 8):11–20

Tariot PN, Profenno LA, Ismail MS (2004) Efficacy of atypical antipsychotics in elderly patients with dementia. J Clin Psychiatry 65(Suppl 11):11–15

Tramer MR, Carroll D, Campbell FA, Reynolds DJ, Moore RA, McQuay HJ (2001) Cannabinoids for control of chemotherapy induced nausea and vomiting: quantitative systematic review. BMJ 323:16–21

Volicer L, Stelly M, Morris J, McLaughlin J, Volicer BJ (1997) Effects of dronabinol on anorexia and disturbed behavior in patients with Alzheimer's disease. Int J Geriatr Psychiatry 12:913–919

Volicer L, Harper DG, Manning BC, Goldstein R, Satlin A (2001) Sundowning and circadian rhythms in Alzheimer's disease. Am J Psychiatry 158:704–711

Wilson RI, Nicoll RA (2002) Endocannabinoid signaling in the brain. Science 296:678–682
Acknowledgement
This study complied with current regulations in the Federal Republic of Germany, where it was conducted.
About this article
Cite this article
Walther, S., Mahlberg, R., Eichmann, U. et al. Delta-9-tetrahydrocannabinol for nighttime agitation in severe dementia. Psychopharmacology 185, 524–528 (2006). https://doi.org/10.1007/s00213-006-0343-1
Received:

Accepted:

Published:

Issue Date:

DOI: https://doi.org/10.1007/s00213-006-0343-1
Keywords