Abstract
Rationale
Nicotine is known to improve performance on tests involving sustained attention and recent research suggests that nicotine may also improve performance on tests involving the strategic allocation of attention and working memory.
Objectives
We used measures of accuracy and response latency combined with eye-tracking techniques to examine the effects of nicotine on visual search tasks.
Methods
In experiment 1 smokers and non-smokers performed pop-out and serial search tasks. In experiment 2, we used a within-subject design and a more demanding search task for multiple targets. In both studies, 2-h abstinent smokers were asked to smoke one of their own cigarettes between baseline and tests.
Results
In experiment 1, pop-out search times were faster after nicotine, without a loss in accuracy. Similar effects were observed for serial searches, but these were significant only at a trend level. In experiment 2, nicotine facilitated a strategic change in eye movements resulting in a higher proportion of fixations on target letters. If the cigarette was smoked on the first trial (when the task was novel), nicotine additionally reduced the total number of fixations and refixations on all letters in the display.
Conclusions
Nicotine improves visual search performance by speeding up search time and enabling a better focus of attention on task relevant items. This appears to reflect more efficient inhibition of eye movements towards task irrelevant stimuli, and better active maintenance of task goals. When the task is novel, and therefore more difficult, nicotine lessens the need to refixate previously seen letters, suggesting an improvement in working memory.
Access options
Buy single article
Instant access to the full article PDF.
US$ 39.95
Tax calculation will be finalised during checkout.
Subscribe to journal
Immediate online access to all issues from 2019. Subscription will auto renew annually.
US$ 119
Tax calculation will be finalised during checkout.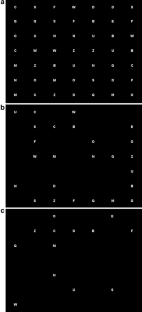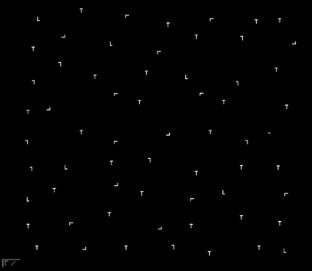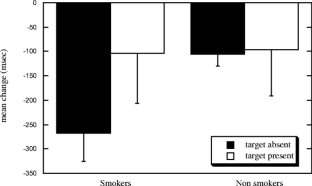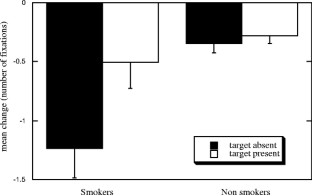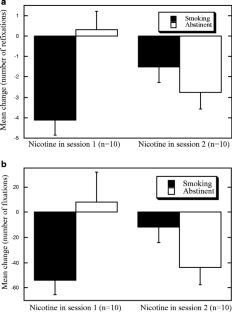 Notes
1.

Volunteers were recruited from the Psychology database, where there is a 4:1 ratio of female to male undergraduates. There are no indications in the literature of significant gender differences in the cognitive effects of an acute dose of nicotine, therefore gender was not used as a qualifying factor at recruitment.
References
Araujo C, Kowler E, Pavel M (2001) Eye movements during visual search: the costs of choosing the optimal path. Vis Res 41:3613–3625

Avila MT, Sherr JD, Hong E, Myers CS, Thaker GK (2003) Effects of nicotine on leading saccades during smooth pursuit eye movements in smokers and nonsmokers with schizophrenia. Neuropsychopharmacology 28:2184–2191

Baldinger B, Hasenfraz M, Battig K (1995) Comparison of the effects of nicotine on a fixed rate and a subject paced version of the rapid information processing task. Psychopharmacology 121:396–400

Bates T, Pellett O, Stough C, Mangan G (1994) Effects of smoking on simple and choice reaction time. Psychopharmacology 114:365–368

Butter CM (2004) Selective visual attention, visual search and visual awareness. Prog Brain Res 144:183–196

Della Casa V, Hofer I, Weiner I, Feldon J (1998) The effects of smoking on acoustic prepulse inhibition in healthy men and women. Psychopharmacology 137:362–368

Della Casa V, Hofer I, Feldon J (1999) Latent inhibition in smokers vs nonsmokers: interaction with number or intensity of preexposures. Pharmacol Biochem Behav 62:353–359

Depatie L, O'Driscoll GA, Holahan AV, Atkinson V, Thavundayil JX, Kin NNY, Lal S (2002) Nicotine and behavioural markers of risk for schizophrenia: a double-blind, placebo-controlled, cross-over study. Neuropsychopharmacology 27:1056–1070

Edginton T, Rusted JM (2003) Separate and combined effects of scopolamine and nicotine on retrieval-induced forgetting. Psychopharmacology 170:351–357

Ernst M, Matochik JA, Heishman SJ, Van Horn JD, Jons PH, Henningfield JE, London ED (2001) Effect of nicotine on brain activation during performance of a working memory task. Proc Natl Acad Sci U S A 98:4728–4733

Fagerström, KO (1978) Measuring degree of physical dependence to tobacco smoking with reference to individualization of treatment. Addict Behav 3:235–241

Foulds J, Stapleton J, Swettenham J, Bell N, McSorley K, Russell MAH (1996) Cognitive performance effects of subcutaneous nicotine in smokers and never-smokers. Psychopharmacology 127:31–38

George TP, Vessicchio JC, Termine A, Sahady DM, Head CA, Pepper WT, Kosten TR, Wexler BE (2002) Effects of smoking abstinence on visuospatial working memory function in schizophrenia. Neuropsychopharmacology 26:75–85

Griesar WS, Zajdel DP, Oken BS (2002) Nicotine effects on alertness and spatial attention in non-smokers. Nicotine Tob Res 4:185–194

Hutton SB, Joyce EM, Barnes TR, Kennard C (2002) Saccadic distractibility in first-episode schizophrenia. Neuropsychologia 40:1729–1736

Hutton SB, Huddy V, Barnes TR, Robbins TW, Crawford TJ, Kennard C, Joyce EM (2004) The relationship between antisaccades, smooth pursuit, and executive dysfunction in first-episode schizophrenia. Biol Psychiatry 56:553–559

Kimberg DY, Farah MJ (1993) A unified account of cognitive impairments following frontal lobe damage: the role of working memory in complex, organized behavior. J Exp Psychol General 122:411–428

Kumari V, Gray JA, Ffytche DH, Mitterschiffthaler MT, Das M, Zachariah E, Vythelingum GN, Williams SCR, Simmons A, Sharma T (2003) Cognitive effects of nicotine in humans: an fMRI study. Neuro Image 19:1002–1013

Larrison AL, Briand KA, Sereno AB (2004) Nicotine improves antisaccade task performance without affecting prosaccades. Hum Psychopharmacol 19:409–419

Le Houezec J, Halliday R, Benowitz N, Callaway E, Naylor H, Herzig K (1994) A low dose of subcutaneous nicotine improves information processing in non-smokers. Psychopharmacology 114:628–634

Levin ED, Conners CK, Silva D, Hinton SC, Meck WH, March J, Rose JE (1998) Transdermal nicotine effects on attention. Psychopharmacology 140:135–141

Mancuso G, Warburton DM, Melen M, Sherwood N, Tirelli E (1999) Selective effects of nicotine on attentional processes. Psychopharmacology 146:199–204

Miyake A, Friedman NP, Emerson MJ, Witzki AH, Howerter A (2000) The unity and diversity of executive functions and their contributions to complex "frontal lobe" tasks: a latent variable analysis. Cogn Psychol 41:49–100

Olincy A, Johnson LL, Ross RG (2003) Differential effects of cigarette smoking on performance of a smooth pursuit and a saccadic eye movement task in schizophrenia. Psychiatry Res 117:223–236

Parkin C, Fairweather DB, Shamsi Z, Stanley N, Hindmarch I (1998) The effects of cigarette smoking on overnight performance. Psychopharmacology 136:172–178

Powell J, Dawkins L, Davis RE (2002) Smoking, reward responsiveness and response inhibition: test of an incentive motivational model. Biol Phychiatry 51:151–163

Pritchard WS, Robinson JH, Guy TD (1992) Enhancement of continuous performance task reaction time by smoking in non-deprived smokers. Psychopharmacology 108:437–442

Rabbit P (1997) Introduction: methodologies and models in the study of executive function. In: Rabbitt P (ed) Methodology of frontal and executive function. Psychology Press, Hove, pp 1–38

Revell AD (1988) Smoking and performance—a puff-by-puff analysis. Psychopharmacology 96:563–565

Roberts RJ, Hager LD, Heron C (1994) Prefrontal cognitive processes: working memory and inhibition in the antisaccade task. J Exp Psychol Gen 123:374–393

Stough C, Mangan G, Bates T, Frank N, Kerkin B, Pellett O (1995) Effects of nicotine on perceptual speed. Psychopharmacology 119:305–310

Thompson JC, Wilby G, Stough C (2002) The effects of transdermal nicotine on inspection time. Hum Psychopharmacol Clin Exp 17:157–161

Treisman AM, Gelade G (1980) A feature integration theory of attention. Cogn Psychol 12:97–136

Trimmel M, Wittberger S (2004) Effects of transdermally administered nicotine on aspects of attention, task load and mood in women and men. Pharmacol Biochem Behav 78:639–645

Warburton DM, Arnall C (1994) Improvements in performance without nicotine withdrawal. Psychopharmacology 115:539–542

Warburton DM, Mancuso G (1998) Evaluation of the information processing and mood effects of a transdermal nicotine patch. Psychopharmacology 135:305–310

Wesnes K, Revell A (1984) The separate and combined effects of scopolamine and nicotine on human information processing. Psychopharmacology 84:5–11

Wesnes K, Warburton DM, Matz B (1983) Effects of nicotine on stimulus sensitivity and response bias in a visual vigilance task. Neuropsychobiology 9:41–44

West RJ, Jarvis MJ (1986) Effects of nicotine on finger tapping rate in non-smokers. Pharmacol Biochem Behav 25:727–731

White HK, Levin ED (1999) Four-week nicotine skin patch treatment effects on cognitive performance in Alzheimer's disease. Psychopharmacology 143:158–165

Witte EA, Davidson MC, Marrocco RT (1997) Effects of altering brain cholinergic activity on covert orienting of attention: comparison of monkey and human performance. Psychopharmacology 132:324–334

Wolfe JM (2003) Moving towards solutions to some enduring controversies in visual search. Trends Cogn Sci 7:70–76

Woodman GF, Luck SJ (2003) Serial deployment of attention during visual search. J Exp Psychol Hum Percept Perform 29:121–138
Acknowledgements
This work was completed as part of N. Rycroft's Ph.D. thesis, funded by a bursary from the BBSRC. Thanks are due to Pennie Ingram for management of the database of volunteers.
About this article
Cite this article
Rycroft, N., Rusted, J.M. & Hutton, S.B. Acute effects of nicotine on visual search tasks in young adult smokers. Psychopharmacology 181, 160–169 (2005). https://doi.org/10.1007/s00213-005-2220-8
Received:

Accepted:

Published:

Issue Date:
Keywords
Nicotine

Visual search

Attention

Working memory

Executive functions